Ang Tharkay (1907 – 28 July 1981), a prominent Nepalese climber, served as a sherpa and sirdar for numerous Himalayan expeditions. He was widely acknowledged as the preeminent sherpa of his time. He also played a pivotal role in introducing Tenzing Norgay to the realm of mountaineering. 
When Ang Tharkay embarked on his journey as a mountaineer, he could not have foreseen the influence it would have on his family and Tintin enthusiasts around the globe.
Personal Life of Ang Tharkay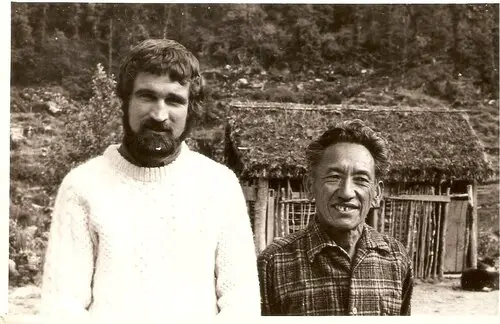 Ang Tharkay achieved the first historic ascent of an 8,000-meter peak. It was on Annapurna I (Nepal), while serving as the lead guide for a French expedition led by Maurice Herzog and Louis Lachenal.
Despite his later association with prominent climbers like Eric Shipton during the 1930s, Ang's journey into mountaineering was driven by necessity rather than ambition. Hailing from an impoverished mountain village, he initially took up work as a high-altitude porter to secure his survival.
At the age of twelve, he relocated to Darjeeling, India, a renowned hub where numerous expeditions recruited sherpas and porters. Those interested in Himalayan exploration had to navigate entry through the Himalayan Club. It served as a professional gatekeeper for high-altitude guides and porters.
In 1954, the Himalayan Mountaineering Institute in Darjeeling sponsored his attendance at a technical climbing course in Switzerland. Following this, he established his trekking business in Darjeeling and authored his autobiography, "Mémoires d'un Sherpa" in French. He became the first Sherpa involved in mountaineering to write a book. 
Upon retiring from active mountaineering around 1962, Ang Tharkay returned to Nepal and took up farming. He also subsequently launched another trekking agency known as Nepal Trekking. His died in 1981 when he succumbed to cancer in Kathmandu.
Ang Tharkay's Major Expeditions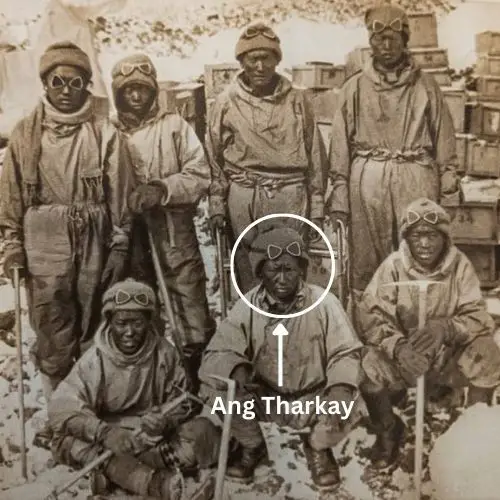 In 1931, Ang's journey began when he was chosen by a German team to participate in the Kanchenjunga expedition. Subsequently, he earned a place on the British Everest attempt in 1933. He was called as one of the "Tigers," individuals who carried loads beyond 27,000 feet (8,200 m) in altitude. 
Eric Shipton, a member of the 1933 team, then designated him as the sirdar, for the 1934 Nanda Devi exploration. Additionally, Shipton enlisted Ang Tharkay for his return visit to Nanda Devi in 1936, as he had not been available when Bill Tilman was recruiting sherpas for his Nanda Devi ascent. 
During the 1934 expedition, Ang Tharkay's navigational skills played a crucial role on two occasions. According to Shipton, as he successfully identified routes when everyone else had considered turning back.
1935 and 1938 Everest Expedition
Ang Tharkay was a part of the British Everest expedition in 1935. It was during this expedition that he played a crucial role in securing his friend Tenzing Norgay's first appointment as a sherpa. That same year, Ang was also a member of the team supporting Reginald Cooke's solo ascent of Kabru. Cooke later acknowledged Ang Tharkay as the most dependable among the sherpas and, regretfully, decided to entrust him with the responsibility of Base Camp, opting not to include him in the summit attempt.
In 1937, Ang Tharkay served as the sirdar for Eric Shipton's extensive survey expedition, covering 1,800 square miles (4,700 km2) of Karakoram territory north of K2 over a five-month period. He also worked as a sirdar in the 1938 Everest expedition.
1950 French Annapurna Expedition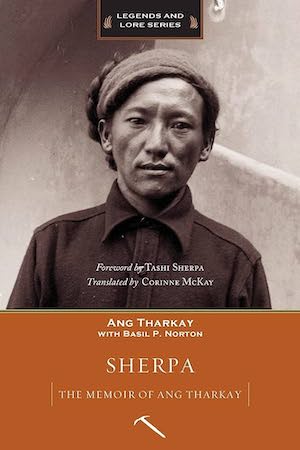 In 1950, Ang Tharkay was a sirdar for the successful French Annapurna expedition, led by Maurice Herzog and Louis Lachenal. This expedition marked the historic first ascent of Annapurna, the initial eight-thousand-meter peak to be conquered.
Although Herzog had asked Ang to join the summit team, he declined, citing concerns about freezing feet. Tragically, Herzog and Lachenal, on their descent from the summit, suffered severe frostbite and had to be carried down by the sherpas, including Ang Tharkay.
In his 1954 memoir, Ang Tharkay highlighted the warm and equal treatment he received from the French climbers during the expedition. Due to his contributions, he was honored with the Légion d'honneur, becoming the first sherpa to receive such a European accolade.
1951 British Everest Reconnaissance Expedition 
During Shipton's British Everest reconnaissance expedition in 1951, the team ventured into Tibet, fully aware that entry was prohibited. They had hoped to remain unnoticed, but their plan unraveled when they encountered an armed militia. For approximately ten minutes, both sides engaged in heated exchanges. However, Ang Tharkay, serving as the sirdar, intervened and requested the European team members to step away.
Subsequently, a lively argument ensued for about twenty more minutes. Eventually, Ang Tharkay returned to the sahibs (European team members) with a grin on his face, delivering the news that they would be released upon payment of seven rupees. He had skillfully negotiated down the initial demand of ten rupees.
A Legacy of High-Altitude Leadership and Achievement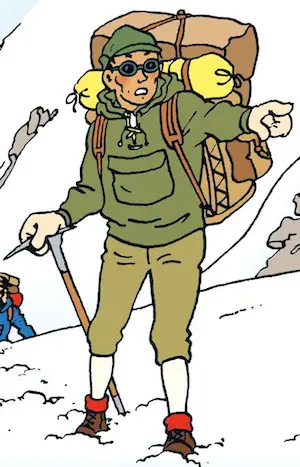 Ang Tharkay served as the sirdar for several significant expeditions during his mountaineering career. In 1952, he led an expedition to Cho Oyu, followed by Dhaulagiri and Nun in 1953, Makalu in 1954, and Kamet, where they successfully reached the summit, in 1955.
In 1962, Ang Tharkay came out of retirement to take on the role of sirdar for an Indian expedition to Everest. This endeavor resulted in him becoming the oldest individual to ascend beyond eight thousand meters, as the team reached the South Col.
In 1975, Ang Tharkay led a party to the Annapurna Sanctuary, and in 1978, at the age of 70, he led the sherpas in support of the French attempt on Dhaulagiri.
(Image: Ang Tharkay in TinTin)
Ang Tharkay: A Respected Figure in Mountaineering
Ang Tharkay received high acclaim from notable sources. The Royal Geographical Society described him as exceptional in both climbing skills and leadership as a sirdar, noting his admirable character, which earned praise from all who crossed paths with him. Reginald Cooke regarded Ang as one of the bravest, most intelligent, and adventurous among the young Sherpas.
Eric Shipton held Ang Tharkay in particularly high regard, stating:
We quickly came to appreciate his exceptional qualities, which set him apart as the finest among all the Sherpas I have encountered. His discerning judgment of both individuals and situations, combined with unwavering composure in times of crisis, made him an invaluable companion. He possessed a genuine, endearing modesty and selflessness, alongside an infectious and sincere spirit of joy. Ang Tharkay accompanied me on all my subsequent Himalayan journeys, and much of their success and my personal enjoyment can be attributed to him.

– Eric Shipton