Lhakpa Gelu, is a renowned Nepalese Sherpa climber, born in Jubing – 1, KhariKhola, Solukhumbu, Nepal. He achieved international recognition for setting a world record by ascending Mount Everest, in 10 hours, 56 minutes, and 46 seconds. This accomplishment marked Gelu's tenth successful summit of the mountain, making him one of the most famous sherpas of Nepal.
Lhakpa Gelu's Everest Triumph in 2003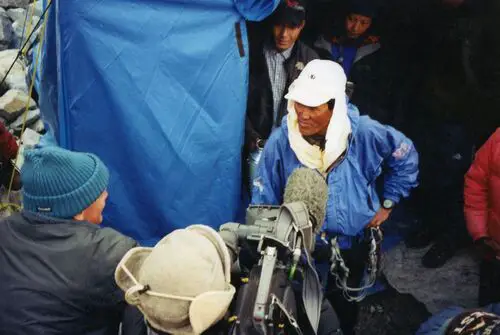 Gelu began on his summit bid at 5:00 p.m. on May 25, 2003, and successfully reached the summit at 3:56:46 a.m. on May 26. From base camp to the summit of Mount Everest it only took him 10 hours 56 minutes and 46 seconds. He descended to Base Camp, arriving at 11:20 a.m. on the same day. Additionally, upon reaching the summit, Gelu proudly raised the Nepalese flag on a 6-foot-tall (1.8 m) brass pole. In total, his round trip from Base Camp to the summit and back to Base Camp took 18 hours and 20 minutes.
The record-breaking time he achieved surpassed the previous record of 12 hours and 45 minutes, which had been set just a few days earlier on May 23, 2003, by 25-year-old Pemba Dorjie, another Sherpa from the Rolwaling Himal region.
During this historic ascent, Lakpa Gelu served as the climbing Sardar for the 12-member "Jubiläums Expedition Mt. Everest 2003." His expedition began on the Southeast Ridge, led by the experienced 56-year-old mountaineer, Eckhard Schmitt, hailing from Schaftlach, Germany.
Lhakpa Gelu's Everest Record Reclaimed After Years of Controversy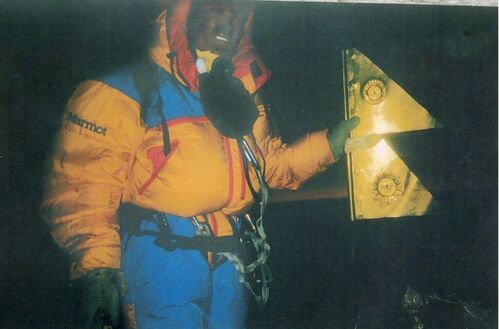 It wasn't until 2018 that Lhakpa's achievement in setting the world record for the fastest climb of Mount Everest received the recognition it deserved. This acknowledgment came after more than a decade of going unnoticed. Previously, another climber, Pemba Dorje, had completed the climb in just 12 hours and 45 minutes, merely two days before Lhakpa's historic feat. Lhakpa's record-breaking accomplishment had eclipsed Dorje's time almost as soon as it was recorded.
The subsequent year, Pemba claimed to have climbed Everest in a mere 8 hours and 10 minutes. However, there was no concrete evidence, and no witnesses corroborated Pemba Dorje's claim. Thirteen years later, this record was ultimately declared as unsubstantiated, and the prestigious title was rightfully reinstated to Lhakpa Gelu.
Personal Life: Lhakpa Gelu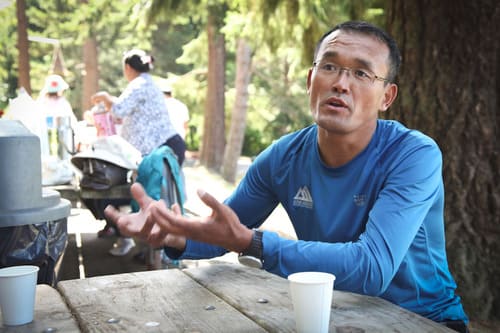 Lhakpa Gelu was around June 23, 1967, in the Solukhumbu region of Nepal. It's important to note that the Sherpa community in Nepal traditionally does not maintain precise birth records, making it impossible to determine his exact birth date.
Lhakpa Gelu hails from a family with a strong climbing tradition. He was raised alongside four brothers and a sister, Fulamu. Unfortunately, tragedy struck when his older brother died in an avalanche while climbing Annapurna in 1991. His brother, Jangbu, has successfully reached the summit of Everest ten times. Danurbu has achieved this feat six times, and Pasang Geljen once, resulting in a total of thirty-one Everest summits within their family. In 1990, Lhakpa Gelu married Fuli Sherpa and they have two sons and a daughter. 
Their aspiration was to relocate their family to the United States. They envisioned a future where their children could receive education and pursue careers beyond the demanding life of climbing Sherpas. Working as a Sherpa on Mount Everest entails exceptionally strenuous and hazardous labor. Tragically, a significant number of fatalities on Everest are Sherpas, primarily tasked with transporting heavy loads up and down to support various expeditions. Furthermore, Sherpas typically receive considerably lower compensation than their Western counterparts, adding to the challenges they face in this profession.
From Nepal to the United States: Lhakpa Gelu's Path to a New Life and Career
Lhakpa Gelu's journey to the United States began in 2001 when he visited for a five-month stay. It was facilitated by Martha and Nancy Fagin, the latter of whom had previously climbed Mount Everest. Despite his limited English proficiency, he secured employment at an Indian restaurant in California.
In 2005, Gelu returned to the U.S., this time accompanied by his wife, and they obtained residency status. Two years later, he moved to Utah, with the invaluable assistance of Lance Bunker, a Salt Lake City resident. In Utah, Gelu juggled various jobs, including working at Lance Bunker's company, delivering pizzas for Pizza Hut, serving at a coffee shop located at Snowbird Ski Resort, and collaborating with the Coca-Cola Company.
During their time in Utah, Ang Dawa, one of Gelu's children, achieved a milestone by graduating from Alta High School. It marked the first high school graduate in Lhakpa's family lineage. Subsequently, the family relocated to Washington, where Gelu embarked on a career as a mountain guide, working with both Alpine Ascents International and Adventure Ascents, a company he co-founded in 2013.
From Mountain Peaks to Community Outreach
After a few years, Lhakpa Gelu chose to step away from Alpine Ascents and now dedicates his time to The Wildberry Restaurant. This family-run establishment operates seasonally from May to October and is conveniently situated within a mile from the entrance of Mt. Rainier National Park—a place Lhakpa Gelu frequented during his tenure with Alpine Ascents. 
While Lhakpa Gelu takes immense pride in his mountaineering achievements, his true passion lies in the mission of the Lhakpa Gelu Foundation, a charitable organization he established. The foundation's primary objective is to enhance educational opportunities, especially for the children, in his hometown of Kharikola. Lhakpa Gelu firmly believes that education is a fundamental aspect of life and is committed to making a positive impact on his community through this endeavor.