Russell Reginald Brice, born on July 3, 1952, is a renowned mountaineer from New Zealand. He operates Himalayan Experience, the preeminent and highly advanced guiding venture on Mount Everest. Widely recognized as Himex, this enterprise has led 17 expeditions to Everest, spanning both the Nepal and China sides. Russell Brice has climbed Cho Oyu seven times, Himal Chuli and Mount Everest twice each, and added Manaslu once.
However, his accomplishments have not escaped controversy. In 2006 during an Everest expedition under HIMEX, Mark Inglis placed the blame of the death of one of the most famous dead bodies on Mount Everest, David Sharp on Brice.
Additionally in 2012, Brice shocked everyone at Everest's base camp by saying he's taking all his team, including guides, climbers, and Sherpas, off the mountain. People criticized this move, not just the climbers who couldn't climb Everest and didn't get their money back. After this incident, his company HIMEX, suffered a big blow to its reputation.
Russel Brice's Career:
In 1974, Brice embarked on his first journey to Everest as a member of Edmund Hillary's Himalayan Trust. However, it wasn't until 1981 that he made his initial attempt to climb the mountain. In 1988, Russell Brice achieved a notable milestone. Alongside Harry Taylor, he became the first climber to successfully conquer The Three Pinnacles on Everest's Northeast Ridge.
On May 29, 1997, Brice reached the summit of Everest, and he repeated this feat on May 25, 1998. Nevertheless, his greatest recognition stems from his leadership of the 2006, 2007, and 2009 expeditions on Everest. It was documented in a three-season series titled Everest: Beyond the Limit, aired by the Discovery Channel. The series highlighted Brice's extensive experience, expertise in weather conditions, and professionalism, distinguishing his team from others on the mountain.
2006 and 2012 Controversy of Russell Brice
However, controversy arose following the first season. Brice became involved in a debate surrounding the death of climber David Sharp. Brice's climbers discovered Sharp in a weakened state, and though they filmed footage of Sharp, they determined it was impossible to save him. This led to the difficult decision of leaving him behind to succumb to the treacherous conditions. This incident sparked discussions and scrutiny.
In 2012, clients of Brice's company each paid €43,000 to undertake a Mount Everest expedition. However, Brice had concerns about hazardous conditions. Consequently, he made the controversial decision to withdraw all his guides, clients, and Sherpas from the mountain. Unfortunately, this led to perceptions that he was overreacting, resulting in damage to his company's reputation. During the 2013 season, Brice played a role in mediating disputes that arose between Sherpas and Western climbers on the mountain.
In addition to his Everest-related ventures, Brice was formerly the owner of Chamonix Experience. It is a company based in Chamonix in the French Alps, as well as Mountain Experience, based in Nepal.
Russel Brice and the David Sharp Controversy: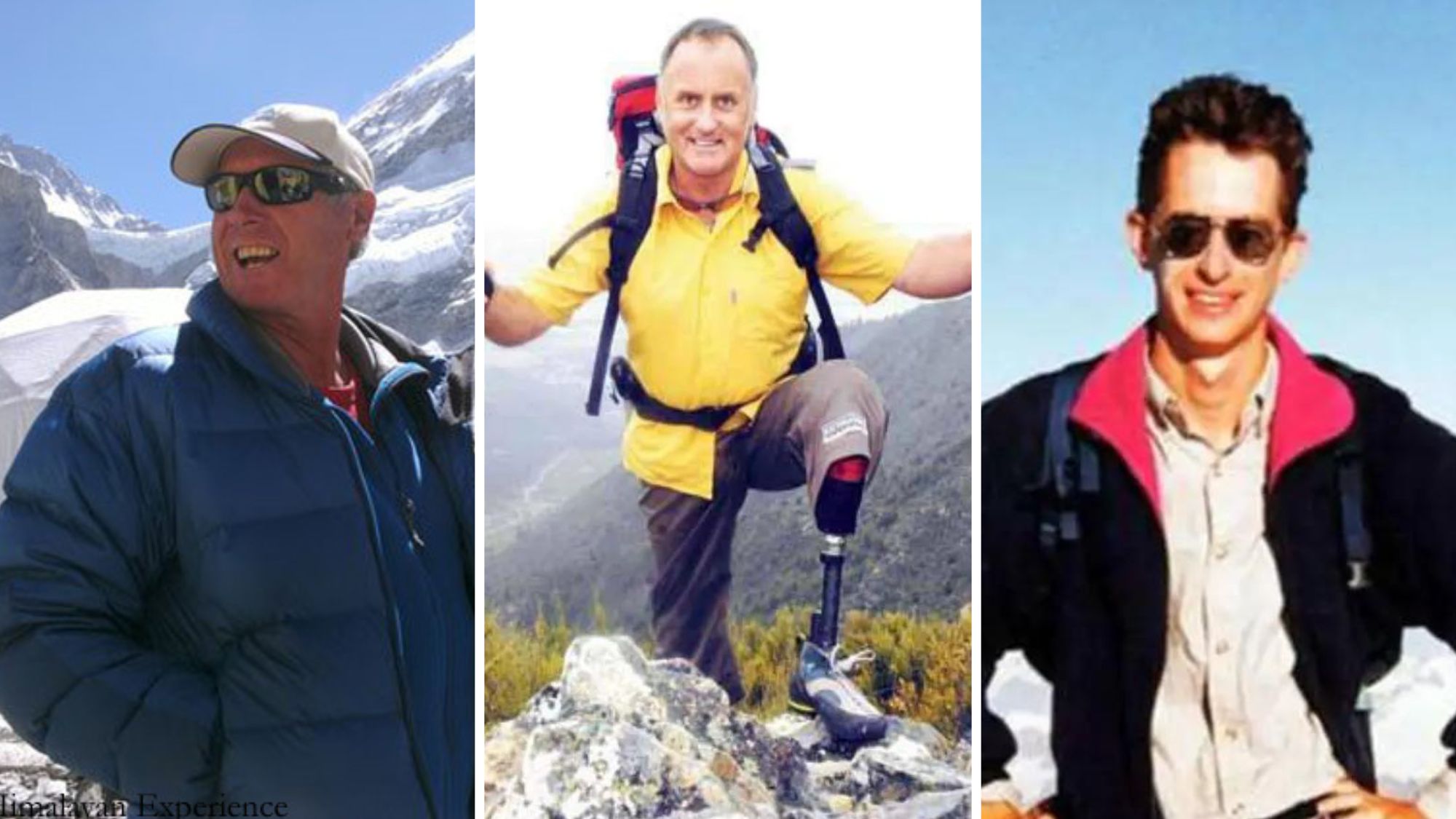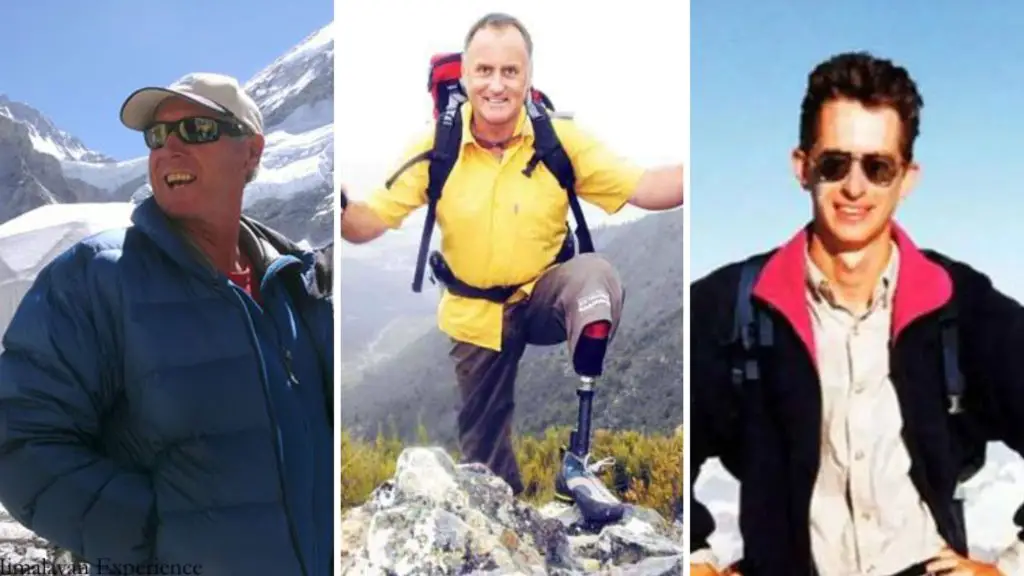 Russell Brice has a record of guiding people to the summit of Everest than any other commercial guide. However, in 2006 he found himself in the controversy around the death of David Sharp. He had had died next to Green Boots (Tsewang Paljor) in the death zone of Everest.
Brice addressed the controversy surrounding his decision not to mount a rescue mission for climber David Sharp, stating:
"There was nothing they could do for him. I couldn't put the lives of my clients at risk to try and save someone who was really beyond saving. It was doubtful whether we could have got him down."
Brice monitors his expedition teams from a distance of 23,000 feet, using a telescope and radios for communication. On the day Sharp set off from High Camp, Brice's teams began their ascent as well, reaching the summit at 9 am. Several hours later, climbers recall seeing Sharp, although they were unaware of his identity.
The controversy ignited when Mark Inglis, a climber who had lost both legs in a previous accident, claimed that Brice had instructed them to ignore Sharp and proceed to the summit. However, Inglis later retracted the statement, clarifying that he may have misspoken or been misquoted.
Brice countered these claims by referring to the meticulous log of radio calls from that night. He asserts that there is no mention of a stricken climber, and the documentary crew from the Discovery Channel recorded all his calls. Brice asserts that he was unaware of Sharp's presence until 9:30 am when his own team was descending. Describing Sharp's condition, he recounts,
"His legs and arms were like blocks of wood. His face was black from frostbite. There were long icicles hanging from his nose. He was not on oxygen but all my climbers were at the end of their supplies and exhausted."
Given the circumstances, Brice explains that it was physically impossible for his team to carry Sharp down. Following the encounter, Brice and his team discovered Sharp's identity through his passport and subsequently contacted his parents to deliver the devastating news. Despite the criticism he faced, Brice affirms that he would have attempted a rescue if it had been feasible.
Russell Brice Films:
Brice's expertise does not stop on the mountain, as he has been sought after for filming projects as well. Notably, he served as the location manager for the film The Wildest Dream (2010), which narrated the story of George Mallory and the expedition to locate his body, ultimately discovered by Conrad Anker.
Furthermore, Brice provided his expertise in filming logistics for the series Planet Earth, and he was also involved in the production of the film Touching the Void (2003). Brice also was a part of the Everest: Beyond the Limit series, which was part of the David Sharp controversy.
Brice also had a central role in the documentary Sherpa (2015), which recounts the events surrounding the Mount Everest ice avalanche of 2014.
Below are a list of films that Russel Brice was a part of:
The Last Ridge On Everest (1988) HTV documentary
Ballooning Over Everest (1991)
One Foot On Everest (1994)
Expedition Journal (1999)
Wild Weather (2002) BBC documentary
Death on Everest (2003)
After the Climb (2003)
Everest: Beyond the Limit (2006) Season 1
Earth: The Power of the Planet (2007) BBC production in Chamonix, Ice episode
Everest: Beyond the Limit (2007) Season 2
The Wildest Dream (2008)
Everest: Beyond the Limit (2008) Season 3
Sherpa (2015) documentary
Personal life:
Brice is a founding member and board member of Friends of Humanity, a non-profit organization based in Geneva. In 1991, he served as the project coordinator for the 'Balloon Over Everest Expedition,' successfully flying two hot air balloons over Everest.
Russell Brice was born in 1952 in Christchurch New Zealand and currently lives in Canterbury. In January 2020, Russell married Jennifer Norris in Canberra, Australia, marking a significant milestone in his personal life.
Where is Russell Brice now?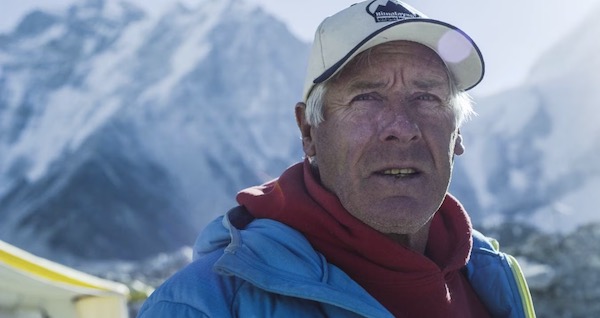 Brice now enjoys a much safer and calmer life staying away from base camp. He now manages much of the business of Himex (Himalayan Experience Ltd) from an office in New Zealand as well as Chamonix, France.
In 2017 after a decision to pull climbers off K2, one of the most dangerous mountains in the world to climb, Brice made an announcement to 'hang up his boots'. This action came as a shock to the mountaineering community. Russell Brice had been a prevalent fixture at base camps around the world for over 30 years.
However, he is not stepping away completely but rather seeking to readjust his focus and achieve a better work-life balance. It brings reassurance to know that he will continue leading Himex and organizing expeditions. The significance of his experience and logistical expertise cannot be overstated, particularly in tackling monumental mountains like Everest and K2.
In 2020, Stephan Keck, from Austria, assumed the role of CEO of Himalayan Experience, taking over the current business. Russell Brice, the former owner, remains a part of the company and will serve as a senior partner, providing guidance and support to Stephan in his new role.
Russell Brice: The Story of the Himex Manager on Everest
Russell's life and his role as the owner of Himex have been marked by achievements and controversy. Brice, known as the King of Everest, has guided more climbers to the summit of the world's highest peak than any other commercial guide. However, his leadership came under scrutiny during the Mark Inglis and David Sharp controversy. Brice's decision not to mount a rescue mission for Sharp, who was in a critical condition, sparked intense debate and criticism.
Despite the backlash, Brice has remained steadfast in his belief that the safety of his clients and the extreme nature of climbing Everest took precedence. His experience and dedication to mountaineering have earned him respect in the industry. Through expeditions, documentaries, and humanitarian efforts, Brice has made a lasting impact on mountaineering.