Mark Joseph Inglis was born on September 27, 1959. He is a multi-talented individual from New Zealand, who is widely recognized as a mountaineer, researcher, winemaker, and motivational speaker. Mark Inglis' remarkable feat as the first double amputee to conquer Mount Everest, the world's highest peak above sea level, solidifies his status as an extraordinary individual.
However, his feat of conquering Mount Everest, has caused a widespread controversy amongst the climbing community. Whereas, Mark was on Everest when one of the most famous dead bodies on Mount Everest lost his life – David Sharp.
This blog looks at Mark's personal life, his accomplishments, and the controversy around him and David Sharp's death.
Mark Inglis's Personal Life:
Currently, Inglis calls Hanmer Springs, New Zealand, his home, where he resides with his wife Anne and their three children. In 2007, he received a special tribute on TVNZ's program "This Is Your Life," honoring his remarkable journey and accomplishments.
Inglis obtained a degree in Human Biochemistry from Lincoln University in New Zealand and has contributed to research on leukaemia. In addition to his academic achievements, Inglis is an accomplished cyclist. Despite being a double leg amputee, he displayed exceptional skill and determination, earning a silver medal in the 1 km time trial event at the 2000 Summer Paralympics in Sydney.
Beyond his personal accomplishments, Inglis serves as a goodwill ambassador for the Everest Rescue Trust, promoting its noble cause. Furthermore, he established Limbs4All, a charitable trust based in New Zealand, with the aim of providing assistance to those in need. Additionally, Inglis created a line of sports drinks and energy gels called PeakFuel, catering to the needs of athletes and enthusiasts alike.
Additionally, Inglis has authored multiple books:
No Mean Feat documents his entrapment and rescue from Mt. Cook, his successful summit of the same mountain in 2002, and his efforts in the Paralympics
To the Max: a Teen Reader's Version of No Mean Feat
Off the Front Foot offers views on coping with positive and negative aspects of life.
No Legs on Everest is a detailed account of his ascent of Everest including his climb of Cho Oyu.
How Did Mark Inglis lose his legs?
In 1982, Inglis and his climbing partner Philip Doole found themselves trapped in a snow cave on Aoraki/Mount Cook for a grueling period of 13 days, as a result of a severe blizzard. The harrowing ordeal ultimately led to the amputation of both of Inglis's legs below the knee.
Inglis and Mountaineering: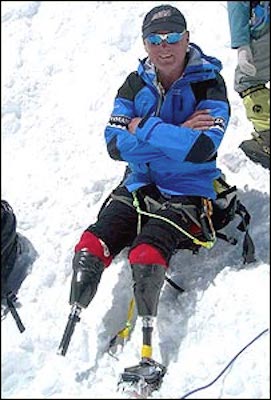 Mark Inglis embarked on his professional mountaineering career in 1979 as a search and rescue mountaineer for Aoraki/Mount Cook National Park. In 1982, he and his climbing partner Philip Doole found themselves trapped in a snow cave on Mount Cook for an incredible 13 days, due to a severe blizzard. The high-profile rescue of the two climbers captivated the attention of the New Zealand media. Unfortunately, both individuals suffered severe frostbite in their legs during the agonizing wait for rescue. Inglis underwent a life-altering amputation below both of his knees, exactly 14 cm from his limbs. 
Despite this setback, Inglis's spirit remained unwavering. In 2002, he made a triumphant return to Mt. Cook and successfully reached its summit on January 7th, following a previous attempt marred by leg-related complications. This ascent in January 2002 was meticulously chronicled in the film "No Mean Feat: The Mark Inglis Story."
Recognizing his exceptional contributions to individuals with disabilities, Inglis was appointed an Officer of the New Zealand Order of Merit in the 2002 Queen's Birthday and Golden Jubilee Honors. On September 27, 2004, he achieved yet another remarkable feat by conquering Cho Oyu alongside three companions, becoming only the second double amputee to summit a mountain surpassing 8,000 meters (26,000 ft) in elevation.
On May 15, 2006, after a 40-day ascent, Inglis etched his name in history as the first-ever double amputee to reach the pinnacle of Mount Everest, the tallest peak in the world. While acclimatizing at 6,400 meters (21,000 ft), an anchored fixed-line gave way, causing Inglis to fall and break one of his carbon fiber prosthetic legs in half. A temporary repair was made using duct tape until a spare leg could be brought up from the base camp. The remarkable journey of Inglis's Everest expedition was captured for the Discovery Channel series "Everest: Beyond the Limit."
However, it was during his ascent on Mt Everest, that his remarkable feat would be cast in controversy. Thanks to the death of a fellow climber on the mountain: David Sharp.
Mark Inglis and the David Sharp Controversy: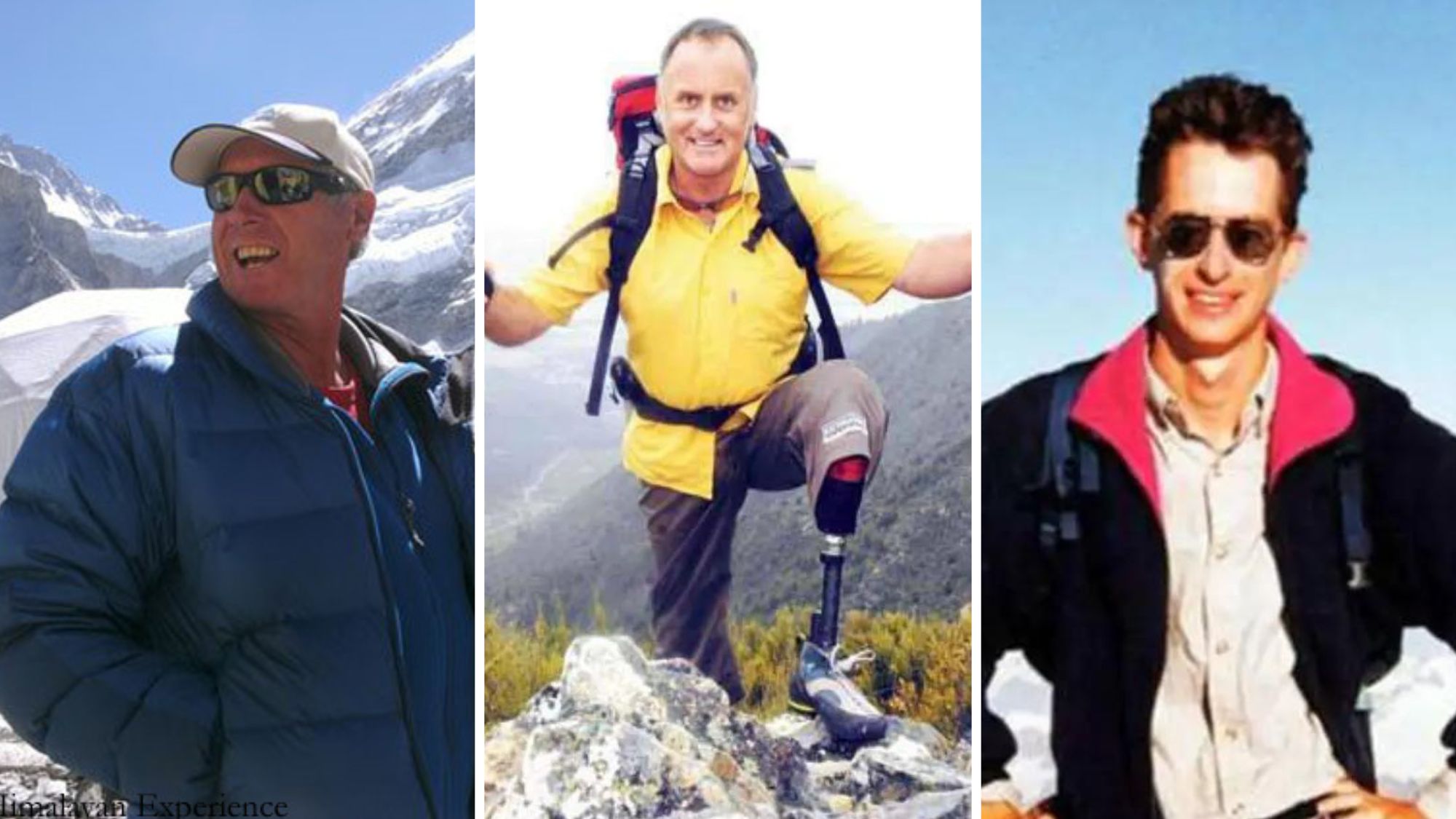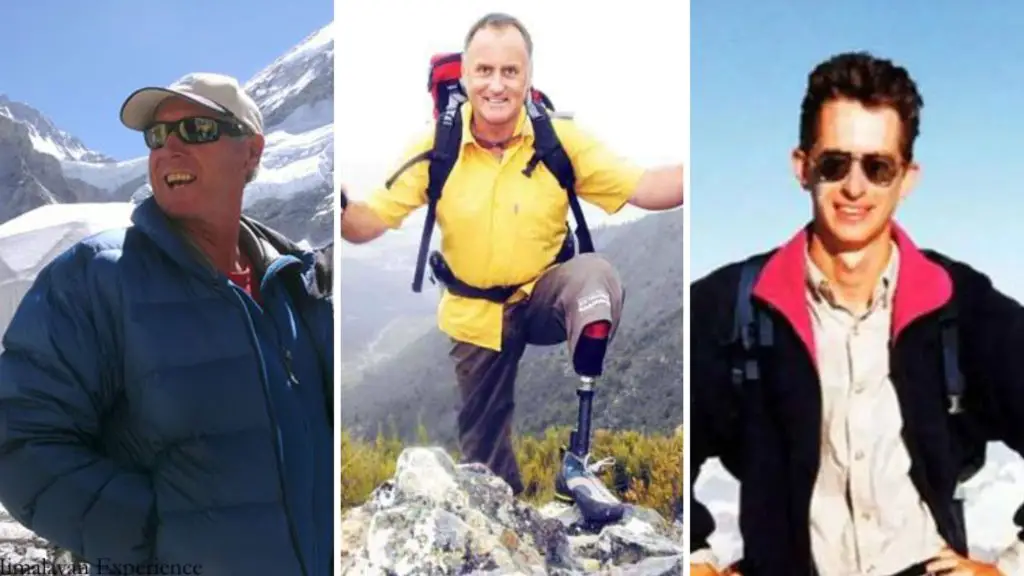 During their ascent of Everest, Inglis and a group of 18 climbers encountered a distressed British climber named David Sharp. Despite being aware of Sharp's dire situation, they made the decision to proceed towards the summit, effectively leaving Sharp to face his fate alone. Tragically, Sharp later succumbed to the harsh conditions.
Mark Inglis faced significant criticism for this choice, with notable figures like Sir Edmund Hillary stating that he should have abandoned the summit attempt to assist a fellow climber. In response, Inglis attempted to deflect blame by attributing the decision to expedition leader Russell Brice, who was stationed at the base camp.
He also argued that survival at the treacherous altitude of 8,500 meters is exceedingly challenging, let alone trying to save someone else's life. Some climbers supported Inglis's standpoint, highlighting the limited options for aiding seriously ill individuals in such proximity to the summit. However, Phil Ainslie, a mountaineer and scientist from the University of Otago, suggested that it might have been possible to revive Sharp and bring him to safety using bottled oxygen.
On June 10th, in an email statement to the Associated Press, expedition leader Russell Brice contradicted Inglis's claims by stating that he only became aware of David Sharp's distress when his team radioed him during their descent. Brice confirmed that he received multiple radio messages throughout the night, which were overheard by others and thoroughly documented.
There is no record of any communication from Mark Inglis. These assertions were further supported by complete video footage captured by a Discovery Channel crew. Inglis's group continued their journey to the summit, passing a still-living David Sharp without offering assistance. It was during their descent, several hours later when passing through the same area, that the group discovered Sharp in a critical condition. Although Inglis's fellow climber, Maxime Chaya, and Chaya's Sherpa mountaineering partner attempted to help Sharp, their efforts proved futile. Notably, Inglis did not provide aid during the descent.
The Life of Mark Inglis and the Controversy on Everest:
Mark Inglis's remarkable journey to becoming one of the most famous climbers of Everest has captivated the world. His triumph over adversity, including conquering Mount Everest as a double amputee, has inspired countless individuals. However, Inglis faced significant controversy surrounding his decision not to assist fellow climber David Sharp during his ascent of Everest.
The ethical debate surrounding this incident has raised questions about the responsibilities of climbers to aid those in distress, particularly in extreme environments where survival itself is a formidable challenge. While opinions differ on the matter, this controversy serves as a reminder of the complex decisions and moral dilemmas faced by adventurers in the pursuit of their goals.
FAQs: Mark Inglis on Mount Everest
Below are some of the most frequently asked questions regarding Mark Inglis story.
1. What happened to Mark Inglis?
As a Search and Rescue Mountaineer, Mark Inglis found himself trapped in an ice cave near the summit of Mt Cook for 13 days with Philip Doole in November 1982. The severe frostbite they suffered ultimately led to the amputation of both men's legs below the knees
2. Did Mark Inglis summit Everest?
On May 16, 2006, Mark Inglis summited Mount Everest as a double amputee. He successfully completed the climb utilizing two custom-made carbon fiber prosthetic legs designed explicitly for mountaineering purposes.
3. When did Mark Inglis climb Mount Everest?
Mark Inglis climbed Everest on 15 May, 2006.