Jordan Romero, at the age of 13, became the youngest person to summit Mount Everest. If that wasn't enough, a few months later he became the youngest person to conquer all Seven Summits. His accomplishments at such a young age have solidified him as one of the most famous mountaineers to climb Everest.
This blog recounts Jordan' Romero as an American mountain climber and his extraordinary adventure to summit Everest and complete the Seven Summits of the world.
Jordan Romero's Dream to Climb Everest:
Jordan Romero, achieved the extraordinary by reaching the summit of Mount Everest at the age of 13. He was accompanied by his father, Paul Romero, step-mother, Karen Lundgren, and three skilled Sherpas: Ang Pasang Sherpa, Lama Dawa Sherpa, and Lama Karma Sherpa. Prior to his achievement, the record for the youngest Everest climber was held by Ming Kipa of Nepal, who reached the summit at the age of 16 on May 22, 2003.
However, Romero wasn't content with just one impressive accomplishment. He continued to defy the odds, and at the age of 15 years, 5 months, and 12 days, he successfully hiked the Vinson Massif in December 2011. Becoming the youngest climber ever to conquer the Seven Summits – the highest peaks on each of the continents. This title was previously held by George Atkinson.
Jordan's journey inspired him to share his experiences, leading him to co-write a children's novel titled 'No Summit Out Of Sight'. Through his words, he hoped to inspire and ignite the adventurous spirit within young readers. Ultimately, encouraging them to pursue their dreams relentlessly.
How Jordan Romero Became the Youngest Person to Summit Everest: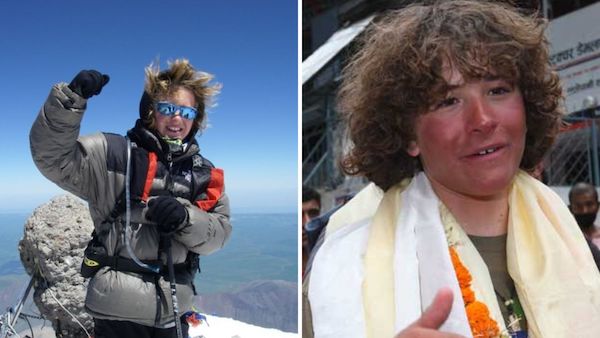 Once a young student at Lucerne Valley Elementary School, Jordan Romero would pass by a mural of the Seven Summits adorning the school's halls every day. Little did he know that this artwork would ignite an extraordinary journey in his life. The mural served as the catalyst for Jordan's dream of becoming the youngest person to conquer Mount Everest and ultimately scale all seven of the peaks depicted in the artwork.
One day, his curiosity led him to research the Seven Summits during a Computer Lab session, and he excitedly discussed his newfound passion with his father, who wholeheartedly supported his quest for adventure.
The journey began with a hike in Big Bear, California, where Jordan's father loaded his backpack with 20 pounds to get a feel for carrying a load. The young climber soon realized the immense effort required to summit these mountains. However, their regular hikes in the mountainous region of Big Bear laid the foundation for greater challenges, and in 2006, Jordan's father suggested climbing Mount Kilimanjaro in Africa, marking the first of the Seven Summits. As they triumphed over each mountain, Jordan proudly declared, "One down. Six to go."
The relentless pursuit continued, taking them to distant lands and higher altitudes. From Australia's Mount Kosciuszko to Russia's Mount Elbrus, from the Andes' Aconcagua to Alaska's Denali, and Indonesia's Mount Carstensz Pyramid, they scaled peak after peak, inching closer to their ultimate goal.
The Dream to Climb Everest Became a Reality:
Finally, the dream of climbing Mount Everest, came into focus. Yet, the daunting journey to its summit demanded substantial financial support. Through grassroots fundraising efforts, selling T-shirts, and engaging with the community, they managed to gather the necessary resources. The school and local community also rallied behind him, generously supporting his dream.
Despite the challenges, Jordan's determination and tenacity remained unwavering. He successfully conquered Mount Everest, becoming the youngest person ever to achieve such a feat. Following this remarkable triumph, he continued to showcase his adventurous spirit by climbing the Vinson Massif in December 2011, thereby completing the Seven Summits.
Today, as a resident of Salt Lake City, Jordan embraces an active lifestyle filled with outdoor pursuits, including mountain biking, trail running, and skiing. His extraordinary journey, ignited by a simple mural at Lucerne Valley Elementary School, serves as a testament to the limitless possibilities that await those who dare to dream and strive for greatness.
Jordan Romero Seven Summit Dates:
The table below shows the dates that Jordan Romero reached the summit of the tallest mountains on each continent. He successfully completed the Seven Summits in December, 2011, at the age of 15 years, 5 months, and 12 days. Making him the youngest individual to achieve the remarkable feat of completing the Seven Summits.
| Date of Ascent | Summits | Continent | Elevation m |
| --- | --- | --- | --- |
| July 2006 | Mount Kilimanjaro | Africa | 5,892 |
| April 2007 | Mount Kosciuszko | Australia | 2,228 |
| July 2007 | Mount Elbrus | Europe | 5,642 |
| December 2007 | Aconcagua | South America | 6,962 |
| June 2008 | Denali | North America | 6,194 |
| September 2009 | Mount Carstensz Pyramid | Asia | 4,884 |
| May 2010 | Mount Everest | Asia | 8,848 |
| December 2011 | Vinson Massif | Antarctica | 4,892 |
Dates of Jordan Romero's Seven Summits Ascents
Romero's Historic Everest Climb:
Before tackling the challenging ascent of Mount Everest, Jordan Romero had already conquered five of the world's highest peaks as part of his quest to scale the tallest summits on each of the seven continents. Completing the Seven Summits at the young age of 15, he concluded his remarkable journey with the triumph over Mount Vinson in Antarctica in 2011.
For the Everest expedition, Romero's group opted for a northern Everest route from Tibet, equipped with essential tools like a GPS tracking device and a satellite phone. Throughout the climb, he conducted interviews from an intermediate base camp located 18,700 feet above sea level. Upon finally reaching the summit of Mount Everest, Jordan held a Skype interview and also made a call to his mother, who had been closely following his progress by a map containing GPS coordinates, pictures, and videos.
During his Everest summit Jordan was accompanied by his father, stepmother, and three skilled Sherpa guides. Before embarking on the trek, Jordan expressed his passion for mountaineering, saying, "It's something I've always wanted to do before I die — I just happen to be doing it at this age. I happen to be going for a world record. But I just want to climb it," in an interview.
Coincidentally, on the same day, another incredible achievement was made by mountaineer Apa Sherpa from Nepal, who scaled Everest for the 20th time, setting a personal record of his own.
Criticism of the Youngest Person to Summit Everest: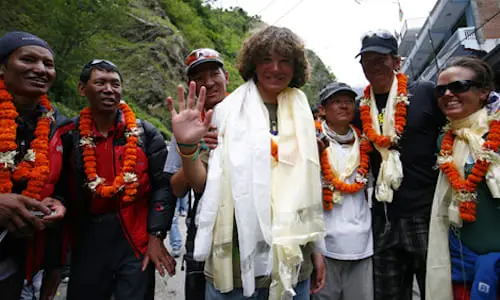 Prior to his Mount Everest climb, there was considerable criticism surrounding the decision to allow a 13-year-old boy to attempt such a feat. The medical adviser to the British Mountaineering Council, David Hillebrandt raised concerns about Romero's mental maturity and expressed doubt, stating,
"It is totally against the spirit of true mountaineering. This sounds like it's about mass marketing, money, and it's verging on child abuse. Nowadays, people are effectively being winched up (the mountains), using ropes that Sherpas have put in for them. It will all be done for him (Romero). He's a token passenger."
Due to Nepal's policy to not issue permits to individuals under the age of 16, Romero's team climbed from the Tibet side. On June 10, 2010, the Lhasa-based Chinese Tibet Mountaineering Association (CTMA), the official organization handling climbers' permission to attempt peaks in Tibet, announced that there would be future age restrictions for all those attempting to reach the summit.
The Youngest Person to Summit Everest: Jordan Romero
From gazing at a mural in his elementary school to standing atop the highest summits on each continent. Jordan Romero exemplifies the power of determination and resilience. As the youngest person to summit Everest and complete the Seven Summits, his legacy is a testament to a child's dream. As well as the support and love from his parents.
Although his ascent had controversy, it is still inspiring to see the capabilities of the young boy at the time. As well as his team of Sherpas who helped him accomplish his dream to summit Mount Everest.