Wanda Rutkiewicz (born Błaszkiewicz), pronounced in Polish as [/ˈvanda rutˈkʲevitʂ/], was a remarkable figure—a Polish mountain climber and computer engineer. Notably, she achieved the distinction of being the first Polish woman to conquer K2, as well as the third woman overall (and the first European woman) to reach the summit of Mount Everest.
Her accomplishments in both mountaineering and engineering left a lasting legacy, making her one of the most famous Mount Everest climbers in the world. 
The Early Life of Wanda Rutkiewicz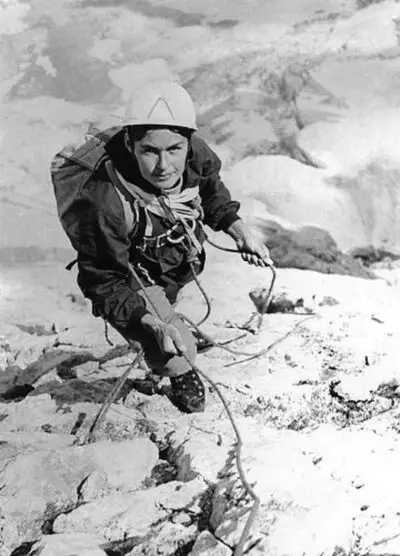 Born into an educated Polish family in Plungė, Lithuania, Wanda Rutkiewicz's upbringing was enriched with diverse experiences. Her father, Zbigniew Błaszkiewicz, served as an engineer at the Communal Building Projects Bureau (Biuro Projektów Budownictwa Komunalnego) and was a fervent sports enthusiast, excelling in swimming, shooting, and judo. Meanwhile, her mother, Maria, had a passion for exploring Western culture and had a fondness for traveling in the Himalayas.
In her early years, Wanda received homeschooling, but in 1949, she commenced her formal education by joining the 2nd grade at an elementary school. Additionally, she became a member of the 18 Scout Team of the "Zośka" Battalion.
Tragically, at the age of five, Wanda experienced the devastating loss of her seven-year-old brother, Jerzy, who, along with his friends, stumbled upon an unexploded bomb in post-war Wrocław, leading to a heartbreaking accident.
Wanda Rutkiewicz: From Versatile Athlete to Aspiring Climber
During her time in elementary school, Rutkiewicz displayed her athletic prowess as a multi-sport enthusiast. Each day before classes commenced, she trained with her school's coaches, focusing on running and honing her skills in long jump, discus throw, and high jump. Her dedication paid off when, in 1961, she clinched the gold medal in shot put at the Polish University Club Championships.
As she progressed to the Politechnic Institute, Rutkiewicz became part of the Academic Sports Union (AZS Wrocław) and decided to pursue volleyball. Despite her relatively short stature of 168 cm, she led AZS Wrocław to great success at the 1965 Summer Universiade held in Budapest.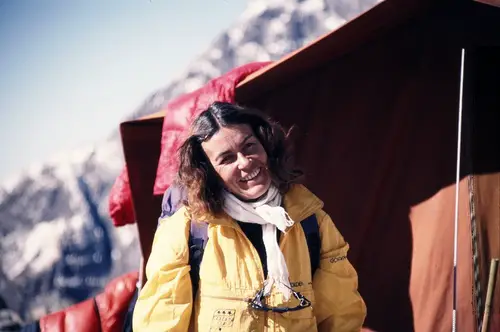 Rumors circulated that she might have been a potential candidate for the national team or even representing Poland in the 1964 Summer Olympics in Tokyo, but her heart was drawn elsewhere—towards the path of climbing. Opting to follow her passion, she embarked on a journey to become a mountaineer while graduating from Wroclaw University of Technology as an electrical engineer.
Interestingly, Rutkiewicz's passion in climbing was indirectly sparked by an encounter with a fellow motorcyclist. While riding a Junak, one of the heaviest Polish motorcycles, she ran out of fuel on a summer's day in 1961. Waving for assistance from passing travelers, fate brought her together with a seasoned climber named Bogdan Jankowski. This chance meeting proved to be a turning point, as they joined together to climb near Janowice Wielkie in the Falcon Mountains (Polish: Góry Sokole). Little did she know that this fortuitous event would set her on the path to a mountaineering career.
Trailblazing Heights: The Mountaineering Legacy of Wanda Rutkiewicz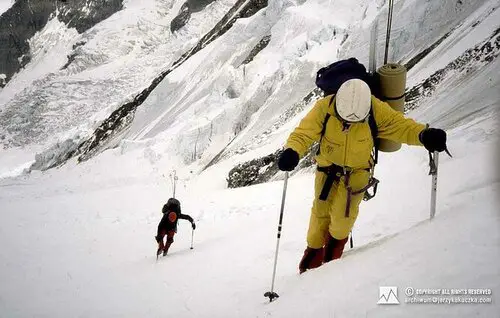 In 1970, shortly after marrying mathematician Wojciech Rutkiewicz, Wanda embarked on an expedition to the Pamir Mountains, accompanied by climbers from Poland and Novosibirsk. They took on the ascent of a mountain that was later named after Lenin. Despite reaching her first summit of over 7,000 meters, the experience was far from pleasant for Wanda. She encountered difficulties getting along with the all-male team members during the expedition.
Following this expedition, Wanda nurtured a vision of an all-female climbing endeavor. Her dream became a reality in 1975 when she led a successful women's expedition to Gasherbrum.
In the subsequent years, Wanda made multiple attempts to conquer the peaks of the Himalayas, but unfortunately, her efforts were met with disappointment. Tragically, after one expedition, she fell ill with meningitis, resulting in a severe setback that required her to relearn basic motor skills such as walking and talking.
Wanda Rutkiewicz: Conquering Peaks and Making History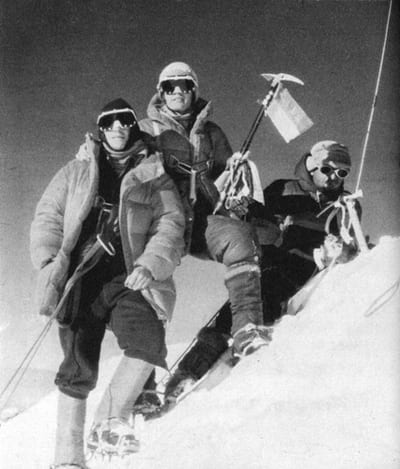 As a result of her challenging expeditions, Wanda Rutkiewicz earned a reputation as one of the most formidable mountaineers in Europe. In 1978, German climber Karl Herrligkoffer extended an invitation for her to join an international Everest expedition.
Once again, Wanda faced difficulties with the male members of the team. Undeterred, she decided to pursue the summit alone, venturing without an oxygen mask, which unfortunately got clogged with ice during the climb. On October 16, 1978, Wanda etched her name in history as the third woman (after Junko Tabei and Phantog in 1975) worldwide and the first European woman to conquer Everest's summit.
This extraordinary feat further propelled Wanda into the spotlight, and upon her return from Everest, she found herself giving interviews almost daily. Despite her demanding profession as a computer engineer at the Institute of Mathematics, Wanda's heart belonged to the mountains. Her dedication to mountaineering led to the dissolution of her first marriage, as her desire to spend more time climbing clashed with her husband's wish to start a family.
Wanda Rutkiewicz's determination and passion for mountaineering, cemented her status as a true trailblazer in the world of high-altitude climbing. She wanted to become the first woman to conquer the summits of all 14 eight-thousanders. Over the course of her remarkable climbing career, she achieved success on the following mountains:
1975: Gasherbrum III
1978: Mount Everest
1985: Nanga Parbat
1986: K2
1987: Shishapangma
1989: Gasherbrum II
1990: Gasherbrum I
1991: Cho Oyu
1991: Annapurna I
1992: Kangchenjunga (uncertain)
Empowering Women in the Mountains
Following her successful Everest expedition, Wanda Rutkiewicz remained steadfast in her belief that gender biases still affected her treatment in the mountaineering world. Fueled by this conviction, she resolved to organize more expeditions exclusively for women. The ambitious goal was set—to conquer K2, the world's second-highest peak and one of the most challenging to climb.
In 1981, the women began their rigorous training in the Caucasus. Despite harsh weather conditions, they managed to reach the summit of Elbrus. Tragically, during the descent, Wanda encountered a devastating accident—another climber slipped and accidentally hit her, resulting in a broken femur. Urgently, she sought medical help and underwent surgery with a doctor she knew in Austria. Remarkably, a deep bond grew between them, leading to marriage a few months later.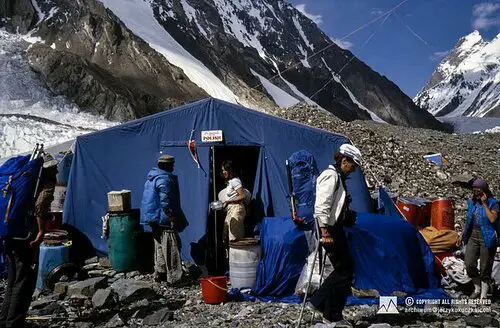 Undeterred by the setback, Wanda remained resolute in her mission to lead the K2 expedition. She and twelve other strong female climbers, Wanda herself relying on crutches, set out for the daunting task. While many doubted its feasibility, Wanda was captivated by the idea of achieving what others deemed unattainable.
During the journey, Wanda faced immense pain, relying on painkillers and tears while persevering to reach the base at an altitude of 5,400 meters. At a higher point of the base, two other climbers, Halina and Anna, were stationed. Tragically, Halina suddenly lost consciousness, and despite desperate efforts by Anna and their fellow climbers to save her, she tragically passed away.
Devastated by the loss, the team contemplated whether to continue the expedition. Ultimately, they decided to press on, believing that "Halina would have wanted that." Unfortunately, the adverse weather conditions thwarted their ascent, preventing them from reaching K2's summit. Despite the bittersweet outcome, Wanda Rutkiewicz's commitment to empowering women in mountaineering continued to inspire and pave the way for future generations of female climbers.
Triumphs and Perseverance: Wanda's K2 Ascent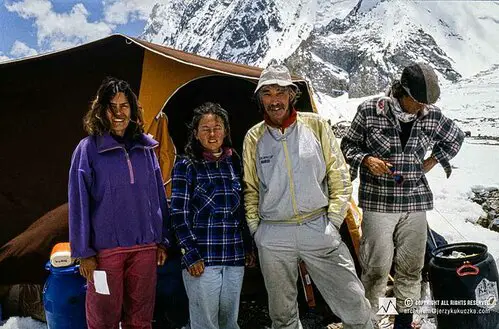 Undeterred by previous setbacks, Wanda, accompanied by three other female climbers, made a return to K2 after a few years. Unfortunately, unfavorable weather conditions once again thwarted their efforts to reach the world's second-highest peak.
However, in the same year, Wanda conquered other remarkable summits. She successfully scaled Aconcagua, the highest peak in South America, and Nanga Parbat in the Himalayas—her second 8,000-meter summit.
In 1986, Wanda's determination brought her back to K2 for the third time. This expedition presented a unique opportunity as Austrian television ORF agreed to finance a film documenting her journey. Using the funds, she secured a spot on a French expedition to the summit.
As the final stretch to the summit approached, fellow French climbers, Liliane and Maurice Barrard, opted to stay a few more days at the base camp below. Determined to seize the perfect weather conditions that day, Wanda decided to proceed alone. Once again she made history by becoming the first woman to conquer K2, without supplemental oxygen.
Resilience Amidst Loss: Wanda's Continuing Journey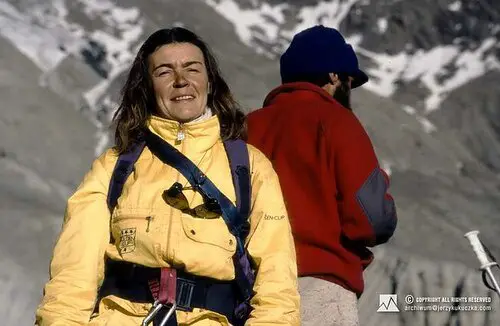 On her way down from K2's summit, Wanda met her friends, Liliane and Maurice, and resumed the descent with them. However, as they descended a few hundred meters, the weather turned harsh, and Wanda waited at the camp for her companions. However, the snowfall intensified, and Liliane and Maurice were nowhere to be found.
Wanda decided to climb back up with the help of the Italians from another expedition to search for her friends. Despite her determined efforts, she eventually had to return to camp due to the difficult conditions and high altitude. Tragically, Maurice and Liliane never reappeared.
As a mountaineer, Wanda was often questioned about why she continued to return to the mountains, especially after losing many friends there. In response, she candidly expressed, "As selfish as it is, it wasn't my death. I keep on living." Her love for the mountains persisted despite the sorrow she endured.
During the 1980s, Wanda chose to leave her job at the Institute of Mathematics and instead relied on donations to support herself. She delved into writing books, creating films, and delivering lectures in Poland and abroad. In 1988, she collaborated with Jerzy Kukuczka to give a lecture in Vilnius, sharing their mountaineering experiences.
Quest for Greater Heights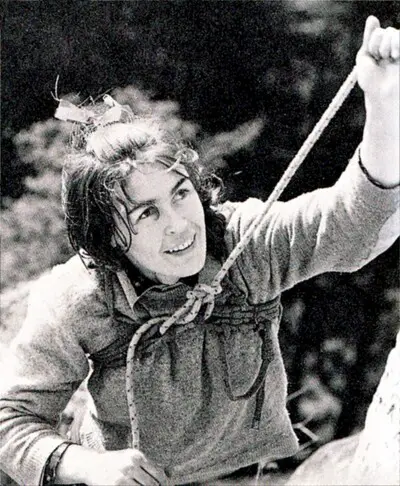 Wanda's transformation in the mountains was strikingly evident to her friends, who saw her as a different person there—uncompromising and focused, rejecting anything that hindered her goals. Some criticized her, labeling her as selfish, accusing her of being solely driven by her ambitions at any cost.
In 1990, Wanda found happiness with a man and began envisioning a future together. However, tragedy struck during their attempt to conquer Broad Peak, as he tragically fell and passed away before her eyes. Devastated by the loss, Wanda expressed that she would now pursue all 14 peaks.
By the end of 1990, Wanda had already conquered an impressive six peaks over 8,000 meters, surpassing all other women's achievements at the time. Undeterred by naysayers, she set an audacious goal of climbing the remaining eight peaks within a year—an ambitious endeavor that many considered impossible and life-threatening.
In 1991, she successfully scaled Cho Oyu, her seventh 8,000-meter summit, demonstrating her capability with relative ease. Just a month later, in late October, she embarked on an expedition to Annapurna, joining a Polish international team.
While preparing for the summit, Wanda encountered strong winds, leading her to decide to return to the base and rest. Despite her attempts, the challenging conditions persisted, and she suffered a leg injury. Doubting her ability to continue, the male members of the expedition left her behind. However, Wanda persevered, taking painkillers and forging ahead alone. In a display of extraordinary determination, she finally achieved her eighth 8,000-meter summit.
A Lasting Quest: Wanda Rutkiewicz's Final Ascent
Less than a month after her successful climb of Annapurna, Wanda set her sights on Dhaulagiri, but her attempt proved unsuccessful. Spring of 1992 marked a year since she set her ambitious goal, yet six peaks remained unconquered.
Determined to surmount the challenges, she embarked on her third endeavor to reach the summit of Kangchenjunga, the third-highest mountain. The expedition was fraught with difficulty from the outset, as four climbers had to withdraw due to injury or illness. Eventually, only Wanda and her friend Carlos Carsolio from Mexico remained to carry on.
During the climb, Wanda's pace was slower, and Carlos decided not to wait for her, forging ahead to reach the top. On his descent, he encountered Wanda, still climbing upward. To Carlos, Wanda was a legendary figure, and he was confident she would return safely. Unfortunately, he never encountered her again.
On May 12, 1992, Wanda mysteriously disappeared during her ascent. Her body was never found, and her fate remains unknown. The world was left to wonder whether she had achieved her lifelong dream of reaching the summit.
"I don't seek death, but I don't mind if it happens in the mountains. It would be an easy death for me. Many of my friends are waiting for me in the mountains"

– Wanda Rutkiewicz
Honoring Wanda Rutkiewicz's Legacy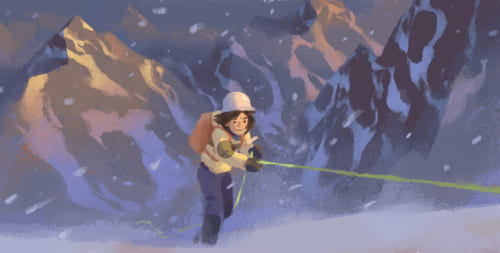 On the forty-first anniversary of her historic Mount Everest ascent, Wanda Rutkiewicz was celebrated and remembered through a Google Doodle on October 16, 2019. The doodle portrayed her scaling snowy peaks with determination, clinging to the railing rope, a fitting tribute to her achievements.
Continuing to honor her memory, the Polish Parliament passed a resolution in October 2021, commemorating the 30th anniversary of her passing. In recognition of her remarkable contributions to mountaineering, 2022 was designated as the "Year of Wanda Rutkiewicz." Her legacy remains a source of inspiration for generations of climbers and adventurers, reminding the world of the courageous spirit that drove her to conquer new heights and blaze trails in the world of mountaineering.