Kenton Edward Cool, born on 30 July 1973, is a climber and mountain guide from England. A skilled climber who has reached the top of Mount Everest 17 times! He even led Sir Ranulph Fiennes' Everest Expeditions in 2008 and 2009. He had a dream of climbing the Everest Trilogy, which included Nuptse, Everest, and Lhotse. All which are visible from each other and form the borders of a place called the Western Cwm.
In 2009, Kenton planned an adventure where he would first climb Nuptse (25,791 feet), then Everest (29,035 feet), and finally Lhotse (27,940 feet). But his plan couldn't happen because sponsors weren't interested, and he also had a full-time job leading clients on Everest.
However, in early 2013, when Kenton was already at Everest Base Camp with his only client, that client had to cancel the climb for personal reasons. Things started to look up when Kenton heard that another team was going to climb Nuptse and would put up ropes. This meant his dream of the Everest Triple Crown was within his reach.
Kenton has done more than 45 significant expeditions in various mountain ranges. In 2013, he achieved something amazing: he became the first person ever to climb Nuptse, Everest, and Lhotse in one go without going back to the base camp in between, solidifying him as one of the most famous climbers of Mount Everest.
Kenton Cool: Reaching New Heights in the World of Climbing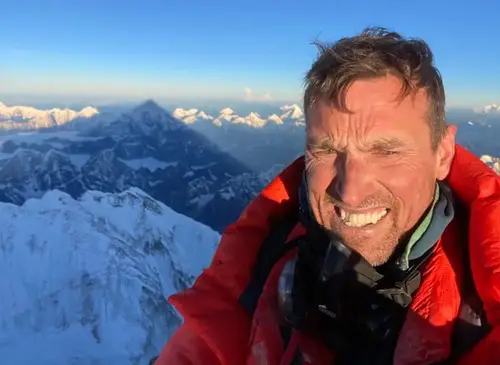 Kenton Cool was born in Slough, Buckinghamshire (now Berkshire) in 1973. His family's original surname was Kuhle, but it got changed during World War II by his half-German grandfather. His dad was a photographer, and his mom was a florist. They lived near Uxbridge in Middlesex. Kenton went to John Hampden Grammar School in High Wycombe, and later he got into the University of Leeds. He graduated from there in 1994 after studying BSc Geological Sciences.
Kenton's interest in climbing began during his time in the Scouts. He became really passionate about rock climbing while at Leeds University, and after graduating, he moved to Sheffield to pursue it further.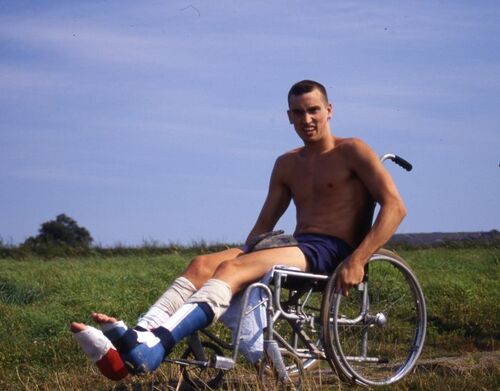 In 1996, he had a bad fall from a rock face near Llanberis Pass in north Wales, which caused fractures in both of his heel bones. A specialist told him that he might have to walk with a stick for the rest of his life. But Kenton didn't give up. After a year of surgeries and therapy, he was determined to get back into climbing shape, so he joined the British Association of Mountain Guides scheme.
After guiding for Jagged Globe, he went on to co-found 'Adventure Base,' which has now become a well-known adventure company worldwide. In 2004, when he met Ranulph Fiennes for the first time, he hadn't finished his guiding qualifications for the Alps. However, he had already been guiding in Nepal, Everest, the UK, and Alaska for many years. His climb on Annapurna III earned him a nomination for mountaineering's prestigious award, the Piolet d'Or, often referred to as the "Oscar of mountaineering."
Fulfilling a Historic Pledge on Everest
He has a perfect record on Everest, successfully reaching the summit in all ten of his attempts. In 2011, he even made history by making the first-ever cell phone call from the summit. 
In 2012, he gained widespread fame in the UK for accomplishing a remarkable feat. He took one of the Olympic Gold medals that had been awarded to members of the 1922 British Everest expedition to the summit. This particular medal was for Alpinism, which is a category that no longer exists.
Back in 1924, during the closing ceremony of the first Winter Olympics held in Chamonix, Edward Lisle Strutt, the deputy leader of the 1922 expedition, had pledged to take the gold medal to the summit. Unfortunately, they couldn't reach the summit in 1922, but they set a new altitude record at 8,230 meters. Over time, that pledge had been forgotten, lost in history. However, when Kenton Cool got the chance to fulfill that unaccomplished pledge, he became a national hero by completing the task.
Kenton Cool: Leading Fearless Expeditions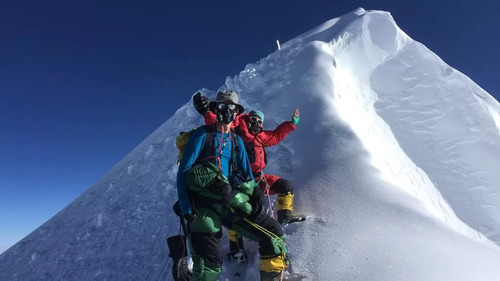 Cool is renowned as one of the leading mountain and ski expedition leaders in the UK. He has achieved many difficult ascents while guiding clients, including a significant milestone in 2007. He guided polar explorer Sir Ranulph Fiennes, who was in his sixties and had a fear of heights, to complete the first British guided ascent of the famous North Face of the Eiger.
In May 2008, Cool and Fiennes attempted to reach the summit of Mount Everest. However, Fiennes had to turn back when they were just 300 meters away from the top. Undeterred, Cool returned to Everest in 2009, and this time, he successfully led Fiennes to the summit. This achievement made Cool the most accomplished British Expedition Leader on the mountain.
Conquering the Everest Triple Crown
In May 2013, Kenton Cool achieved an impressive feat known as the Everest Triple Crown, together with his climbing partner, Dorje Gylgen. They had been climbing together since they first met on Everest back in 2007. Despite being only 28 years old, Gylgen was a reliable and determined partner, with an equally impressive record of 10 successful summits on Everest, just like Cool.
Cool knew that reaching the summits of Everest and Lhotse was achievable, but Nuptse posed more of a challenge. Nuptse is the lowest among the three peaks and is seldom climbed. It's considered technically difficult, attracting the world's best climbers, especially its South Pillar route. The main summit of Nuptse was first conquered on May 16, 1961, by a British expedition.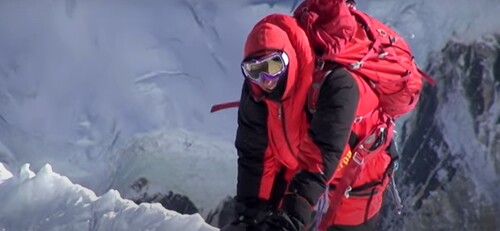 In the same year, Russell Brice from Himalayan Experience also had his eyes set on the Nuptse summit. He assembled a team of Sherpas to fix ropes to the top, and a small, all-women team of four climbers was supposed to attempt the route as well. However, Cool approached Brice and convinced him to share the ropes for their ascent.
On May 15, at 5:00 a.m., Cool left Base Camp well-prepared, having previously stocked the upper camps with supplies. What made this climb even more special was the fact that he didn't have any clients to take care of, which gave him the freedom to climb at his own pace. Cool expressed his joy and excitement, stating that without the responsibility of guiding clients, he could climb for fun and truly enjoy the experience. It was a chance for him to spread his wings, climb with Dorje, and relish the pure thrill of mountaineering without any other obligations.
In an incredible achievement, within a short span of just seven days and without going back to Base Camp, Kenton Cool managed to conquer the three mountains that form the Everest Horseshoe – Nuptse (7,864 meters), Everest (8,850 meters), and Lhotse (8,516 meters). This feat was considered by many as nearly impossible because spending such a prolonged time at high altitudes can severely affect the human body.
Beyond Boundaries: Epic Everest Ventures and Unprecedented Records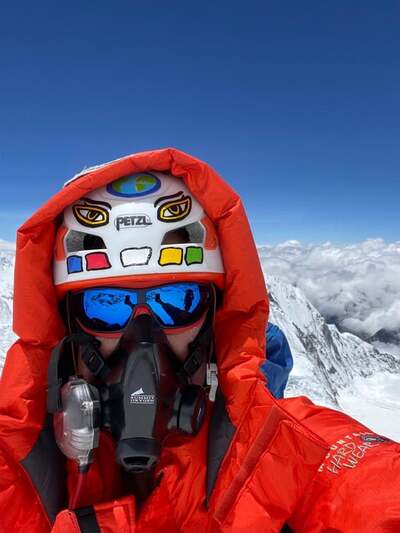 As an Expedition Leader, Kenton Cool has achieved more than 40 successful expeditions in the Greater Ranges. Among mountain guides on Everest, he holds the highest success rate. Personally, he has reached the summit of Everest an incredible seventeen times. In a remarkable week in May 2007, he even reached the summit twice!
In October 2006, Cool became the first British person to achieve a ski descent of an 8,000-meter peak – Cho Oyu in Nepal, which is the 6th highest mountain in the world. In the autumn of 2010, he made the third-ever ski descent of Manaslu in Nepal, the world's 8th highest mountain. These achievements placed him among the very few people worldwide who have skied multiple 8,000-meter peaks.
In January 2015, during his 11th Everest summit, Cool carried a flag for the Principality of Sealand to show his support for the micronation. On 12th May 2016, at the age of 42, Kenton Cool reached the summit of Everest again, this time with two Sherpas and another Briton named Robert Lucas. The Britons became the first foreign climbers to reach the 8,850-meter peak in two years, as a group of Sherpa guides had reached the top a day before. 
On 15th May 2022, Cool accomplished his record-breaking 16th summit of Mount Everest, setting a new record for the most climbs by any non-Sherpa climber. During this ascent, he wore a specially hand-painted protective lid created by British contemporary artist Teddy McDonald. 
Then, on 17th May 2023, Kenton Cool achieved an astonishing 17th summit of Everest. This time, he guided Richard Walker, Chairman of Iceland Food Group, to the top of the mountain.
Major Climbing Routes
Here are the major climbing routes Kenton Cool used during his various expeditions:
Climbing Route Ascents
Mountain/ Location
Route
Ascent Info.
Mount Hunter Alaska
Moonflower Buttress
1st British Ascent
Mount Hunter Alaska
Mini Moonflower
1st Ascent
Denali Alaska
Extra Terrestrial Brothers, Father & Son's Wall
1st Ascent
Denali Alaska
Denali Diamond, SW Face
2nd Ascent
Arwa Spire India
East Ridge, East Spire
1st Ascent
Annapurna III Nepal
SW Ridge
1st Ascent
L'Olan, Erin's, France
L'Olan Couloir
1st Ascent
Table showing various mountain locations with climbing routes and ascents achieved by Kenton Cool
Kenton Cool: Conquering Mountains on Screen
During the Eiger expedition in 2007, Kenton Cool, along with Fiennes and Parnell, participated in an exciting television project with ITN. They set up a live broadcast at the mountain's base, enabling them to report directly from the mountain face to the ITN News studio. Their summit attempt was covered in live news segments for five consecutive days. Subsequently, a one-hour documentary showcasing the successful climb was aired on BBC Four and The Discovery Channel.
Additionally, as part of his 2007 Everest expedition, Cool was involved in the filming of the BBC Television documentary series called "Everest ER." He not only contributed extensive interview material for the documentary but was also equipped with specialist high-altitude camera gear to capture footage from high up on the mountain, including summit footage. 
The "Everest ER" series followed Cool's expedition as it unfolded, chronicling his extraordinary double summit in one week. The series aired over five weeks on BBC1.
Climbing for a Cause: Supporting Charity and Empowering Porters in Nepal
In March 2007, Kenton Cool joined a three-man team, which included Sir Ranulph Fiennes and Ian Parnell, to support the Marie Curie Eiger Challenge Appeal. Together, they successfully reached the summit of the challenging North Face of the Eiger, raising an impressive £1.8 million for the Marie Curie Cancer Care charity. 
Then, in May 2009, Cool and Sir Ranulph Fiennes took on the Everest Challenge Appeal, raising a further £2.6 million for the Marie Curie charity. During this climb, Cool proudly summited with the Marie Curie flag.
Every year, Cool actively participates in various speaking events for the Royal Geographical Society, as well as for outdoor clothing manufacturers, retailers, and corporate conferences where he delivers keynote speeches. He also takes part in specialist panels. At these events, he wholeheartedly supports and promotes 
Porters Progress, a foundation established to help the mountain portering community in Nepal. Porters Progress is now a part of the dZi Foundation, working towards creating a positive impact in the lives of those involved in the mountain portering profession.
Personal Life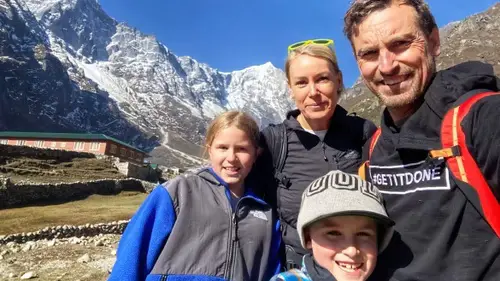 In 2008, Kenton Cool got married and currently resides in the picturesque village of Bibury in Gloucestershire, UK. He is a prominent Alpine climber, working extensively in both the Alps and the Greater Ranges of the Himalayas. As a fully qualified IFMGA (UIAGM) Guide and Expedition Leader, he leads and guides climbers in these majestic mountain regions.
Kenton Cool: Conquering Heights and Inspiring Hearts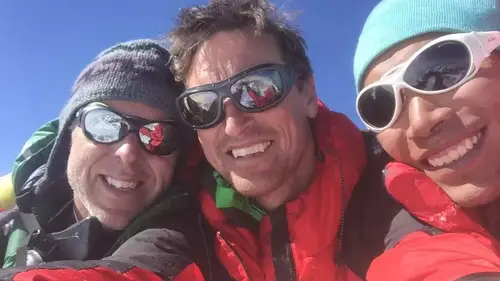 Kenton Cool's life journey reads like a gripping tale of determination, passion, and unparalleled achievements in the world of mountaineering. From humble beginnings in Slough, he emerged as one of the UK's top mountain and ski expedition leaders, leaving an indelible mark on some of the most challenging peaks on Earth.
His incredible record of 17 successful summits on Mount Everest, including a double summit in one week. Kenton Cool's name is synonymous with conquering heights, as he became the first British person to complete a ski descent of an 8,000-meter peak and achieved the Everest Triple Crown within a mere seven days, defying the odds and pushing the boundaries of what was deemed possible.
Yet, amidst all his triumphs, Cool's heart of compassion shines through. His commitment to supporting charity initiatives like the Marie Curie Eiger and Everest Challenge Appeals, along with his strong advocacy for Porters Progress, reveals a man with a genuine desire to give back to the community and make a positive impact on the lives of others.
As an IFMGA (UIAGM) Guide and Expedition Leader, Cool continues to inspire and lead countless climbers through the majestic Alps and the Himalayan Greater Ranges. His passion for sharing the beauty and challenges of mountaineering with others has made him an exceptional speaker and a sought-after participant in various events and conferences. As we continue to follow his mountaineering escapades, it's evident that Kenton Cool's name will forever be etched in the annals of mountaineering history, leaving a legacy that motivates and captivates generations to come.