Yuichiro Miura was born in Aomori City on October 12, 1932. His father, Keizo Miura, was a famous skier who introduced skiing to Japan's Hakkōda Mountains. Yūichirō followed in his father's footsteps and became a skilled skier. In 1964, he set a world record by skiing at an incredible speed of 172 kilometers per hour (almost 107 miles per hour).
Not only did Yuichiro Miura ski down Everest, he also became the oldest person to ever summit Everest at the age of 80 – solidifying him as one of the most famous mountaineers to climb Mt Everest.
Yuichiro's love for snow sports started when he was a little kid, and he took part in his first skiing competition during second grade in elementary school. This blog recounts Yuichiro's love for the mountains, and his unbelievable achievements on them.
The Fearless Skier of Spectacular Summits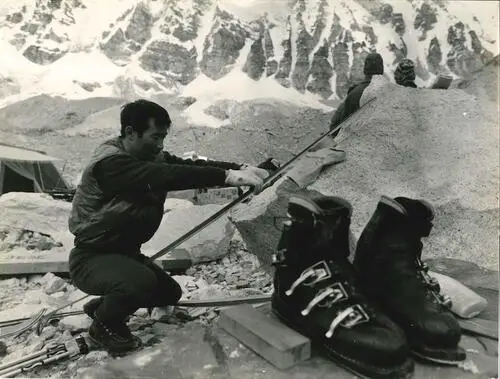 On May 6, 1970, Yuichiro Miura was standing on Mount Everest's South Col, which is over 26,000 feet. He was all prepared for his skiing adventure, with white sunblock on his lips, a fighter pilot's helmet with a transceiver on his head, and he was carrying oxygen tanks. He even had a parachute on his back, but nobody knew if it would work at such a high altitude. And to ski down, he had skis.
Before this Everest expedition, Miura was already well-known in skiing circles. His father, Keizo Miura, was a legendary skier who introduced skiing to Japan's Hakkōda Mountains. In 1964, Yuichiro set a world record by skiing at an incredibly fast speed of nearly 107 miles per hour. Even though his record got broken the next day, he became famous for skiing down some of the world's most amazing mountains. 
His journey started with Japan's Mount Fuji in April 1966. To stay safe while skiing down Mount Fuji, he came up with a clever idea. He used a parachute to slow down when he reached his highest speed, which worked well at about 93 miles per hour. This made him the first person to ski down that mountain.
Yuichiro Miura's Epic Everest Ski Expeditions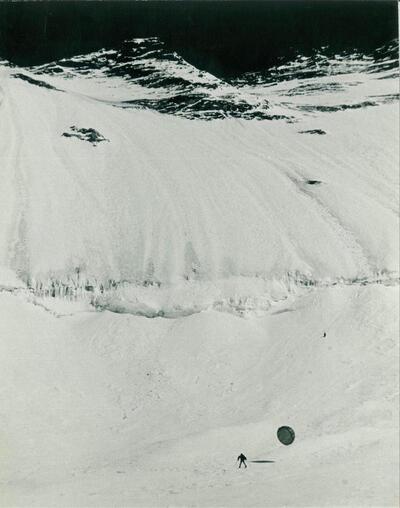 After skiing Mount Fuji, Yuichiro Miura continued his skiing adventures on various other high peaks around the world. He skied Mount Kosciuszko, the highest peak in Australia, later that same year. In 1967, he conquered Mount McKinley, the highest peak in North America. The following year, he became the first person to ski down Mexico's Mount Popocatépetl, and in 1969, he added Chile's Towers of Paine to his list of firsts. For Yuichiro, the joy of connecting with the mountains surpassed the satisfaction of winning in competitions.
During his time in New Zealand, where he was invited to ski the Tasman Glacier, Yuichiro had the chance to meet his superhero, Sir Edmund Hillary, who had conquered Mount Everest's summit in 1953 with Tenzing Norgay. Meeting Hillary inspired Yuichiro to set his sights on Everest as well. Despite initial doubts from others, Hillary encouraged him to pursue his dream of being an extreme skier who could make history.
The Nepalese government supported Yuichiro's idea, but with a condition – he could ski down the South Col of Everest, which is a slightly lower pass connecting Everest and Lhotse. Yuichiro's main goal was to ski down Everest, not necessarily to reach its summit.
As he prepared for the expedition during the fall of 1969, Yuichiro had to confront the possibility of not returning alive. He knew that attempting such a feat was extremely risky, but he believed it was worth facing the possibility of death to fulfill his ambition.
In February 1970, the Japanese Mount Everest Ski Expedition reached Kathmandu. The team comprised not only extreme skiers but also mountaineers, scientists, a film crew, photographers, and members of the press. The mission involved a scientific aspect as well, making it an extensive and challenging expedition. It took 800 porters to transport 27 tons of equipment to the Everest base camp, a demanding 185-mile journey lasting 22 days, starting on March 6, 1970.
Preparing for Everest's Skiing Challenge: Yuichiro Miura's Determination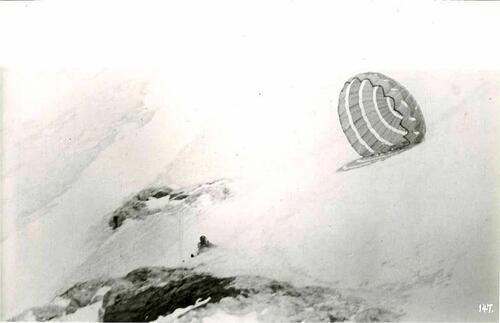 While at the base camp, the expedition spent several weeks getting used to the thin air of Everest, which has about half the oxygen content of air at sea level, standing at 17,600 feet. They also prepared for their further mountain journeys. Yuichiro Miura, on his part, treated Everest as his personal backcountry ski resort. He joyfully conducted many test runs, sometimes with a parachute and sometimes without, experiencing the untouched slopes with childlike excitement.
However, the adventure came with its share of hardships. Two people suffered fatal heart attacks due to the thin air, and a cave-in at the Khumbu Icefall resulted in the tragic loss of six Sherpas' lives. Yuichiro considered putting a stop to the expedition at that point. But he felt a deep sense of responsibility to honor the sacrifice of those who lost their lives. He knew he couldn't run away from the challenge and decided to proceed, determined to pay back the respect to those brave individuals by completing the expedition.
At 9 a.m. on May 6, 1970, Miura skied on the slopes of the South Col, marking the first time someone skied at an altitude above 26,000 feet. He prepared for a long run down the South Col, making sure everything was set up for filming and rescue by 11 a.m. Unfortunately, strong winds posed a challenge, and he considered going back to lower elevations. However, the winds eventually calmed down, and at 1:07 p.m., the 37-year-old skier began his descent.
The Skier Who Defied Everest and Beyond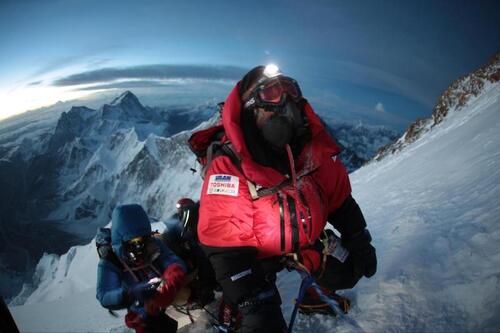 Sailing down the bumpy blue ice of the col, Miura deployed his parachute, but it didn't work as expected due to the changing wind conditions. He lost control, and his attempts to slow down failed. He fell, sliding helplessly down the ice, fearing he might not survive. As he slid towards a crevasse, he miraculously stopped just in time, 250 feet away from it.
The entire descent, covering around 4,200 vertical feet, took about 2 minutes and 20 seconds. This incredible feat was captured in the 1975 documentary "The Man Who Skied Down Everest," which won an Academy Award for Best Documentary. Miura also wrote a book with the same title.
Despite securing his legendary status, Miura didn't stop there. He went on to ski down Mount Kilimanjaro in Africa in 1981, Mount Vinson in Antarctica in 1983, Mount Elbrus in Russia, and Mount Aconcagua in Argentina in 1985. His interest shifted towards skiing down the highest peaks of the seven continents, which became his new challenge after conquering Everest.
Yuichiro Miura's Record-Breaking Achievements
In 2003, at the age of 70, Yuichiro Miura became the oldest person to reach the summit of Mount Everest, a record he later broke himself. Despite facing health challenges, including two heart surgeries for cardiac arrhythmia in 2006 and 2007, he achieved this remarkable feat. On May 23, 2013, at the age of 80, Miura once again became the oldest person to climb Everest, an achievement recognized by the Guinness Book of Records.
Yuichiro Miura: Overcoming Mountains and Challenges at 86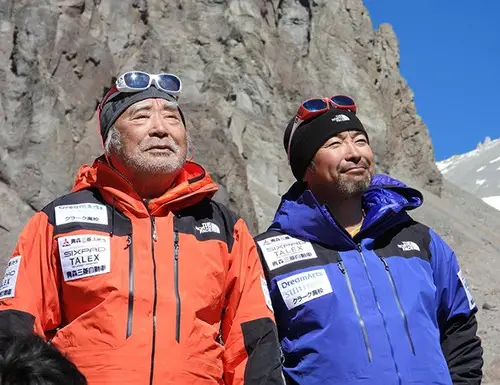 At the age of 86, Yuichiro Miura embarked on an expedition to conquer Aconcagua, South America's highest peak in Argentina. However, his doctor called off the challenge before he could reach the 6,961-meter summit.
While the world was grappling with the COVID-19 pandemic, Miura faced a different battle. He experienced symptoms of a spontaneous cervical epidural hematoma in June 2020, which resulted from a blood clot outside his dura mater. This condition, possibly exacerbated by his years of skiing and mountaineering in harsh conditions, left him paralyzed.
Despite the odds, his recovery has astonished his doctor. Assisted by his second son, Gota, a former Olympic mogul skier who accompanied him on three Mount Everest expeditions, Miura underwent rehabilitation.
In June 2021, he participated in the torch relay for the Tokyo Olympic Games at Mount Fuji's Fifth Station. He resumed skiing the following winter and exhibited steady turns during his first ski run of the season on Mount Teineyama in Sapporo, where he resides.
Yuichiro Miura: The Godfather of Skiing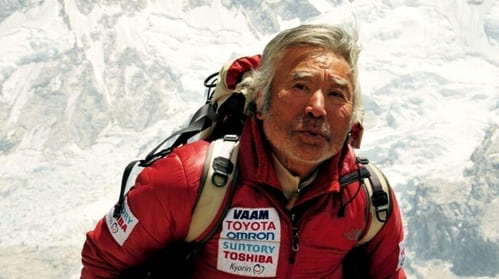 Throughout his journey, Miura has continuously pushed the boundaries of what is possible, conquering some of the world's most highest peaks and setting remarkable records. From his descents down Mount Everest to his triumphant ski expeditions on multiple continents, Miura's determination have left a mark on the world of extreme sports.
Beyond his breathtaking accomplishments, Miura's resilience in the face of challenges has been nothing short of inspiring. His remarkable recovery from health setbacks demonstrates the passion he holds for the mountains and skiing. With the support of his family, particularly his son Gota, he continues to inspire generations of skiers and mountaineers worldwide.