Lakeside in Pokhara is a tourist hub, attracting people from all over the world to relax along the shores of Fewa. Everyone knows about the different adventure activities and bars people frequently visit. However, few know about Lakeside's outdoor movie theater: The Movie Garden in Pokhara.
This is one of three movie theaters in Pokhara and is located towards the north side of the main road on Lakeside (Baidam Road on Lakeside near Street 21). The Movie Garden is an open-air cinema that is a great place to escape the hustle and bustle of the bars and clubs along Lakeside.
I mean, where else can you enjoy the scent of freshly-popped popcorn, a delicious pizza, and some amazing movies, all while enjoying a breathtaking view above the lake? I highly recommend visiting the Movie Garden during your stay in Pokhara for a nice chill evening out. 
Movie Garden in Pokhara – An Outdoor Cinema at Lakeside
At an incredible value (NPR 350 per person), you can enjoy two movies, a cozy seat, freshly-popped popcorn, and complimentary blankets and cushions just in case the evening gets chilly. Additionally, you can purchase a selection of drinks and pizza during the show. If you wish to extend your stay, the happy hour continues after the screening.
I enjoy going to the theater to relax and unwind away from the city. Even though it is on Lakeside, it is nestled about two minutes up a hill surrounded by bamboo, making it secluded enough not to hear the busy streets below. I enjoy the outdoor vibes, good movies, and tasty pizza so much that it has made my list of best places to visit in Pokhara!
What Time Does the Outdoor Theater Open?
The Movie garden gates open at 6 pm, with the movie screening scheduled for 7:30 pm. Remember that times may differ throughout the year depending on the season and sunset. I recommend arriving between 6 and 7 pm to secure a good seat. There is plenty of seating, and you usually have no problem finding a seat.
However, if you anticipate the film to be popular, want the best seat, or have a bigger group, it will be best to arrive earlier. You can relax and grab a drink while you wait!
Regardless of the weather, Movie Garden is open in Pokhara. Every evening, two different movies are shown at the Movie Garden too. They usually post the film schedule for the week on Sunday or Monday. You can find it on their Facebook Page. If you're staying in town for a few nights, it's worth examining the schedule to see what's available each night and planning accordingly.
Location of the Movie Garden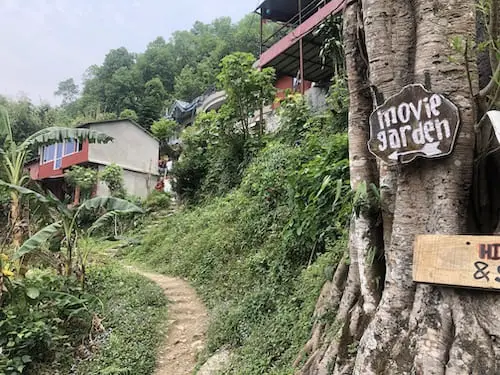 The outdoor theater is tucked away behind some hotels and off the main road. It is towards the north part of Lakeside, and there is a big sign in front of the path leading up to it. However, it can still be hard to find. It is located on Baidam Road, North Lakeside, before 3 Sisters Trekking. Simply turn right, follow the path behind for one minute, and you'll see a bunch of little signs pointing you in the right direction..
You can also check out the map below.
Food and Drinks at the Movie Garden at Lakeside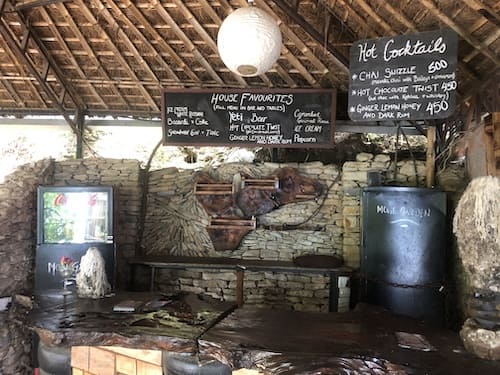 There is nothing better than catching a movie and enjoying some food and drinks. The Movie Garden has an array of drink items including cocktails, beers, and hot drinks to enjoy during the movies there.
They also provide popcorn, and for the main dish, serve up some delicious pizza as well!
The food choices may not be large enough for some visitors, so if you do have a big appetite, or are craving more variety with your dinner, it might be a good idea to get some food before you come!
Overall, the drinks and food are fairly priced and pretty tasty too! So don't worry too much, you can always order multiple pizzas to satisfy your hunger!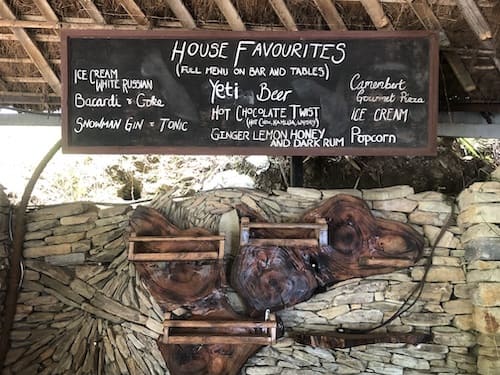 Catch a Movie outdoors at the Movie Garden in Pokhara.
If you're ever in Pokhara, reserve a night or two to visit Movie Garden. It's a one-of-a-kind and fantastic way to spend an evening if you are trying to avoid the bars and clubs.
Experience the open-air cinema at Lakeside, and enjoy some of the greatest films of all time. The cinema boasts a seating capacity of about 60 seats, which is more than enough for you and all your travel buddies!
So sit back and enjoy a budget-friendly way to spend the evening all! Enjoy your movie and pizza [: