Pokhara, a beautiful city in western Nepal, is known for its stunning views of the Himalayas, serene lakes, and adventure activities. However, for those who enjoy indoor entertainment and catching a movie on the big screen, you will want to know the best movie theaters in Pokhara!
Whether you're a local or a tourist, movie theaters in Pokhara are a popular destination for a night out. In this blog, we'll look at three of the best movie theaters in Pokhara – Pokhara Cineplex, Midtown Cinema, and Movie Garden – and what makes them unique.
The best Movie Theaters in Pokhara:
If you are visiting Pokhara and one of your favorite movies hits the big screen, you'll probably want to check it out! Below are the best movie theaters to enjoy a film! The first two give you the real movie theater experience, while the last is a fun way to spend an evening around Lakeside! Also, don't worry about which language the movie will be shown in – all Hollywood movies are in English!
Let's dive into the best movie theaters in Pokhara Nepal!
1. Pokhara Cineplex: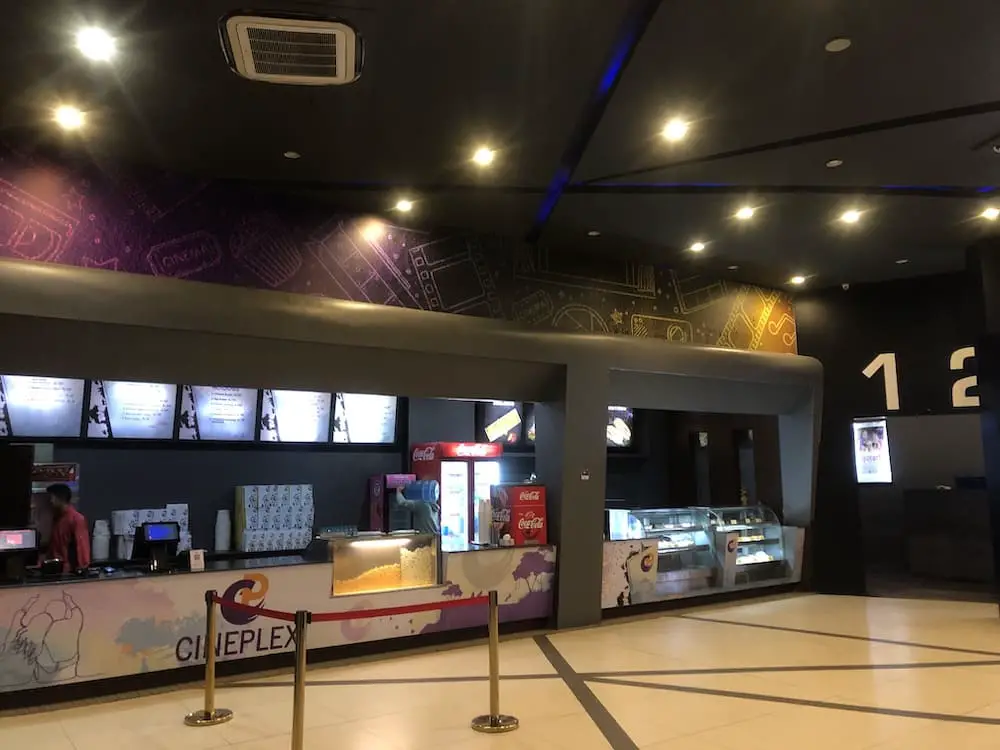 Located at Chipledunga, in Trade Mall, Pokhara Cineplex is one of Pokhara's most popular movie theaters. With a modern and sleek design, this cinema offers a comfortable and enjoyable movie experience. Pokhara Cineplex has three screens, each equipped with the latest projection technology, providing a high-quality viewing experience. The cinema also features comfortable seating, air conditioning, and a variety of food options.
From Hollywood blockbusters to Bollywood hits and Nepali films, there's something for everyone in Pokhara Cineplex. Previous visitors to Pokhara Cineplex have left positive reviews, praising the cinema's comfortable seating, excellent sound quality, and overall experience. 
Personally, if I am going to see a movie in Pokhara, I prefer this movie theater. The seats are comfortable, the sound quality is amazing, and the food selection is great! They have typical movie theater food and a small coffee shop and bakery for the early morning movies (I like seeing movies in the morning as they are less crowded and cheaper)!
2. Midtown Cinema:
Another popular movie theater in Pokhara is Midtown Cinema. Located on New Road, this cinema has two screens and is known for its high-quality sound systems and cozy seating. It is a newer movie theater, and the interior and design of the theater resemble it. The cinema is smaller than Pokhara Cineplex, but has a very high standard, and is a great place to see a movie.
Like Pokhara Cineplex, Midtown Cinema shows various movies from different genres, including Hollywood, Bollywood, and Nepali films. The theater also offers a selection of movie theater snacks and some heavier meals in case you are super hungry while watching your movie.
3. Movie Garden: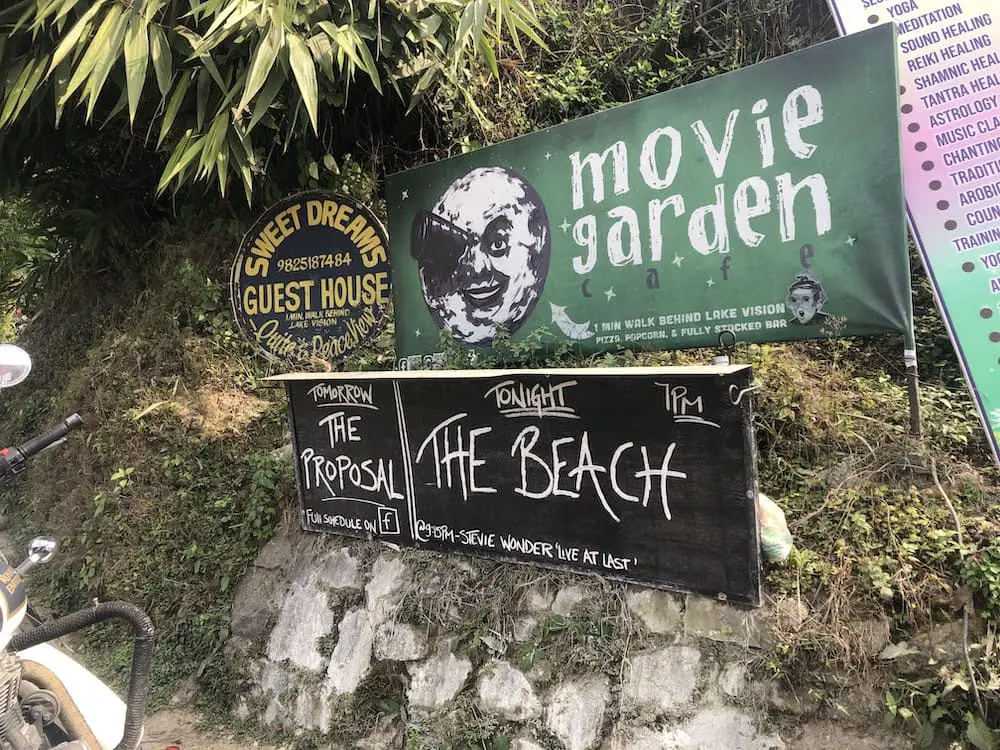 The Movie Garden at Lakeside is the perfect destination for those who prefer a unique and unconventional movie experience. As the name suggests, this cinema is located in a beautiful garden setting, giving visitors an unforgettable movie experience tucked away from the hustle and bustle of Lakeside.
They offer two movies each night, usually one full-length movie and a shorter one afterward. What sets Movie Garden apart from other movie theaters in Pokhara is its location and atmosphere. The outdoor seating and beautiful surroundings make it a great destination for a romantic date or a night out with friends!
The theater is located outdoors behind a small bamboo forest, so dress warm and prepare for the weather. The movies start after dusk and, depending on the season, can end late at night. The good news is they provide cushions and blankets to keep you warm during the show!
Relax and Watch a Film at the Best Movie Theaters in Pokhara
Pokhara offers a great selection of movie theaters for visitors to enjoy. From modern and sleek cinemas to outdoor garden settings, there's something for every movie lover. Whether you're in the mood for a Hollywood blockbuster or a Nepali film, Pokhara's movie theaters have got you covered!
If you're planning a trip to Pokhara, be sure to check out either Pokhara Cineplex, Midtown Cinema, or Movie Garden, depending on what kind of experience you are looking for! You won't be disappointed with comfortable seating, high-quality sound systems, and various Hollywood and Bollywood movies. And don't worry, all Hollywood movies are in English!
So what are you waiting for? Grab some popcorn, sit back, and enjoy the show at one of Pokhara's best movie theaters. Happy watching!