Online shopping in Nepal is a relatively new thing and has only come into prominence in the last few years. However, online shopping has become a major component of business in Nepal, especially after Covid-19 shut down the country for almost two years.
Now you can buy almost anything online, from different retailers across the country. These retailers provide access to almost any type of commodity ranging from clothing and electronics to books and food. No matter what you are looking for, you can more than likely find a marketplace online that will ship you the items. 
In this roundup, we will go over the ins and out of online shopping in Nepal, with a focus on the bigger cities like Kathmandu, Chitwan, and Pokhara. We will look at online shopping sites, from domestic, regional, and even international shopping sites like Amazon. 
Let us start with the big one first by answering the following question: Does Amazon Ship to Nepal?
Does Amazon ship to Nepal?
No, Amazon does not ship to Nepal. There are a few providers on Amazon that will deliver, but these products will not have a warranty or guarantee attached to them. The only way to get Amazon products is to have a friend or package forwarder ship them to Nepal.
There are also small businesses online and on Instagram, that can import products from Amazon and abroad. These small online companies work with friends and colleagues in foreign countries to buy and procure items abroad and ship them to Nepal. 
These individuals can be thought of as in-betweens that take a small commission for facilitating the buying and shipment of products from abroad to Nepal, and then on to you.
Is there online shopping in Nepal?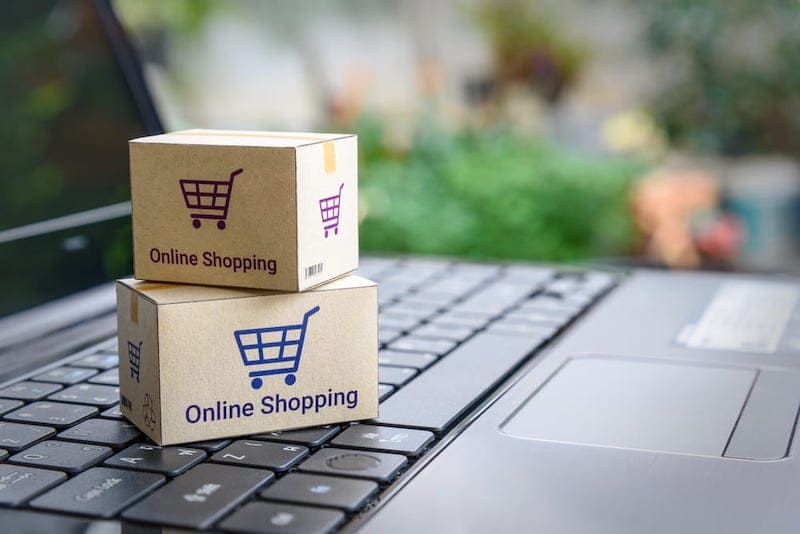 Yes! There are a lot of online shopping companies in Nepal. There are both large and small businesses that provide online shopping. The biggest provider is Daraz, which is similar to Amazon. Small independent stores also provide online shopping in Nepal for almost all commodities.
Online shopping is quickly becoming popular in Nepal. Many stores are turning to provide goods online through either their website or Instagram. Instagram is by far the most popular way to shop in Nepal, with clothing stores, and food providers being the most bought items.
Best Online Shopping Sites in Nepal:
Buying goods from online stores in Nepal is growing in popularity and becoming much easier. With more stores turning to online marketplaces, and the addition of new logistic companies in the country, buying products on the internet has become less of a hassle. 
Depending on what type of product or service you are looking for, you will want to visit a different website, or Instagram page to find exactly what you want. The websites are going to be easier for tourists and foreigners to use, as the processes are more automated and streamlined. However, if you are looking for more unique products or food items, you may have to turn to Instagram to find what you are wanting to purchase.
For the sake of this roundup, I am going to cover the different online shopping sites in Nepal. These will cover online shopping for restaurants, ride-sharing and taxis, clothing, and groceries. First here are the two best online shopping sites in Nepal:
1. Daraz: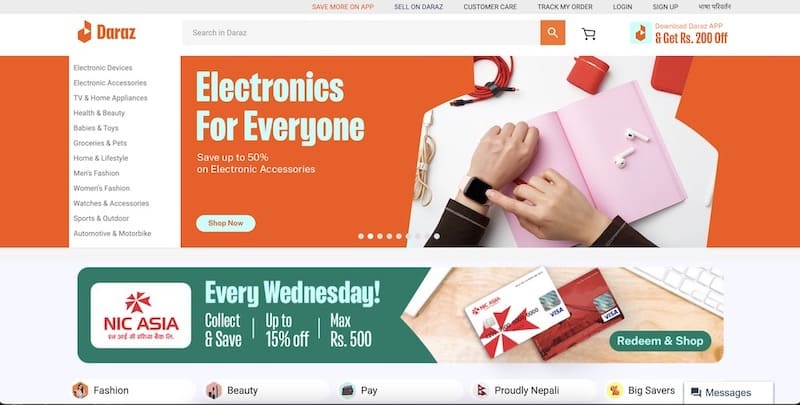 Is by far the most popular online shopping site in Nepal. Daraz is an international company that ships to different countries in Asia including India, Sri Lanka, Nepal, and Bangladesh. They provide everything you could possibly need and want. With 15 shipping hubs across Nepal, Daraz can provide products and goods throughout the country.
For a tourist or foreigner in Nepal, the easiest way to imagine what Daraz is and does is to compare it to Amazon. Like Amazon, Daraz offers a variety of goods that are both from name brand companies, as well as small independent producers and wholesalers. 
Daraz offers pretty good customer support and allows for returns on goods if they are damaged or not the specific item you ordered. Additionally, with multiple shipping hubs across Nepal, the company claims that you will get your order within 1-6 days of purchase! 
My take on shopping online with Daraz:
I find shopping online with Daraz easy and straightforward. They have a good website that is easy to navigate and find the products you are looking for. Additionally, they provide ample information regarding the product provider which allows you to look into and research them if needed.
I have found that they have safe and quick shipping, and I am usually happy with their service. I would recommend using Daraz for any generic type of item and brand that you are looking to buy while in Nepal.
2. Sastodeal: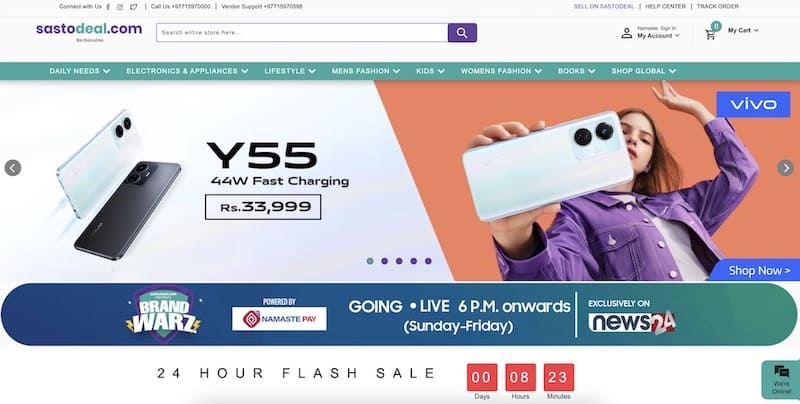 Sastodeal is another great online marketplace where you can find everyday products and goods that you may need. Based in Kathmandu, Sastodeals is a Nepal-owned business that is now a leading eCommerce business in the country. 
Sasto, which means 'cheap' in English, is the first part of the eCommerce site's name and it is just that: they provide cheap, great deals! The online marketplace now has over a thousand vendors in partners and has had over a million customers. Sastodeals, which is one of the best online shopping options in Nepal, has increased its logistics network to being countrywide.
My take on online shopping with Sastodeal:
I have bought quite a few items from Sastodeal and they have been able to deliver every time. They have a wide variety of items on their website as well as their app that allow for easy navigation and selection of products. 
The eCommerce company provides decent customer service and is easy to reach during business hours. Their team has a relatively good command of English making it easy to communicate with them as an English-speaking tourist in Nepal.
One aspect that I have enjoyed while shopping with Sastodeals is that they have quick shipping and they usually get your product to you within three days or less! Additionally, the delivery people do a great job of getting the product directly to your doorstep!
Food Delivery Service – Online Shopping Sites in Nepal:
There are multiple online food delivery service providers in Nepal. The majority of them only serve customers in Kathmandu and Pokhara – services are also getting expanded to the Butwal area as well. There are two main online food delivery companies: Foodmandu and Bhoj Deals. 
Although as mentioned you can find a lot of small businesses providing food delivery for multiple companies, or restaurants providing their own home food delivery service, none of them have anywhere close to the number of partners as Foodmandu and Bhoj Deals. Therefore, I will focus on these two companies only. 
If you are interested in checking out some of the other home food delivery companies, here is a list of a few food delivery providers in Kathmandu:
Now let us have a look at the two most popular online food delivery services in Nepal, and especially in Kathmandu and Pokhara!
Foodmandu: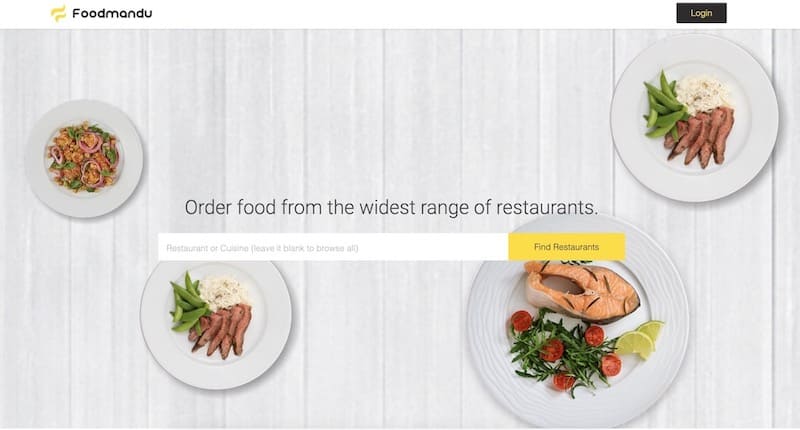 Was the first food delivery service provider of its kind in Nepal. Much like Ubereats in the United States and other countries, Foodmandu has built a strong network of partner restaurants. No matter what type of food you are looking for, they will have it! From traditional Nepali food, to Mexican food and even Korean food, you will find it in Foodmandu.
Foodmandu has an online website you can use as well as a mobile app. Additionally, they will take cash on delivery or international cards for payment. This makes it easy for foreigners to pay for their food any way they want. Do keep in mind if you pay with cash, try to have exact change as the drivers run out of change at times.
Foodmandu has great service and delivers food extremely quickly. If your food is ever running late they will give you a call and explain what the delay is. Furthermore, they allow you to track the process of your order on their mobile app as well!
Foodmandu delivers food from 8 am to 9 pm at night. You will have to pay a delivery charge which ranges from NPR 50 and up depending on your distance from the restaurant you are ordering from. They will charge NPR 20 or NPR 15 for each additional kilometer the driver has to travel.
Why I like Foodmandu's online food delivery service:
I have found Foodmandu to be a reliable food delivery service. They do a good job of making the ordering process as easy and quick as possible. Additionally, I have found that the drivers do a good job delivering the food in a timely manner and the food is usually in good shape and still hot when it arrives! 
I have had a few times when the food was incorrect, it had spilled, or it was cold. Foodmandu is generally very understanding of these issues and will provide you with a refund. The only thing is the refund usually goes to your online wallet, so you will have to order food again to use the refund!
Bhojdeals: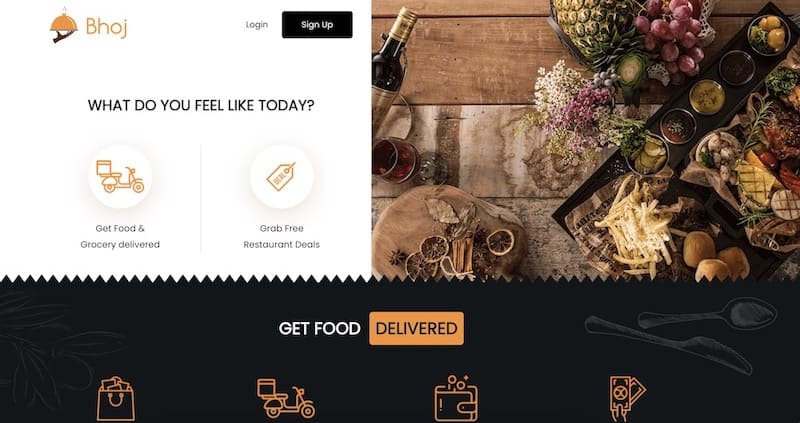 Bhojdeals is very similar to Foodmandu, and has many of the same partner restaurants. They have a mobile app that is easy to navigate and find the type of food you are looking for. They also take international cards as well as cash on delivery. 
Bhojdeals provides food delivery services from 10 am to 9 pm at night – with limited delivery options till 3 am! Their delivery charge is the same as Foodmandu, ranging from NPR 50 to NPR 250 depending on your the distance from the restaurant you are ordering from is more than 7km away. Bhojdeals also offers free delivery on orders over NPR 1000!
The main difference in the online food delivery platforms is their customer service, and their proactiveness (more information about that in the section below!)
Why I like Bhojdeal's online food delivery service:
Bhojdeals is my go-to food delivery service in Nepal. I find them to have better customer service than Foodmandu. Moreover, Bhojdeal seems to be more proactive in communicating with you when there is an issue with your food or delivery. Additionally, Bhojdeal seems to be more generous and understanding when there is an issue with their service or delivery drivers. 
Bhojdeals also has various giveaways, and contests on their mobile app that allows you to win free drinks or 'money/credits' to use on their app for future deliveries! If you ever find yourself using Bhojdeals as a new customer, make sure to use my referral code as it will save you NPR 100 on your order!
Bhojdeals referral code: BHOJ1900866
Taxi, Transportation and Ride sharing Online Service:
There are two online ridesharing or transportation service providers that I would like to highlight. For these two, operate out of Kathmandu, and are one of the cheapest and easiest ways to get around the entire Kathmandu valley! Both of these service providers  – Pathao and Tootle – have options for you to get transportation from a motorcycle/scooter as well as a car.
Edit: As of writing Tootle has been closed. There is no word on if they plan on reopening in the future.
Pathao: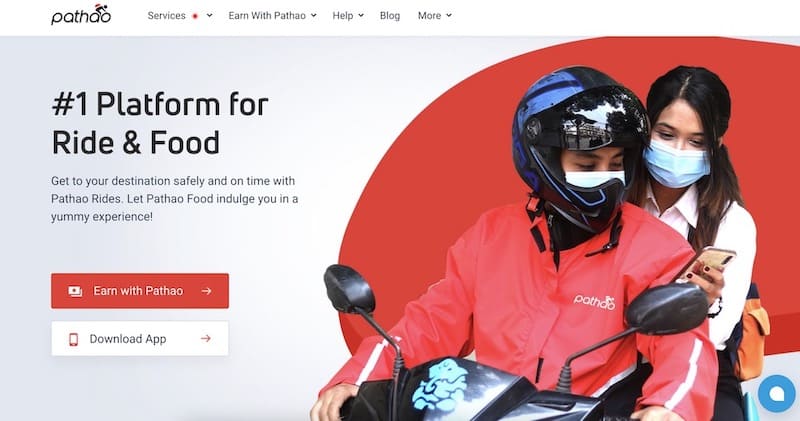 Pathao is a ride-sharing app, much like Uber, that you can book transportation from in Kathmandu. They have an easy-to-use app that allows you to enter your current location as well as destination and submit it to the different drivers around you. The mobile app is straightforward to use and is all in English, making it quite easy to book a ride. 
The app takes all the complexities out of traveling around the city as directions are automatically given to your driver who can easily navigate and get you to your destination, with minimal interactions if language is a barrier. 
All drivers are carefully vetted and are required to have all legal documents needed to drive in Nepal. Moreover, safety is not an issue, as the app allows you to track your driver, as well as send your location to someone to track as well.
Why I like Pathao's online service:
There is not much to say here, as the service is pretty straightforward. I have found that Pathao is easy and quick to use, and there are usually drivers close by. Only exception is when it is raining, it may be hard to find a motorcycle driver.
I typically use Pathao for any transportation in the Kathmandu valley as it is significantly cheaper than getting a taxi or private car. Additionally, there is no negotiating needed when you book on the mobile app as the price is displayed to you before accepting and putting the call out to a driver. Furthermore, when the driver accepts the service on their end, they know exactly how much they are going to get paid.
Finally, after using both Patho and Tootle many times, I find that there are usually more Pathao drivers available, and the rate for their service is slightly less than that of Tootle's rate.
FAQs: Online Shopping Sites in Nepal
1. Which is the best online shopping site in Nepal?
The 9 best online shopping sites in Nepal are: Daraz.com, Thulo.com, OkDam.com, Sastodeal.com, Gyapu.com, Deal Ayo, Meroshopping.com, SmartDoko.com, and Muncha.com.
2. Is Amazon available in Nepal?
No, Amazon is not available in Nepal. However, there are some online shopping sites in Nepal that will help you make purchases from Amazon.
3. Which is the biggest online store in Nepal?
Daraz is the largest e-commerce site in Nepal, boasting high sales volume, web traffic, revenue, delivery network, number of sellers, and overall presence. These impressive achievements can be attributed to the fact that Daraz is also owned by Alibaba.