Pokhara is known for an endless array of restaurants at Lakeside, serving up burgers, pizzas, sandwiches, steaming momos, and the list goes on. But when it comes to making plans for brunch on the weekend, Roadhouse Cafe is undoubtedly one of the best restaurants in Pokhara! Roadhouse is the best place that serves high-quality meals and is the most consistently good pizzeria in Nepal. Thanks to their exceptional thin-crust pizzas in Pokhara, I would recommend to everyone to make a trip here to gobble up some pizza!
But Roadhouse (official website) isn't just about pizzas. One of the things that my partner and I love most about Roadhouse is it also serves great spaghetti, pasta, burgers, and pastry selection that you should order to close out your meal. Moreover, they have plenty of vegetarian pizzas and other food options as well!
A Fashionably Well-lit Restaurant in Pokhara
Roadhouse's interiors are all rustic and modern, with clean wooden lines. The guests who truly care about food and the flavors are the bulk of the people in the cafe's cozy, comfortable, light-filled space. Just like its decor, the menu takes a modern approach to its Italian-influenced dishes like pizzas and pasta. Most people come for the pizza, and you can order any pizza. Everything tastes delightful.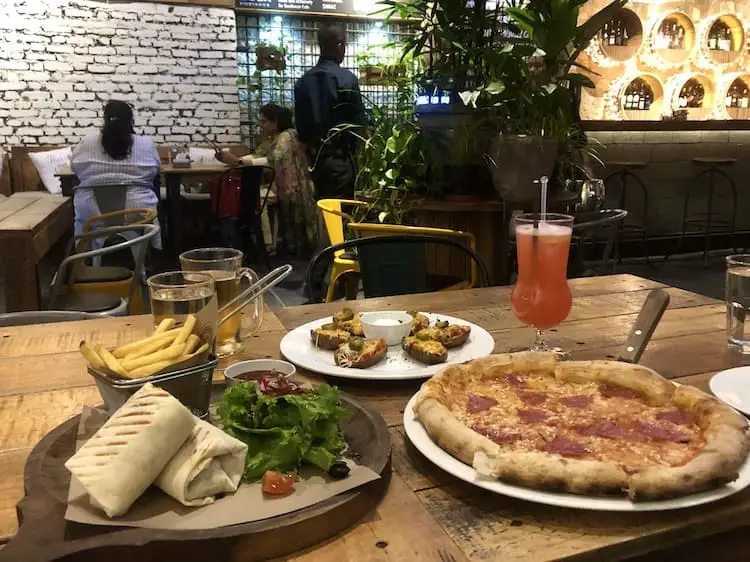 So, we ordered a pizza, duh! Also added loaded potato skin, a club sandwich (I was craving a sandwich for whatever reason), americano, and a fruit mocktail. The pizza was plump and crisp, with a perfect wood-fired crust and a hint of char, some bubbles, and generous toppings. At its simplest, the loaded potato skins were magnificent. What a way to start your brunch. It was creamy, cheesy, soft inside, mashed potatoes cradled salty yet a delicate crisp on the outside. 
The classic Hawaiian pizza comes with a combination of tomato sauce and ham, topped with pineapple and mozzarella cheese. This is the crowd-favorite pizza with a twist of savory, sweetness, crispy, and undeniably mouth-watering twist. However, we only wished for the crust to be slightly thicker, as the pizza was struggling to hold its shape. Overall, the pizza was amazing.
More Than Just a Pizzeria – Sandwiches and Desserts!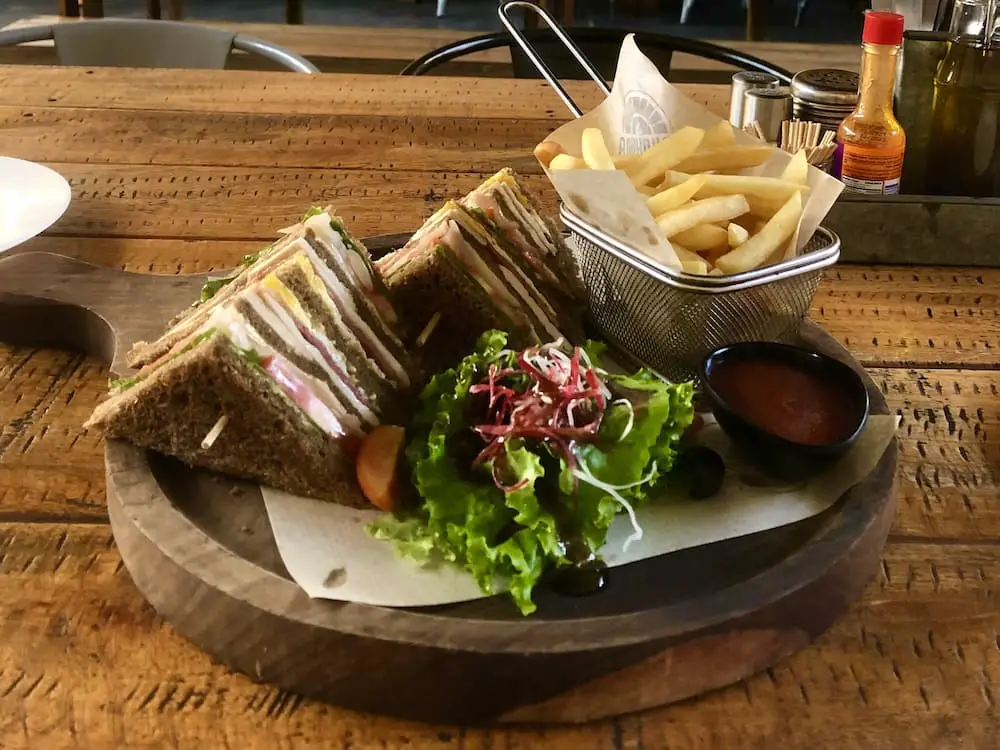 We also love a good club sandwich, and they are pretty much overlooked. Roadhouse's triple decker club represents sandwiches in a grande way, with a dose of whole wheat bread stuffed with chicken, bacon, egg, cheese, lettuce, and tomatoes and served with a generous amount of fries and a small portion of side salad. The sandwich is supreme, and each layer of the sandwich holds all the ingredients perfectly together, and one of the best sandwiches you'll find in the city. 
We also shared one of our favorite desserts, cheesecake. Look no further for a creamy and ultra-smooth classic cheesecake! Paired with a buttery graham cracker crust and smooth layers of creaminess, no one can deny its simple decadence. It's light, velvety, and smooth. However, we feel the cheesecake is a bit overpriced though it was the ideal way to end our brunch.
Roadhouse Cafe Menu:
Below is the Roadhouse Cafe Menu at Lakeside, Pokhara.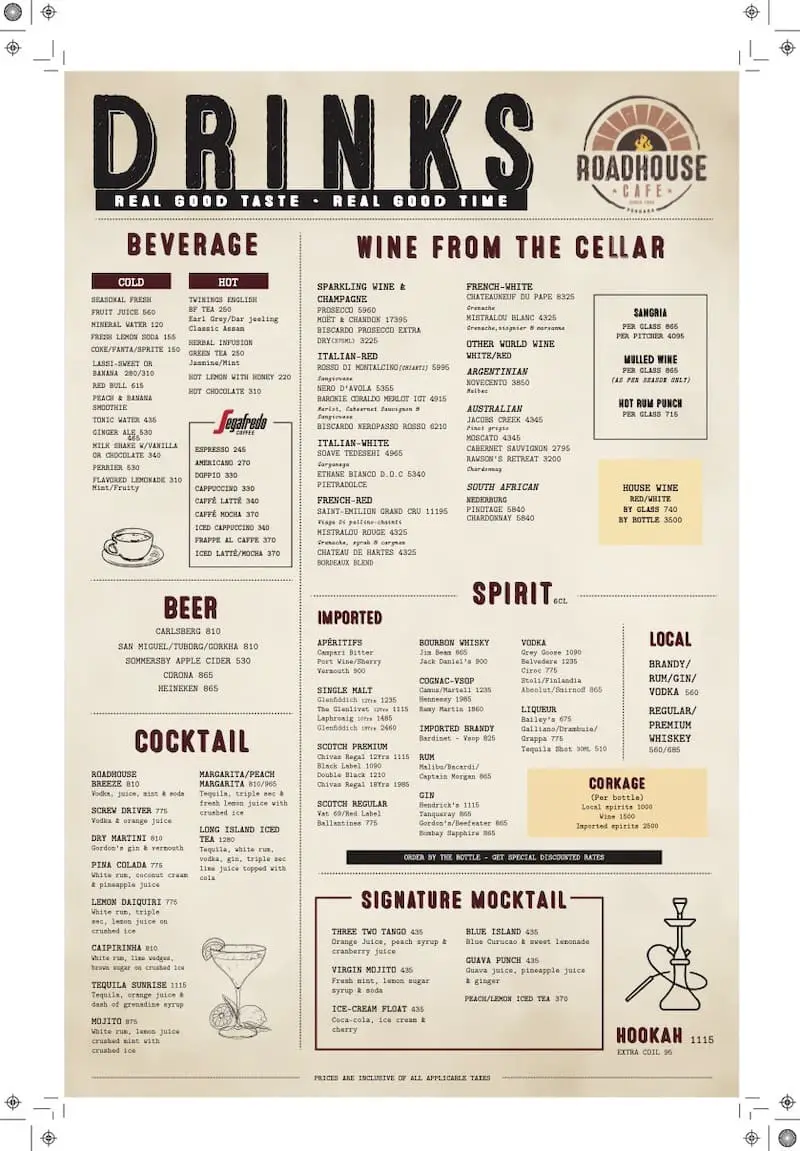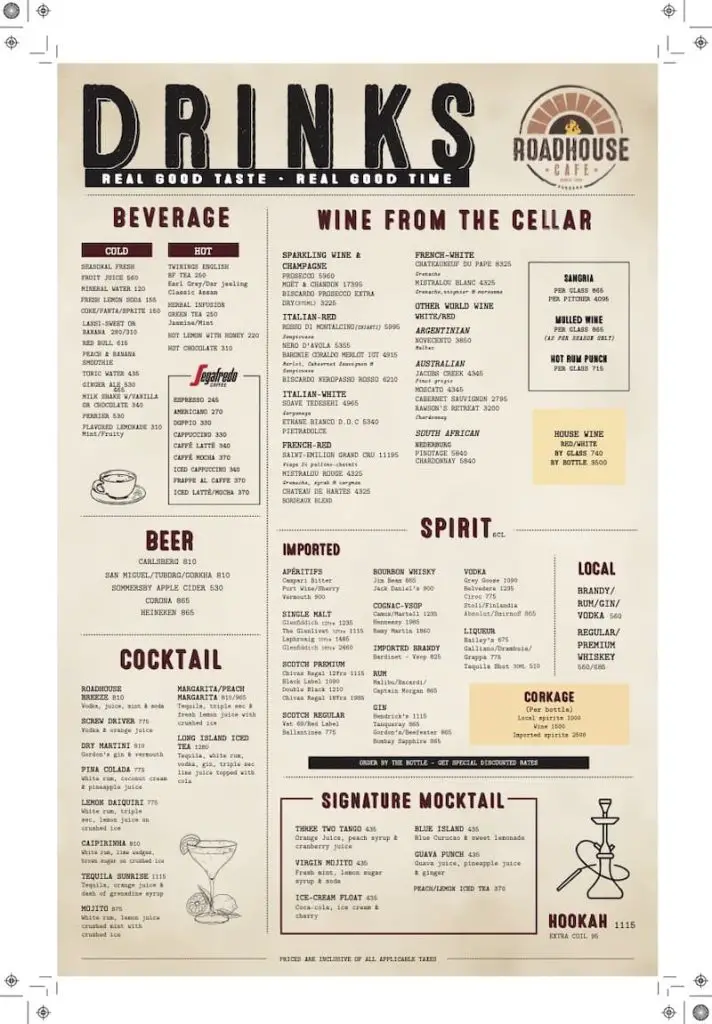 Roadhouse Cafe in Pokhara: Upscale and A Relaxed Vibe Pizzaria
The vibe in Roadhouse in Pokhara is upscale yet relaxing. I love the wooden interiors of the restaurant as it makes you feel at home. The bar area is always lit, and the decorations complement the restaurant's overall look. The service is still excellent, and the staff is very friendly and attentive to your needs. However, being the best restaurant in town comes with a price, and we think the place is a bit pricey for many of the items on the menu. 
Roadhouse has maintained its quality and consistency throughout the years, and no wonder it's every tourist's and local's favorite place in the neighborhood. There is nothing fussy or complicated, and it's just satisfying with well-prepared food, amazing service, and succulent desserts.