No matter the nature of your outdoor adventures, a reliable backpack is a must-have. Whether you're embarking on a leisurely Sunday stroll with your family or planning on trekking in Nepal, your backpack will be by your side every step of the way. But how do you determine what size of backpack to use for your hiking or trekking needs? The easiest way is to consider the length and type of your hike or trek.
Once you know what size of pack is best for your trip, have a look at our best trekking backpack roundup guide. Now, let's look at the different backpack sizes for hiking, and figure out which one will be best for you.
Quick Answer: What size of backpack do I need?
The table below gives a quick overview of what size of backpack for hiking you will need. 
Length of hike
Capacity (Volume)
Pack Suggested Use
A few hours
6 -10 Liters
Short hikes or walks
Kid's bag
Sports
1 day
10-30 Liters
Commuting
Day hikes or walks
1-3 nights
30-50 Liters
Weekends Trips
Camping
Multi Day Hikes and treks
3-5 nights
50-80 Liters
Traveling
Backpacking trips
Multi day treks
5+ nights
70 liters are larger
Extended treks
Off the path hikes
Winter treks
Table comparing length of hike, backpack capacity and the suggested use for each.
Now let's take a more indepth look at each of these bags and what type of activity they are good for.
Types of backpacks for hiking and trekking: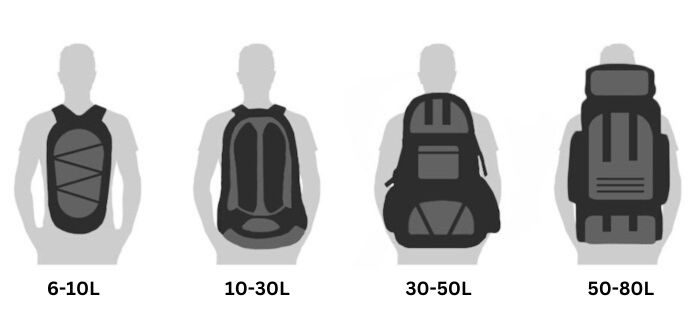 Below we break down the five backpacks we listed in the table above.
1. Short Term Pack: 6-10 Liters
When embarking on short half-day hikes, it is recommended to choose a compact pack with a capacity of 6 to 10 liters. These smaller packs are ideal for carrying essential items such as water, snacks, a light jacket, and other personal belongings. Their compact size ensures convenience and ease of movement, allowing you to enjoy your hike without being weighed down by unnecessary bulk.
What you can carry:
A few snacks and gels
A lightweight rain shell
A hydration reservoir (packs of this size will not generally have external sleeves for water bottles)
Personal items – keys, wallet, purse
2. Day Pack | 1 Day: 10-30 Liters
For day-long excursions, it is advisable to opt for a day pack with a capacity of 10 to 30 liters. These versatile packs are designed to accommodate the essentials needed for a day trip, such as water, food, extra layers, a first aid kit, and other personal items.
With a capacity within this range, you can strike a balance between carrying necessary supplies and ensuring comfort during your outing. A day pack of this size provides ample space while maintaining a manageable and lightweight profile.
What you can carry:
Food for the day (a decent lunch)
A lightweight rain shell
A light insulation layer, such as a light puffy jacket or vest
2 Liters of water  (using a reservoir or 2 1L bottles)
A space blanket or emergency bivy
A headlamp
2. Weekend Pack | 1-3 nights: 30-50 liters
Travelers who prioritize efficiency and utilize compact gear can significantly reduce their load on 1- to 3-night trips by opting for a backpack with a size range of 30-50 liters.
It's important to note that achieving a lightweight pack necessitates self-discipline and meticulous planning. Therefore, it may be helpful to check out our backpacking checklist for essential items to carry.
By choosing a weekend pack, you can carry enough gear for overnight stays, all while maintaining a lightweight pack that is comfortable on the trail.
What you can carry:
A food bag, with up to six meals (consider carrying cold food due to limited space)
Packable compact sleeping bag. Consider opting for a down bag or quilt in the 35-40 degree comfort range
Extra gear for shelter options. Including bivy, lightweight tarp, hammock, or ultralight one-person tent – or half of a two-person tent if hiking with a partner
A small packable and foldable sleeping pad. Make sure to try and strap it to the outside of your bag to save on space.
And of course, extra socks and underwear! Always important for overnight stays!
3. Multi Day Pack | 3-5 nights: 50-80 liters
Among the top-selling backpacking packs, these options are highly sought after and ideal for extended warm-weather trips lasting three days or longer. Additionally, packs between 50-80 liter range are well-suited for shorter trips where you desire a bit more comfort or engaging in multisport activities outdoors.
What you can carry:
A moderately sized first-aid kit
Food for up to 10 days at a time
Extra cookware to make different types of food (a frying pan, or an extra pot)
Additional clothing – for better hygiene or to take part in more activities
A larger, more plush sleeping pad
Pillow
Synthetic sleeping bag in the 20-30 degree comfort range
A 2 to 3 person tent
Shoes or sandals for around the camp
Recommended bag: Osprey Aether 65 Backpack (Full review!)
4. Extended-trip | 5+ nights: 70 liters or larger
For trips lasting five days or longer, it is recommended to choose backpacks with a capacity of 70 liters or more.
These larger packs are also commonly chosen for winter treks that extend beyond a single night. The added space allows for comfortable accommodation of extra clothing, a warmer sleeping bag, and a 4-season tent, which often includes additional poles. Moreover, they serve as an excellent choice for families venturing into backpacking with young children, as parents often end up carrying a significant amount of the kids' gear.
What you can carry:
Anything and everything from the previous bags
4+ person tent
A highly insulated, cushioned sleeping pad
A 0 degree or below sleeping bag, be it down or synthetic
Gear from other family members, like children
Recommended bag: Gregory Baltoro 75 Backpack (Full review!)
Things to consider when choosing the size of backpack: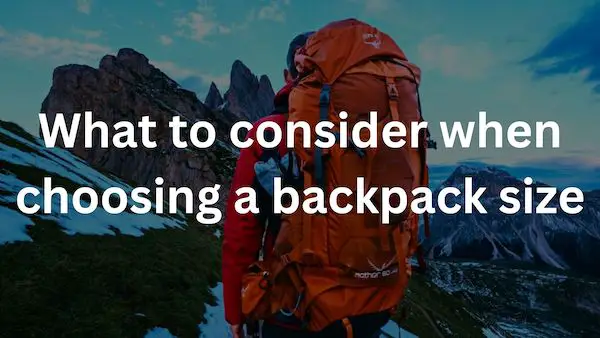 Here are three things to consider when you are deciding what size of backpack you will need for your adventure.
1. How Long will the hike or trek be?
How long will your hike be? Are you planning for a few hours, a day, a weekend, or even a week? Determining the duration of your hike is crucial when selecting the appropriate backpack. 
For a day hike, a backpack ranging from 10 to 25 liters should suffice. This size allows you to comfortably carry essentials such as a water bottle, picnic supplies, a jacket, and sunscreen. A smaller backpack will ensure you stay lightweight and comfortable.
If you're embarking on a hike lasting more than a day, it's time to think bigger! Choose a backpack size with a capacity between 20 and 35 liters. Multi-day hikes often involve camping and self-cooking, requiring additional gear compared to staying in huts or rented accommodations.
For adventures lasting three days or more, we highly recommend a minimum backpack capacity of 35 liters, even if you plan to stay in accommodation. As the duration increases, you're more likely to encounter unpredictable weather, experience fatigue, require more clothing changes, and carry additional gear. A larger, slightly heavier backpack with extra space for all your equipment and toiletries will provide peace of mind during your journey.
2. Where and When will your hike take place?
When planning your hiking adventure, whether it's in the desert, mountains, or along the coast, it's important to consider both the destination and the time of year to make the right backpack choice. If you need help with panning correctly, make sure to check out our: how to plan a backpacking trip guide!
The amount of gear you'll need for a week-long trek in the mountains differs significantly from what you'd require for a desert or coastal trip. Prior research on the local climate and checking the weather forecast right before your departure can assist you in selecting the appropriate size and model of your backpack.
For mountain hiking and trekking, weather conditions can change rapidly. Within a few hours, temperatures may plummet, winds can intensify, and sunny skies can unexpectedly transform into rainfall. It becomes crucial to have spare clothing, a windproof jacket, and multiple waterproof items to ensure your comfort and safety.
3. What is the Weather and conditions of your trek?
Along the coast or high in the mountains, the weather can rapidly change, exposing you to a variety of conditions throughout the day. While hiking, you may encounter a sequence of sunny skies, intense heat, high humidity, rain showers, and dense fog.
In drier regions, sunny weather is more likely, but there can be significant temperature variations between day and night. It's essential to pack lightweight clothing for the daytime and add extra layers of warm clothing for when the sun sets.
The climate of your destination plays a crucial role in determining the gear you should pack and, consequently, the backpack's size in liters. It also influences the material and technical features of the backpack. The objective is to optimize your performance while ensuring maximum comfort.
Choosing the right size of backpack for hiking:
When contemplating which size of backpack to buy, it is crucial to consider its volume. You will want to choose the right capacity, and also frame size in relation to your physique. One size does not fit all, so finding a size that suits you is important!
Need more help with knowing what size of backpack for hiking you will need? Then check out our backpacking for beginners guide! 
FAQs: What size of backpack for hiking do I need?
Below are the most frequently asked questions while considering what size of backpack for hiking and trekking you will need.
1. What size backpack to carry-on for hiking?
For carry-on bags, airplanes have the maximum size dimensions of 45 linear inches (length + width + depth), or dimensions of 22″ in length, 14″ in width, and 9″ in depth. Keeping your bag within these specified dimensions will help ensure a smooth travel experience.
2. Should I buy a 20L or 30L backpack for hiking?
A 20L backpack is an ideal choice for various purposes such as school, work, or a day trip. It provides sufficient room to accommodate your belongings comfortably. On the other hand, a 30L backpack offers a slight increase in capacity, making it suitable for a single-day hike. With the extra space, you can conveniently carry additional water, food, clothing, and other essential items required for hiking.
3. Is a 40L backpack enough for hiking?
A 40L backpack occupies the perfect balance between lightweight daypacks and heavy-duty 80L rucksacks. It offers exceptional versatility, making it suitable for both average day hikes and overnight wilderness camping trips. Additionally, it provides ample space for carrying climbing gear or accommodating the additional necessities required for winter hikes. With a 40L backpack, you can enjoy the flexibility to tackle various outdoor adventures with ease.
4. Is a 20l backpack big enough for hiking?
The optimal range for daypacks, a backpack between 20 and 30 liters ensures you have ample space to carry all the essential items for your day hike, including a satisfying lunch and snacks.
5. How many liters is a hiking backpack?
For a day hike, a backpack ranging from 10 to 25 liters is typically sufficient. This size allows you to comfortably carry essentials like a water bottle, picnic provisions, a jacket, and sunscreen to prepare for various weather conditions. However, if you're planning a multi-day hike, it's advisable to opt for a larger pack. A backpack ranging from 20 to 35 liters provides the additional capacity necessary to accommodate supplies for an extended outdoor adventure.
6. What size backpack for day hiking
A backpack with a capacity of 10 to 25 liters is sufficient for day hiking. This size range allows you to conveniently carry essential items such as a water bottle, picnic provisions, a jacket, and sunscreen, ensuring you are prepared for various weather conditions.