Even though it is renowned as one of the most challenging treks in the Himalayas, the Dhaulagiri Circuit trek is one of the best treks in Nepal. This arduous journey takes you through a variety of breathtaking landscapes, including high alpine pastures, uninhabited valleys, windswept passes, lush forests, and terraced hills. It demands a high level of physical fitness due to its length and elevation. However, those equipped with good stamina and basic mountaineering skills are rewarded with awe-inspiring views of Tukuche Peak (6,920m), Dhaulagiri I (8,167m), Dhaulagiri II (7,751m), Dhaulagiri III (7,715m), and Dhaulagiri V (7,618m).
Dhaulagiri, standing at 8,167m, dominates the world's deepest gorge, the Kali Gandaki. The circuit route offers captivating panoramas of the entire Dhaulagiri range. This majestic mountain was initially believed to be the tallest in the world until Kanchenjunga claimed the title 30 years later, only to be surpassed by Mount Everest. In the 1950s, a French team discovered the Dhaulagiri Circuit route, which includes the renowned French Pass leading to a solitary area known as the Hidden Valley.
Throughout the circuit trail, you will traverse picturesque villages, terraced farmlands, meandering rivers, dramatic gorges, icy glaciers, and rugged moraines. Sufficient time is allocated for acclimatization before undertaking the challenging high passes, allowing ample opportunity to soak in the breathtaking mountain vistas.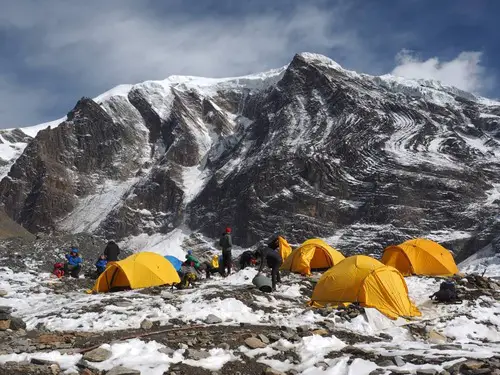 Quick Information about Dhaulagiri Circuit Trek
Starting Point: Beni, Myagdi
Ending Point: Marpha
Trek Region: Annapurna  
Duration: 17 Days  
Trip Grade: Moderate to Difficult
Max Altitude: 5200 m / 17060 ft (French Pass)  
Accommodation: Camping
Best Season For Dhaulagiri Circuit Trek
The best season for the Dhaulagiri Circuit Trek is Spring (March-May) and Autumn (September-November). These seasons, characterized by pleasant weather and favorable trail conditions, provide the ideal backdrop for an unforgettable Dhaulagiri trekking experience.
However, Trekking in Nepal offers a year-round adventure, although the during the monsoon season the Dhaulagiri route can be hit by heavy rainfall and landslides. Making it a dangerous time to trek. Moreover, during the winter months, the passes are full of snow, and are frequently hit by unpredictable weather. We advise to not do the circuit during these months.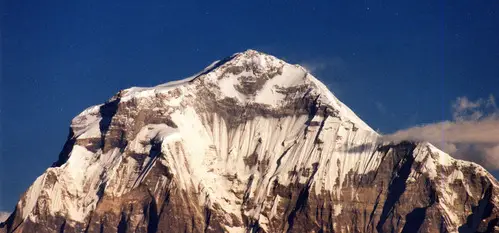 Dhaulagiri Circuit Trek: Day-by-Day Itinerary
Here is an outline of the Dhaulagiri Circuit Trek:
Day 1: Kathmandu to Beni (Drive)
Day 2: Beni to Babiachaur
Elevation: 950 m / 3116 ft
Duration: 5 hours
Day 3: Babiachaur to Dharapani
Elevation: 1400 m / 4593 ft
Duration: 6 hours
Day 4: Dharapani to Muri
Elevation: 1800 m / 5905 ft
Duration: 5 hours
Day 5: Muri to Boghara
Elevation: 2080 m / 6825 ft
Duration: 6 hours
Day 6: Boghara to Dobang
Elevation: 2520 m / 8267 ft
Duration: 5 hours
Day 7: Dobang to Choriban Khola
Elevation: 3110 m / 10203 ft
Duration: 5 hours
Day 8: Choriban Khola to Italian Base Camp
Elevation: 3660 m / 12007 ft
Duration: 7 hours
Day 9: Acclimatization Day at Italian Base Camp
Elevation: 3660 m / 12007 ft
Duration: 3 hours
Day 10: Italian Base Camp to Glacier Camp
Elevation: 4210 m / 13812 ft
Duration: 6 hours
Day 11: Glacier Camp to Dhaulagiri Base Camp
Elevation: 4740 m / 15551 ft
Duration: 7 hours
Day 12: Acclimatization Day at Dhaulagiri Base Camp
Elevation: 4740 m / 15551 ft
Duration: 2 hours
Day 13: Dhaulagiri Base Camp to Hidden Valley via French Pass
Elevation: Hidden Valley – 5200 m / 17060 ft
Duration: 7 hours
Day 14: Hidden Valley to Yak Kharka via Dhampus Pass
Elevation: Yak Kharka – 3680 m / 12073 ft
Duration: 7 hours
Day 15: Yak Kharka to Marpha
Elevation: 2670 m / 8759 ft
Duration: 5 hours
Day 16: Marpha to Pokhara (Drive)
Elevation: Pokhara – 830 m / 2723 ft
Duration: 7 hours
Day 17: Pokhara to Kathmandu (Drive/Flight)
Brief Itinerary For The Dhaulagiri Circuit Trek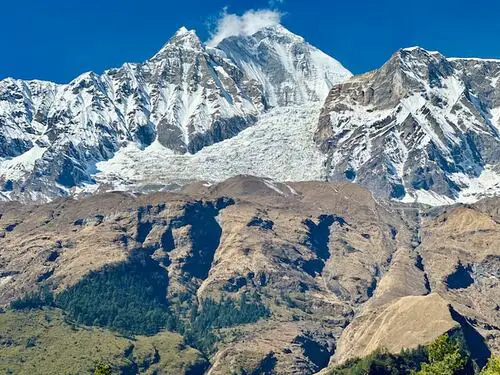 You begin the Dhaulagiri Circuit Trek from the town of Beni, Myagdi, situated just a few hours' drive away from Pokhara. This exhilarating journey takes you through one of the most rugged and remote regions of the Annapurna Himalayas, providing a unique and off-the-beaten-path experience.
As you ascend higher, the predominantly Magar villages gradually thin out, and the surrounding valleys become more sparsely populated. The last few days of the trek are spent in areas devoid of permanent settlements, creating a sense of solitude and tranquility amidst the breathtaking surroundings.
Setting off from Beni, you will follow the course of the picturesque Myagdi Khola River. As you traverse this stunning landscape, you'll pass through charming villages, and witness the traditional way of life in the mountain communities. The trek gradually gains altitude, leading you from fertile farmlands and terraced fields to barren and snow-covered rocky mountains. As you go higher, the trek reveals awe-inspiring views of the towering Dhaulagiri range and other majestic Himalayan giants. 
One of the major highlights of the Dhaulagiri Circuit Trek is reaching Dhaulagiri Base Camp. After a rest day at this location, you'll embark on a thrilling ascent up the side of the glacier, eventually crossing the formidable French Pass at an elevation of 5,360 meters. This challenging section of the trek demands experience, physical fitness, and proper acclimatization.
From the French Pass, you'll enter the secluded and enchanting Hidden Valley. Experienced mountaineers have the option to climb the Dhampus Peak, standing at an impressive 6,060 meters, adding an extra level of adventure to the journey. Continuing onwards, you'll cross the Dhampus Pass and descend towards the gateway of Mustang, the town of Jomsom. The descent from the high mountains to Jomsom is a steep and exhilarating experience, as you lose over 2,000 meters in just two days.
Throughout the Dhaulagiri Circuit Trek, you'll encounter the raw and untamed beauty of the Himalayas, with snow-capped peaks, towering glaciers, and dramatic landscapes that will leave you in awe. The trek challenges even the most experienced trekkers, with its high altitudes, snowy conditions, and demanding terrains.
The Dhaulagiri Circuit Trek is a once-in-a-lifetime adventure that takes you into the heart of some of the highest mountains in the world. It offers a unique opportunity to witness the raw power of nature, experience the rich local culture, and test your physical and mental limits. Prepare for an unforgettable journey that will leave you with cherished memories and a profound appreciation for the majestic Himalayas.
How Difficult is the Dhaulagiri Circuit Trek?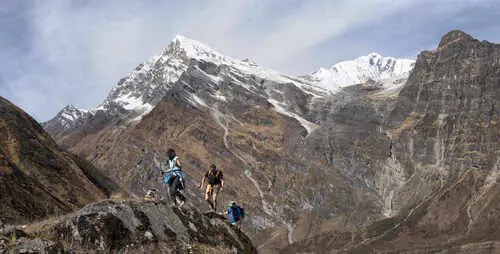 The Dhaulagiri Circuit Trek is classified as a difficult trek. It stands as a true test of endurance and skill, ranking among the toughest treks in Nepal. It demands a high level of experience in trekking at altitudes exceeding 5,000 meters.
For those seeking an even greater challenge, the optional ascent of Dhampus Peak (6,060 meters) presents an opportunity to put basic mountaineering skills to the test. Proficiency in using ice axes and crampons is essential for this endeavor. The climb entails three consecutive days of traversing snowy terrain above 5,000 meters.
It's important to note that the cold is an additional factor to contend with. As this is a camping trek, there are no cozy lodges to seek respite in during the nights. Moreover, given the rigorous nature of the Dhaulagiri Circuit trek, it is not recommended for novice trekkers or first-time visitors to Nepal. However, for those with more experience under their belts, the rewards are immeasurable. The sense of achievement and the breathtaking vistas encountered along the way make the challenges worthwhile, leaving indelible memories etched in the hearts of those who dare to take on this extraordinary adventure.
Is Trekking Insurance Needed For The Dhaulagiri Circuit Trek?
Yes, trekking insurance is mandatory for the Dhaulagiri Circuit Trek.
Having trekking insurance is mandatory for the Dhaulagiri Circuit Trek – not only because Nepal's government requires it, but for your own safety as well. The rugged and remote nature of the trek, coupled with the potential risks and challenges involved in high-altitude trekking, make insurance a crucial part of your trip.
Trekking insurance provides coverage for medical emergencies, evacuation or rescue operations, trip cancellations or interruptions, and loss or damage to personal belongings. It offers peace of mind and financial protection in case unforeseen circumstances arise during the trek. Remember, that some trekking insurance packages don't cover climbers above a certain height. So review your policies carefully before embarking on the Dhaulagiri Circuit Trek.
What to Pack For The Dhaulagiri Circuit Trek?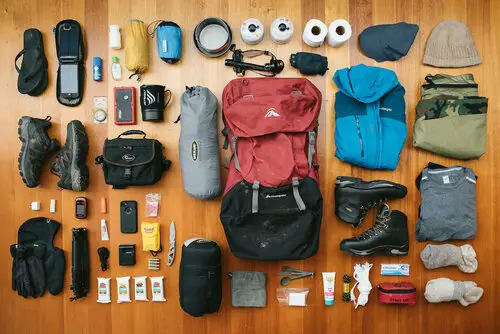 When preparing for the Dhaulagiri Circuit Trek, it's essential to pack the right gear and equipment to ensure a comfortable and successful journey. One of the most critical items to invest in is a sturdy pair of hiking boots with ankle support. These will provide stability and protection on the challenging and varied terrain.
Additionally, a reliable trekking backpack with a capacity of around 40-50 liters is necessary to carry all your essentials. Look for a backpack with comfortable straps, multiple compartments for organization, and a waterproof or rain cover to protect your belongings from the elements. If you're not sure which is the best choice for you, you can read our blog on the 5 best trekking backpacks.
In addition to footwear and a backpack, consider packing moisture-wicking and breathable clothing such as base layers, hiking pants, and quick-dry t-shirts. Layering is key to adapt to changing weather conditions, so include insulating mid-layers like fleece jackets or synthetic insulated jackets, as well as a waterproof and windproof outer shell jacket. Don't forget to bring thermal socks, warm hats, and gloves to keep you comfortable in colder temperatures.
Other essential items include a sleeping bag suitable for cold temperatures, a sleeping pad for insulation, trekking poles for stability on steep sections, a headlamp for hands-free illumination, and a water bottle or hydration system to stay hydrated along the trail. Pack sunscreen, a sun hat, sunglasses, and a first aid kit with necessary medications. Don't forget toiletries, a quick-dry towel, a map or guidebook, a camera or smartphone, and any required trekking permits.
If you need some ideas on what to pack, check out our packing list for Nepal blog, as it will show you what to pack for a trek!
Permit Fee and Regulations
To ensure a smooth and compliant trekking experience, there are two permits that you will need to acquire before embarking on the Dhaulagiri Circuit Trek. The first is the TIMS card, which costs $10, and the second is the Annapurna Conservation Area Permit (ACAP), which is priced at $20 USD (depending on the length of your journey). These permits can be obtained either independently in Kathmandu or Pokhara, or your guiding company can assist you in arranging them.
It's worth noting that the Dhaulagiri Circuit Trek is not as frequented as some other popular treks, resulting in fewer checkpoints along the route. However, as you make your way back down and join the main Annapurna Circuit route, you will encounter the necessary checkpoints to validate your permits. Despite the checkpoints being quite spread out, they serve an essential purpose in ensuring the preservation of the region's natural beauty and resources.
Why Do The Dhaulagiri Circuit Trek?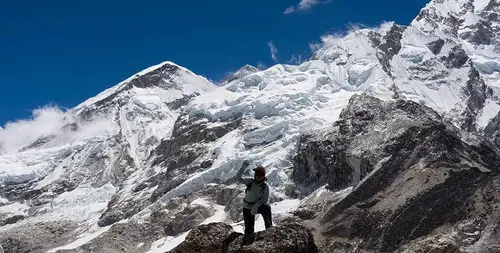 The Dhaulagiri Circuit Trek offers a multitude of reasons why it is a must-do adventure for experienced trekkers:
1. Expedition-like Experience: 
With its remote and rugged nature, the trek provides an authentic "expedition feel" that appeals to adventure enthusiasts. You'll be immersed in a challenging and untamed environment, adding an element of thrill to your journey.
2. Diverse Landscapes: 
Prepare to be amazed by the ever-changing landscapes along the trek. From vibrant farming villages adorned with lush greenery to magnificent snowy glaciers and the stark beauty of barren, rocky mountain vistas, each step presents a new and captivating scenery.
3. Dhampus Peak Climb: 
For experienced mountaineers seeking an additional challenge, the opportunity to ascend Dhampus Peak (6,060 meters) awaits. This thrilling endeavor allows you to push your mountaineering skills to the limit and conquer new heights, offering an extraordinary sense of accomplishment.
4. Spectacular Mountain Views: 
As you traverse the Dhaulagiri Circuit, you'll be treated to mesmerizing close-up views of Dhaulagiri itself, standing tall at 8,167 meters. Additionally, you'll get glimpses of several other majestic peaks, each soaring above 7,000-meters. These awe-inspiring panoramas create unforgettable moments and leave an indelible impression.
5. Circuit Trek Experience: 
One of the unique aspects of the Dhaulagiri Circuit Trek is that it forms a complete circuit, ensuring that you won't retrace your footsteps during the latter part of the trek. This allows you to continually explore new territories and enjoy a sense of progress and discovery as you make your way through the enchanting landscapes.
FAQs: Dhaulagiri Circuit Trek
1. How Long is the Dhaulagiri Circuit Trek?
The Dhaulagiri Circuit Trek is for 16 days and covers a distance of approximately 101.06 kilometers (62.79 miles) from start to finish.
2. How hard is Dhaulagiri?
Climbing Dhaulagiri, despite the availability of multiple routes, is an arduous and technically challenging climb that demands a high level of mountaineering expertise. The most commonly followed path for ascending Dhaulagiri is through the North East Ridge, which involves establishing three camps above the base camp to facilitate the ascent.
3. What is the altitude of Dhaulagiri circuit trek?
The highest altitude on the Dhaulagiri Circuit Trek is 5,200 meters. The Dhaulagiri Circuit presents an exhilarating journey, encompassing French Col and Dhampus Pass, both reaching altitudes above 5,000 meters. 
4. Where is Dhaulagiri base camp?
Dhaulagiri base camp is situated around 50 kilometers northwest of Beni Bazaar. It is also referred to as the French base camp.