Nepal is a popular travel destination for adventure seekers, trekkers, and nature lovers. With its diverse landscapes, ranging from snow-capped mountains to the scorching lowlands of the Terai, Nepal offers a unique and unforgettable experience for travelers. However, to make the most of your trip, it is important to pack appropriately for the adventure that awaits you.
In this article, I'll cover all the essential items you'll need for the best packing list for Nepal (including trekking!)
The Best Packing List for Nepal:
Deciding to go to Nepal can be an exciting but scary decision! Nepal is a diverse country that can push you to your limits, depending on how comfortable you are with the unknown. Speaking from experience (I have been an expat living in Nepal for five years), I remember the first time I was packing for my trip to Nepal – I had no idea what I would need to live there or for trekking!
Luckily, Nepal has improved its access to goods, with shops importing trekking gear, clothes, toiletries, and everything else you could need. These include clothes, shoes, food, electronics, and everything else. The one thing you should be conscious about, however, is that many of the name brands that you may be used to are not available here (or you will find cheap copies).
Therefore, if you are particular about what you need and want while traveling in Nepal, you may want to bring your own products. In this regard, I have created the following packing list for Nepal! 
Packing List Clothes/Shoes
Underwear
1x thermal underwear
2x breathable t-shirt
2x breathable long sleeve
1x thermal long sleeve
Normal T-shirts/Tops
1x Fleece/Warm Sweater
Light sweater
2x trekking pants
1x cover rain pants
2x Light long pants
2x Lightweight shorts
1x rain jacket (waterproof and windproof, Goretex)
1x down jacket
1x warm cap
1x gloves thick
Comfortable walking shoes
Lightweight hiking boots (Check out our Best hiking boots for under 100!)
Sandals or flip flops
Warm woolen socks (2-3 pairs)
Moisture-wicking hiking socks (3-4 pairs)
Sun hat
Warm beanie
Sunglasses
Gloves
Swimwear (swimsuit/bikini/swim trunks)
Note: you can find all of these items in Thamel and Pokhara. Pokhara will be more expensive than Thamel, to shop at. Also, finding things that fit you well will be challenging if you are taller (over 6 feet) or have larger feet (over size 10 US).
Checklist Travel Documents:
This packing list covers the things that you will need to have before arriving in Nepal.
Passport
Visa (Most travelers can get visas on arrival in Nepal)
Travel insurance (If you are trekking in Nepal, you will need trekking insurance!)
Money (At least enough USD to pay for your visa at the airport)
Vaccinations
Electronics Checklist: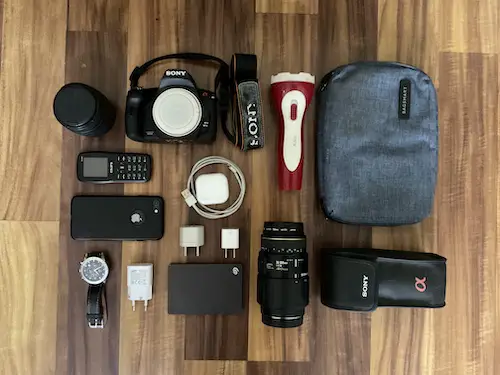 Headlamp
Powerbank
Camera
An adaptor/converter (two-pin plugs are mostly used in Nepal)
Phone (for photos and to get a sim card. Sim cards are easy to get and extremely cheap; I strongly recommend getting one for your trip to Nepal)
Toiletries Checklist for Nepal:
All of these items can be found in most stores in Nepal. The particular brand may be difficult or expensive to get. So if you are particular about what you are using, make sure to bring them with you.
Toothbrush
Toothpaste
Dental floss
Deodorant
Hairbrush
Sunscreen
Face lotion
Shaver
Shower gel/soap
Shampoo/conditioner
Nail care
Toilet paper
Wet wipes (compostable)
Lip protection with UV protection
Tweezers
Hygiene articles
Makeup
Checklist First Aid Kit
Disinfectant wipes
Painkillers (e.g., ibuprofen, aspirin)
Tablets against altitude sickness (e.g., Diamox)
Diarrhea medication (e.g., Imodium Akut, charcoal tablets)
Plasters and blister plasters
Water filter or iodine disinfection tablets
Personal Comfort Checklist:
I would say everything on this list is optional, as you can easily find cheap alternatives in Nepal – pretty stylish options as well! The only thing you may consider bringing would be personal snacks and candy! It is extremely hard to find some of your favorites (It's impossible for me to find Reeses and Clif Bars – two of my favs!)
Sunglasses
Earplugs/Ohropax
Books/Magazines
Headgear/Cap
Sleep mask
Travel pillow
Card games, board games, frisbee, ball,
Microfiber towel
Personal snacks and candy
Packing List for Trekking in Nepal:
Depending on the trek you decide to go on, you will need to pack different things. This is because some treks are well-defined and have tea houses with everything you could need. However, less-known others will have limited amenities to keep you comfortable. I recommend checking your trekking itinerary and seeing what kind of amenities they have.
Sleeping bag (up to -10 °C, optional)
Trekking Backpack / Duffel Bag 50-90 liters (max. 15 kg | for the carrier)
Daypack 30-35 liters (for you and what you need during the day)
3-liter water pack (type: Camelbak)
Pocket knife
Optional: Backpack cover
Optional: Dry bags or bags to keep the equipment dry
Understanding the Seasons in Nepal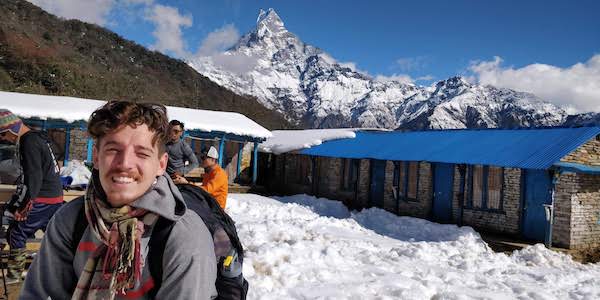 Understanding the seasons in Nepal is crucial for anyone planning a trekking or backpacking trip. Nepal has a diverse topography and a wide range of climatic conditions that vary significantly throughout the year, impacting what you decide to pack for your trip. Knowing the seasons in Nepal can help trekkers make the best packing list to ensure they are equipped to handle the climate and terrain they will encounter during their journey.
Nepal has four distinct seasons, and each season has unique weather conditions that can affect what you should pack. Below are the different seasons and what you can expect during those months:
Spring (March to May): This is a popular season for trekking in Nepal. During this time, the temperature is relatively mild, with clear skies and stunning views of the Himalayas. The forests are lush, and the flowers bloom, making it an ideal time for nature lovers. However, the trails can be crowded, and trekkers should be prepared for occasional rainfall.
Summer (June to August): This is the monsoon season in Nepal. Heavy rainfall is common during this period, and the trails can become muddy and slippery. Trekking can be challenging as well due to the high humidity, leeches, and the risk of landslides.
Autumn (September to November): This is the second most popular trekking season in Nepal. The weather is clear, dry, and cool, making it an ideal time for trekking. The skies are often crystal clear, offering breathtaking views of the Himalayan peaks. However, the trails can be crowded in this period, and trekkers should be prepared for colder temperatures at higher elevations.
Winter (December to February): By far the coldest season in Nepal, the weather can be harsh, with heavy snowfall and biting winds. Trekking can be challenging in the winter season, but it can also be rewarding for professional trekkers who want to experience the unique beauty of the winter landscape. Just make sure to pack warm!
Buying Equipment and Gear in Kathmandu
Kathmandu, the capital of Nepal, is a paradise for trekkers and adventure enthusiasts from all around the world. It is not just a hub for some of the best trekking routes in the world but also a hub for buying and renting trekking gear. Everything from tents, sleeping bags, hiking boots, jackets, and trekking poles can be found in Thamel (the country's main tourist hub).
Buying and renting trekking gear in Kathmandu is a convenient and cost-effective option for trekkers. It is a great way to save on baggage fees, especially for budget travelers. Bringing heavy and bulky gear from home can also be a hassle, and there's no guarantee that it will meet the demands of the trek.
Numerous shops in Kathmandu cater to trekking gear, and most offer a variety of brands and quality products. The prices for buying trekking equipment are very reasonable in Kathmandu. Trekkers can expect to pay significantly less than they would in their home countries for similar gear. It's worth noting that many stores are willing to negotiate prices, so it's always worth trying to haggle.
Just remember that some items you see will be duplicates or knockoffs. Some of the higher-end brands may be difficult to find. So make sure to check the items closely if you are going after name-brand high-end items. 
But, if you are ok with any brand and just need something for the trek, then you can feel confident that you will find some great cheap options for your trip!
Key takeaway: How to Pack for Nepal
Packing for a trip to Nepal requires careful consideration of the weather, terrain, and activities you plan to do. It's important to pack light and bring only what you need to make your journey comfortable and enjoyable. You can also take a look at our backpacking checklist to help you pack light, and only carry the necessities while trekking through Nepal!
Remember to pack clothing and accessories suitable for the season, personal items for hygiene and first aid, and essential gear for trekking and outdoor activities. With the right packing list, you can have a successful and unforgettable trip to Nepal.
FAQs: Packing List for Nepal Trekking
Below are some of the most frequently asked questions regarding how to pack for a trekking trip in Nepal.
1. What clothes to pack for Nepal?
When packing, opt for lightweight clothes made of fast-drying fabric that offer good breathability. Make sure to wear comfortable shoes, preferably ones that you have already broken in. Additionally, bring a hat and sunglasses to shield yourself from the sun. Remember to pack small essentials such as gloves, a fleece hat, sun cream, and a microfiber towel.
2. What is warm clothing for Nepal?
Warm clothing in Nepal includes wearing a woolen jumper, fleece or loose trousers, gloves, thick socks, windproof and waterproof jackets, track pants, and good walking boots that provide ankle support. Carrying a sleeping bag, sun hat, and sunglasses is also advisable. During the winter season, wearing down jackets and extra warm clothing such as thermals is suggested.
3. Should I take a suitcase or backpack to Nepal?
You should take a backpack or duffle bag to Nepal. It is best to avoid bringing large suitcases as they tend to get tossed around while traveling in Nepal. In case porters need to carry your bags, soft bags with carrying straps are much more practical.