Nestled in the heart of the mighty Himalayas, Nepal stands as a mecca for trekkers and adventurers from around the globe. With its breathtaking landscapes, awe-inspiring peaks, and rich cultural heritage, trekking in Nepal offers a truly unmatched hiking experience.
From the iconic trails of Everest and Annapurna to the lesser-explored regions, the country's diverse terrain caters to all levels of trekkers. Whether you seek challenging mountain summits or serene alpine valleys, Nepal's extensive network of trails promises unforgettable journeys filled with natural beauty, cultural encounters, and personal triumphs.
No matter how little backpacking experience you have, trekking in Nepal is easy, affordable and undoubtedly unforgettable. Are you ready for your Nepal Trekking experience? Then let us get into the best time for a Nepal trek!
Best Time to Trek in Nepal
Unpopular opinion, you can actually trek in Nepal year around, however due to several reasons trekkers usually choose between the two peak seasons i.e. fall and spring. If you're trekking in Nepal for the first time, I would suggest visiting during one of the peak seasons. The trails are more crowded, and you can interact with more people if you're traveling alone. 
The best times to trek in Nepal are:
| Season | Months | Description |
| --- | --- | --- |
| Fall | September – November | Most popular trekking season of the year in Nepal |
| Winter | December – February | You can trek during the season but it can be extremely cold and difficult. |
| Spring | March – May | Second most popular trekking season. |
| Summer/ Monsoon | June – August | Not advisable to trek during monsoon season as the rain makes it difficult and dangerous to move around. |
Table depicting the best times to trek in Nepal during the year
For more information about the trekking seasons in Nepal, see the elaborated sections below.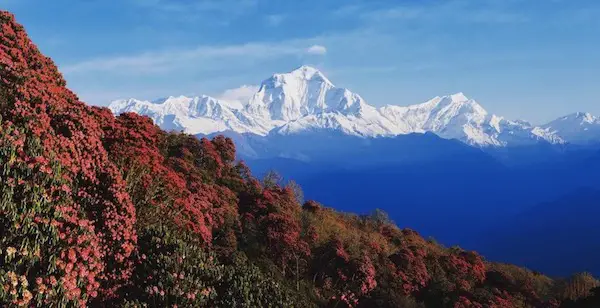 1. Fall (September – November):
This is one of the most popular and peak seasons in Nepal. During this season, you'll have the best chance to view clear blue skies with towering white snow peaks, sunny days, and the perfect temperature. However, the downside is that you will be sharing the trail with many other tourists and the majority of the tea houses will be crowded, especially along the most popular routes.
Tip: Make sure that your travel agency has booked everything and prepared everything you need. It's always best to be sure rather than second guess things. 
2. Winter Season (December – February):
If you're an experienced trekker, the winter season will offer sunny days and the best time for amazing mountain views. However, it is worth noting that temperatures can go below zero, shorter daylight hours, and harsh winter storms can probably disrupt travel plans with no warning. Additionally, many popular trails will not be accessible due to extreme snowfall at higher altitudes.
3. Spring (March – May):
Spring is the second most loved season by trekkers. This is the time when snowpack melts on high mountain trails and giant rhododendron (Nepal's national flower!) bloom across the hillsides. Mild temperatures are experienced during this time of the year. However, the main downside is that there are busy trails and the possibility of hazy skies which can block mountain views. That said, hazy sides will be less of an issue when you ascend to higher elevations.
4. Summer / Monsoon Season (June – August):
Are you ready for some leeches? Well this season is not advised, due to monsoon season bringing floods and landslides and of course your tiny friends on the way! It is very risky to trek in a fragile environment, with no warning of a landslide falling on you or floods eroding you away and obviously unless you want leech therapy, it's just a bit too gross! During monsoon season, the weather can also be hot and humid and clouds often barricade the mountains.
5. Off Season trekking in Nepal:
Having trekked around the country, I personally prefer to trek during the off season. It is more rewarding in terms of pricing, easier to find solitude and becoming friends with locals is easier. Although there are significant downsides to trekking outside peak seasons in Nepal, I would advise not to choose travel dates for off season especially, if this is your first time traveling to Nepal. 
Need to know the Nepali calendar dates? Then take a look at our Nepali Calendar tool for converting dates!
Types of Trekking in Nepal:
Below are the two main types of trekking in Nepal: Teahouse trekking and camping trekking. We go further into detail in the following sections:
1. Teahouse Trekking in Nepal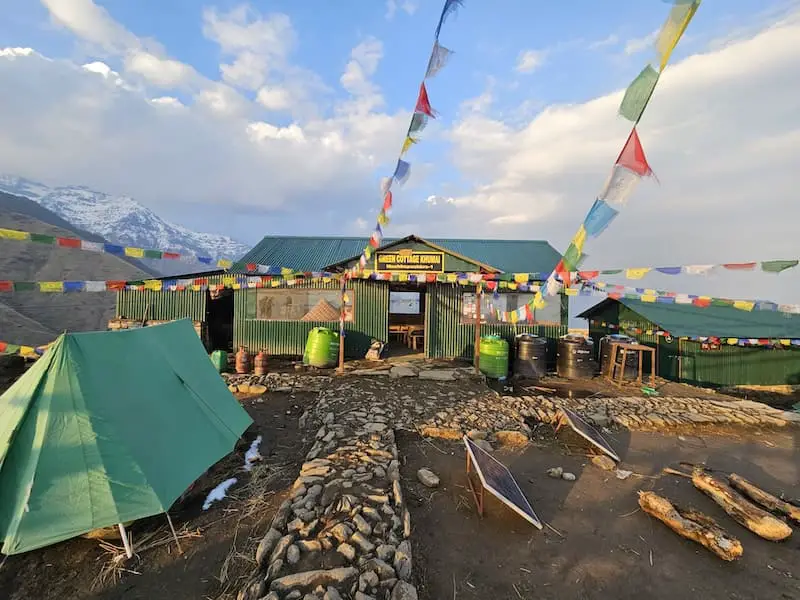 Nepal has recently been popular for Teahouse trekking culture. Teahouses are small mountain lodges frequently spaced along popular trekking routes. Teahouses can be seen on the most frequented trails like the Everest base Camp trek, Annapurna Base Camp trek, Manaslu, and Langtang valley trek. They're a great place to socialize and meet other travelers, enjoy home cooked traditional Nepali meals, warm your feet by the fire and bed down for the night.
On a teahouse trek route, you'll have a rest day in one of those lodges after climbing certain meters so that you can acclimatize. Accommodations are simple yet comfortable and super affordable. One of the reasons accommodations are cheap is because you'll be eating meals wherever you stay. But you can also indulge in other stuff like candy, snacks and beer if you're feeling a bit snacky! Also, teahouses come with hot showers and decent wifi!
Most teahouses cost between $3-$5 per night and can be booked on arrival too. However, it is always better to ensure that your guide has pre-booked the rooms for you. Teahouses provide you a small room with two twin beds and a shared bathroom down the hall. If you're not comfortably sharing a bathroom then you can pay an additional price to get a room with an attached bathroom. Blankets are either available in the room or provided, however I would recommend packing a sleeping bag for warmth, comfort and most essentially cleanliness! 
2. Camping Trekking: An Alternative Adventure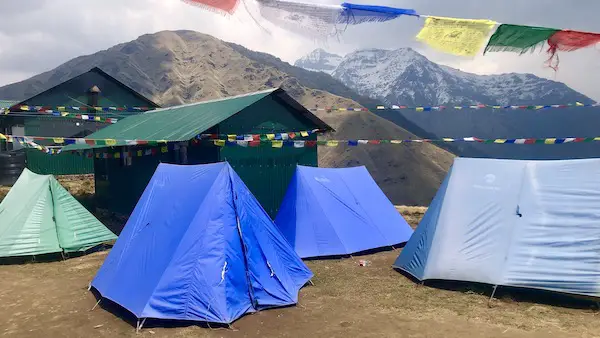 Compared to tea house trekking in Nepal, camping trekking is not as widely known but it offers a unique experience. Camping treks can be enjoyed in all trekking destinations across Nepal. During this type of trek, a team comprising a guide, assistant guide, porter, cook, kitchen helper, and camp helper is provided. The size of the team may vary depending on the number of trekkers. You will carry essential supplies such as food, fuel, trekking equipment, and camping gear throughout the journey.
These two major types of trekking in Nepal differ primarily in terms of food and accommodation. However, there are further subcategories based on various aspects. As a custom tour organizer in Nepal I can make suggestions on a wide range of trekking options. Please don't hesitate to reach out to me for any type of adventure! I would love to help!
Popular Trekking Routes in Nepal: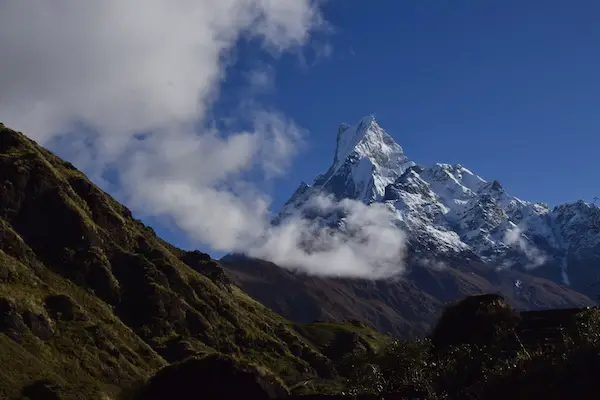 Nepal offers the most unique trails and phenomenal views, and it's impossible to list all these trails. Having said that, I have listed some of the most popular treks below. For an even more extensive list check out my best treks in Nepal guide!
1. Poon Hill Trek
| No. of Days | Level | Best Time to Visit |
| --- | --- | --- |
| 4 – 5 days | Easy to Moderate | March-April, Oct-Nov |
Table describes the Poon Hill Trek
This is a lower altitude trek and is one of the most popular and easy trek options among trekkers. This trek is best for trekkers who are looking for a shorter taste of Nepal's trekking culture. The trails are easy and not remote and the 360 view of the mountains from Poon Hill is phenomenal!
2. Annapurna Base Camp (ABC) Trek
| No. of Days | Level | Best Time to Visit |
| --- | --- | --- |
| 7 – 10 days | Moderate | March-April, Oct-Nov |
Table describes the Annapurna Base Camp Trek
This is a stunning trek for those with limited time but still want to experience the majestic Himalayan amphitheater of mountains! This is a lower elevation trek, hence making this trek easier compared to higher elevation treks. This trek is also better for people who are concerned about altitude sickness.
The popular Annapurna Base Camp Trek starts in Pokhara, and passes by a few other well known trekking routes that you can add to your itinerary like: Mardi Himal.
Read the detailed blog on Annapurna Base Camp Trek here!
3. Annapurna Circuit 
| No. of Days | Level | Best Time to Visit |
| --- | --- | --- |
| 12 – 15 days | Moderate to Difficult | March-April, Oct-Nov |
Table describes the Annapurna Circuit Trek
Annapurna Circuit trek is one of the most favored and easy treks which offers a variety of spectacular views. The trails combine phenomenal mountain views and simple yet vibrant culture of the Sherpas, influenced by the Tibetans. The Annapurna Circuit Trek also takes you to one of the highest trekking passes in the world, the Thorong La. Compared to the ABC trek, I would recommend doing this trek as you've already flown a thousand miles and it's worth adding extra time to see the world's highest peaks in its full glory!
4. Manaslu Circuit Trek
| No. of Days | Level | Best Time to Visit |
| --- | --- | --- |
| 16 – 18 days | Moderate to Difficult | March-April, Oct-Nov |
Table describes the Manaslu Trek
Any trek destination you choose to go, one thing that is sure that you will get to see is the picturesque view of the Himalayas. Additionally, you will also get to experience authentic Tibetan culture along the route. Manaslu Circuit has just started to get attention but many travelers are yet drawn to the Annapurna and Everest trek. However, Manaslu trek is a league of its own and welcomes you with culturally enriching yet scenically uplifting moments! Manaslu region is also rich in the natural beauty of flora and fauna, forests and rivers in the region. You will also visit Larkya La Pass, which is the highest point in the trek. 
5. Everest Base Camp
| No. of Days | Level | Best Time to Visit |
| --- | --- | --- |
| 14 – 16 days | Moderate to Difficult | March-April, Oct-Nov |
Table describes the Everest Base Camp Trek
Everest Base Camp trek is the most popular trekking trail in Nepal and with many good reasons. You get to walk in the footsteps of the world's most famous climbers, Everest Base Camp is a challenging trek and reaching the top will give you an unforgettable moment, and experience an awe-inspiring moment in the lap of the highest mountain in the world! 
Read more about Everest Base Camp Trek in detail! 
6. Gokyo Lakes
| No. of Days | Level | Best Time to Visit |
| --- | --- | --- |
| 10 – 12 days | Moderate to Difficult | March-April, Oct-Nov |
Table describes the Gokyo Trek in Nepal
Everest Base Camp is a popular trekking destination for many travelers and is crowded in the majority of the seasons. However, if you're looking for more solitude and less interactions, Gokyo trek is the one for you. You can still view Mount Everest from the region and additionally, enjoy the shimmering Gokyo lake. Adding a cherry top – the views from the top of Gokyo Ri may be the finest in all the Himalayas. 
7. Langtang Valley
| No. of Days | Level | Best Time to Visit |
| --- | --- | --- |
| 9 – 11 days | Moderate  | March-April, Oct-Nov |
Table describes the Langtang Trek in Nepal
Trekking through the Langtang valley was a popular trekking route in Nepal, before it got hit by the 2015 earthquake. However, it is now rebounding and we are seeing the return of trekkers in the region. This is also another less crowded treks and filled with ample natural diversity, Tibetan culture and breathtaking views of the Himalayas. The trek takes you to a whimsical valley of stunning forests, high alpine meadows and yak pastures. Enjoy the panoramic views across vast open valleys at the end of your trek!
8. Upper Mustang Trek
| No. of Days | Level | Best Time to Visit |
| --- | --- | --- |
| 12 – 15 days | Moderate to Difficult | May – October |
Table describing the Upper Mustand Trek in Nepal
The ultimate and best trek that you should have on your Nepal trekking bucket list is the Upper Mustang Trek. It is the ultimate gateway to the mysterious ancient Buddhist Kingdom of Mustang, or known as Lo. It was a forbidden and isolated kingdom from the world and as decades passed by the area evolved within its own unique culture and rich traditions tied to Tibet. The Upper Mustang route is a moderate and also a lesser known trek that passes through one of the driest regions of the country and offers incredible views of the Himalayas.
New to trekking? Then check out our guide to the best beginner treks in Nepal!
Trek Difficulty Rating: Things to Consider
Factors such as experience, physical fitness, pack weight, and weather conditions will determine the difficulty level of trekking. In Nepal, there are numerous trekking options available, each with varying levels of difficulty. It is crucial to select a trek that aligns with your fitness level and undergo sufficient training prior to embarking on your journey.
While trekking trips in Nepal do not require technical equipment like ropes, ice axes, or crampons, there will still be challenging ascents and descents. Expect long days and tired legs, but rest assured that treks in Nepal are designed to allow ample time for rest and acclimatization. Although it won't be effortless, most active hikers perform well on Nepal's trails, especially with proper pre-trek training.
To alleviate the difficulty of your trek, you can consider hiring a porter to carry heavy gear, leaving you with only a small daypack to carry. This option significantly enhances accessibility along Nepal's trails. It is noteworthy that we encountered and were impressed by numerous individuals in their 50s, 60s, and even 70s who successfully trekked these trails.
It is now mandatory to have a guide while trekking in Nepal:
This used to be a difficult question for many. However, as of April 2023, Nepal requires all foreign trekkers to trek with a guide. This means anytime you are going into the conservation areas such as Annapurna or Everest, you will need to be accompanied by a guide.
There will still be lower elevation trekking routes, and cultural tours that you can go on without needing to be accompanied by a guide. One such route that I really enjoyed was the Millennium Trek in Syangja – which is low elevation trek through Gurung and Magar villages.
There are a lot of great guides out there that you can easily find online. However, if you need a recommendation of a trekking guide in Nepal, just reach out to me and I would be happy to connect you with one!
Guide and Porter Cost: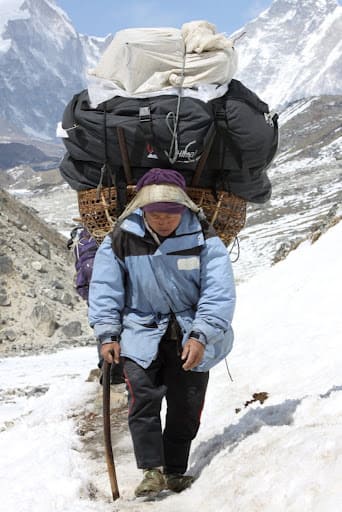 Guides will charge you around $30-40 (NPR 3000-4000) per day and a porter will cost around $15-20 (NPR 1500-2000) per day. A guide will be your logistics and safety manager during the trek. Whereas the porter will help to carry your bag.
Majority of the guides today can speak decent English and will easily guide you throughout your trip. They are also a good source of information on local culture, festivals, traditions, traditional dresses of the area, temples and norms. Your guide will be an extremely useful resource on the trekking route. 
Porters are common along the majority of the trekking routes and basically carry your heavy gear bag. Porters are beneficial if you're traveling with an older trekker, novice trekker or children. However, please note that even if you do decide to take porters with you, I would request every trekker to keep your gear weight to a minimum. Porters have an absolutely difficult job so please don't make it more difficult for them. 
Additionally, make sure to tip your porters and guides well. Hand the money directly to each person to ensure that they get the payment. Porters and guides have a very tough job and they often get surprisingly little compensation for their work.
Trekking in Nepal Gear: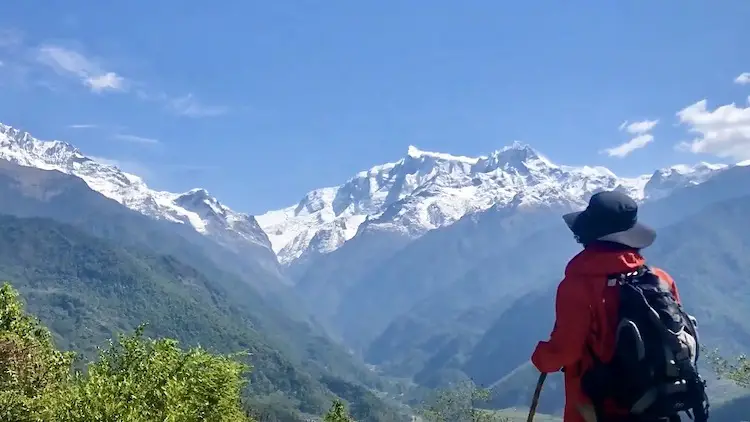 When preparing for a trekking expedition in Nepal, having the right gear is essential to ensure a comfortable and successful journey. Some of the most crucial pieces of gear include a reliable pair of hiking boots and a heavy duty trekking backpack.
Hiking Boots: Essential Footwear for Trekking in Nepal
Opt for sturdy, waterproof boots with excellent ankle support to tackle the diverse terrains and ever-changing weather conditions encountered in Nepal. Investing in high-quality boots will protect your feet from blisters, provide stability on uneven trails, and enhance your overall trekking experience.
Remember that there are differences between hiking and trekking, so you may want different footwear depending on the difficulty and terrain of the trek you choose. If you are looking for assistance on knowing what type of boot you may need, make sure to check out my how to choose hiking and trekking boots guide!
If you already know what type of boot you are looking for, than you may want to go straight to the best hiking boots for under $100 guide instead!
Best Trekking Backpacks: Carrying Your Essentials with Comfort and Ease
In addition to hiking boots, selecting the best trekking backpack is equally vital for a successful trek in Nepal. Look for a backpack that offers ample space to carry all your essentials while ensuring comfort during long hours of hiking. Prioritize backpacks with adjustable straps and a supportive hip belt to distribute the weight evenly and minimize strain on your back and shoulders. Choose durable, water-resistant materials to protect your belongings from rain and moisture.
Consider the capacity of the backpack based on the duration and nature of your trek. For shorter treks, a daypack with a capacity of 20-30 liters may suffice, while multi-day treks require larger backpacks with capacities of 40-60 liters. Look for features like multiple compartments, compression straps, and easily accessible pockets to keep your gear organized and readily available throughout your trek.
Remember, prioritizing quality footwear with hiking boots and selecting a well-designed trekking backpack will ensure comfort, durability, and functionality while trekking in Nepal.
Trekking in Nepal Safety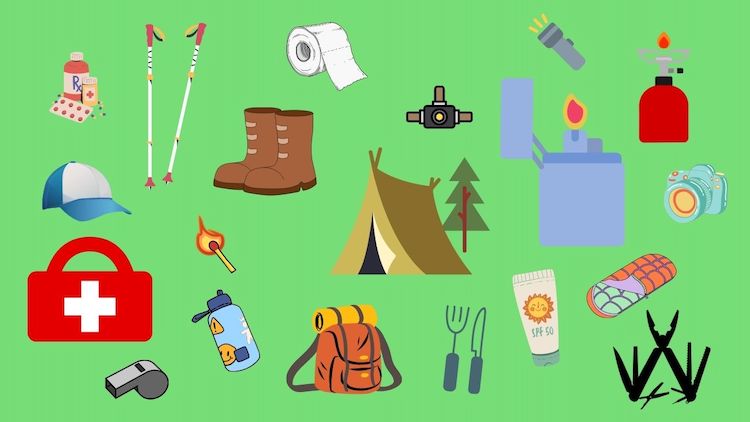 You will be trekking in the most remote areas of the country and far away from proper hospitals. Therefore, it's crucial to take every precaution before you head out. Below, I have laid out some safety tips for trekking in Nepal.
It is crucial to educate yourself on altitude sickness. Make sure to learn more about High Altitude Sickness to protect yourself. Especially if traveling alone!
Helicopter evacuations are available however many such situations are preventable. HVACs are also expensive so I would recommend getting travel insurance before your trip.
Don't ignore weather signs and conditions. Storms are bound to develop quickly in higher elevations and can be fatal if you're not prepared.
Always pack a first aid kit! Check out our backpacking checklist and Nepal packing list to know exactly what you should carry on your trek!
Leave a detailed itinerary with an emergency contact and note down important phone numbers on your diary or piece of paper that will be easy to find during an emergency.
Yaks and donkey caravans are quite clumsy and can bump into you. Therefore, do not stand close to the cliff side and just let them pass by.
Always carry enough water on the trail to stay hydrated and prevent altitude sickness. Trekkers traveling from abroad, please don't forget to carry a water purifier to make sure that your drinking water is clean.
Trekking trails often make your eyes wander around but it's also important to keep your eyes on the trail to avoid missteps that could possibly injure you.
Trekking Insurance: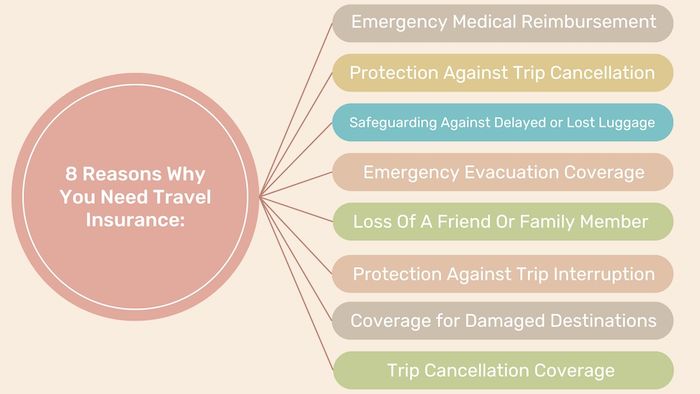 When embarking on a trekking adventure in Nepal, you will need trekking insurance. The rugged terrain and unpredictable weather conditions in the Himalayas can pose risks, making insurance a crucial safeguard for your well-being. Moreover, in order to get your TIMS Pass and Trekking Permits, you will need to provide proof of insurance – check out my is trekking insurance mandatory in Nepal blog for more information.
Before you decide which coverage is best for you, make sure you understand what trekking insurance is, and why do I need travel insurance in the first place. These two resources will ensure you pick the right policy, as they differ significantly.
Trekking insurance is a vital consideration when planning a trek in Nepal. It offers protection and support in case of unforeseen circumstances, allowing you to fully enjoy your adventure while having peace of mind. So when you are ready to choose the right insurance policy for trekking in Nepal, make sure to check out the following two resources: Best Trekking Insurance, and, Insurance for trekking in Nepal.
What is food like while trekking?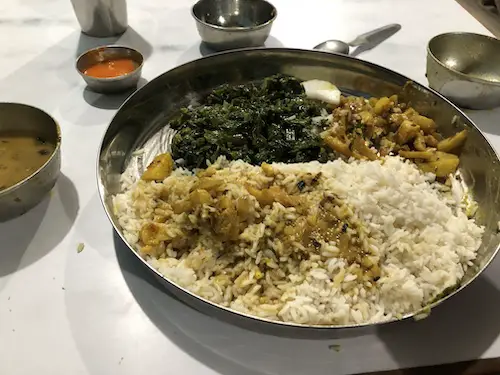 When it comes to teahouse food in Nepal, you can expect simple yet sufficient options. The menus at most teahouses are quite similar, offering a variety of dishes to fuel your trekking adventure. A staple choice is the famous Dhal Bhat, a hearty traditional Nepali food, that combines lentil soup, rice, and vegetables. Additionally, you will commonly find other dishes like momos, pasta, rice dishes, soups, pizzas, and, of course tea and biscuits!
While teahouse menus tend to have consistent offerings, it's worth noting that prices increase as you venture farther away from cities. The transportation of supplies to remote locations, often carried by yaks or donkeys, contributes to the rise in cost. To ensure you have sufficient sustenance during your trek, it's advisable to carry snacks for the journey between villages and on longer pass days.
Something to keep in mind is it's essential to discuss food options and costs beforehand when going with a set tour. Most companies offer two options:
Paying an up-front fee that covers all food expenses throughout the trip
Bringing money to pay for meals as you go
Opting for the first option is more convenient as it eliminates the need to carry a significant amount of cash and handle money throughout the day. However, the second option can be more cost-effective since you only pay for the exact meals you order.
Finally, many tea houses will include food charge in the room cost. This means you will get quoted a price for the entire package – which includes room and board, dinner, breakfast, and tea.
Drinking Water and Safety on treks:
Before embarking on a trek in Nepal, it is crucial to have a well-thought-out water treatment plan. While water sources are generally accessible, purifying it for safety is essential.
There are several popular options for water treatment, including water treatment pills, UV sterilizers, and water filters. Although teahouses offer bottled water for purchase, relying on them can be environmentally unfriendly, leading to increased costs and waste during your trip. A lot of trekkers end up using a SteriPEN Ultra (affiliate link!) These devices are fast, user-friendly, and eliminate the need to consume water treated with unpleasant-tasting chemicals.
While hiking, it is advisable to carry a minimum of 1-2 liters of water and replenish it frequently. Staying hydrated is crucial throughout your trek, and this becomes even more vital as you go up in elevation. It's easy to overlook the need for hydration when the weather is chilly, but maintaining adequate fluid intake is imperative. On colder days, ordering pots of hot tea can be a great way to ensure you stay hydrated while enjoying a warm beverage.
Finances and Money:
When trekking through villages in Nepal, it's crucial to keep in mind that ATM machines are scarce, and credit card acceptance at teahouses is rare. Therefore, it is essential to ensure you have an ample supply of cash for your trekking adventure. Based on my experience trekking places like Mardi Himal, Khumai Danda and the Annapurna Circuit, budgeting around $30-40 per person per day for food and accommodation was sufficient. Just remember, if you are going to be eating more expensive food, indulging in soda, candy or beer, your expenses will skyrocket!
As a general rule, it's wise to carry more cash on the trail than you anticipate. Luxuries such as chocolate, tea, beer, Wi-Fi, and hot showers can greatly boost morale, but their costs can accumulate. You may also need cash to purchase small gifts, replace broken equipment, or hire transportation in case of unexpected changes to your travel plans.
Another expense to consider is charging your electronic devices. While some teahouses may offer free battery charging, most will charge a fee (especially the more remote places). Typically, you can expect to pay around $2-5 for a full battery charge.
Most teahouses provide hot showers at an additional cost, usually ranging from $3-5 per shower. However, it's important to note that the quality of showers can vary greatly, from a simple bucket of hot water to the rare luxury of a proper shower. Typically, for me, the cost often outweighed the benefits of the shower. Instead you can just be stinky, take a cold shower or use wet wipes for quick and convenient cleaning.
Transportation to and from your trek route: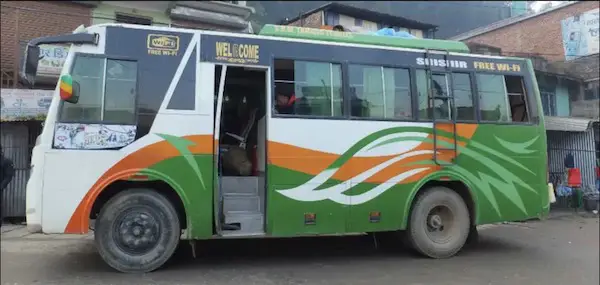 The majority of visitors arrive at Tribhuvan International Airport (KTM) in Kathmandu, the capital city of Nepal. However, as the international airport in Pokhara continues to offer more flights, this could be your starting point as well.
It's important to note that transportation in Nepal is generally slow-paced. Long bus rides, flight cancellations, and unexpected delays unfortunately tend to be part of the norm. Therefore, it is advisable to allocate a couple of buffer days when planning your trip and embrace the adventurous spirit that comes with it.
Many popular treks depart directly from Kathmandu or Pokhara, the second largest city in Nepal. While some treks may offer flight options for accessibility, many require a lengthy bus or jeep ride to reach the starting point. Depending on your chosen destination, there are usually several transportation options available. Local modes of transportation tend to be more economical, but "tourist" options often provide greater comfort and convenience.
Trekking Permits in Nepal:
When working with a trekking company, they will handle the logistics on your behalf. Every trekker in Nepal requires a TIMS card (Trekking Information Management System), which typically costs around $20. You can obtain your TIMS card and settle your park fees at the Nepal Tourism Board offices in Kathmandu or Pokhara before commencing your trek.
In addition, you are likely to encounter conservation or national park fees, which can be obtained in advance and generally amount to approximately $20-$30, depending on your chosen hiking destination and the length of your trek.
For permits and passes, it is best to speak to your trekking company to understand exactly what you will need for your trip as well as the cost of the pass. You can get your permits and passes in Kathmandu or Pokhara.
To apply for a TIMS card, you will need the following documents:
Copy of your passport
2 passport sized photographs
Trekking entry and exit dates
A tentative itinerary
Emergency contact numbers
Communication: Phones and Wifi while trekking in Nepal
Staying connected while trekking in Nepal is becoming increasingly feasible. Along the most popular routes, teahouses will offer WiFi services, and with a local SIM card, you will get service in many places. However, it's important not to rely heavily on staying connected as the service is often unreliable at best.
If you plan to purchase a local SIM card in Kathmandu, two main companies are available: Ncell and Nepal Telecom. In the Annapurna region, Nepal Telecom SIM cards tended to work reasonably well, while Ncell was a better option in the Everest region. That being said don't rely to much on having service while trekking – I mean do you need it anyways? Enjoy the outdoors and nature instead!
WiFi availability at teahouses along your trek may vary, and the speed and functionality can be highly unpredictable. In the Everest region, prepaid WiFi cards are sold (around $3 for 100MB) and generally provide decent service but get consumed quickly. On the Annapurna Circuit, you may encounter a one-time fee of $3-5 for WiFi access, but the connections can be very slow or unreliable, if available at all.
Getting a Visa in Nepal: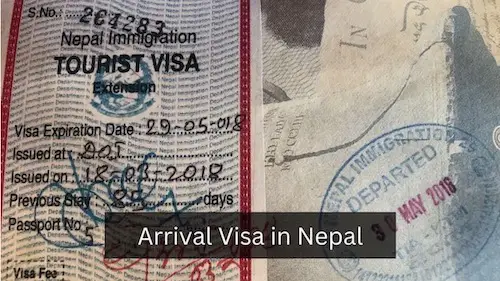 To enter Nepal, it is necessary to obtain a tourist visa – check out our blog about getting a visa on arrival in Nepal. For most travelers, obtaining a visa on arrival at Tribhuvan International Airport in Kathmandu is the preferred option. However, if you are traveling overland from India, it is also possible to obtain a visa ahead of time at a Nepal Embassy.
Tourist visa costs are as follows:
| Length of Stay | Price of Visa (USD) |
| --- | --- |
| 15 days | $30 |
| 30 days | $50 |
| 90 days | $125 |
Cost of tourist visa in Nepal
At the international airport, there are electronic visa machines available, and the airport staff is ready to assist with the necessary forms.
Please note that visa policies can change. It is always best to check the current visa guidelines for specific and up-to-date information.
Trekking in Nepal
This comprehensive guide has looked into every aspect of trekking in Nepal, providing you with a wealth of information on trekking routes, seasons, safety measures, gear essentials, and insurance considerations.
By exploring the diverse terrain and majestic landscapes of Nepal, trekkers can embark on unforgettable adventures amidst soaring peaks, serene valleys, and vibrant cultures. From the towering heights of the Everest Base Camp trek to the mystical trails of the Annapurna Circuit, Nepal offers a plethora of options for every level of trekking experience.
FAQs: Trekking in Nepal
Below are some of the most frequently asked questions regarding trekking on Nepal's various Himalayan routes.
1. Which is the best mountain trek in Nepal?
The best mountain treks in Nepal are Everest Base Camp, Upper Mustang, and Annapurna Circuit. Off-the-beaten-path trek options include, Khumai Danda, Mardi Himal, Langtang Valley and Tsho Rolpa Glacial Lake.
2. Which month is best for trekking in Nepal?
Best months for trekking are October and November, following the monsoon season. This applies not only to the well-known areas of Everest and the Annapurnas but also to many other wild and adventurous regions of the country. During this time, you can expect pleasant daytime temperatures, excellent visibility, and long periods of beautiful weather.
3. Is trekking in Nepal expensive?
Trekking in Nepal ranges from approximately USD $30 to US$100 per day per person. This range is for the more inexpensive treks, where the expensive treks in the Everest region can cost $100-$200 per day per person.