How to choose hiking boots is a common question amongst hikers. The value in the question lies in understanding exactly what is needed to be successful on the trail. Whereas, with the wrong boot, you can end up being uncomfortable, or causing unwarranted injuries to yourself. For hikers, how to pick a hiking boot relies on knowing what type of hiking, trekking, or climbing they plan on doing, and where they plan on doing it.
The first thing is first, we need to know the basics. The three most important things to consider when choosing a hiking boot are:
Type: This is where knowing the type of trail you are going to be hiking comes in handy. Whereas, you can find all sorts of hiking boots and hiking shoes. From trail runners to lightweight hiking boots, all the way up to burley mountaineering boots!
Components: Having basic knowledge about the design of the boot and what it offers is important. The design and materials of the boot's uppers, lowers, midsoles, outsoles, and other parts of the boot, all play an important role on the trail.
Fit: Choosing a boot that doesn't fit right can result in blisters, aching feet, and jammed toes. Moreover, people with wide feet, or flat feet, will have an even more difficult time if they don't pick a hiking boot that fits properly
Bringing the right hiking boots is an essential component for every packing list for Nepal. So make sure to check out our checklist so you can travel in comfort in Nepal! Without further ado, lets dive into how to choose hiking boots by discussing the types of trails and treks you plan on conquering!
How to choose a Hiking Boot – Consider the hiking trail and terrain:
When we think about the different types of hiking trails, there are generally, three types of hiking terrains that we can consider:
1. Easy trails:
For easier hiking trails, you will find yourself hiking in well-groomed trails in valleys, in prairies or in other large open spaces. Moreover, the hiking route will usually be a stable and even path that has few inclines or declines.
For easy trails as described above, you can hike them in almost any type of hiking boot or hiking shoe. Moreover, this type of trail is great for trail runners, as they are lightweight and easy to walk in, all while providing you enough cushion and protection from shock while walking.
2. Uneven trails:
Uneven trails, are slightly more technical than easy trails and will be found on hillsides and mountains. Whereas, the hiker will need to traverse terrain that has steeper inclines and declines that will demand better traction. Additionally, there will be more rocks, roots, and mud throughout the trail meaning, you will need better padding and support in the midsole area of your boot.
With this type of terrain and more technical elements on the walking path, you will need better support for your ankles as well. Therefore, you may want to consider moving up to a more sturdy hiking boot, or a hiking shoe that has a higher collar cut. Mid-cut shoes and boots will keep your ankle more stable while walking down sustained descent.
An example of this type of trail is the Day Hike in Pokhara: Peace Pagoda and Shiva Statue. Where we had to hike almost 2,000 feet up in elevation, on different trail types.
3. Off-trail:
Off-trail hikes are considered to be the most difficult as they feature more hiking elements and difficult terrain. For example, as a hiker, you will often encounter unstable paths that have loose rocks of footing throughout. Moreover, these trails will usually not be marked and you will need to find your own way.
These trails are usually reserved for the more skilled and physically fit hikers as they are considerably more demanding. Off-trail hikes will call for continued concentration as you will need to be sure-footed throughout the trek as you will be crossing various obstacles, and rivers, so much that you may need to use your hands during certain portions of the hike.
Trail type summary – What type of hiking boot is best?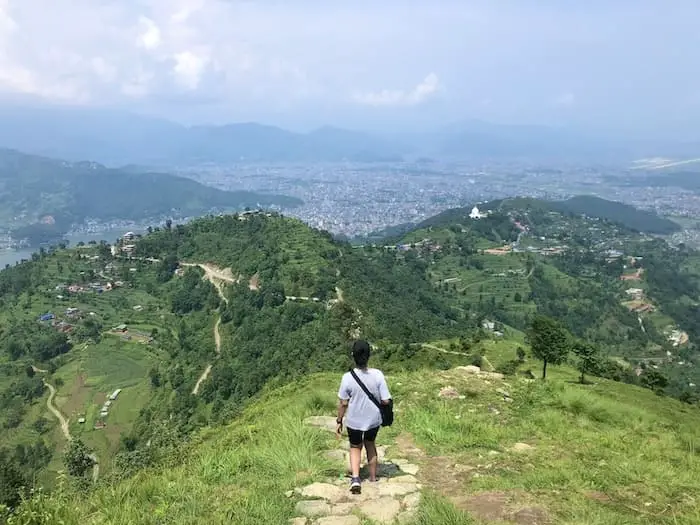 For easy trails and more relaxed hikes, you will probably want to go with a more flexible shoe. Whereas, as mentioned trail runners are lightweight and allow for your feet and legs to enjoy natural movement. Moreover, these lightweight hiking shoes will also be more comfortable to wear and reduce fatigue as they are the most like regular walking shoes. If you are looking for a lightweight hiking shoe/ trail runner, have a look at the Moab Speed Mid GORE-TEX.
If you are looking to hike on uneven trails, or even off trail, you will want to go for a boot that can handle the technical terrain. For this, you will want footwear that has a stiffer outsole so you can enjoy better stability while on the hike. Moreover, you may also want to consider a boot that has a higher cut, which will help protect against rolling your ankle.
Hiking boots that are made for these more difficult hiking paths, will come with better and more reinforced outsoles – rubber toe, heel protector, side and instep protection – which also increases the overall durability of the boots. If you are looking for a more stable and durable boot, consider taking a look at the Salomon X Ultra Mid 3 GTX Hiking Boots.
How to Choose Hiking Boots – Knowing the different types of footware:
From hiking boots to trail runners, to trekking and mountaineering boots, there are an array of different types of boots. It is important to understand the various uses of each, and how they can fit into your hiking style. Remember, picking the correct type of boot will save you a lot of hassle on your next excursion out into the wild.
Let's get into the different types of hiking boots and shoes, starting with the trail runners and light shoes, building our way up to the burliest boots, with mountaineering: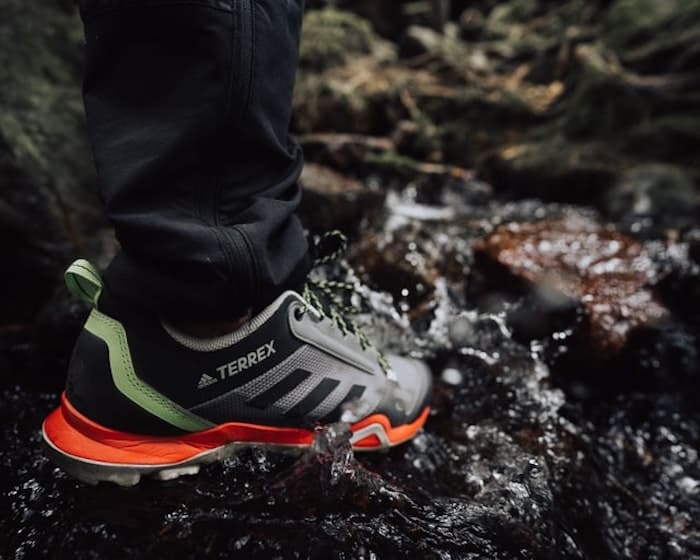 1. Hiking Shoes:
Hiking shoes, or trail runners are footwear that will be most like your everyday tennis shoes. They are lightweight, and have a low-cut collar, allowing for the most flexibility. Moreover, they will feel the most athletic and easy to navigate trails. These can be used for easy trails and hikes, and even with lighter backpack journeys.
Recommended: Moab Speed Mid GORE-TEX.
2. Day Hiking Boots: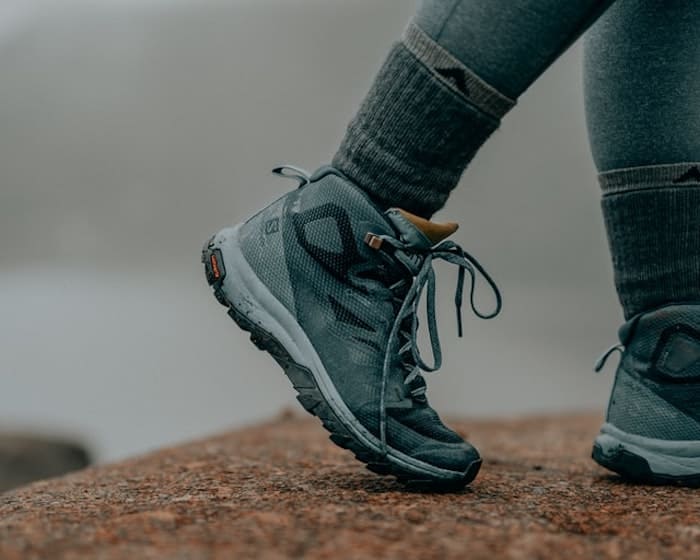 These are going to be a little heavier than your trailrunners, but they are going to be more durable and protective. By trading in for a slightly heavier shoe, you can feel comfortable traversing a more difficult route that may have more rocks, or roots – think a little more off-road and rugged trail. Additionally, the day hiking boot will be a good choice when going on a backpacking hike as it will provide the cushion and support your foot needs to stay safe. The day hiking boots will help prevent soreness and reduce injuries like ankle rollovers, as they will have a mid- to high-cut collar.
These types of boots are great for day hikes, like our hiking experience up to the Shiva Statue in Pokhara Nepal. 
Recommended: Salomon X Ultra Mid 3 GTX Hiking Boots – USD $165
3. Backpacking boots: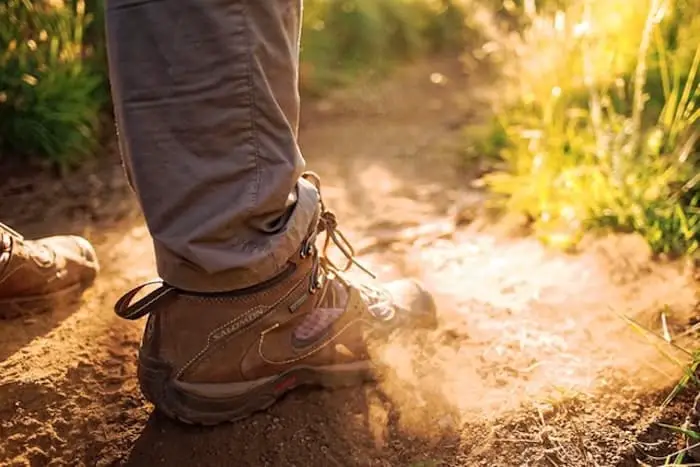 This type of boot is going to provide the most protection and support to your feet while out on the trail. Of course, this means they will be a little heavier than the other two. The added weight ensures a more durable boot, as well as extending the design to cover the entire ankle.
The high-cut collar design helps prevent ankle twists and adds stability to your legs and feet while traversing difficult terrain. Moreover, the boots will be more stiff out of the box, reducing the flexibility in the midsoles. However, this is by design, to allow for hikers and trekkers to get more rugged and go off-trail whenever needed.
These types of boots are great for multiple-day hikes with more extreme terrain, like our hiking experience climbing Mardi Himal.
Recommended: KEEN Men's Targhee II Mid Waterproof Hiking Boot
4. Mountaineering Boots: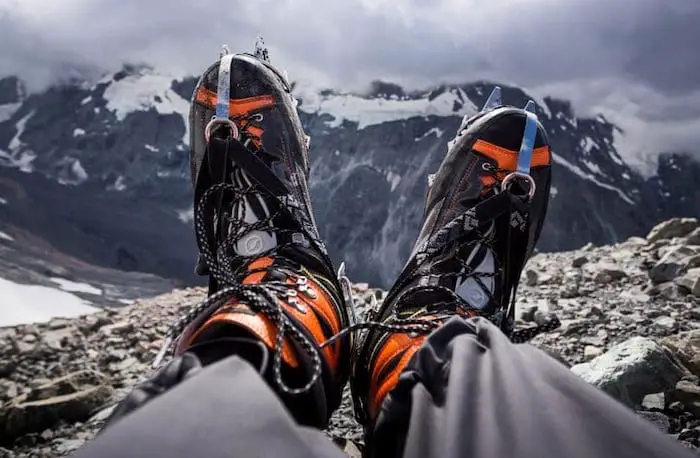 Mountaineering boots are not for the average hiker and are usually reserved for people going trekking high into the mountains where there is a great deal of snow and ice. This type of boot will have the highest collar cut as well as stiffness out of all boots, to ensure the best stability while climbing steep terrain.
Moreover, the design of these boots will allow for the use of crampons for ice and snow climbs. And, these boots also focus on warmth, to prevent frostbite in extreme conditions. Mountaineering boots are great for summit pushes while climbing mountains like Everest, or any of the eight of the 10 tallest mountains residing in Nepal.
How to pick hiking boots –  Knowing Boot Components: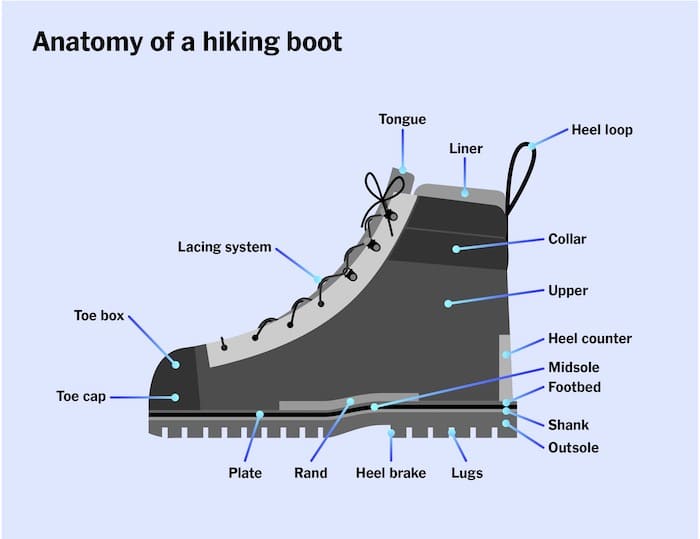 The next thing to be aware of while wondering about how to pick a hiking boot, is the various components of the boot. Whereas, we will focus on discussing five different components of boots including the uppers, lowers, midsoles, outsoles, and crampon compatibility. These five components are important when choosing a hiking boot or hiking shoe, as it will help determine the type of trail or trek you are most suited for.
1. Hiking Boot Uppers:
The main thing to consider when deciding which type of boot upper you should buy is the material used. Whereas, the material will have a direct impact on the weight, breathability, durability, and level of water resistance. Once again, this is where having an idea of where and when you will be hiking or trekking will play a role in what material of footwear you will choose to buy.
Full-grain leather:
A full-grain leather boot will provide the durability and abrasion resistance needed to prolong the life of your boots. Moreover, a hiking boot that uses full-grain leather for its upper will be more resistant to water. However, this does mean that the boot will not be as light or as breathable compared to other materials like nylon/split-grain leather. Therefore, for added protection and water resistance, you will have to sacrifice a few features including the need for comfort out of the box. You will need more time to break the boot in as they tend to be less flexible. The stiffness and durability, however, make this type of beet great for longer backpacking trips and extended more rugged trails.
Split-grain leather:
This is the more lightweight choice compared to full-grain leather. However, going for the lightweight choice means you will have to sacrifice the boot's ability to resist abrasion and water. The boot will be more breathable, and many of the shoes will come with a waterproof liner to help keep your feet dry while hiking in the rainy season.
Synthetics: 
Many modern boot manufacturers are turning to polyester, nylon, and other synthetic leather options. These boots will bring together all the positives of full- and split-grain leather like being lightweight, dry faster, being more breathable, breaking in more quickly, and having a lower price point. However, for these benefits, you will have to sacrifice some durability and longevity of the boot.
Waterproof membranes:
As mentioned some boots and shoes also have a built-in waterproof membrane like Gore-Tex or eVent. By adding the membrane the hiking shoes will have better waterproofing but will have a reduction in breathability. Less breathability may result in sweatier feet during the summer as the hiking shoes and boots tend to become warmer.
Insulation:
Insulation for boots usually only matters when discussing mountaineering boots. Whereas, due to the extreme cold conditions the trekkers or climbing in, they require a boot that is insulated from the freezing temperatures and can keep their feet warm and safe.
2. Hiking Boot Midsoles:
The midsole of hiking boots and shoes plays a role in providing cushion to your feet, buffering your foot against shock and sharp objects, and determining the stiffness of the footwear. Don't be fooled by the word stiffness, as even though it may sound like a negative attribute, it has lots of benefits. Whereas, a stiffer boot will provide better comfort and stability while hiking on rocky and uneven terrain as well as on extended hikes. The two main types of midsole materials for boots are ethylene vinyl acetate (EVA) and polyurethane.
EVA:
Ethylene vinyl acetate or EVA midsoles will provide more cushion, be more lightweight and be less expensive compared to polyurethane. Moreover, the EVA midsole comes in different densities to allow the hiker to choose the level of support around the foot and especially the forefoot when needed.
Polyurethane:
The polyurethane midsole is more firm compared to the ethylene vinyl acetate midsole, and therefore better for longer backpacking excursions, extended treks, and mountaineering trips.
3. Hiking boot internal support:
The internal support portion of the boot adds support and protection to the sole of the foot. Depending on which element is included, you will have a different level of safety for the bottom of your foot. Moreover, these elements are found sandwiched between the midsole and outsole of the boot.
Shanks:
Shanks are typically between 3-5mm thick and are included to add load-bearing stiffness to the midsole of the show. The shanks can vary in length, where they can either cover the entire midsole or just focus on covering and protecting only half of the boot.
Plates:
Plates are inserts that go underneath the shanks (if included in the shoe). They are thin and semiflexible inserts that will protect the bottom of your foot from getting bruised or injured from roots and rocks on the trail.
4. Hiking Boot Outsoles:
All outsoles are made from rubber, and some companies even include carbon in the rubber of backpacking and mountaineering boots to make the outsoles stronger and harder. By increasing the hardness and rigidness of the outsole, the boot will become more durable and long-lasting. However, this can result in the boot losing some of its grips and feeling slippery to some hikers when they go off trail. Two things to consider while choosing an outsole are:
Lug pattern (tread pattern):
The lug pattern is where the traction comes from. It is most commonly known as the tread on the bottom of shoes. Whereas, for hiking boots and mountaineering boots, the lugs are usually deeper and more widely spread. This provides better traction and grip as well as allows for the boot to shed mud off more easily in difficult terrain.
Heel brake:
The heel brake portion of the outsoles provides better traction and grip, helping reduce the chance of sliding and slipping during sustained steep descents.
5. Crampon Compatibility: 
Crampons will come in handy when you are trekking and hiking in snowy and icy conditions. One such place may be during your Everest Base Camp Trek. Whereas, being able to connect crampons to your hiking or mountaineering boots will increase your ability to stay safe and avoid slips and falls on ice. However, depending on where you will be doing your hiking, this may not be a feature you will need.
If you looking for help on choosing the right crampons, make sure to check out REI's guide.
How to Choose Hiking Boots – Hiking Boot Fit: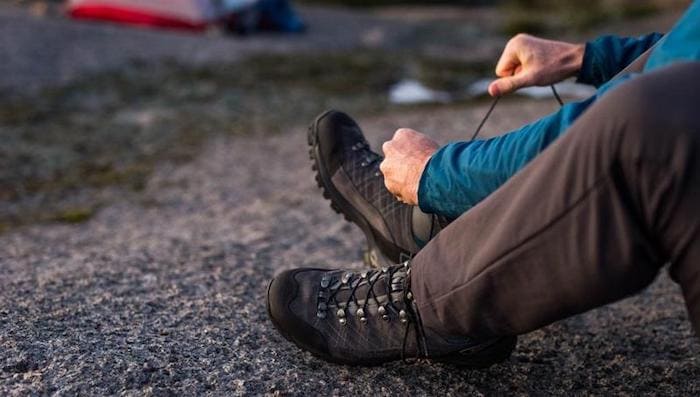 I believe this to be the most important component of picking hiking boots. Whereas, if the boot fits properly and securely, you will be able to go hiking and trekking comfortably. The boot should be snug along your entire foot, but not too tight in any place. Moreover, there should be some wiggle room in the toe box, to allow your toes and foot to slightly shift during downhill hiking.
Here are a few things to keep in mind while trying on boots to see if they fit properly:
1. Know your shoe size:
In many outdoor and hiking stores, like REI, you can get your foot measured by a professional. They will inform you about the length, width, and arch length of your foot. These measurements will help you make a more informed decision while deciding which boot to choose.
2. Do you have wide or flat feet?
If yes, you will want to choose a more comfortable boot for your foot. This may mean choosing the wide option for the particular boot. Additionally, if you do have flat feet like me, you will want to check out my 3 best hiking boots for flat feet review (for men), you can also have a look at our best-hiking boots for flat feet!
3. Do you wear ankle braces or other orthotics?
If you end up buying boots from a physical store, make sure to bring along all of your orthotics or braces you wear. This way you can try on the boots with everything you will be wearing when you actually go hiking.
4. Wear your normal socks and hiking gear:
Just as you should bring your orthotics with you, you should also wear the socks or other clothing that you will go hiking in when you try boots on. This is because often, we are wearing socks that are thinner compared to what we will actually wear when we go hiking. Therefore, bring your thick or warm socks that you typically wear while hiking, this way you can get a true fit while you are picking out your hiking boots.
5. Walk around in your boots:
Before you buy your boots, or before you go hiking and trekking in them, make sure to walk around in them. You will want to know exactly how they feel and react to your feet. Whereas nothing is worse than getting out to the trail and walking the first mile or so to realize that they don't fit right, or something is wrong with them. Always test the boots out to understand their true fit.
Key Takeaways: How To Choose Hiking Boots
It is essential to protect your feet while hiking and trekking. The best way to do this is by knowing exactly how to choose hiking boots. From different types, to different boot components, it may seem overwhelming at times picking the best shoe for your next adventure.
When in doubt, the best thing to do is to visit an experienced sales person who can guide you through the buying process. By visiting a reputable outdoor store, you can get guidance in what will be best for you and the type of hiking you will engage in.