The Keen Targhee II stands as an exceptional boot available at an affordable price point. With its mid-cut design, the Targhee II strikes a balance of comfort and stability, making it a suitable choice for a wide range of trails. Crafted from durable leather materials, it ensures longevity, while its unexpectedly light weight adds to its allure.
All these advantages come at a fraction of the cost compared to many other boots with similar ratings. The Keen Targhee II has been a favorite of ours for a considerable time, and we're confident that you'll share the same sentiment.
If you need to find out just how to choose a hiking boot, make sure to check out that blog before buying. We also have a backpacking for beginners blog for more information before you hit the trail.
Quick Facts about the Keen Targhee II Mid Hiking Boots: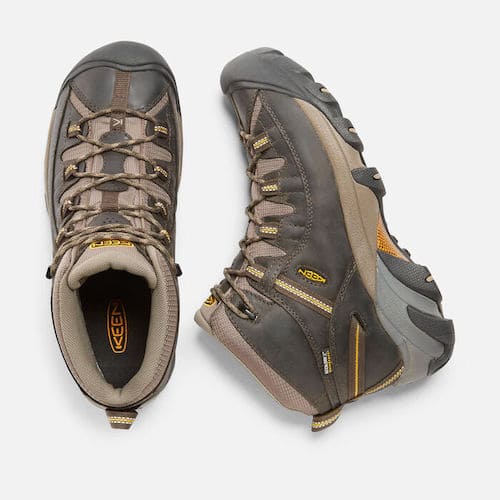 Price: USD $165
Weight: 2 lb 2.8 oz / 986 g (Size 9 full pair)
Collar height: 6.0 in / 15.2 cm
Color: Black Olive/Yellow, Shitake/Brindle, Canteen/Dark Olive
Amazon Rating: (4.3/5) 10,544 reviews
REI Rating: (4/5) 1,257 reviews
What we like:
The proprietary outsole by Keen instills a sense of confidence with its exceptional traction
Stands out for its exceptional value, combining quality features at an affordable price point
Offers extra protection for your toes, this boot ensures a sense of security and safety on rugged trails.
With its reliable traction, the Keen Targhee II Mid provides the stability needed to confidently navigate various terrains.
The remarkable out-of-the-box comfort of this boot means that it requires minimal breaking in, allowing you to enjoy your hikes from the very first step.
What we don't like:
The Keen Targhee II Mid exhibits below-average stability, which can impact the wearer's confidence on challenging trails.
Durability can fall short with extensive use potentially limiting the boot's lifespan
Coot lacks good breathability compared to other boots we have reviewed
Performance of the Keen Targhee II Mid: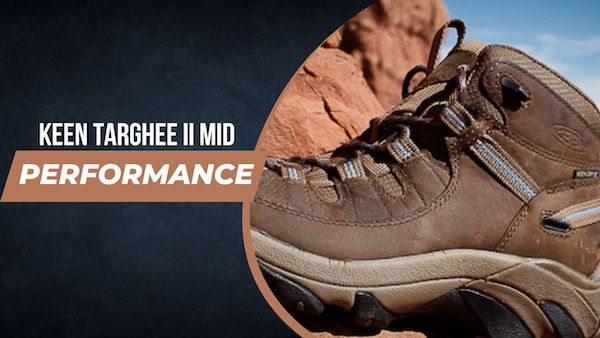 For the average hiking enthusiast, the Keen Targhee II Mid presents a remarkable option. Its substantial toe cap and comfortable fit combine to offer a highly pleasing experience for your feet. Despite its robust feel, this model maintains a mere weight of 2.4 lbs. Moreover, it is one of the best boots for hikers with flat feet.
In this section we will look at the key performance indicators including comfort, weight, traction, stability and support, waterproofing and build quality and durability.
1. Comfort of the Keen Targhee II Mid:
The Keen Targhee II Mid boot ensures immediate comfort from your very first step. From its plush dual-density insole to the ankle collar, your foot is enveloped in softness. The robust protective rubber at the front eliminates the risk of toe collisions, while the substantial sole, coupled with a shank insert, adeptly manages uneven terrains and jagged rocks, ensuring a fatigue-free and comfortable journey.
The boot's lacing system comprises three lower eyelets, one middle eyelet, and one upper locking eyelet. The middle webbing eyelet extends along the heel, allowing you to securely tighten the heel cup—a unique and practical feature not found in other boots in our review. Moreover, the upper eyelet effectively secures the laces, preventing loosening even if your bow becomes untied.
Despite being a predominantly leather waterproof boot, this product offers commendable breathability. Thanks to the Keen.Dry proprietary waterproof breathable membrane, your foot can breathe while wearing thin socks, although its efficiency diminishes slightly when wearing midweight wool hiking socks.
2. Weight:
With a combined weight of approximately 2.5 pounds for a size 11 US pair, the Targhee II Mid falls within the moderately heavy range among lightweight models. Nonetheless, the elements contributing to its slightly increased weight, including the substantial midsole, high-traction outsole, and sturdy rubber shielding around the toe and heel, help elevate its performance in terms of traction and durability.
3. Traction of the Targhee II:
The Targhee II Mid demonstrated consistent performance across a wide range of traction tests, although it didn't emerge as a standout performer in any specific terrain category. The exclusive non-marking rubber sole of the Targhee showed strong adherence on both dry and wet granite surfaces, and its performance on muddy slopes was exceptional. Notably, the pronounced side lugs of the sole provided superior traction on slippery mud compared to many traditional sole designs.
However, the Targhee II faced challenges in terms of traction during scrambling activities. The blocky forefoot design hindered precise foot placement and effective weight distribution. The rounded edges of the sole did not offer the same level of secure grip when navigating challenging talus terrain as boots with more defined edge profiles along their outsoles.
4. Stability and Support of the Keen Targhee: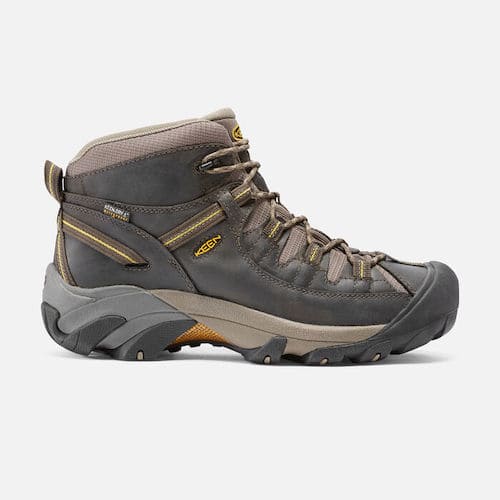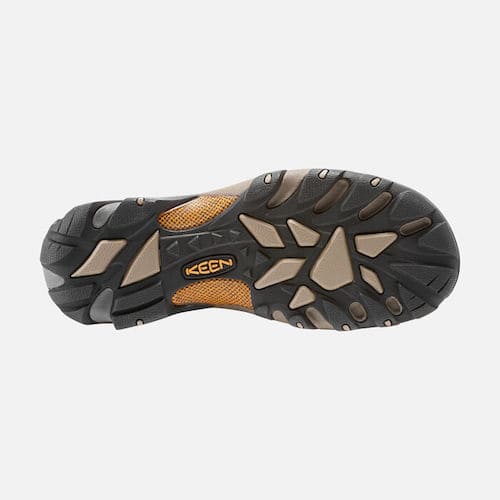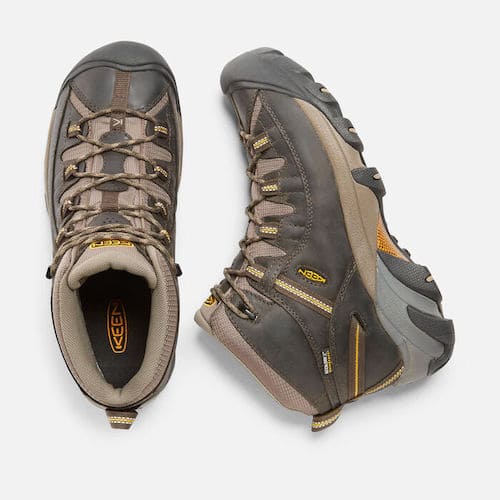 The Keen Targhee II demonstrates slightly above-average stability performance. Notably, I appreciate the lacing system's ability to deliver substantial support. Through their innovative heel locking system, these boots effectively secure the foot, heel, and ankle, enabling adjustments that enhance stability during off-terrain ventures.
The generous 4.5-inch wide forefoot is also a standout feature, furnishing a stable platform and mitigating the risk of ankle rolling. However, when compared to many taller boots, the Targhee II possesses a relatively low cuff height, resulting in a lower score when it comes to stability due to reduced ankle support.
The inclusion of the Torsion Stability ESS shank contributes rigidity and commendable load-bearing support, although several other models we evaluated proved stiffer and more stable. Within the lightweight category (under 2.6 pounds in this assessment), the Targhee II exhibited less stability compared to the other higher-cuffed boots.
5. Waterproofing and Breathability:
The flood height of this boot measures 3.75 inches, calculated from the sole's base to the top of the waterproof Keen.Dry membrane. In terms of deepwater immersion protection, it offers a shorter level of coverage compared to some of the hiking shoes highlighted in our review. If your hiking plans involve consistently wet environments or frequent stream crossings without shoe removal, you might want to consider opting for a boot with a higher cuff.
Despite the relatively modest flood height, the Keen.Dry membrane effectively wards off water. Regular application of an aftermarket waterproofing to the exterior leather material will help prevent any additional water absorption. Nevertheless, as long as you avoid the deepest waterways, these boots should keep your socks dry and comfortable.
Finally, unlike many of its competitors that utilize Gore-Tex membranes, Keen employs its proprietary waterproof membrane. This choice not only differentiates the brand but also contributes to maintaining a more affordable price point for Keen products.
6. Toe and Ankle Protection:
Within the Keen Targhee II Mid, a robust rubber toe cap takes center stage, proving its worth during instances when our focus veered away from the trail. This feature stands out as more substantial compared to the likes of the Merrell Moab and various other lightweight boot options, extending generously to encompass the entirety of the toe base.
Ankle protection is addressed through the boot's mid-height design, supplemented by Keen's thoughtful inclusion of additional padding encircling the ankle region. Evident scuff marks around the ankle area on our boots attest to the effective placement and performance of this padding.
7. Build Quality and Durability:
Every aspect of the Keen Targhee II exudes a sense of robust construction, which is particularly noteworthy given its affordable price tag. Although the leather uppers exhibit minor scratches from encounters with rocks and branches, their overall durability has been commendable. This resilience extends to both the midsoles and outsoles, imparting a substantial feel that leads us to anticipate multiple seasons of day hiking without significant wear.
In contrast to some other hiking boots, such as the Merrell Moab, which lean towards heavier mesh components—mesh often being among the first to show signs of wear in our hiking footwear—the Targhee II waterproof design relies on enduring leather and rubber materials.
Fit and Sizing of the Keen Targhee II: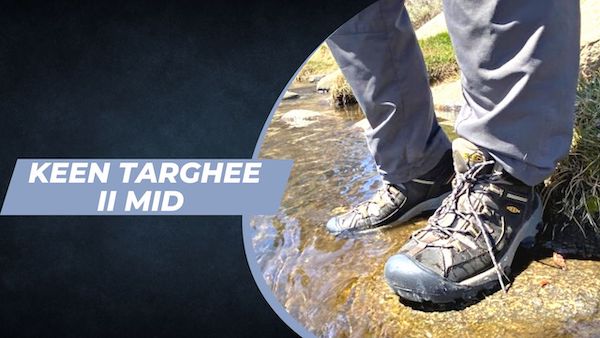 The Targhee line is known for having a broad fit, especially in the toe box. While testing the Targhee II in we found the fit to be slightly awkward. While the heel and middle section of the boot felt typical, the toe box felt overly roomy. This certainly contributes to the comfort factor of the boot and might not pose a problem for casual day hikes. However, if you're engaging in more demanding activities, excessive spaciousness in the toe area isn't a desirable trait.
That being said, for me the boot felt great, as I prefer to have a little wiggle room in the toe box. Also, the shoes did a great job accommodating my flat feet throughout the length of my foot.
Competition of the Keen Targhee II Mid:
Positioned as a budget hiking boot, the Keen Targhee II's main competitor is the Merrell Moab 2 Mid. In a straight up comparison we prefer the Moab due to its enhanced stability over the Targhee, coupled with its immediate comfort and a wallet-friendly $135 price point. However, it's important to note that the Moab's reliance on mesh components contributes to a quicker breakdown compared to the mostly-leather Targhee. Both stand as prime choices for comfortable outings encompassing easy to moderate day hikes.
For more ambitious day hiking and backpacking endeavors, we recommend the Salomon X Ultra 3 Mid GTX. Weighing in at 1 pound 15.6 ounces, it's lighter than the Targhee III and incorporates a more breathable Gore-Tex membrane. Despite its reduced weight, the Salomon maintains commendable comfort, toe protection, and traction. The heightened performance of the X Ultra 3 Mid comes at a higher price point of $165, yet we've discovered it to outshine the Targhee.
Keen Targhee II Mid Hiking Boots Review: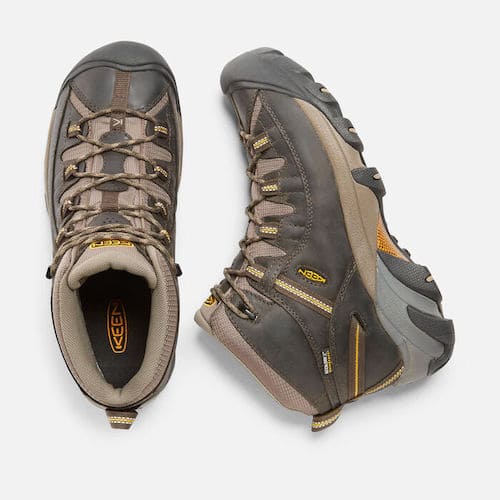 Price: USD $165
Weight: 2 lb 2.8 oz / 986 g (Size 9 full pair)
Collar height: 6.0 in / 15.2 cm
Color: Black Olive/Yellow, Shitake/Brindle, Canteen/Dark Olive
Amazon Rating: (4.3/5) 10,544 reviews
REI Rating: (4/5) 1,257 reviews