When it comes to hiking boots, the Salomon's X Ultra 3 Mid GTX truly shines. Despite its featherlight construction, the boot combines comfort, robustness, and unwavering traction. We thoroughly tested the X Ultra 3 subjecting it to a multi-day backpacking expedition. In summary, there's a distinct reason behind its enduring popularity and its consistent ranking as one of our top-choices for hiking boots.
If you need to find out just how to choose a hiking boot, make sure to check out that blog before buying. We also have a backpacking for beginners blog for more information before you hit the trail.
Quick Facts about the Salomon X Ultra Mid 3 GTX Hiking Boots: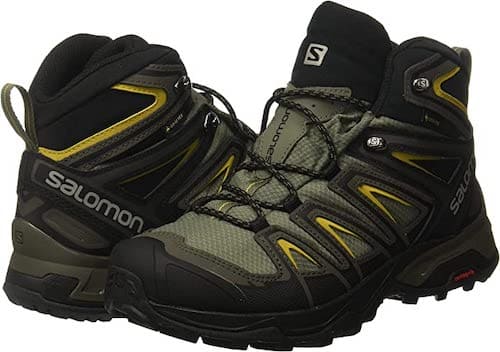 Price: USD $165
Weight: 2 lbs. 1.5 oz. (full pair men's size 9)
Collar height: about 3.5 in / 8.89 cm
Color: Castor Gray / Black / Green Sulphur, Black / India Ink / Monument
Amazon Rating: (4.6/5) 6,900 reviews
REI Rating: (4.2/5) 1,072 reviews
What we like Salomon X Ultra Mid 3 GTX:
Salomon has managed to attain an impressively light weight without compromising the boot's long-term durability or on-trail comfort, a challenging accomplishment for a backpacking boot.
Traction performance is outstanding: The boot adeptly managed a variety of terrains, from steep and loose rock to dirt, mud, and even snowy surfaces.
The build quality is of the highest caliber: Despite well over a year of constant use, the X Ultra 3 Mid displays minimal signs of wear, showcasing its exceptional construction.
What we don't like Salomon X Ultra:
If you're dealing with particularly challenging terrain or carrying a substantial load, we suggest considering an upgrade to a taller, more robust, and more protective boot, such as Salomon's Quest 4D 3 GTX.
The reduced ankle height increases the vulnerability to water ingress over the collar.
Individuals with broader feet might experience constraints in the toe box width (although Salomon offers the X Ultra 3 Mid in wide sizes).
Performance of the Salomon X Ultra Mid 3 GTX: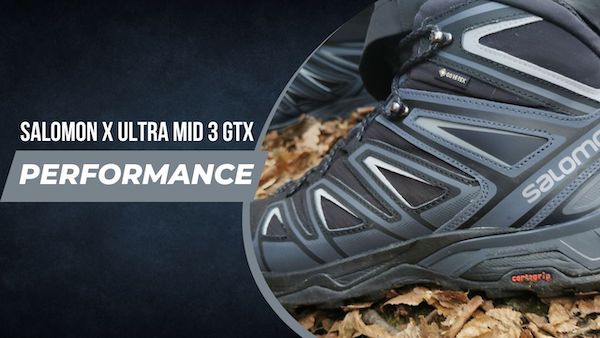 In this section we will look at the key performance indicators including comfort, weight, traction, stability and support, waterproofing and build quality and durability.
Lets start by looking at the comfort of the boots.
1. Comfort of the Salomon X Ultra Mid:
Making weight reductions in gear often leads to a compromise in on-trail comfort, yet this trade-off doesn't apply to the Salomon X Ultra 3 Mid GTX. During our long hike, I experienced only mild soreness and didn't feel like I immediately needed to shed the boots upon reaching camp. The X Ultra 3 felt notably less rigid than many other boots straight out of the box, and with subsequent testing of the boot, I encountered neither hotspots nor significant discomfort.
The X Ultra 3 Mid doesn't possess the thickness and plushness of certain designs inspired by trail runners. Nonetheless, its firm midsole provides adequate shielding from jagged rocks. However, most backpackers and hikers will discover the X Ultra 3 to be more than sufficient—especially those who predominantly stick to established trails.
Although it rests relatively low for a hiking boot (hovering just above the ankle), ample cushioning is present around the ankle and tongue. Moreover, you can securely fasten the shoe without compromising comfort.
2. Salomon X Ultra's Weight:
In a size 9 for men, the Salomon X Ultra 3 Mid GTX tipped the scale at 2 pounds and 1.5 ounces (though the listed weight is 1 pound and 15.7 ounces), positioning it towards the lighter end of the hiking boot spectrum.
On the trail, the boot exuded a notably agile and sporty sensation, a distinctive hallmark of Salomon's lineup of hiking footwear. When measured against its competitors, the X Ultra 3 emerges as a distinct front-runner, outperforming similarly constructed models. While you can opt for a more lightweight design, it is worth noting that other boots tend to compromise significantly on durability when subjected to rigorous mileage and challenging terrains.
All things considered, given its weight, the X Ultra 3 Mid GTX stands impressively resilient and primed for the trail.
3. Boot Traction of the Salomon X Ultra Mid 3 GTX:
The tread design of the Salomon X Ultra 3 Mid GTX is one of the most versatile I've seen thus far. The boot can confidently tackle 4th-class terrain climbs, navigate steep rock slides during descents, adeptly manage a few inches of fresh snow, and maneuver through mud, rocky surfaces, and loose dirt without encountering any noteworthy challenges.
Furthermore, the arrow-shaped lugs, which are deeply set, effectively shed mud and do not tend to gather pebbles within the tread gaps. The design also transitions its shape at the heel, ensuring substantial grip during descents. It's been noted by hikers that after about a year of consistent usage, the tread will display signs of wear, yet still retain a considerable amount of its lifespan.
4. X Ultra Mid 3's Stability and Support: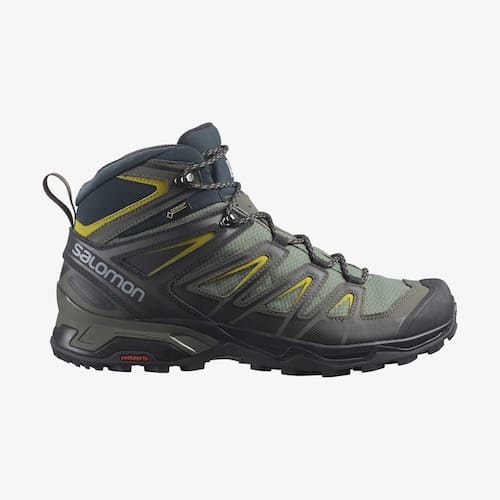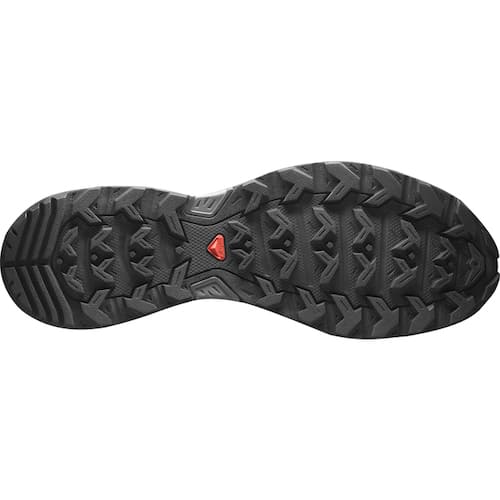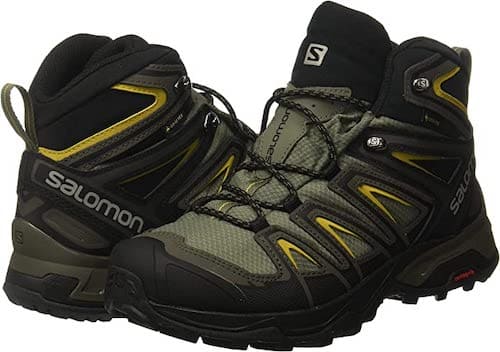 Salomon's emphasis on weight reduction becomes most evident in terms of stability. To begin with, the X Ultra 3 Mid has a relatively lower ankle height, allowing for the option of wearing quarter-height socks. However, this does result in a slightly compromised support in that region.
Nonetheless, it represents a significant improvement over low-top hiking shoes, and what I saw during testing was consistent protection. Notably, it proved to be an excellent companion for the rocky and steep routes while trekking in Nepal – I encountered no instances of ankle rolling, even across rough terrain while carrying a 35-pound backpack. Conversely, it didn't become overly rigid or uncomfortable during milder day hikes, a common issue with heavier-duty boots.
Apart from the lower ankle height, the X Ultra 3 also features a reasonably flexible design around the collar. It maintains a considerably sturdier build compared to many lightweight competitors we've tried. All things considered, the X Ultra 3 Mid stands as an excellent choice for individuals who appreciate the agility of a nimble shoe while desiring added protection and stability.
5. Mid 3's Waterproofing:
Salomon produces the X Ultra 3 Mid in both Gore-Tex and non-waterproof variations. Overall the design reliably maintains waterproofing in scenarios involving snow, light to moderate rainfall, and even during stream crossings. However, it's worth noting that this shoe features a lower ankle height compared to other backpacking-oriented designs. As a result, when crossing streams, it's important to exercise caution to prevent water from seeping in through the tongue's opening.
On the positive side, the X Ultra 3 Mid GTX exhibited a noticeably quicker drying process compared to other Gore-Tex models I've tested – likely stemming from the thinner synthetic upper material. Despite the outer fabric becoming quite saturated after a particularly rainy day on our trek, the boots were fully dry by the time I put them on the following morning.
6. Breathability of the X Ultra 3 Mid GTX:
The X Ultra 3 Mid GTX, being a waterproof boot, maintains good overall breathability. With temperatures ranging from around freezing to well beyond 70 degrees Fahrenheit, I've only encountered minimal issues with overheating. When worn with thin hiking socks, my feet have warmed up without becoming excessively hot or sweaty. Additionally, the Gore-Tex membrane offered an extra layer of insulation when the temperature dropped.
However, it's important to note that Gore-Tex boots are not renowned for exceptional breathability. If this is a priority for you, the non-waterproof version of the Salomon X Ultra Mid 3 GTX Hiking Boots presents a much more suitable option.
7. Toe and Ankle Protection:
The Salomon X Ultra 3 Mid sits at a relatively low height for a backpacking boot; however, it still manages to offer reasonable ankle protection. This is largely due to the effective cushioning, which is substantial enough to withstand direct impacts around the ankle and heel areas. Furthermore, considering its weight, the toe coverage is impressively extensive.
A protective rubber material envelops most of the front of the foot, effectively repelling forceful encounters with sharp rocks (while the sides aren't as shielded, I haven't encountered any issues, even on challenging trails). For individuals who spend considerable time off the beaten path, slightly more height and protection might be desired—the upper part of the boot is relatively thin beyond the toe and ankle regions.
8. Build Quality and Durability:
Salomon maintains its reputation as a leader in the realm of high-quality backpacking footwear, and the X Ultra 3 Mid is a prime example of this. Even after an extended period of use over a year, the boot remains in excellent condition, displaying minimal signs of wear.
While the upper of the Salomon boot does feature a notable amount of stitching, the stitching has never proven to be a weak point in the design. The only noticeable wear has occurred along the tread, however no lugs have chipped away or excessively worn down. This is a stark contrast to our consistent experience with other hiking boots.
Fit and Sizing of the Salomon X Ultra Mid 3 GTX: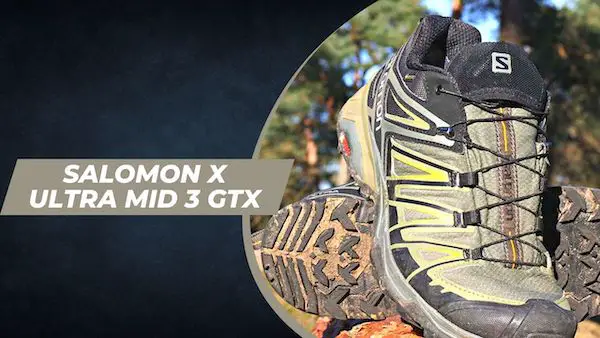 The Salomon X Ultra 3 Mid GTX delivered an exceptionally well-rounded fit for my feet with an average width. Wearing my standard men's size 10, the boot was perfectly sized to prevent uncomfortable toe impact during extended descents. The slightly narrower heel, paired with an outstanding lacing system, effectively secured my foot in place. I have found these boots to be a perfect match for people with flat feet. These are one of my top suggestions when looking for hiking boots for men with flat feet!
Additionally, the toe box is closely aligned with an average width, perhaps leaning slightly toward the narrower side. This aspect suited us well during our multi-day backpacking expedition. However, individuals who favor a broader and more spacious toe box might perceive the Salomon's fit as somewhat restrictive. For those who resonate with this description, it's worth noting that Salomon offers the X Ultra 3 Mid in wide sizes as well.
The Competition:
Salomon's X Ultra 3 Mid GTX secures our top rating among hiking boots due to its exceptional blend of lightness, comfort, and durability. Another contender with similar intentions is Merrell's Moab 2 Mid. In comparison to the Salomon model, the Moab 2 offers more extensive cushioning overall, especially beneath the foot where it exhibits a notably softer texture, delivering improved ground isolation. However, the X Ultra 3 trumps the Moab 2 with a lighter weight by 4.3 ounces per pair, an athletic feel, and equivalent support. Notably, we've discovered that Salomon's lacing system facilitates a more comprehensive fit, granting it an edge. In summary, those seeking a comfortable boot for day hikes on well-maintained trails may lean toward the Merrell option, while the Salomon stands out as the lighter and more versatile choice.
Among our favored hiking boots, KEEN's signature Targhee II Waterproof Mid garners attention. For about the same price as the X Ultra 3, the Targhee boasts a robust leather construction, impressive overall comfort, a reasonable weight of 2 pounds 2.8 ounces, and offers substantial stability and grip for most on-trail adventures. However, it falls noticeably short of the Salomon's performance on steep and rocky terrain, and KEEN's proprietary waterproofing technology lacks the breathability of Salomon's premium Gore-Tex membrane. Ultimately, the Targhee remains popular and provides a more robust boot, the Salomon does provide a more lightweight option for hikers and trekkers.
Salomon X Ultra Mid 3 GTX Review: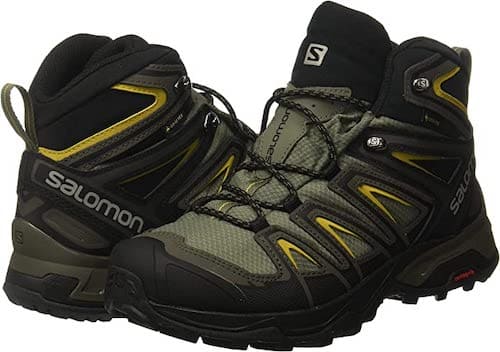 Price: USD $165
Weight: 2 lbs. 1.5 oz. (full pair men's size 9)
Collar height: about 3.5 in / 8.89 cm
Color: Castor Gray / Black / Green Sulphur, Black / India Ink / Monument
Amazon Rating: (4.6/5) 6,900 reviews
REI Rating: (4.2/5) 1,072 reviews