For those planning a trip to Nepal, getting a Nepal Tourist Visa is a requirement. Tourist visas are extended to international travelers for leisure or tourism purposes. For visas in Nepal, you have two options 1) Apply for visa online, before departing for Nepal, and 2) A Nepal visa on arrival.
To help travelers decide if Nepal is an accessible destination to vacation, this blog will cover everything related to visas in Nepal including the application process and requirements to receive a tourist visa.
Who Needs a Visa for Nepal?
To enter Nepal, a visa is mandatory. Notably, citizens of India are exempt from this requirement due to their inclusion in the visa waiver program. Furthermore, individuals from the listed countries must secure a visa before their travel to Nepal, whereas all other nationalities have the option to acquire a Nepal visa upon arrival:
Afghanistan
Cameroon
Eswatini
Ethiopia
Ghana
Iraq
Liberia
Liberia
Nigeria
Palestine
Somalia
Syria,
Zimbabwe
How much does a visa on arrival cost in Nepal?
A visa on arrival depends on your length of stay. The cost of the visa in Nepal are:
15-day visa – 30 USD
30-day visa – 50 USD
90-day visa – 125 USD
Can I get a Nepal Visa on Arrival?
Yes, on-arrival visas are available in Nepal. The visa can be purchased at Tribhuvan International Airport in Kathmandu as well as at the India and China border entry points. On arrival, visas can be purchased for 15, 30, or 90 days at 30, 50, and 125 USD respectively.
On-arrival visas in Nepal, are the de-facto tourist visas for tourists traveling in Nepal. The process of getting a visa is relatively simple and quick and can be completed within an hour at the airport, even during peak tourist seasons.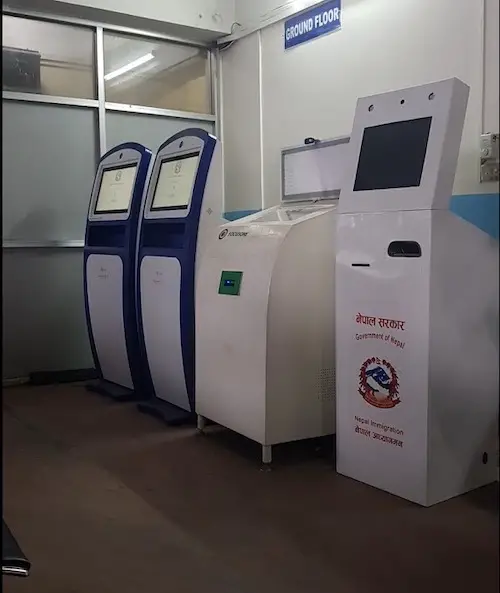 The required documents to get a visa in Nepal are:
Up-to-date passport
Completed arrival card
Online Visa Form (Either prior to arriving in Nepal, or by completing at the airport's kiosk)
Cash for visa payment
Lodging arrangements
To receive a tourist visa in Nepal, you will have to complete the following:
Procedures to receive a Nepal visa on arrival (tourist visa):

Tourists need to complete three steps once they arrive at Tribhuvan International Airport in Kathmandu or at one of the India and China border entry points. The three steps include the following:
1st step: Arrival Card
First, you will need to fill in the 'Arrival Card' that is provided in the airport.
Next, you will need to fill in an online 'Tourist Visa form' you can fill the form prior to your arrival in Nepal by visiting the Department of Immigration website. If you decide to use the online system you will need to print out the receipt and show it to the immigration officer at the desk to finish processing your tourist visa request. The receipt will be valid for 15 days after finishing processing online.
Otherwise, you will need to fill up the tourist visa form at one of the kiosk machines upon your arrival at the airport.
2nd step: Visa Payment
You will need to make payment at the bank in the staging area for visa processing. The visa fee tourists will pay depends on the duration of stay they have chosen. The price for visas in Nepal are as follows:
| Length of Stay | Price of Visa (USD) |
| --- | --- |
| 15 days | $30 |
| 30 days | $50 |
| 90 days | $125 |
Price of tourist visas in Nepal
Note: While different payment options are available, using cash is usually the fastest and easiest way to pay for the visa.
Once you have paid for your visa, you will need to get your receipt and take it to the immigration desk to finish processing the visa request
3rd Step: Receiving Tourist Visa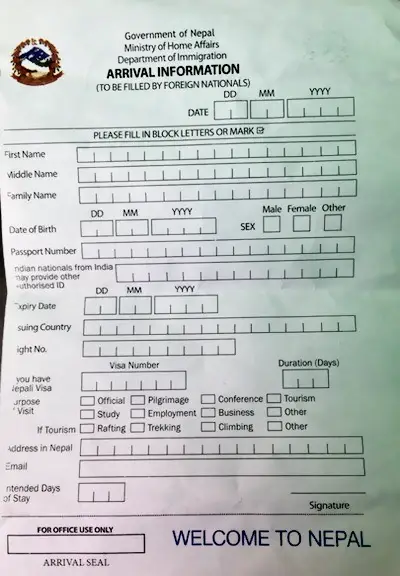 The final step in receiving the tourist visa is to proceed to the immigration desk with the following documents: Arrival card, the online form/form filled out at the kiosk, payment receipts, and your passport.
After you have completed these steps, you can proceed to immigration and collect your on arrival visa for Nepal.
Types of Visas in Nepal:
There are multiple types of visas available in Nepal. They include official, tourist, and business visas. If you are looking for more details regarding these three categories of visas in Nepal, please check the Ministry of Home Affairs, Department of Immigration official website. 
For the majority of foreigners coming to Nepal, you will be getting a tourist visa on arrival. However, for individuals looking to get a different type of visa, you will need to work with the organization, business or university that will be sponsoring you.
It can be extremely difficult and time-consuming to get any other type of visa than a tourist visa. The best thing to do it to reach out to the massive expat Facebook group in Nepal. They can assist you with the process as some of the group members have gone through the visa process in Nepal before.
Visa Exemptions in Nepal
Most foreigners will require a visa while visiting Nepal. However, Nepal does have agreements with certain countries to allow their citizens to travel to Nepal without needing to purchase a visa. Moreover, these visa exemptions are typically given in the form of a Gratis Visa. Gratis Visas in Nepal are considered to be tourist visas as well.
Visa exemptions in Nepal include foreign nationals from the following countries:
| Exempted Person | Description |
| --- | --- |
| Children | Children under the age of 10 years |
| SAARC Country Nationals | Up to 30 days for SAARC Citizens. These countries include:  Bangladesh, Bhutan, India, Maldives, Nepal, Pakistan, and Sri Lanka (Afghanistan is an exception to this rule and are not given Gratis visas) |
| Non Residential Nepalese  | Non Residential Nepalese holding an NRN card holder are allowed to receive a gratis visa. NRN cards are issued by MoFA or from Nepalese diplomatic missions abroad. |
| Officials from China, Brazil, Russia, and Thailand | Officials from China, Brazil, Russia, and Thailand do not require an Entry Visa due to the reciprocal visa waiver agreement |
| Chinese Nationals | Chinese nationals can receive a gratis visa while traveling in Nepal |
| Indian Nationals | Indians do not require any type of visa to travel to Nepal |
Tourist Visa exemptions in Nepal
All individuals that are exempt from paying for visas in Nepal will receive a tourist visa. However, if they wish to have a different visa type, they will still be required to pay the visa fee and show the required documents.
No matter if you receive a Gratis visa, a visa on arrival, or any other visa in Nepal, you will have to enter the country through one of the land border crossings, or from Tribhuvan International Airport in Kathmandu. The section below describes the different entry and exit points in Nepal.
Where Can I Get A Visa on Arrival?
Nepal is a landlocked country and currently has only one international airport operating (The Pokhara International Airport, only has limited flights currently). Therefore, if you wish to travel to Nepal you will have to enter by Tribhuvan International Airport in Kathmandu, or from one of the eight overland border crossings. To find out more about the different locations in Nepal, check out my blog Where is Nepal?
The table shows the different visa entry points in Nepal listed from east to west starting with the international airport:
| Type of Crossing | Location of Border | Nepal Border Name |
| --- | --- | --- |
| Air | Nepal | Tribhuvan International Airport – Kathmandu |
| Land | Tibet | Rasuwa |
| Land | Tibet | Kodari |
| Land | India | Kakarbhitta, Jhapa District  |
| Land | India | Biratnagar, Morang District |
| Land | India | Malibara, Jaleshwar in Mahottari District |
| Land | India | Birgunj, Parsa District |
| Land | India | Belahia, Siddharthanagar in Rupandehi District |
| Land | India | Nepalganj in Banke District |
| Land | India | Kanchanpur District, Sudurpashchim Province |
Entry points into Nepal for international tourists
Overview Of The Nepal Visa:
This section provides an introduction to the key details you should be aware of about a Nepali visa.
1. What Is A Nepal Tourist Visa?
A Nepal tourist visa is extended to foreign citizens who intend to partake in tourism or leisure activities within Nepal. Irrespective of your purpose of visit, whether it involves mountaineering, trekking, or business, your initial entry into Nepal results in the issuance of a tourist visa.
Following your entry, you have the option to modify the visa category through the Nepal Department of Immigration to align with the specific purpose and duration of your stay. This adjustment depends on the underlying reason for your presence in Nepal. The different types of visas include: official, tourist, student and business.
2. What Is The Difference Between A Nepal Visa On Arrival And A Nepal Tourist Visa?
The Nepal Tourist Visa is the category of visa given to all international travelers entering Nepal. You apply for a Nepal Tourist Visa before departing for Nepal. On the other hand, the Nepal Visa On Arrival is the visa you receive at the airport upon your arrival. This process eliminates the need to secure a visa in advance of your Nepal travel.
3. Processing Time for Nepal Tourist Visa – US Citizens
The processing duration of the Nepal Tourist Visa varies based on the specific visa category you select. For instance, the Nepal Visa On Arrival application typically takes between 1 to 2 hours, depending on how busy the airport is. Conversely, if you choose to apply for a Nepal Tourist Visa through the Embassy, the processing time is estimated to be 3 to 5 business days, excluding weekends and public holidays.
4. Extending Your Nepal Tourist Visa: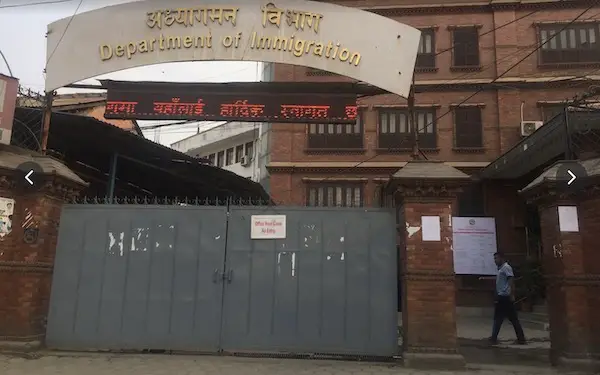 If you decide to extend your Nepal Visa, you can do so at the main office of the Government of Nepal's Department of Immigration located in Kathmandu. This central office in Kathmandu is the sole authorized facility to handle extensions for both tourist and non-tourist visas.
It's important to note that the Immigration Office in Pokhara has the authority to extend only tourist visas. Consequently, to avoid any issues, ensure you file for a visa extension before your Nepal visa expires. Failure to do so could lead to penalties for overstaying your visa, potential detainment, or even legal action. The extension for a tourist visa of up to 15 days requires a fee of USD 45. Afterward, an additional fee of USD 3 per day is applicable.
FAQs: Nepal Visas on Arrival
The following highlight some of the most frequently asked questions regarding visas in Nepal:
1. How much is a visa to Nepal?
The price of a tourist visa in Nepal is USD $30 for 15 days, $50 for 30 days, and $125 for 90 days. Tourist visas can be extended to USD 3 per day. Tourists can stay in Nepal for a maximum of 150 days per calendar year.
2. Do you need a visa to go to Nepal?
Visas are required for all foreign nationals wanting to visit Nepal. Indian nationals are the only foreigners that do not need a visa. SAARC country nationals (except for Afghan nationals) as well as China, do not need to purchase a tourist visa and instead are given gratis visas on arrival.
3. Are tourist visas open in Nepal?
Tourist visas are available in Nepal, and travel is open throughout the country. As of March 10, 2022, the Government of Nepal lifted all travel restrictions and allows travelers from all countries to arrive by land or air and receive a visa on arrival. Quarantine is not required as long as the person presents a negative test result.
4. How long can I stay in Nepal on a tourist visa?
Tourist visas can be purchased for USD $30: 15 days, $50: 30 days, and $125: 90 days. Tourist visas can be extended at USD 3 per day for a maximum of 150 days per calendar year.