Are you yearning for an unforgettable trekking experience that combines solitude, breathtaking views of the majestic Himalayas, and unspoiled natural beauty? Look no further than the Khumai Danda Trek, nestled on the enchanting North side of Pokhara, Nepal. With its pristine trails and captivating landscapes, Khumai danda is one the best treks in nepal that promises an extraordinary adventure for those seeking to connect with nature on a deeper level.
The Khumai Danda Trek offers a range of highlights, making it a must-visit destination for adventure seekers. The stunning views of the Himalayas and sunrise from the vantage point, Korchan (3900m) are unforgettable. The trekking trail is peaceful, and the scenery is unspoiled, with lush woodlands and ethnic villages like Saripakha, Hile Kharka, and Mirsha Village, adding to the allure of Khumai Danda.
Khumai Danda Trek Detail Summary:
District: Kaski
Elevation: 3245 Meters from sea level (Kumai Danda), 3900 Meters from sea level (Khorchon Danda)
Difficulty: Easy-Medium (Depends on your physical ability)
Days: 3 days from and to Pokhara (can be done in 2 days if you are fast!)
Cost: 7,000 NPR to 15,000 NPR
Best Season To Trek Kumai Danda: February, March, April, May, September, October, November
The season when we traveled: April
How to go to Khumai Danda: You can take a taxi from Lakeside, Pokhara to Gachowk. You can either start your trek from Gachowk or take the jeep half way to the tower from where the trek starts. There are very few teahouses on the way and is on a larger gap, so carry a bottle of water and refill at every stop.
Khumai Danda Trek Personal Itinerary:
Here is our detailed personal itinerary to help you plan for the remarkable Khumai Danda Trek. We have crafted this itinerary based on our experiences to ensure an unforgettable journey. From the starting point in Pokhara to the breathtaking vistas of the Himalayas, every step of this itinerary is detailed to maximize your immersion in the natural beauty of Khumai Danda and help you plan your budget for the trek. 
Taxi Fare: 2200 NPR – Lakeside to Gachowk (The taxi will ask for 2500 NPR, with negotiation you can lower the price)
Jeep Ride: 1500 NPR (Gachowk to Tower: You can start the trek either from Gachowk or the tower. However, we decided to take the jeep till the tower to make it easier since we were on a tight schedule)
Breakfast and Water: 460 NPR (Right above the tower, there is a small homestay that will serve cooked waiwai and black tea)
Lunch + Tea + Chow-chow: 2600 NPR (You need to place an order for lunch – you can either ask the jeep driver to help you or as you make a stop at Hile you can ask the restaurant to help you place an order in one of the stops. We ordered our lunch at Rest Camp and it was good!)
Hot water: 100 NPR/ bottle (Rest Camp)
Tea and Coconut biscuits: 560 NPR (in Khorchon viewpoint – 100 NPR/cup for tea, 80 NPR/packet for biscuit)
Khumai Danda Tent (Bed, Breakfast, and Dinner): 5400 NPR (for four people-1800 NPR /person – it is a package deal, we stayed at Green Cottage Khumai)
Next day Lunch + Coke at Hile: 2400 NPR (500 NPR/veg plate for four people + 200 NPR /coke)
Black Tea: 100 NPR (20 NPR/cup for four people – place where we ate our breakfast)
Jeep Ride back home: 4000 NPR (Tower to Lakeside)
Note: You can call Kancha Dai (9819159602), who will take you from Gachowk to the tower for 1500 NPR and back to Lakeside for 4000 NPR.
Location and Altitude of Khumai Danda Trek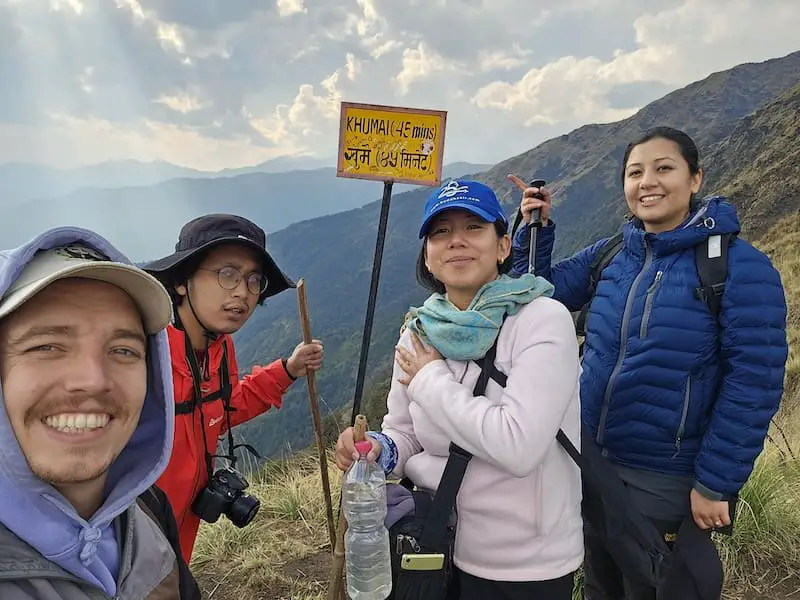 Located at an impressive altitude of 3,245m, Khumai Danda rests at the base of the south face of Macchapuchre, also known as Fish Tail Mountain. As part of the renowned Macchapuchre Model Trek, this hidden gem offers an immersive journey through awe-inspiring terrain and charming ethnic villages.
The Khumai Danda Trek can be completed within 3 to 4 days starting from Pokhara, making it an accessible option for travelers with limited time. However, for those seeking a more extensive exploration, the trek can be extended up to a week by adding the Mardi Himal Trek to the itinerary. This allows trekkers to immerse themselves in the tranquility of nature and truly embrace the spirit of adventure.
Check out the map below for the main points along the trek. You can click on each point for a little more information about each place.
Exploring the Peaceful Trails of Khumai Danda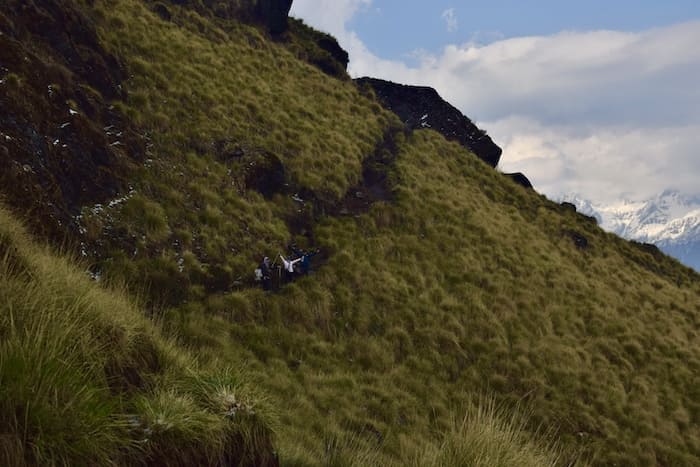 The Khumai Danda Trek is a journey filled with remarkable highlights that will leave you in awe of nature's grandeur. One of the most fascinating aspects of this trek is the opportunity to witness the breathtaking views of the Annapurna range and of Machhapuchhare.
As you ascend to higher altitudes, the snow-capped peaks emerge, creating a surreal panorama that seems almost too magnificent to be real. Among the most remarkable sights is the sunrise from the vantage point of Korchon, situated at 3700m. Watching the first rays of sunlight gently illuminate the towering Himalayan peaks is an experience that will forever be etched in your memory.
As you traverse the peaceful trekking trail of Khumai Danda, you'll be immersed in an untouched natural landscape that enchants the senses. The unadulterated scenery unfolds before you, with every step revealing new wonders. Lush woodlands envelop the trail, offering shade and serenity as you navigate this pristine environment. The sound of birds chirping and the gentle rustle of leaves in the breeze provide a soothing soundtrack to your journey, enhancing the sense of tranquility.
Cultural Encounters: Ethnic Villages along the Khumai Danda Trail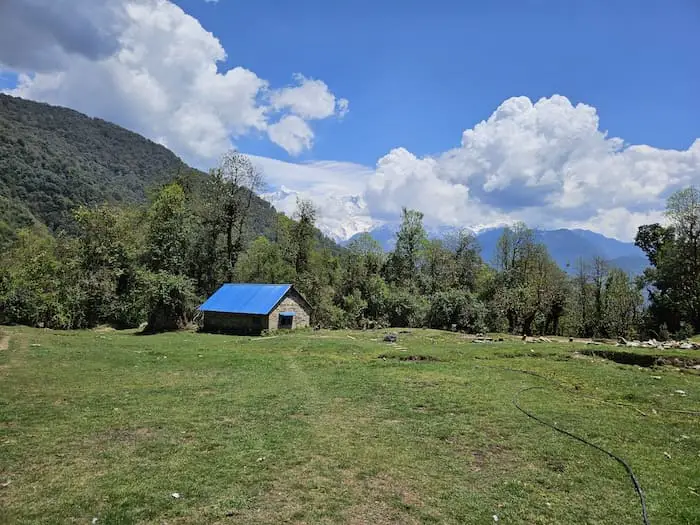 Depending on your starting point and if you decide to take the longer route, you'll encounter a series of charming Nepali villages, each offering a glimpse into the region's rich cultural heritage. Saripakha, Hile Kharka, and Mirsha Village are hidden gems that dot the trail. These villages provide an opportunity to interact with friendly locals and learn about their traditions and way of life.
Make sure you are prepared however, as the level of English in these villages will be limited. That being said, you shouldn't have any problem communicating and having a bunch of laughs while you try to talk to the different people you meet along the trail. If you are more curious about if English is spoken in Nepal, make sure to check out my other blog!
Permits and Preparations for Khumai Danda:
The Khumai Danda Trek falls in the Annapurna Conservation Area Project (ACAP). This means that foreigners should have a TIMS Pass and a pass to be in the ACAP area. However, when I went there were no check points and I was able to go without obtaining a pass.
I recommend double checking with a local guide, or people that have recently embarked on the trek to find out if you need a pass or not. If you end up needing a pass, you will also be required to get a trekking guide (let me know if you need the number to a trusted guide!) and you will have to get insurance as well.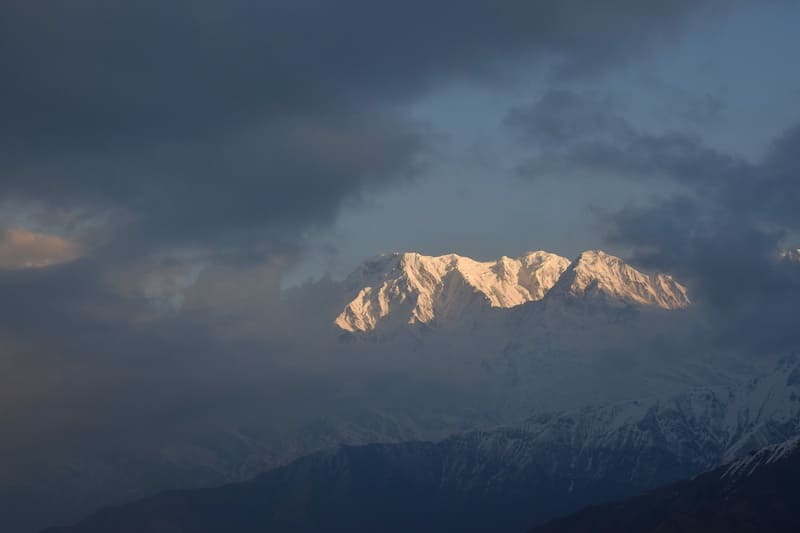 The trek is super easy to navigate, and no guide is needed to go it alone. However, as of April, the law in Nepal requires all foreign trekkers to be accompanied by a guide. If you need recommendations on a guide, you can reach out to me and I can give you the contact info of some of my trekking guide friends!
Finally, obtaining the required permits allows you to explore the region responsibly while supporting local conservation efforts. Check the latest regulations and consult with local authorities or experienced guides to ensure a smooth and hassle-free experience. Also, if you end up needing to get permits to trek, you will also be required to have trekking insurance. Check out my guide to the best trekking insurance options for Nepal!
Difficulty Level of Khumai Danda Trek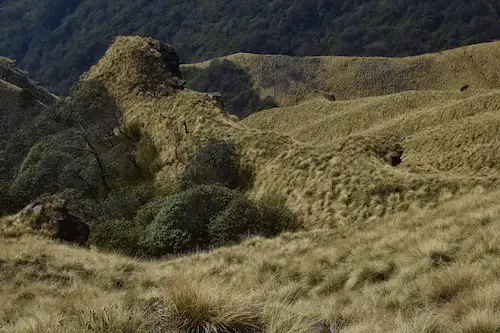 The difficulty of the Khumai Danda Trek ranges from easy to moderate. There are three long uphill walks that are strenuous and difficult.
Our group struggled on two uphill potions of the trek. It is an intense 45 degree uphill climb covering both rough terrain as well as some uneven steps. One reason we struggled so much was because we ran out of water. As the trek is relatively new, there are only a few tea houses where you can get water and rest.
Therefore, I strongly recommend filling up on water whenever you can. That being said, if you are well hydrated and give yourself plenty of time to climb to the top, the trek is easy and quite quick compared to the other longer treks in Nepal.
Best Season to Trek in Khumai Danda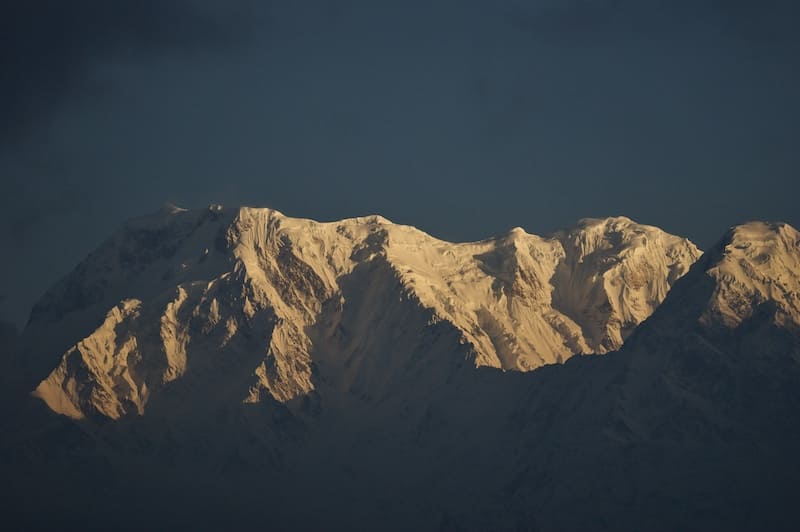 The best time to embark on the Khumai Danda Trek is during the spring (March to May) and autumn (September to November) seasons. These periods offer pleasant weather conditions with clear skies and mild temperatures, providing optimal visibility for admiring the stunning mountain vistas. However, it's essential to stay informed about weather forecasts and be prepared for occasional fluctuations in weather patterns.
We completed the trek from April 22-23, and the weather was decent, with only a little rain on our way down and back to Pokhara. However, make sure to note that the weather can be unpredictable, and you risk the chance of not getting clear views of the mountains from the view point.
Although the season wasn't the best time to go, as the mountains were slightly covered, we did get lucky as it snowed while we were at the view point, giving it a little winter wonderland feeling. We got to play in the snow, making snow angels and having a snow ball fight. The snow only made the trail slightly slippery – it was manageable though.
Planning for Accommodation and Food: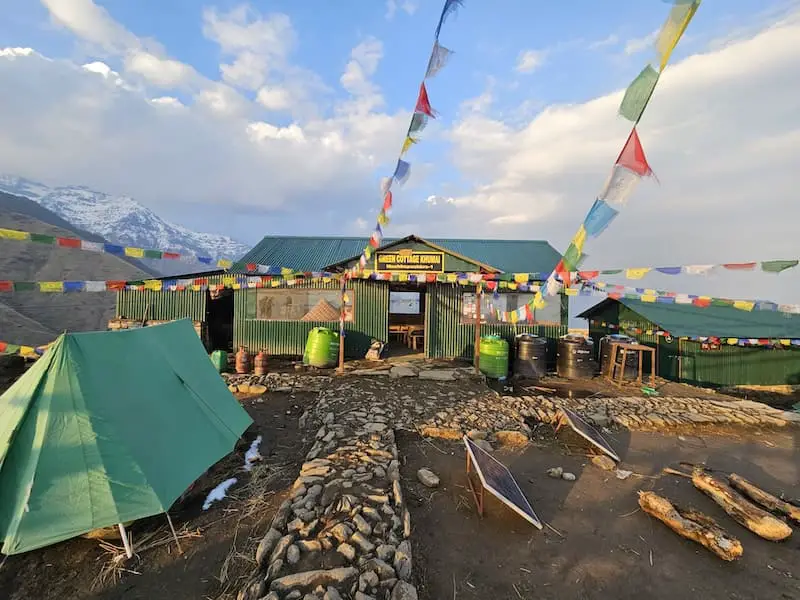 The trek is relatively new and currently being developed. As we climbed the hill up to the view point we saw multiple new places being built. However, currently the options are very limited, and if you do not plan ahead you may find yourself out of luck for food and accommodation.
It is important to call ahead and book your accommodation as well as order your food. Even when we ordered ahead for food, the tea house gave it to someone else, resulting in us having to climb another two hours for our food.
At the base camp or Khumai Danda, there are 2/3 different options to stay at. They all have rooms as well as tents to stay in. However, if you don't plan ahead, you wont be able to get a room and will have to stay in a tent for the night.
Our group stayed in a tent, and were given a couple of blankets and pillows. It was pretty cold, so we slept four to the tent, in hopes of staying warm! The tents were however comfortable and easy enough to sleep in. They should be more than enough during the warmer months!
As for food, there are basic options including Dhal Bhat for dinner, and boiled eggs, bread, and tea for breakfast. Don't expect too many food options on the trek as of now. Therefore, if you are looking for some snacks, your best bet is to bring your own snacks to munch on while climbing.
Packing for Khumai Danda
The trek is pretty straight forward, and relatively short, so not much special packing is needed. If you are planning on doing the trek in the winter months, when there is snow on the ground, you may need to pack some extra clothes – especially if you have to sleep in a tent at high camp!
In that case, make sure to pack adequately, and take a good daypack or trekking backpack to carry all of your gear. When we went, we carried one bag between the two of us and we were fine. Just remember to pack smart and light, as it is easy to overpack for this easy and quick trek!
A Gateway to Solitude: The Best Short Trek in Pokhara – Khumai Danda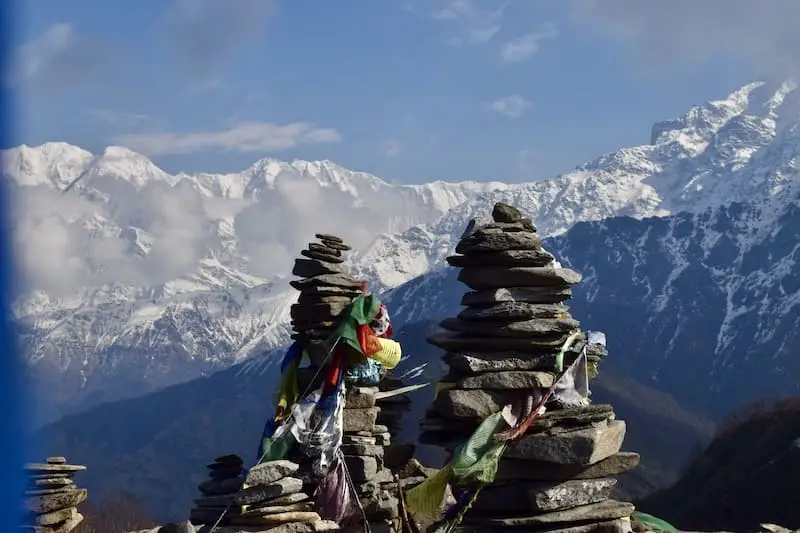 The Khumai Danda Trek offers a magical journey through awe-inspiring landscapes, providing a unique opportunity to connect with nature and immerse yourself in the serenity of the Himalayas. From breathtaking mountain views to peaceful trails and encounters with vibrant local cultures, this trek promises an adventure that will leave an indelible mark on your soul.
As you navigate the unspoiled beauty of Khumai Danda, allow yourself to be captivated by the magnificence of nature and embrace the transformative power of the mountains. Prepare to embark on an extraordinary trekking experience that will ignite your spirit of adventure and leave you with memories to cherish for a lifetime.
Safety is of paramount importance during any trekking adventure. While embarking on the Khumai Danda Trek, it's crucial to prioritize safety measures and adhere to guidelines. Acclimatization to higher altitudes is vital to avoid altitude sickness. Take the necessary breaks, stay hydrated, and listen to your body's signals. It's also essential to carry a basic first aid kit and be familiar with its usage. Also, remember to respect the natural environment and follow responsible trekking practices to minimize your impact on the delicate ecosystem.
FAQ: Trekking the Khumai Danda in Pokhara
Below are some of the most frequently asked questions regarding the Khumai Danda Trek in Pokhara.
1. How long does it take to reach Khumai Dada from Pokhara?
Khumai Dada can be reached in one day from Pokhara. The entire trek can be finished in two days. However, it will be very strenuous to do so. For most, 3 days is a better target for finishing the trek. It can also be extended to a week by adding the Mardi Himal trek.
2. How high is Khumai Danda?
Khumai Danda is 3245 meters from sea level, and Korchon Danda (view point of Machhapuchchhre) is at a height of 3900 meters from sea level.
3. What is the height of Korchan Dada?
The height of Korchan Dada is 3,900 meters above sea level. It is the highest view point on the Khumai Danda trek, which has a base camp height of 3,245 meters.
4. How to go to Khumai Danda?
To reach Khumai Danda, take a taxi from Lakeside, Pokhara and take the trekking route from Gachowk. You can start from Gachowk or take the jeep half way to the tower (if you want to finish the trek early). There are very few teahouses on the trail, therefore, it is essential to pack energy bars and snacks to munch on the way.