Trekking in Nepal is one of the biggest reasons tourists visit the country. However, knowing what is required for trekking in Nepal can sometimes be confusing. First, travel and trekking insurance are not mandatory while visiting the country. However, there are certain instances when you will need to purchase insurance while traveling in Nepal. In this blog, I will tell you when you need to be covered and answer the question of is trekking insurance mandatory in Nepal.
Is trekking insurance mandatory in Nepal?
Trekking insurance is not mandatory while visiting Nepal. However, trekking insurance is mandatory to get a TIMS pass which is required to trek into the conservation areas in the Nepalese Himalayas.
To trek in Nepal, insurance is required, and you must show proof of coverage while applying for trekking permits at the Department of Immigration. In addition to the requirements of the government, it is a good idea for trekkers to ensure their safety. If you need help finding insurance for your trek, check out my blog covering the best trekking insurance!
In general, travel insurance is optional while visiting Nepal. I have lived in the country for over six years and have never needed insurance (knock on wood). Nepal is a safe place to visit as long as you are smart about how you travel, what you eat and drink, and the activities you partake in.
Is travel insurance required to travel to Nepal?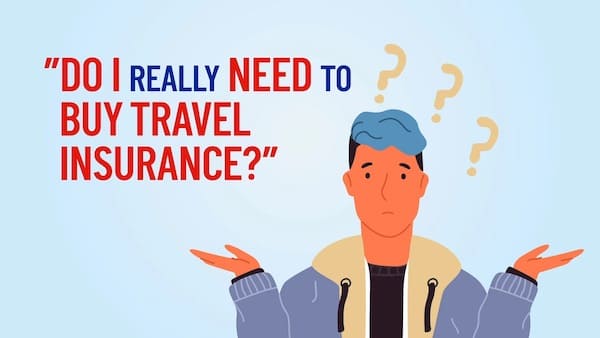 No travel insurance is not required to travel in Nepal. Tourists can visit the country without being covered by insurance.
Although it is not mandatory to have travel insurance, there may be instances when you may want to have insurance. For one, if you plan on traveling throughout the country a great deal, you may want to be covered as it can be dangerous, and there is a chance of losing your luggage and having your flights delayed.
Depending on the other activities you plan on doing in Nepal, you may need to decide between different policies. For example to go trekking, insurance is mandatory. If you are curious about what is trekking insurance exactly, make sure to read my in-depth guide!
Why Getting Insurance while Traveling in Nepal is a Good Idea?
Trekking insurance is mandatory in Nepal. However, regular travel policy coverage is not. Even though it is not required, it is still a great idea for tourists looking to explore Nepal. To understand why you need travel insurance, check out the quick recap below:
Medical Emergencies: Travel insurance can cover the expenses related to emergency medical treatment, hospitalization, and emergency medical evacuation in case of illnesses, injuries, or accidents during your trip. In Nepal, medical treatment can be expensive, especially in remote areas. Travel insurance can provide peace of mind and financial protection in case of any unforeseen medical emergencies.
Trip Cancellations or Delays: Travel plans can be disrupted due to unforeseen circumstances such as flight cancellations or delays, political unrest, natural disasters, or personal emergencies. Travel insurance can cover additional expenses incurred due to these unexpected events. Including hotel accommodations, rescheduling flights, or cancellation fees.
Theft or Loss of Belongings: Travel insurance can cover the theft or loss of personal belongings, such as passports, cameras, and electronics, which are essential for any traveler. In Nepal, theft is not common, but it does happen. Just a note, lost baggage is much more common when traveling in Nepal than theft. Travel insurance can provide financial protection and peace of mind in case of loss or theft.
Adventure Activities: Nepal is a popular destination for adventure activities such as trekking, mountaineering, bungee jumping, and white-water rafting, which involve some risk. Travel insurance can cover injuries or accidents related to adventure activities, giving travelers peace of mind to enjoy these experiences.
Liability Coverage: Travel insurance can provide liability coverage in case of accidental injury or damage to property caused by the traveler. This coverage can be especially important in Nepal, where trekking and other adventure activities can pose risks to others and their property.
In summary, getting travel insurance while traveling in Nepal is a good idea to provide financial protection, peace of mind, and coverage for medical emergencies, trip cancellations, theft or loss of belongings, adventure activities, and liability. It is important to carefully research and choose a policy that meets your specific needs. One that provides adequate coverage for your trip to Nepal.
Key Takeaways: Is trekking insurance mandatory in Nepal?
If you are planning on visiting Nepal, you are more than likely coming to trek in the Himalayas. If so, you will be required to get trekking insurance to get all of the required documents from the Department of Immigration. To help with choosing the right coverage, check out our guide for best insurance for trekking in Nepal!
Although high altitude insurance is required, regular travel insurance is not. That being said, getting covered may still be a good idea to protect yourself from any unforeseen events. Just make sure you plan accordingly before coming to Nepal! This is important as certain insurers will not cover adventure activities or other aspects of your trip! 
The final point is to read your policy thoroughly and ensure it is exactly what you need for your trip or trek into the beautiful Himalayan Mountains! Happy and safe travels [: