Tsho Rolpa Lake located at an altitude of 4,580m (15,030 ft) is the highest glacier lake in Nepal. The lake lies in the Rolwaling Valley of Dolakha District. The Tsho Rolpa Trek goes along the Rolwaling Valley trek and through the Gaurishankar Conservation Area. Tsho Rolpa Trek is categorized as a moderate trek that can be done by most beginners as it doesn't require previous trekking experience. Moreover, the trek is also accessible to solo trekkers who can easily navigate the trek alone as there are tea houses available at various spots during the trekking route.
Apart from the largest glacial lake, the Tsho Rolpa Trek provides spectacular sight seeing opportunities for Gaurishankar Himal. If the massive mountain wasn't enough, the trek also weaves along the flowing Rolwaling River, which has beautiful waterfalls, pristine jungles and beautiful village settlements that are influenced by Buddhist culture.
The hike takes you right up to the Tibetan border, where you will have the chance to experience and learn about Tibetan culture. Moreover, you will be able to tour the villages of Brahmins, Chhetris, Tamangs, and Sherpas during the trekking route. You can also learn about their culture, traditions, and way of life. Additionally, in the region, there are legends of the abominable snowman known as the "Yeti" living there – see our Mystery of the Himalayas blog.
With so much to offer the Tsho Rolpa trek has something for everyone. From culture and heritage to folklore, and of course the breathtaking views of the lake and the mountains, Tsho Rolpa trek is a must.
Fast Facts Tsho Rolpa Trek
Tsho Rolpa is a less frequented trek but packs a punch in terms of scenery and access to cultural experiences. If you decide to see the frozen lake of Tsho Rolpa, a few things to know include:
| | |
| --- | --- |
| Cost | USD $250 – $300 without a guide$350+ with a tour guide |
| Number of Days | 5 days |
| Best Time to Go | October, November, April, and May |
| Difficulty | Moderate/Difficult – 4/5 difficulty |
| Maximum Elevation | 4,558 m (14,954 ft) |
Tsho Rolpa trek fast facts
Tsho Rolpa Trek – Itinerary
Let's take a look at a normal itinerary for the trek and some other basic must know information.
| Day | Activity | Duration | Maximum Elevation |
| --- | --- | --- | --- |
| 1 | Drive from Kathmandu to Chechet and then trek to Simi Gaun | 12 hours | 1,900m |
| 2 | Hike from Simi Gaon to Beding | 7 hours | 3,650m |
| 3 | Trek from Beding to Tsho Rolpa Lake and back to Beding | 7 hours | 4,183m |
| 4 | Trek from Beding to Gongar Khola | 6 hours | 3,650m |
| 5 | Drive back to Kathmandu from Gongar Khola | 10 hours | 1,400m |
Table outlining the 5 day Tsho Rolpa Trek in Nepal
Detailed Itinerary of Tsho Rolpa Trek
The trek can be completed in five days, starting from Kathmandu and arriving in Tsho Rolpa Lake in three days. With only a day trip to the lake, depending on how you are feeling you can spend even more time in the region, to take in the views of some of the world's tallest mountains and a longer chance to experience the diverse culture in the area. 
The detailed itinerary of the trek can be found below:
Day 01: Drive from Kathmandu to Chechet and trek to Simi Gaon (1,900m) – 12 hours.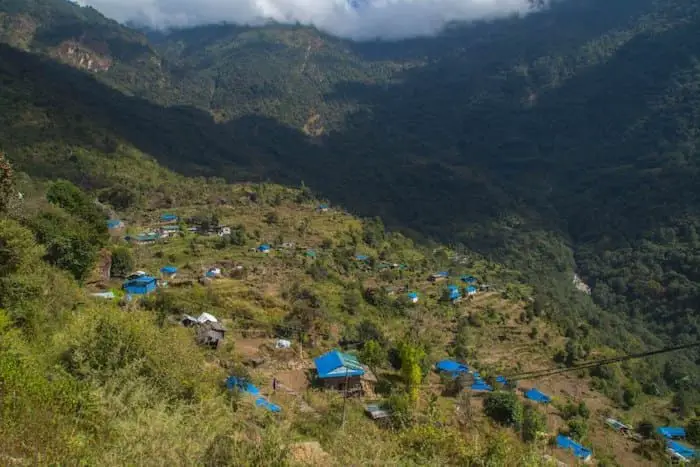 To start your journey, it is best to get an early start and to take the bus from Old Bus park in Kathmandu around 6 AM to Chechet. The bus ride is a bumpy and dusty journey that winds through the countryside of Nepal. Don't let the roads get you down, as trekkers are rewarded with beautiful scenery covered with the national flower of Nepal – Rhododendron flowers.
The bus ride, which will take the majority of the day, will cross Kharidhunga, Charikot, Singati, and Gongar. From Chechet the short two hour hike to Simi Gaon will begin. Simi Gaon is the destination for the day where you will have your overnight stay.
Day 02: Simi Gaon to Beding (3,650m) – 7 hours.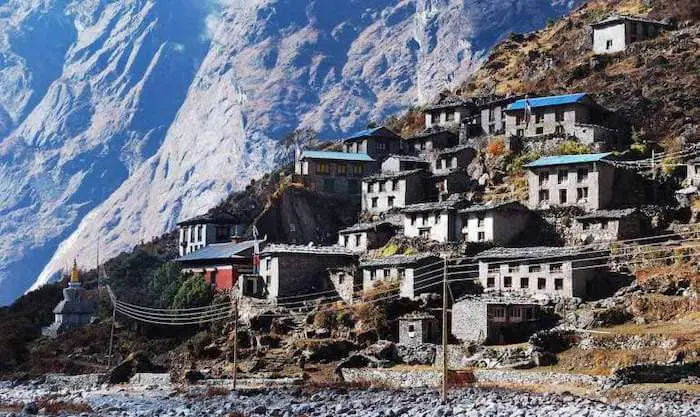 The first day of major hiking will start with an early start along a trail filled with colorful and lush greenery with views of blooming Rhododendron flowers, green fields and trees and white mountains. After about a three hour hike from Simi Gaon, you will reach the village of Surmuche. After passing Surmuche it will take approximately two more hours to reach another village to rest in, which is Dongang. Finally, the last stretch for the day is marked with birds, beautiful streams, dense forests and beautiful vegetation. The final uphill hike to Beding will take around 4/5 hours to complete.
Day 03: Day trip to Tsho Rolpa Lake (4,183m) and back to Beding – 7 hours.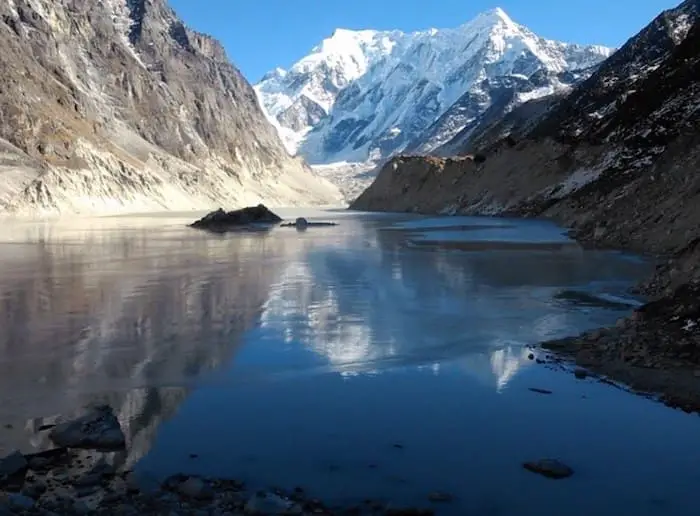 Day three is the toughest out of the five days of hiking on the Tsho Rolpa Lake trek, as the journey will start and end in the same place. It is important to get an early start to make sure you have enough time to spend at the lake and for the return journey. The first two hours of hiking will get you to the first milestone for the day which is Na Gaon at 4,180 m. From Na Gaon it is only another 2 hours of trekking before the final destination arrives: Tsho Rolpa Lake! 
The lake is engulfed in the middle of snowy mountains, with the greenish water reflecting the blue skies from above. Take your time at this point and take in all the wonders the lake has to offer, including the Majestic Mountain Gauri Shanker.
After spending some time enjoying mother nature and all it has to offer with the Glacial lake of Tsho Rolpa, you will need to return to Beding for the evening.
Day 04: Beding to Gongar Khola – 6 hours.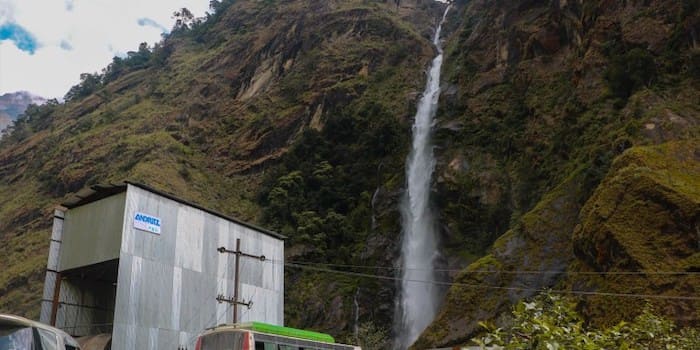 Day four's trek follows the Tamakoshi river down to lower elevations. If you are lucky, you will have the morning birds (usually Danphe and Munal) celebrating your trekking accomplishments with their beautiful songs.
While moving further away from the Himalayan mountains it will take about two and a half hours of hiking to reach Dongang. After Dongang, a short one to two hour hike will get you to Surmuche. Once you have reached Surmuche, you will follow the same trail as on the second day. You can choose to stay in Simi Gaon or Chechet if you want. However, many recommend pushing forward to reach Gongar Khola in order to catch the first bus back to Kathmandu in the morning.
Day 05: Drive back to Kathmandu(1,400m) – 10 hours.
The final day of the journey includes returning to Kathmandu via the original route. The drive can take upwards of 10 hours, especially if there is traffic or other issues along the road.
Ready to Hike? Tsho Rolpa Trek Ending Thoughts
Even though there are magnificent views and hidden mysteries around every corner, the Tsho Rolpa trek is still relatively unknown. Many hikers choose to go for some of the more well known treks such as Annapurna Base Camp, Everest, or even Mardi Himal. However, this makes way for less traffic and more personal experiences along the trek.
One thing to keep in mind is that since it is less traveled, many of the tea shops and places to stay close during the off season. Making it important to go during the months we highlighted (October, November, April, and May) to ensure everything goes smoothly. Need to know the Nepali months? Have a look at our Nepali Calendar tool to know the Nepali dates!
When in doubt, you can always use a trekking guide (don't worry many tour guides speak good English!)to set up everything for you and to make the trip easy! No matter if you decide to go it alone, or with a guide, the trek will provide you with experiences for a lifetime!