Annapurna Base Camp Trek is categorized as one of the world's most famous trekking trails. From the top of the world, the trek provides breathtaking views of the Annapurna Range. The trekking trails of the Annapurna Base Camp Trek goes through remote villages, beautiful valleys, alpine lakes, glaciers and lush forests. Annapurna Base Camp with an elevation of (4,130 m) is a go to trekking route for tourists in Nepal.
Deciding to undergo the journey to the Annapurna region will reward its visitors with immense charm, normal Nepali towns in transit, and the intriguing scenes of Nepali culture and religion. Moreover, as you are trekking you will find yourself in astonishing Rhododendron groves, surrounded by freshwater and bamboo backwoods, and engulfed by some of the tallest mountains in Nepal. Including the massive Annapurna Giants including Annapurna I (8091m), Annapurna South (7273m), Gangapurna (7454m), and Machhapuchhre (Fishtail) (6997m).
Annapurna Base Camp – The Journey begins
Starting with the transport venture from Kathmandu and leaving Pokhara, the trekking goes through a few regular cultural villages like Landruk, Tolka, Pothana Dhampus, Gandruk and most notably Poon Hill – which provides one of the most breathtaking views in all of Nepal.
Similarly moving onwards into ABC you will come across hot springs where you could take rest and a dip if so inclined. As the journey continues you will be engulfed by the magnificent peaks of the Annapurna range comprising of Hiunchuli, Annapurna South, Fang, Annapurna, Ganagapurna, Annapurna 3 and Machhapuchhare. As the Annapurna trek continues, you will later hit ABC. Considered as a medium degree trek, it does not demand superior physical ability or fitness to complete.
Annapurna Base Camp – How the Trek is
Annapurna Base Camp (ABC) Trek is one of the most notable treks in Nepal. Compared to other treks, It is considered a shorter and more attainable goal than the other high altitude mountains of the Himalayas. The trekking experience integrates elevated terrain, diverse culture, and natural wildlife.
In addition to the Annapurna giants that surround you, you will find a sense of refreshment with the now and again enormous flowing cascades. In addition to its natural beauty, the region offers wonderful experiences in terms of culture, particularly with the Gurung people when you are visiting the renowned Ghandruk museum.
However, contingent upon which trekking route you take, you may not find yourself in Ghandruk. The route is the same from Chomrung onwards, however if you want to add a day to the trek and experience Ghorepani Poon Hill and Ghandruk, which provide a spectacular vantage point  of the Annapurna range, we highly recommend it for sunrises and sunsets. 
A few other advantages of the trek or getting access to the hot springs to rest your aching muscles. Likewise, if you are looking for more adventure, ABC trek goes through Machhapuchhre Base Camp (MBC). Visit two above the cloud decks in a single excursion! Combined with the Annapurna Circuit, these paths welcome 70% of all trekking traffic visiting Nepal each year.
The Annapurna Base Camp (ABC) trek is coveted by the base camp standing on a chilly glacial basin in the midst of an amphitheater of mountains. It is also referred to as the Annapurna safe-haven as the locale is a very well preserved region, which is home to 1,226 types of blossoming plants, 102 mammals, 474 different birds, 39 reptiles, and 22 amphibians. And if nature wasn't enough, the whole area is considered a sacred place and home to Annapurna (8,091m) and Gangapurna (7,455m).
During the trek the greater part of your journey is inside the Annapurna conservation area. It starts at the warm and humid lower and mid-slopes and ends at the freezing mid-Himalayan mountains. The vast differences in vegetation and wildlife becomes clear as you progress on your trip from the low hills to the extreme heights of the mountains. The highest altitude you will climb during the journey is 4,130m. The trekking route is one of the most visited in Nepal and has ample amenities and housing for trekkers. Moreover, it is a straightforward trek and relatively safe for trekkers of all experience levels.
Make sure pay attention to your well being, by monitoring yourself for high altitude sickness. If you do not pay attention to your health, high altitude sickness can put you in a dangerous situation. For example, on Oct 14 2014, several trekkers lost their lives along the Annapurna Circuit. Check out my blog: Death on the Annapurna Circuit – where 43 people died.
Annapurna Base Camp (ABC) trek Highlights:
From base camp you can have views of Hiunchuli (6,441m), Annapurna South (7,219m), Gangapurna (7,455m), Machhapuchhare (6,993m) and others
Add an additional day to your trek to go to Poon Hill to experience the sunrise or sunset over the Dhaulagiri and Annapurna
Take in a cultural experience from historic villages like Ghorepani, Tadapani, Landruk, and Dhampus. Home to the various communities of Gurung, Tamang, and Magar people
70% of all trekkers in Nepal take on the Annapurna Base Camp trek
Access to hot springs along the way
Home to exotic fauna and flora
Best Time for Annapurna Base Camp Trek
You can take on the Annapurna Base Camp trek any time during the year. However, certain seasons are better than others. We have broken down the different seasons and benefits of each in the table below:
| Season | Month | Good for Trekking? | Comments |
| --- | --- | --- | --- |
| Fall | September to November | Yes. Best time for trekking. | Fall is a dry season that provides clear blue skies for great views of the mountains and moderate temperatures. Fall is the best time to trek in Nepal, this means it is usually quite crowded. |
| Winter | December to February | Yes (3rd best time) | The winter offers a quieter time for trekking with less tourists. During the winter ABC trek will have dry air with clear skies providing good views of the mountains. However, the route will have snow and be quite cold. Proper preparations will need to be taken. |
| Spring | March to May | Yes (2nd best time) | Spring season is the second best time to trek, and therefore will be quite crowded again. However, if you are looking to experience lush green scenery and roads blossoming with red and white rhododendrons as well as other exotic flowers makes it a perfect time to visit the Annapurna range. |
| Summer/Monsoon | June to August | No (4th best time) | Heavy rain during the night with constant cloud coverage resulting in restricted views. Additionally, the season has leeches, mosquitoes, potential landslides, and slippery streets. However, the season has lush vegetation and is great for people looking for the fauna and flora of the region. |
Table telling about the best time to trek the Annapurna Base Camp Trek
Annapurna Base Camp Trek:
Looking to take on ABC trek? I have compiled a few different trekking options depending on how much time you have to devote to your trek in Nepal.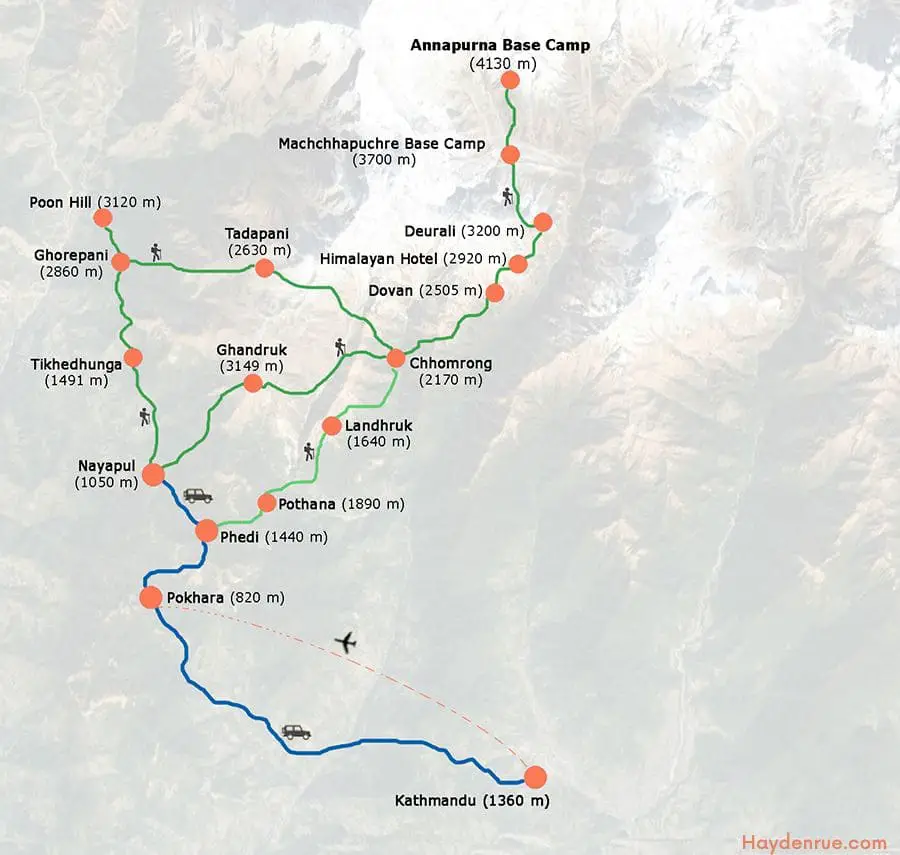 6 day – Annapurna Base Camp Trek Itinerary
Day 1: Drive from Pokhara to Siwai (about 2-3 hours) and hike to Chhomrong
Day 2: Trek from Chhomrong to Himalaya
Day 3: Hike from Himalaya to Annapurna Base Camp, via Machapuchare Base Camp (MBC)
Day 4: Trek from ABC to Sinuwa
Day 5: Trek to Siwai (about 3 hours) and drive from Siwai to Pokhara
Day 6: Pokhara to Kathmandu
7 day – Annapurna Base Camp Trek Itinerary
Day 1: Kathmandu or Pokhara – Nayapul – Ghandruk (2020m)
Day 2: Ghandruk – Chhomrong – Sinuwa (2340m)
Day 3: Sinuwa – Bamboo – Dovan – Himalayan – Deurali (3200m)
Day 4: Deurali – MBC – Annapurna Base Camp (4130m)
Day 5: Annapurna Base Camp – MBC – Deurali – Himalayan – Dovan – Bamboo
Day 6: Bamboo – Sinuwa – Chhomrong – Jhinu (1690 m)
Day 7: Mokyu – Nayapul – Pokhara – Kathmandu
10 day – Annapurna Base Camp Trek Itinerary
Day 1: Drive to Nayapul (2 hours), trek to Tikhedhunga (up to 4 hours) 1070m / 3510ft (Nayapul) 1540m / 5052ft (Tikhedhunga)
Day 2: Trek to Ghorepani (5 to 6 hours) 2880m / 9449ft
Day 3: Early morning hike to Poon Hill, trek to Tadapani (5 to 6 hours) 3193m / 10476ft (Poon Hill) 2630m / 8629ft (Tadapani)
Day 4: Trek to Chhomrong (5 to 6 hours) 2170m / 7119ft
Day 5: Trek Chomrong to Himalaya Hotel (5 to 6 hours) 2920m / 9580ft
Day 6: Trek to MBC then to ABC (6 to 7 hours) 3700m / 12139ft (MBC) 4130m / 13550ft (ABC)
Day 7: Trek to Bamboo (5 to 6 hours) 2300m / 7546ft
Day 8: Trek to Jhinu Danda (5 to 6 hours) 1780m / 5840ft
Day 9: Trek to Tolka (5 to 6 hours) 1700m / 5577ft
Day 10: Trek to Phedi (4 to 5 hours), drive to Pokhara (up to 2 hours) 1130m / 3707ft (Tolka) 827m / 2713ft (Pokhara)
How Much Does The Annapurna Base Camp Trek Cost?
The bulk of the trekking prices will come from accommodation and dining in Kathmandu and Pokhara. These two destinations are the two largest tourist cities in the country and have a lot to offer in terms of food and activities.
Depending on where you begin your trek, and if you work with a trekking agency, you will need to pay for transportation from Kathmandu to Pokhara, either by bus (USD $5 – $25)  or by plane (USD $70 – $100). 
Permits and Fees in Annapurna Region:
ACAP try permit fee for foreigners: 3,000 NPR (Approx. USD $30)
ACAP entry permit fee for SAARC nationals: 200 NPR
TIMS permit: 1,000 NPR (Approx. USD $10)
Trekking Agency:
A trekking agency can charge anywhere from USD $500 to $1,000 per person. Depending on the amenities that you want, and if you require a porter or not, will determine the price of your package.
How much does the Annapurna Base Camp Trek cost?
Best estimates put the price for trekking Annapurna Base Camp around USD $700 to $1,800. This would include everything you need to go trekking, minus the fee for an arrival visa in Nepal and air travel to Nepal.
Additionally, you will have to factor in the cost of trekking insurance as well. With insurance being mandatory to trek in Nepal, you will have to purchase coverage before you are able to get your permits and passes. For help with choosing insurance, check out my blog about the best trekking insurance!
Annapurna Base Camp (ABC) Trek in Nepal:
ABC is one of the most popular trekking destinations in Nepal and the world. With over 70% of the trekkers in Nepal each year visiting the region, it is something you don't want to miss. With an easy and safe route, it is beginner friendly and ready for people of all skill levels. Additionally, if language barriers are holding you back from traveling to Nepal, or deciding to go on the Annapurna trek, you can feel comfortable as many Nepalis, in the tourist sector speak English.
The trek can be done by yourself or with a guide. Going it alone can be difficult if you are not familiar with the route, or when it comes to getting permits and transportation squared away. A guide will provide you with an easy trip, and take care of all of your worries! Additionally, a guide will have local knowledge and be able to show you the best spots, or tell you about extra routes that can be added to the trek.