The Shey Phoksundo Lake Trek takes you to an extraordinary adventure through the mystical landscapes of Nepal. This captivating trek takes you deep into the heart of the Dolpo region, where you will discover the pristine beauty of a turquoise colored lake nestled amidst towering mountains.
This remote area, renowned for its portrayal in Peter Matthiessen's book 'The Snow Leopard,' became accessible to trekkers in 1989. One of its captivating highlights is the sacred Shey Phoksundo Lake, revered by both Buddhists and followers of the Bonpo religion (two of the major religions in Nepal).
Immerse yourself in the rich cultural heritage of the region as you traverse through traditional Tibetan villages, lush forests, and high mountain passes. With its remote and untouched surroundings, this trek offers a truly off-the-beaten-path experience for nature enthusiasts and adventure seekers. Prepare to be mesmerized by the dramatic landscapes, awe-inspiring vistas, and the tranquility of Shey Phoksundo Lake on this unforgettable journey.
Quick Information about Shey Phoksundo Lake Trek
Duration: 10 days
Max. Altitude: 3660 meters
Trek starts/ends: Juphal
Difficulty: Easy – Moderate
Accommodation: Tea houses/lodges
Best Season For Shey Phoksundo Lake Trek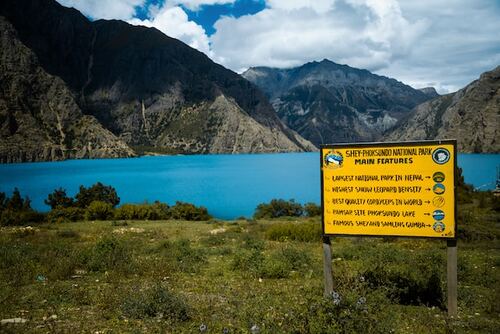 The best season to visit Shey Phoksundo National Park is Spring (Mar-May), Summer (June-August) and Autumn (September-November).
Being a trans-Himalayan region, Shey Phoksundo National Park exhibits a diverse climate, ranging from monsoon to arid conditions. Precipitation levels vary significantly across the park, with the southern region experiencing up to 1,500 mm of rainfall, while the northern slopes receive less than 500 mm.
Winters within the park are severe, characterized by snowfall in areas above 2,500 meters. Temperatures at elevations exceeding 3,000 meters often drop below freezing point.
Shey Phoksundo Lake Trek: Day-by-Day Itinerary
Here is an outline of the Shey Phoksundo Trek:
Day 1: Arrival in Kathmandu                          
Day 2: Flight to Nepalgunj, gateway to the Far West     
Day 3: Flight to Juphal and trek to Dunai                
Day 4: Trek to Chhepka village                           
Day 5: Trek to Jharana Waterfall                        
Day 6: Trek to the Tibetan village of Ringmo             
Day 7: Explore sacred Phoksundo Lake and Tshowa Gompa   
Day 8: Trek back to Chhepka Village               
Day 9: Trek to Juphal                                   
Day 10: Return flight to Kathmandu                        
Brief Itinerary For The Shey Phoksundo Lake Trek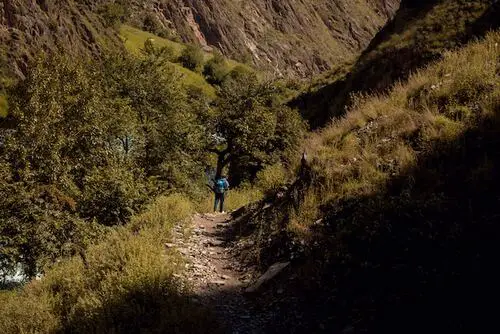 To help you plan your adventure, we have prepared a brief itinerary that outlines the key highlights and stages of this remarkable trek.
Day 1: Arrival in Kathmandu
Day 2: Flight to Nepalgunj, Gateway to the Far West
You will board a flight to Nepalgunj, a town situated in the western Terai near the Indian border, serving as the gateway to the Far West region.
Day 3: Flight to Juphal and Trek to Dunai
Then from Nepalgunj, you will fly to Juphal at 2,500 meters, the starting point for the trek to Phoksundo Lake. The trail initially ascends southeast, offering breathtaking views of the Thulo Bheri Valley. Passing through maize fields and the village of Kalagaunda, you will follow the southern bank of the Bheri River, witnessing the traditional water mill at Roop Ghar, until you reach the village of Dunai at 2,145 meters.
Trekking Time: 3 hours
Day 4: Trek to Chhepka Village
Descending through the roads of Dunai, you will cross a bridge over the Bheri River and continue along the northern bank. Passing through Sulighat, you will head north towards the Shey Phoksundo National Park check-post. 
Ascending on a rocky trail above the meandering Suli Ghad River, you will traverse a tropical forest adorned with walnuts, and maples, catching glimpses of Tibetan culture. Enjoy the sights of fluttering prayer flags, cascading waterfalls, and lush vegetation as you make your way to Shyanta village at 2,520 meters. Another hour-and-a-half uphill hike along a narrow trail will lead you to the village of Chhepka at 2,670 meters.
Trekking Time: 6-7 hours
Day 5: Trek to Jharana Waterfall
The Jharana Waterfall is one of the main highlights of the trek. The trail ascends through a cedar forest, passing a winter settlement used by the residents of Ringmo village. Continuing uphill, you will reach an elevation of 3,330 meters, where you will spend the night in Jharana. Here, you will have a close-up view of the magnificent 330 meters Jharana Waterfall, one of the tallest in Nepal, along with a distant glimpse of Phoksundo Lake.
Trekking Time: 5-6 hours
Day 6: Trek to the Tibetan Village of Ringmo
As you proceed towards Ringmo at 3,330 meters, you will traverse birch forests and follow the upper reaches of the Phoksundo River. After crossing a bridge, the trail leads north to the ranger station at Phoksundo Lake. A final climb through the Phoksundo River gully will bring you to the yak-filled meadows of Ringmo, a Tibetan Bon village, where you will spend the night.
Trekking Time: 5-6 hours
Day 7: Explore The Sacred Phoksundo Lake and Tshowa Gompa
Immerse yourself in the wonders of Ringmo village before embarking on a visit to Tshowa Gompa, a venerable Bon monastery that has graced the ridge overlooking Phoksundo Lake for over 900 years. Descending along steep cliffs, you will be greeted by the sacred expanse of the lake, revered by Buddhists and adherents of the Bonpo religion. 
Legends speak of an underwater palace and a mystical mandala of spirits concealed within its depths. Phoksundo Lake captivates with its mesmerizing turquoise hue and awe-inspiring panorama, adorned with an array of splendid glaciers that add to its grandeur.
Day 8: Trek back to Chhepka Village
Start your journey back to Chhepka Village, setting out from Sulighad and tracing the path along a stream that originates from the enchanting Phoksundo Lake. As you progress, you will pass through the quaint village of Renje, immersing yourself once again in the serene ambiance of fir and larch forests.
Do I Need Trekking Insurance for the Shey Phoksundo Lake Trek?
Yes, it is mandatory for foreigners to get trekking insurance in order to get the required trekking passes.
Not only is trekking insurance going to help you get your passes in Nepal, but also give you peace of mind. Anytime you are trekking to higher elevations, it is important to keep your safe safe from any unforeseen emergencies. Moreover, trekking insurance provides crucial financial coverage and support in case of unforeseen circumstances or emergencies during your trek.
Permit Fees and Regulations
| | |
| --- | --- |
| Permit | Cost Per Person |
| Shey Phoksundo National Park permit | USD $30 |
| Lower Dolpo restricted-area permit | USD $20 per week for first four weeks, then USD $5 for every week thereafter |
Permit Fees for Shey Phoksundo Trek
Note: To travel through Upper Dolpo, trekkers must obtain two permits for Lower Dolpo. The first permit serves as an entry and exit permit, allowing access to Upper Dolpo by passing through Lower Dolpo. The second permit is required to re-enter Lower Dolpo after completing the trek in Upper Dolpo, ensuring compliance for the return flight. It is essential to acquire both permits to meet the necessary requirements and regulations for a seamless travel experience in Nepal.
Packing Essentials For Shey Phoksundo Trek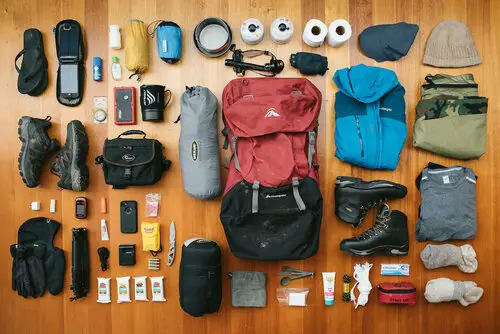 Preparing for a trek requires careful consideration of what to pack, ensuring you have all the essentials for a successful and enjoyable journey. The Shey Phoksundo Lake Trek is no exception, with its breathtaking landscapes and remote terrain. 
To make the most of your trekking experience, it's crucial to pack wisely. One of the most essential things that is vital for a comfortable trek is a well-designed trekking backpack. They are an indispensable companion from start to completion of your trek. Hence, choose one that is durable, spacious, and comfortable to carry, allowing you to efficiently organize and access your belongings.
Additionally, having a well-thought-out packing list will help ensure your comfort, safety, and convenience throughout the trek. Here's a basic packing to ensure you have a enjoyable trek:
Clothing:
Lightweight, moisture-wicking and quick-drying hiking shirts
Insulating layers such as fleece jackets or down jackets
Waterproof and windproof outer shell jacket
Trekking pants (convertible pants are versatile)
Warm hat, gloves, sun hat or cap
Footwear:
Sturdy and comfortable hiking boots with ankle support
Flipflops or sandals to wear after hiking
Accessories:
Sleeping bag 
Trekking poles (helpful for stability and reducing strain on knees)
Headlamp or flashlight (with spare batteries)
Lightweight and quick-drying travel towel
Water bottle or hydration system
Snacks and energy bars
Personal toiletries (including sunscreen, biodegradable soap, toothbrush, toothpaste, etc.)
Insect repellent
Basic first aid kit (including necessary medications, band-aids, blister treatment, etc.)
Additionally, we also have a comprehensive guide featuring a detailed Nepal packing list specifically tailored for your adventure. This comprehensive resource covers all the essentials you need to consider when preparing for your journey, ensuring that you have everything necessary to make the most of your time in this remarkable country. 
Why Do The Shey Phoksundo Lake Trek?
Here are some key reasons why you should consider doing the Shey Phoksundo Lake Trek: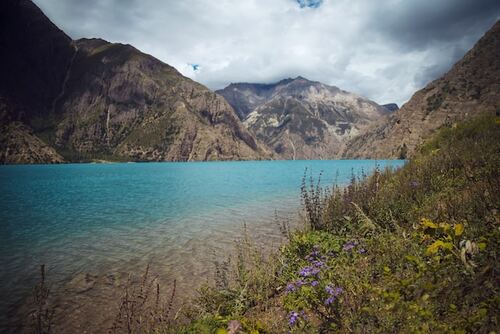 1. Scenic Beauty: 
The trek takes you through stunning landscapes characterized by towering Himalayan peaks, pristine alpine forests, glistening waterfalls, and the breathtaking Phoksundo Lake with its mesmerizing turquoise waters. The natural beauty of the region is unparalleled, providing a feast for the eyes at every step.
2. Cultural Exploration: 
The trek presents an opportunity to immerse yourself in the rich cultural heritage of the area. Along the route, you will encounter traditional Tibetan villages, ancient monasteries, and interact with local communities, offering insights into their customs, traditions, and way of life. This cultural immersion adds depth and meaning to the trekking experience.
3. Shey Phoksundo National Park: 
The trek takes you through Shey Phoksundo National Park, a pristine wilderness area renowned for its biodiversity. The park is home to diverse flora and fauna, including rare and endangered species such as the snow leopard, blue sheep, and musk deer. Exploring the park allows you to witness the wonders of nature in a protected and untouched environment.
4. Phoksundo Lake: 
The highlight of the trek is undoubtedly Phoksundo Lake, a sacred and spiritually significant body of water. Its serene ambiance, crystal-clear turquoise waters, and surrounding snow-capped peaks create a captivating and tranquil atmosphere. The lake's beauty, coupled with its cultural and religious significance, makes it a compelling destination for nature lovers and spiritual seekers alike.
5. Adventure and Challenge: 
The Shey Phoksundo Trek offers a moderate level of challenge, making it accessible to trekkers with varying degrees of experience. The undulating trails, river crossings, and occasional steep ascents provide an adventurous and invigorating trekking experience. The sense of accomplishment upon completing the trek adds to the overall satisfaction and personal growth.
6. Off-the-Beaten-Path Experience: 
The Shey Phoksundo Trek takes you to a relatively remote and less-visited region of Nepal. This means fewer crowds and a more serene trekking experience, allowing you to connect with nature and immerse yourself in the tranquility of the surroundings.
FAQs: Shey Phoksundo Lake Trek
1. What is the entry fee for Shey Phoksundo National Park?
The entry free for Shey Phoksundo National Park is USD $30.
2. How far is Phoksundo Lake from KTM?
The distance from Kathmandu to Phoksundo Lake spans approximately 285 kilometers. It will require two airplanes and a jeep ride to get to the start of the trek.
3. How to reach Shey Phoksundo Lake from Kathmandu?
To reach Nepalgunj from Kathmandu, you will need to board another flight lasting approximately 55 minutes. Nepalgunj offers a convenient option for a rest stop if you choose to stay there. Following your stay in Nepalgunj, you will embark on a 40-minute flight to Jufal. Jufal serves as the starting point for your actual trek towards Shey Phoksundo.
4. Can we swim in phoksundo lake?
No, you cannot swim in Phoksundo lake.