Travelex offers travel insurance coverage for a variety of trips, ranging from short weekend getaways to extravagant mountaineering expeditions. Their Travel Basic plan includes essential coverage, while the Travel Select plan enables travelers to tailor their coverage to their specific needs. In this blog, I give my Travelex Insurance review, and talk about everything I have learned while using their coverage.
Travelex's travel insurance plans offer comprehensive coverages to safeguard your upcoming travel plans. Nevertheless, as each trip is distinct, Travelex provides add ons that enable travelers to personalize their travel insurance policy in order to suit their specific vacation needs. Below are some quick facts about Travelex Insurance (affiliate link!)
Plans
Travel Basic
Travel Select (Most Popular Plan)
Customer Service
Phone: 800-819-9004
Hours of Operation: Weekdays, 8:00am – 7:00pm CST
Emergency Assistance
Inside the USA: 844-215-1672
Outside the USA: 647-775-8042
Claims
855-205-6054
Claims Hours of Operation: Weekdays, 7:00am to 7:00pm CST
Trustpilot Rating
4.3/5 stars from over 440 reviews (customer reviews below)
Quick information about Travelex Insurance
Is Travelex Insurance Good?
Travelex Insurance services are good and reliable. Coming in at a great price point, especially for families, their upgrades allows travelers to feel secure that they can get the exact coverage they need no matter what their travel plans are.
The insurance is especially good for anyone that wants to engage in adventure sports or high altitude climbing during their vacation. For that very reason, it has made my list of best trekking insurance providers!
Travelex Insurance Summary:
Travelex Insurance Services offers a variety of travel insurance plans, including package plans and travel accident plans.
Their package plans are reasonably priced and provide comprehensive trip cancellation and interruption coverage for multiple reasons, including job loss, terrorism, or hospitalization. Additionally, they offer optional upgrades for medical coverage, adventure sports coverage, car rental collision coverage, and air accidental death and dismemberment coverage to address any gaps in coverage.
Additionally, I love how Travelex's website is user-friendly, and its plan are easy to understand. Obtaining a quote is hassle-free and can be done from the home page without having to search and navigate the site.
Travelex makes it simple to compare and calculate plan pricing across various plans. Their intuitive quote and purchase processes make them a popular choice among customers, as their plans are affordable compared to other providers. We will elaborate on these points in our Travelex insurance review.
Pros and Cons of Travelex's Travel Insurance:
The following are a list of pros and cons, things that we love and hate about the insurance policy:
Travelex's Trekking Insurance Pros:
The travel insurance will include free coverage for children under the age of 17 if they are with an adult that is covered by the insurance policy
Offers an adventure sports upgrade, including for high elevation trekking
You can upgrade the plan to get a "cancel for any reason"
Medical expense coverage is primary, compared to some competitors' secondary coverage.
Provides great travel delay coverage. Providing USD $2,000 per person after an initial five-hour delay.
Travelex's Trekking Insurance Cons:
"Cancel for any reason" coverage provides 50% reimbursement of the non-refundable deposits – which is lower than most travel insurance providers, who usually provide 75%
The emergency medical expense coverage for the Travel Select plan is $50,000, compared to higher levels from top competitors.
Baggage delay benefits only apply after an initial 12-hour wait – longer than most companies
About Travelex Insurance Services:
Travelex Insurance Services is a travel insurance provider that offers various plans for domestic and international travelers. Their travel insurance policies include several key benefits:
1. Trip cancellation insurance:
This reimburses you for non-refundable expenses if you cancel your trip for a reason that is specified in the policy.
2. Travel medical insurance:
If a traveler falls ill or suffers an injury during their trip, travel medical insurance can pay for emergency medical expenses, such as hospital bills, medication, and lab work, up to the plan's limits.
3. Emergency medical evacuation:
This coverage helps pay for medevac costs if a traveler requires emergency transportation for treatment during their trip.
4. Travel delay insurance:
If your trip is delayed due to an unforeseen reason that is covered in your policy, travel delay insurance can reimburse you for extra costs incurred, such as hotel stays and meals, up to your policy's limit. A traveler may also be able to recoup pre-paid expenses for missed portions of their trip due to the delay.
5. Travel interruption insurance:
If you need to cut your trip short due to an emergency at home, trip interruption insurance can pay for a last-minute flight back and compensate you for forfeited, non-refundable activities and hotel stays.
6. Baggage and personal effects:
Baggage insurance reimburses the depreciated value of lost, stolen, or damaged luggage and its contents. Baggage delay coverage can also reimburse you for essential items you buy while waiting for your bags to arrive. This coverage extends to your personal belongings as well. However, it will be subject to certain exclusions that may vary by the policy you purchased.
Travelex's Travel Insurance Plan Types: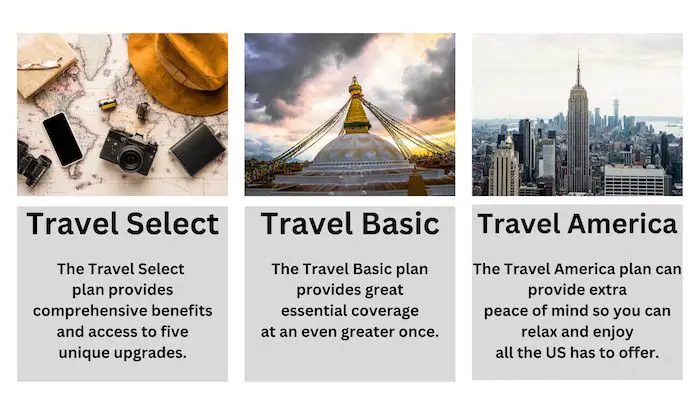 Travelex provides three different trip insurance plans. These three plans are Travel Basic, Travel Select, and Travel America they include the following coverage:
1. Travelex's – Travel Basic Plan:
This climbing insurance plan offers a budget-friendly and family-friendly insurance plan. The plan offers travelers with pre- and post-departure coverage, which will cover cancellations, delays, emergency evacuations, emergency medical coverage, baggage, and personal effects if lost or stolen. The basic plans are great for travelers looking to stay protected during their trips abroad.
2. Travelex's – Travel Select Plan:
The Travel Select Plan is perfect for trekkers looking to climb to higher altitudes as you can get an upgrade to cover adventure sports in order to cover hiking and mountaineering in high elevation locations 20,000 feet (6,000 meters) above sea level.
Another great aspect of the Travelex coverage plan is it will allow hikers to apply for pre-existing medical condition waivers. This will allow climbers to be covered for pre-existing conditions during their trips if they are approved by Travelex. Which is great to provide even more protection while climbing and trekking in the mountains.
Finally, with the Travel Select Plan, families can have some peace of mind while traveling with their children as children under 17 years of age will be covered if they are accompanied by an adult that has a Travelex coverage plan!
3. Travelex's – Travel America
The Travel America insurance offers an extensive array of coverages for you and up to seven fellow travelers embarking on journeys within the United States. These encompass emergency medical expenses, catering to instances of illness or injury during your travels, as well as trip inconvenience coverage that facilitates reimbursements for scenarios like the shutdown of ski resorts, golf courses, and beaches due to specific conditions.
Additionally, the plan includes roadside assistance and car rental collision coverage to ensure your protection while on the road.
Travelex Travel insurance Pricing: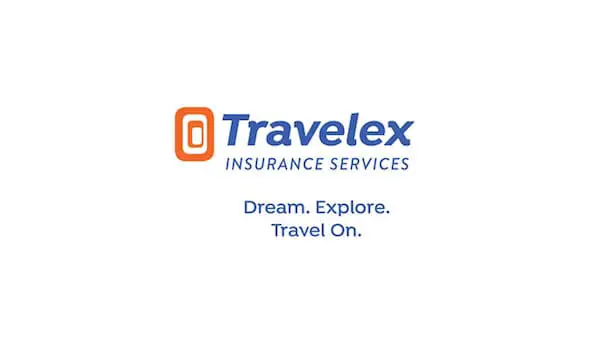 The amount that you will have to pay for your trekking and mountaineering insurance varies depending on your trekking destination, age, country of residence, overall trip cost as well as other factors. Therefore, it is difficult to provide you with a cost to how much the coverage will cost.
That being said, here are a few examples of trips and costs associated with them, so you can get an idea of what you may have to pay for your trekking insurance with a Travelex Select Plan:
| | |
| --- | --- |
| Package Example | Cost |
| Two travelers age 30, $5,000 trip cost, traveling to Turks and Caicos | USD $210 |
| Two travelers age 40, $5,000 trip cost, traveling to Mexico | USD $316 |
| Two travelers age 65, $7,000 trip cost, traveling to Greece | USD $566 |
Travelex Trekking insurance Pricing
Does Travelex Trip Insurance Plans Cover Covid related issues?
Travelex Travel Insurance Plans cover Covid related issues if you or your travel companion test positive for the virus and require quarantine (confirmed by a doctor). Additionally, if you contract Covid just before your trip and have to cancel, these plans can reimburse you for 100% of the prepaid and non-refundable deposits you lose.
Moreover, if you are diagnosed with Covid by a physician during your trip, you may be eligible for trip delay, trip interruption, emergency medical, and emergency evacuation benefits.
Does Travelex provide 24/7 Travel Assistance?
Travelex's 24/7 Travel Assistance and Mobile App Travelex plans offer access to their 24/7 travel assistance hotline, which provides various services, including locating medical care, emergency medical payments, assistance with lost passport or travel documents, legal aid, emergency cash transfers, language interpretation, flight and hotel rebooking, and more.
To receive real-time security alerts, details on food and water safety at your destination, ATM locations, tipping protocols, and other helpful information, you can download the Travel On app.
What Does the Travel Insurance Not Cover?
It's important to carefully read and understand the exclusions in your travel insurance policy, as all plans have them. Travelex's Travel Select plan also has exclusions to emergency medical coverage, some of which include
Intentionally self-inflicted injury
Normal pregnancy or childbirth
Mental, nervous, or psychological disorders
Experimental medical treatments
Injuries resulting from intoxication or drug abuse
Routine physical examinations.
Customer Reviews of Travelex Travel Insurance:
Travelex reviews are predominantly good among customers regarding the adequacy of their coverage and the efficacy of the travel assistance services provided by the company. Moreover, a significant number of customers express that the representatives from Travelex were quick and accommodating in their responses. Should a traveler need to initiate a claim, the majority of feedback indicates that the procedure were easy, leading to prompt reimbursements for trip payments. Nevertheless, a few customers were not happy with Travelex's decision to decline their claims that, in their view, merited reimbursement.
The table below shows the most recent (as of writing) Travelex travel Insurance reviews.
Date
Rating
Name
Review
Aug 18, 2023
5 stars
Rustam khan
Nice Experience
One of the best Travel agency
July 19, 2023
1 star
Angelica Aspillaga
Your insurance is not good, I'm never getting it again. You don't want to pay any of the claims which are mentioned on my policy. The person on the phone was very nasty, it seemed she enjoyed denying my claim. I will have now to doble check my previous policy.
Mar 5, 2023
5 stars
JRB
I've always been skeptical of trip insurance and all the promises of straightforward claim processes, but I was blown away with how responsive, simple, and logical the Travelex was. I decline all trip insurance for any travel booking I do now and only use Travelex. Cheaper, more efficient, less red tape. What's not to love?
Mar 17, 2023
4 stars
Raymond
Easy to purchase insurance.
We missed our cruise because United Airlines could not get a plane off the ground at Dulles to fly to Amsterdam.
Travelex paid what I tho't was fair. Only problem was it took forever for United to tell Travelex that indeed several airplanes had failed to get off the ground on that flight.
Feb 11, 2023
5 stars
Candyce Gustafson
Called and was given a very reasonable quote, was not forced to cover our entire trip which was very expensive, but was given the option of insuring for the minimum. Very much appreciated. Appreciate your user friendly website! We are now back from our trip to Antarctica and we had a wonderful trip! No claim from Travelex was necessary, thank goodness!

These reviews are unedited and pulled directly from the Trustpilot page for Travelex Insurance
Key Takeaways: Travelex Insurance Review
Travelex Insurance (affiliate link!) is a great option for travelers looking for more robust coverage, as it covers adventure sports and high altitude trekking. They have trekking insurance packages that will cover you up to 20,000 feet (6,000 meters) above sea level.
With their easy to understand coverages, great range of travel insurance for adventure enthusiasts to trekkers in Nepal, and competitive rates, I really like Travelex as an insurance provider! I have used them before while trekking in Nepal as insurance is mandatory when getting the proper documentation to venture into the Himalayas.
Overall, I would recommend them when you are looking to stay protected while traveling! Comment below with any questions you may have about my Travelex insurance review, or their trekking insurance policy! Happy travels and stay safe [:
FAQs: Travelex Insurance
Below are some of the most frequently asked questions regarding Travelex insurance policies.
1. Do Travelex travel insurance plans cover pre-existing medical conditions?
Travelex provides pre-existing medical condition exclusion waivers for those who buy Travel Select or Travel America plans. These waivers ensure that pre-existing conditions are not excluded from coverage. For instance, Travelex's Travel Select plan can cover pre-existing conditions if the plan is purchased within 15 days of the initial trip deposit, the full value of the non-refundable trip cost is insured, and the individual was medically able to travel when the plan was purchased.
2. Do Travelex travel insurance plans have "cancel for any reason" coverage?
Travelex's Travel Select plan allows for an upgrade to "cancel for any reason" (CFAR) coverage.

CFAR coverage permits cancellation for a reason not included in the base trip cancellation reasons listed in the travel insurance plan. For instance, you might decide to cancel your trip because the forecast calls for rain during your beach vacation.

Before purchasing the plan, it is important to review the CFAR rules. For instance, Travelex's Travel Select plan reimburses you for 50% of your lost trip costs under a CFAR claim. You must purchase the CFAR upgrade within 15 days of your initial trip deposit, and to make a CFAR claim, you must cancel at least two days before your scheduled departure date.
3. Does Travelex offer flight insurance coverage?
Travelex has two flight insurance plans: Flight Insure and Flight Insure Plus, both perfect for last-minute trips or quick weekend getaways.

Flight Insure Plus provides the following benefits:

Trip delay coverage up to $100
Baggage and personal effects coverage up to $1,000
Baggage delay coverage up to $500
Emergency medical expense coverage up to $10,000
Emergency medical evacuation coverage up to $100,000