We all travel to eat right? To try new cuisines, experience the different flavors and aromas, and eat to our heart's content. Nepal might not be the first place you think of when you are trying to decide which country has the best food and street food in Asia. But actually, the street food in Kathmandu is rich in flavors and spices, which bring together a mix of modern and traditional dishes for the enjoyment of your taste buds!
Are you looking to sizzle your taste buds off with some spice?  – No problem.
Or maybe you are looking to find something sweet that will help overcome your sweet tooth? – That's easy to find!
What is the best street food in Kathmandu?
Buff Keema Noodles
Dahi Puri
Sekuwa
Lassi
Malpuwa
Gwaramari
Laphing:
Samosa
Samosa Chaat
More on these delicious street food options below. But first let's discuss where to find them!
Where to find these delicacies you ask – Street Food in Kathmandu? 
Nepalis and locals alike, say that you can find the best street food in Kathmandu! With its rich heritage in old towns around the city, or special cuisines of different ethnic groups living in the Kathmandu valley, you can find street food that you will love, and some food that you might think people are crazy about eating! 
Want to know about some of the weirdest food in Kathmandu? Check out our other blog 'Weirdest Food in Nepal' and see if you can handle the food! Also if you are still hungry after all this food, you can check out our Traditional Nepali Dishes you Have to Try blog.
Without further ado, let's get into the best street food in Kathmandu!
Street Food in Kathmandu and Nepal – You have been warned!
Before I list out our choices of best street food in Nepal, it is important to note that not all street food is hygienic and clean. In this round up I do my best to highlight only places that offer clean food and that I have eaten. 
Certain regions of the Kathmandu Valley are very dusty and dirty. These are the typical places where you will want to avoid street food from. With a lack of cleanliness, there is a chance that you end up getting gastrointestinal problems. Rarely are these gastrointestinal problems serious, however, they do typically cause diarrhea and end up putting a big damper on your travel in Nepal. 
Some tourists and travelers that plan on staying in Nepal for a longer period talk about 'biting the bullet' and just getting the problem over with as soon as possible, hoping to train their stomachs to handle the food here. 
I have been living in Nepal for over five years now, and I think there is some merit to this. Additionally, I have also gotten better at choosing places to eat and watching out for certain signs that might indicate the street food vendor is not a good place to eat. 
Ultimately, it will be up to you to be smart about what you eat, and to make the decision to eat something. To help you make some better-informed decisions about eating street food, let's have a look at a few things to watch out for while eating street food in Nepal.
Best Practices – Eating Street Food in Kathmandu: 
First thing is to have a look at the street food cart or stand. Are they being clean and hygienic? Is the food covered and protected against flies and dust? What about the person serving the food? What are they doing with their hands – are they sneezing, or wiping their hands on things? Are they using water to clean things?
If there are other people or a group of people eating there, there is a better chance that it is a trusted source of street food. Look for food stands that have people eating at them, and avoid ones that are empty.
Take notice of the location of the food stand. If it is in a busy area with lots of dust, traffic, and trash, it is probably best to avoid eating there.
Avoiding places that serve meat is usually best unless you can watch them cook it in front of you, and you are sure that it has been cooked properly.
Finally, if you are looking to buy anything that is made with fresh fruit, you will want to check for two things. One, did they wash all the fruit properly before using it? And two, are there flies on the fruit at all? An older practice (not used as much anymore – I rarely ever see it now) was to use pesticides or cleaners on fruit to keep the flys and bugs away, thus, giving off the idea of the fruit being clean. Check around, are there flies on everything but the fruit? This may be a sign that some sort of chemical was used on the fruit.
Best Street Food in Kathmandu:
I have come up with a list of some of the best street food items in Kathmandu. They consist of all flavors, aromas, textures, and every other sense invoking characteristics you could think of! Additionally, the list contains vegetarian and non-vegetarian street food options.
1. Buff Keema Noodles in Boudha: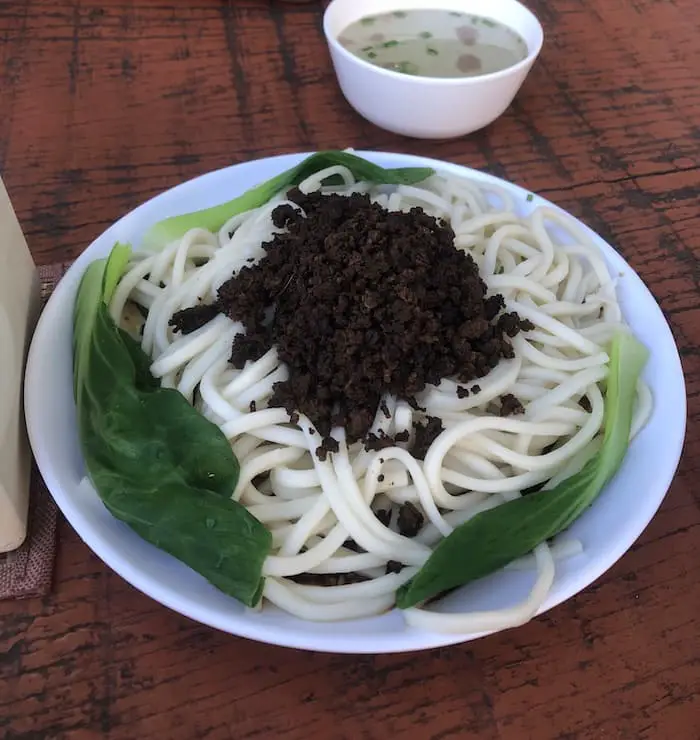 Not your average noodle! Buff Keema Noodles is everyone's guilty pleasure. The noodles are not like chowmein but rather served without mixing all the ingredients. On a plate, they first pour a mix of soy sauce, Sichuan pepper, garlic, ginger, and mustard oil. Then noodles are placed on top of the mix and topped with cooked minced buff and Bak Choi on the side. And well it's your job to do the mixing! They also serve a chili sauce on the side so that you can add more.
Khawa karpo tasty noodle factory in Boudha is the best place to get your noodles. Their noodles are prepared in their in-house factory and the noodles on your plate are served fresh!
Looking for the best Buff Keema noodles in Pokhara? Don't fret, I got you covered! You will want to check out the Little Tibet Restaurant in Pokhara! You can thank me later!
2. Dahi Puri in front of People's Plaza: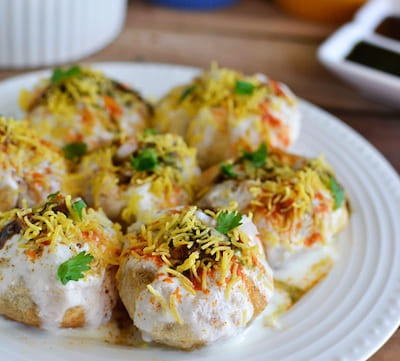 You've probably heard of Pani Puri and Dahi Puri is just a version where they replace the water with dahi. Dahi means "yogurt" and puri is deep-fried crispy dough balls. The ball is filled with a special mixture of mashed potatoes, onions, chickpeas, green chilies, and different spices and topped with yogurt.
The yogurt blends with the tanginess of the crispy-filled balls and gives a sweet and sour flavor to your tastebuds. I'm not a big fan of Pani Puri however I do love the Dahi Puri. I love yogurt and Dahi Puri makes a perfect quick summer snack!
The best place to eat Dahi Puri is Om Panipuri Chat Center, located in front of People's Plaza in New Road, Khichhapokhari.
3. Sekuwa in Basantapur: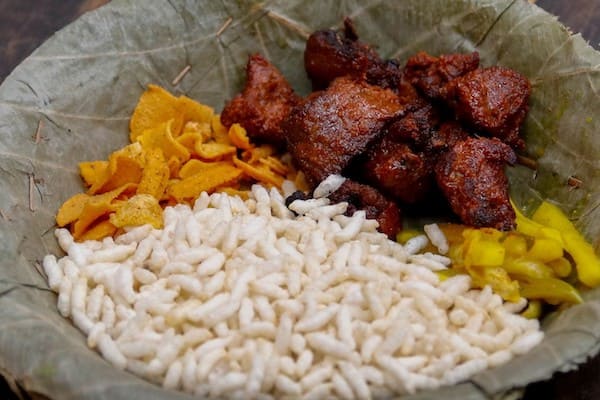 Many places serve sekuwa with a slice of lemon and sautéed vegetables on the side, but nothing beats the taste of local sekuwa. It is traditional barbecued-style meat (chicken, buff, pork, or mutton) and is marinated in spices. Moreover, the best Sekuwa is served with a side of beaten rice and comes on a leaf plate! More times than not, if you see people eating it from a leaf plate you know you have come to the right place!
Sekuwa is roasted directly over the fire on skewers and adds a smoky flavor to the meat. It's easy to get, cheap and tasty as well. It is one of the most sought-after street foods in Kathmandu and you can find it around Patan and Basantapur. For Rs.40-50 you'll get 7/8 pieces with puffed rice and lemon.
Nepal loves rice – in all and every form. Lean more about the crazy ways rice is used in Nepal.
4. Lassi in Indrachowk: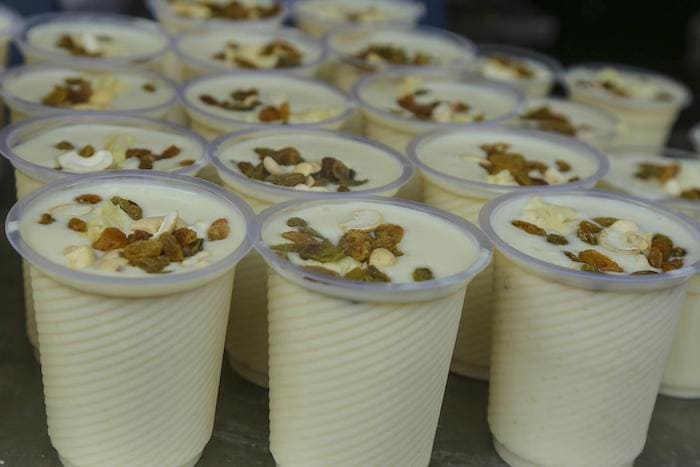 Lassi is a popular thick yogurt sweet drink. It is made from sweetened curd and topped with khuwa (condensed milk), raisins, cashews, and almonds. They are available in almost every part of the city but the best ones are located at Indra Chowk. The Lassi shop next to the temple and across the street sells the best Lassi in all of Kathmandu!
Did you hear about the yogurt curse that brought down the Royal Family in Nepal? Read about the curse in our article: Royal Massacre in Nepal.
5. Malpuwa: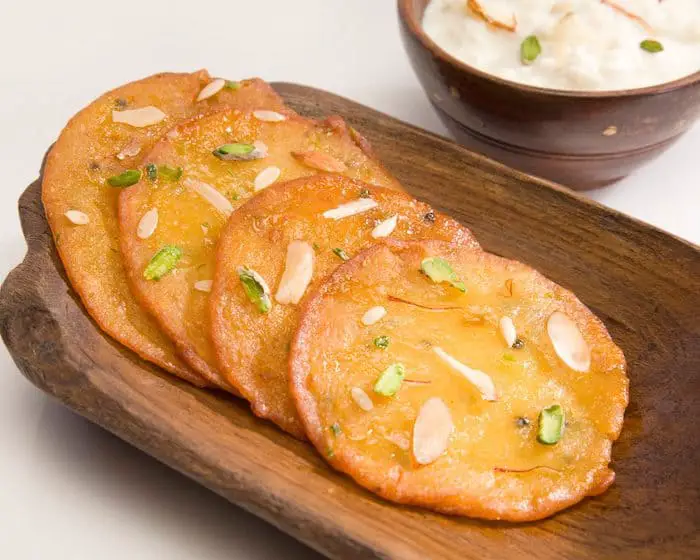 Popular breakfast of Nepalese, Malpuwa is a sweet deep fried pancake. it can be either as a snack or a dessert. They have crispy edges and a soft juicy center that will make you want more. If you're in Patan in the morning, grab yourself a malpuwa and tea and enjoy as the day starts in the city. You will them anywhere from thick and fluffy to thin and crispy either served plain or dunked in sugar syrup.
6. Gwaramari: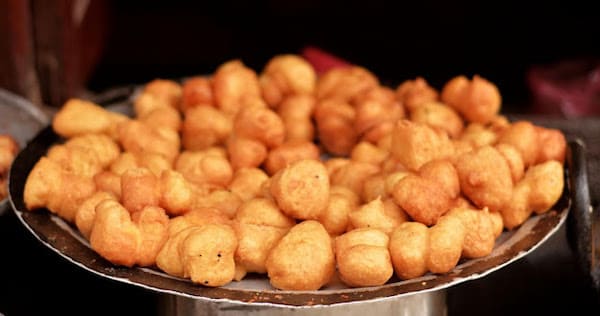 Gwaramari is a traditional Newari round bread ball. In Newari, "Gwara" means "round" and "Mari" means "bread". These balls are crunchy on the outside and soft and moist on the inside. Gwaramari tastes better when eaten warm and loses its taste if eaten cold. Gwaramari is made in the early morning and sold fresh! They are super light and have less sugar which makes a great breakfast to enjoy with your tea!
Want to learn more about sweet-tasting Newari dishes? Have a look at our Newari Yomari blog and learn how to make them at home!
7. Laphing: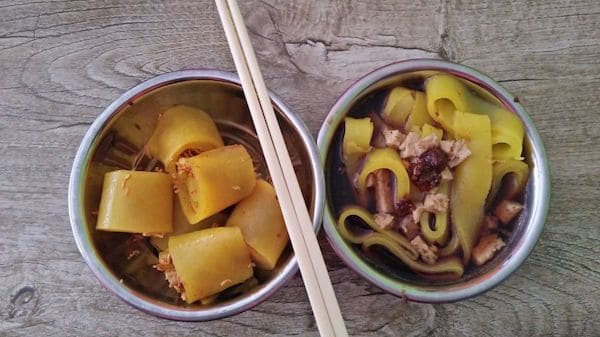 A dish that brought new flavors to the streets of Kathmandu. Laphing is a cold noodle, which is a flat, jelly-like texture that is served on a mixture of vinegar, dried chilies, and soy sauce. It has a peculiar taste, and slippery texture, and the spices explode in your mouth. The noodles however do not have any flavor of their own but mixed with the soup makes an interesting combination on the palate. Making it an interesting and delicious dish worth trying.
The best place to eat Laphing is Boudha, Swayambhu, and Patan. You can easily find shops specifically selling Lahping on these streets.
8. Samosa: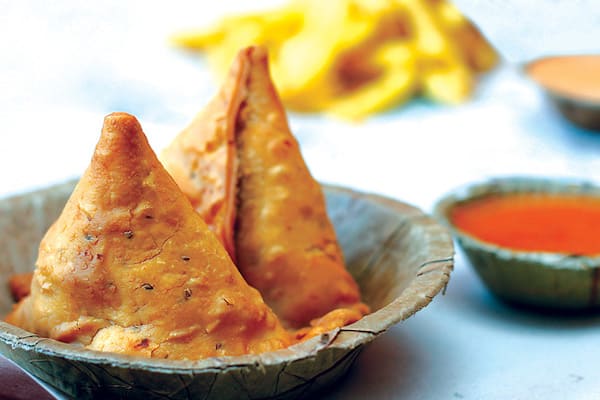 Samosas are triangular-shaped deep-fried savory pastries filled with mashed potatoes, chickpeas, onions, and spices. Samosas can be served as a vegetarian or meat dish. The samosa is served with achaar or sweet and sour tamarind chutney. They make a hearty and delicious snack in the streets of KTM! Once again, as the picture shows, the best Samosas are found in leaf plates!
9. Samosa Chaat: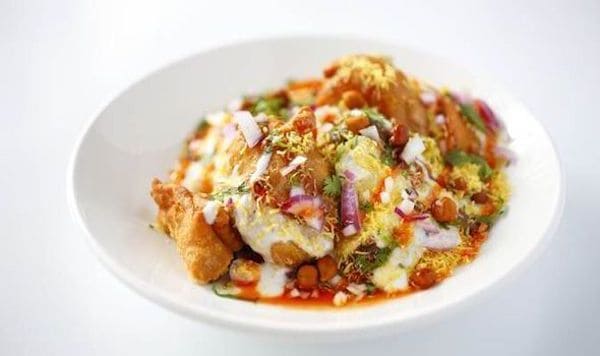 I love Chaats! There are many different chaats available but Samosa Chaat made my list. For the samosa chaat, the samosa is crushed and mixed with pea spice mix, chili, and onions. If that wasn't already enough, the Samosa Chaat is topped with chole (chickpea curry), sweet yogurt, bhujiya (crispy potato snack), and sweet and sour tamarind condiment. This Samosa Chaat is bursting with flavor, and texture, and is a tangy and spicy treat.
The best place to eat Samosa Chaat is Tip Top Sweets and Angan, at New Road!