Rice has an important role in Nepal not just for being a food staple, but also for an array of other auspicious events. If you have ever been to Nepal, or have heard about the country, you may have a good idea about the role rice plays in the Himalayan country. Even though in many western countries, rice is not eaten as much, the majority of Nepalis still feast on the white grain every day – and usually twice a day at that!
As an expat living in Nepal for the last five years, I have ate my fair share of rice – sometimes twice a day! Rice has a special place in Nepali culture and as a staple of many families in Nepal, rice is an important component of Nepali livelihoods! Moreover, eating rice, of Dhal Bhat as a tourist in Nepal, can be a great way to travel on a budget. If you want to find out more about the cost of traveling in Nepal, then check out my blog about how much does it cost to travel in Nepal!
To give you insight into just how important rice is culturally in Nepal, I have come up with five different ways rice is a must-have staple for Nepali heritage! Without wasting any more time, let's dive into Nepal's Love story with rice!
There are three different words to describe rice in Nepal:
In the English language, we have one word for rice and it's 'rice'. It doesn't matter which form it is in. From the plant to being processed, and all the way to it being cooked, we know the white grain as being rice!
However, that is not the case in Nepal. Whereas, Nepali – which is the national language of Nepal – they have three different words to describe rice in its various forms. The three stand alone words are:
1. Dhan:
Dhan is when the rice is still in plant form, or when it is still in its unprocessed state – i.e. after being thrassed and taken off the plant.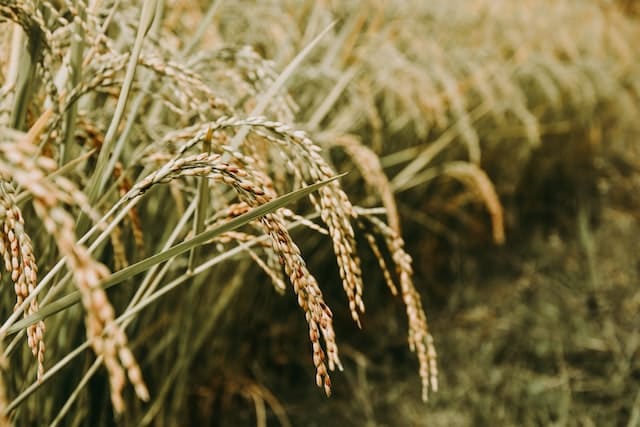 2. Chammal:
Chammal is rice in the uncooked form. Another way to put it is if you have run out of extra rice at home, you would go buy fresh uncooked rice, or in Nepali, you would buy Chammal.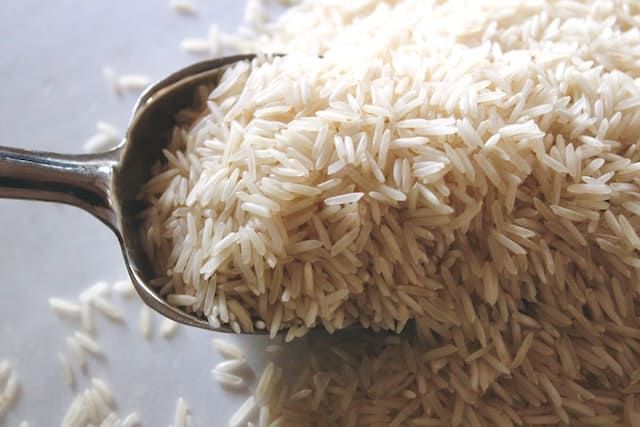 3. Bhat:
Anyone that has traveled to Nepal, or has had the famous Nepali dish 'Dhal Bhat' knows all too well about what bhat is. Bhat is the cooked or fully edible version of rice. And is what the majority of Nepali people eat at least once a day. Dhal Bhat power 24 hours!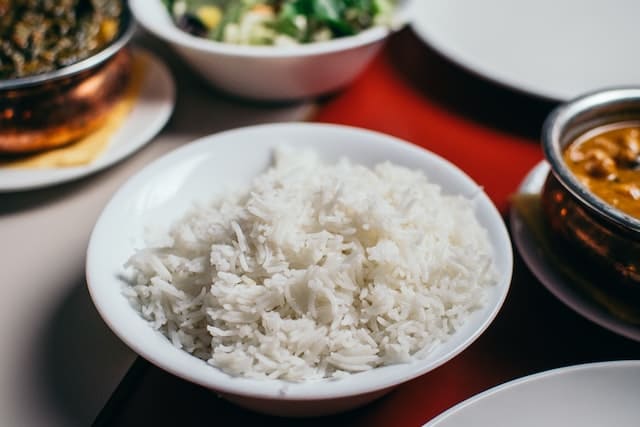 These are the three different words used to describe rice that is in grain form. However, the vocabulary for different types of rice, or rice in different forms has even more than just the three listed above! I told you, Nepal loves its rice!
Rice Planting Festival / Paddy Day: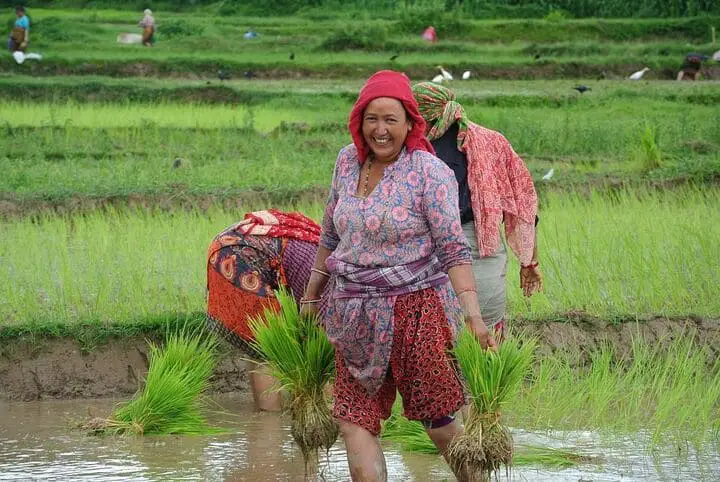 Rice is not only something to eat in Nepal but something to celebrate. The rice planting festival in Nepal has evolved from an important day for subsistence farmers, to something that attracts foreigners and tourists alike. National Paddy Day in Nepal, or राष्ट्रीय धानरोपाई दिवस, Rastriya Dhanropai Diwas, in Nepali, is a national festival that signifies the beginning of the rice planting season in the Himalayan country. 
With the start of the monsoon in Nepal each year, the country celebrates National Paddy Day, on Asar 15 – during the end of June or the beginning of July (use our Nepali calendar (Nepali Patro नेपाली पात्रो) tool for the exact day!) With Paddy day became a national holiday in Nepal in 2005, people all over the country celebrated by planting the rice seedlings in their fields that have been prepared to be rice paddies.
Rice planting has become a significant tourist attraction in Pokhara as it allows for foreigners to get down and dirty to plant rice. What usually begins as a cultural experience, learning about how and where rice is grown, quickly turns into a mud fight. With the rice paddies full of water and fresh mud, everything quickly turns into a big mud fight with mud balls the size of snowballs getting hurled around.
Of course, no festival in Nepal is ever complete without some food. National Paddy day in Nepal is also celebrated by feasting on a traditional Nepali dish 'Dahi Chirua' – a combination of curd and beaten rice – while everyone is covered in mud. Additionally, the day is marked with singing and dancing, as any good celebration is!
Rice Pudding in Nepal: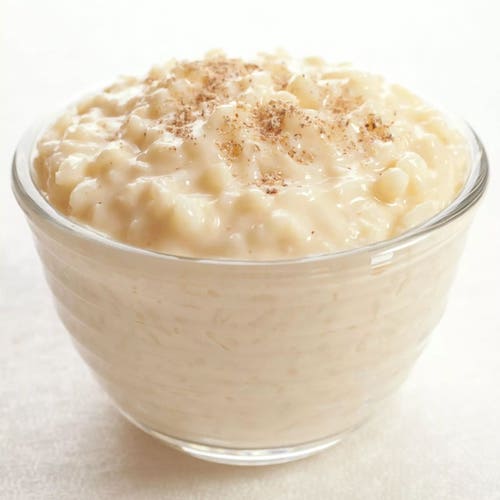 Rice Pudding, or Kheer in Nepali, is an auspicious dish that is essential for many festivals and celebrations in Nepal. From marriage ceremonies, parties, funerals, or even more specific events like Vijaya Dashami or Mata Tirtha Aunshi (Mother's Day). Additionally, and perhaps the most famous is during Kheer Khane Din – which means Rice Pudding Day – and is celebrated on Shawan 15 (end of July, early August). And as you may have guessed, the day is celebrated by eating rice pudding!
Rice pudding day is celebrated to celebrate Shrawan which typically marks the end of the rice harvesting season. With rice freshly harvested and people's livelihoods for the year set, they offer up rice pudding as a holy offering to the deities as well as save a little to enjoy themselves.
Khir is also regarded as a pure food in Nepal, as it is rice cooked in milk and is usually consumed as a dessert or side dish with puri or sel roti. If you are looking to make some Rice pudding for an upcoming event, and just to enjoy yourself, here is a recipe you can follow! 
How to make Nepali Kheer / Nepali Rice Pudding
Here is how to make the easy and delicious dessert of Kheer! The Ingredients to make 1 cup or 240 ml of Nepali Rice Pudding are:
Rice Pudding Ingredients:
Rice – 1 cup
Milk – 2 cups
Ghee – 1 tablespoon
Sugar – Half cup
Cardamom – 1 Tablespoon
Cashew Nuts – add to taste preference
Raisins – add to taste preference
Big Cardamom (Eliechi) – add to taste preference
Want to learn more about some of the different spices listed above? Check out my round-up of 11 spices in Nepal!
Rice Pudding Cooking Directions
Here are 9 steps to learning how to cook Nepali Rice Pudding:
Soak the rice for one hour before doing anything
In a heavy bottomed pot, melt and heat the ghee
Fry the nuts like cashew, etc. in the ghee and put them aside
In the same pot, boil the milk and add sugar to it
Crush the cardamom and add it also to the milk
When the milk has come to a boil and reduced a little, drain the soaked rice and add it to the pot
Stir every once in a while, so the kheer doesn't stick to the pot
Cook the rice for another 25-30 minutes, until thick and creamy.
Garnish with chopped nuts and serve hot or cold
Nepali Rice Wine: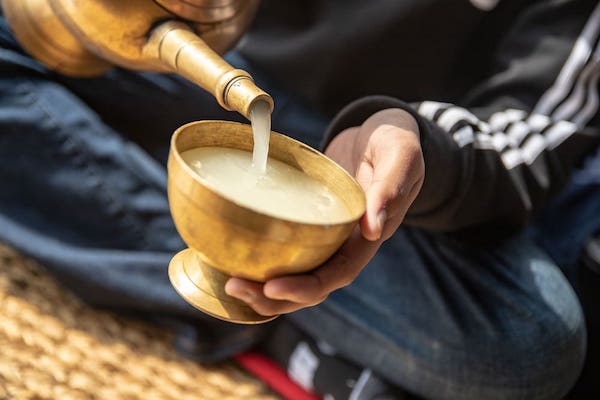 Staying on the theme of rice-inspired food, next up in Nepal's love affair with rice is Rice Wine. Which is commonly known as Raksi or Chhyang in Nepali!
As you may know, Nepal has an array of exotic tastes and cultural foods, which blends together different types of drinks and foods, for an amazing feast! Chhayang or raksi, is a great example of this, as the alcohols are both home brews that utilize fermented rice to intoxicate their consumers. 
These home brews are passed on from generation to generation with no hard fast recipe. Whereas the person brewing the milky white liquid has the freedom to make it a little bit stronger, or more mild depending on the occasion and who it's for. Chhyang is an alcoholic beverage in Nepal that has taken over the world of liquor from both locals to tourists alike. With its unique aroma and color, many people are mesmerized by the experience as they digest the home-brewed alcohol.
Chhayang is not only something to have on a night out, but also during ceremonial functions as well. A relatively easy drink to brew, lots of people in Kathmandu, as well as the villages brew the drink for various occasions.
Looking to find out more about the exotic flavors in Nepal? Check out my weirdest foods in Nepal blog, to find out if you have the stomach to eat something new! Or you can try something a little more mild with our list of best street food in Nepal!
How to make Chyang:
Looking to try your hand at brewing some of Nepal's most delicious rice wine? Check out the common ingredients and recipe below:
Rice Wine Ingredients
The three ingredients needed to brew Chyang include:
Five cups of white rice (any white rice is okay except basmati, which would not work very well).
The normal amount of water you would use to cook your rice.
One full tablespoon of yeast mold mixture (marcha/mannapu)
Rice Wine Brewing Directions:
Brewing Chyang is relatively easy to do as it does not require too many steps. However, getting that perfect taste is much more difficult. Below are the seven steps to brewing Chyang at home:
First, you will need to soak the rice for a few hours (2-3) and then steam it (the rice should be semi-cooked).
Spread the semi-cooked rice grains on a clean flat surface for some of their moisture to dry. While waiting for the rice to dry, you should break apart some of the clumps and balls of rice. Once the rice is cool to the touch, you can use your hands to make sure the rice is loose and broken apart.
Grind enough marcha (yeast) to fill one full tablespoon to a fine powder.
You want to cool the rice down so that there is just a little bit of warmth left. If the rice is too hot when you add the yeast, you will get sour chhyang. If the rice is too cold, it will take longer to ferment, which is okay, if you have time.
Sprinkle the ground-up marcha over the rice, then mix it in very well with your hands (clean hands!).
Pour the rice mixture into your prepared container.
Next, make sure to seal the container and store it for 2-3 days until a sweet aroma is evident. 
The last step is to make sure the mixture is stirred once or twice a day for about two to three weeks.
Nepal Rice Feeding Ceremony / Nepali rice feeding ceremony
The final rice-related fact for Nepal we will highlight in this article is the Rice Feeding Ceremony or Pasni in Nepali, that babies go through. This small ceremony is the weaning ceremony is a tradition that has been happening for centuries in Nepal, where the baby's maternal grandfather feeds the child rice for the first time.
The rice feeding ceremony is conducted after five months for girls, and six months for boys. Moreover, the particular date for when the event is supposed to occur is chosen by a Hindu astrologer that chooses an auspicious date based on the stars and the planets. This is typically the first big event in the young child's life, and all of their closest relatives are invited to witness the event and celebrate with the family.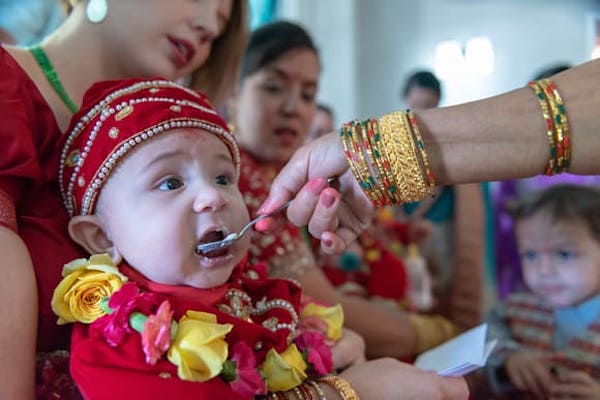 Rice is considered an easily digestible food and thus is one reason why the white grain is chosen. However, the other reason, as you have read about thus far, is that rice plays an important role in Nepali culture and heritage. 
The ceremony is practiced by almost all ethnic groups in Nepal but slightly differs depending on the religion and caste of the family. Whereas, if the baby is Gurung, Magar, Brahmin, or Kshatris, they will more than likely be consuming Khir (rice pudding) as their first meal. On the other hand, if the baby's family is Newar, the baby will have one main rice dish presented to them, as well as 84 other smaller dishes served around the main dish!
The rice feeding ceremony has grown into a lavish event for the family. Whereas, historically, the Pasni was very traditional and smaller in size. It has not become an event where friends and colleagues can also pay their respects to the family, and shower the child with gifts, toys, and new clothes. 
However, no matter the size of the party, the Pasni is an auspicious day for the baby and the mother, as, after breastfeeding the child for the previous six months, the mother is now asking the gods to bless her child as they enter into the world of solid food.
Nepal and Rice – An evolving love story
Nepal has a deep connection with rice, both in terms of culture and heritage. As you have seen in the five examples above, rice is used for almost everything, and represents important events in someone's life. As time goes by and Nepal's culture continues to evolve, we may see the emergence of different uses of rice in the country. For example, even though Paddy day in Nepal has been an important event in the country for centuries, we are now seeing it being commercialized for tourists.
There are many other unique uses of rice in Nepal, and they will continue to grow! If you know of any other amazing or exciting ways rice is used in Nepal, let us know in the comments below!