How much does traveling to Nepal cost? It is one of the most price friendly countries in the world to visit. As of mid 2022, Nepal ranks 127 out of 137 countries for cost of living. Moreover, in 2016 Pokhara ranked number one for budget destinations in South Asia. So how much will a trip to Nepal cost you? Well, a budget friendly traveler can easily get by on around $20 per day.  
You saw that correctly. When planned correctly, a traveler can expect to pay about $20 per day – I have even got by on around $15, but this is being extremely frugal with your decisions. From food to hotels, and even entertainment, you can get a great bang for your buck, as long as you know where to look!
In this blog I discuss how much a trip to Nepal will cost you from budget traveling, to luxury traveling. I give a breakdown of the different things you can expect to pay for during your vacation and how much they will cost. Finally, I use my five years of living in Nepal as an expat to help you get by on a tight budget!
Let's get right into it!
Is visiting Nepal expensive?
No! Visiting Nepal is actually quite cheap to travel in. As a budget traveler you can expect to pay around $20 per day. You can get a cheap hotel for $7 per night and pay $10 per day on food.
If you are really pinching pennies, you can get by on even cheaper than this. However, you will find the quality of hotel rooms to be quite low. I would recommend skimping on the food and getting a better hotel room. Whereas, for food you can find Khanna (Dal Bhat and Tarkari) a traditional food in Nepal for around NPR 100.
Although traveling on such a tight budget is possible it is not recommended as you will be missing out on a lot of great food, hotels and experiences.
How much money do I need in Nepal?
As a budget traveler in Nepal it will cost $20 per day. A mid-range tourist can expect to spend $40, and luxury traveling about $100 per day. This includes the cost of food, hotel, and entertainment.
These prices include food, hotel, and entertainment. However, they do not include the price of a tourist visa that is needed in Nepal – which ranges from about $1-2 depending on the length of stay. Check out my article about tourist and arrival visas in Nepal for more information about how much visas can cost in Nepal.
If you are wondering how much money you will need in Nepal, you can have a look at the breakdown of costs in the table below:
| | Budget Travel | Mid-range Travel | Luxury Travel |
| --- | --- | --- | --- |
| Food | NPR 200 – 400 | NPR 1,500 – 3,000 | NPR 3,500 – 7,000 |
| Hotel | NPR 500 – 1,000 | NPR 1,500 – 2,500 | NPR 5,000 – 10,000 |
| Transportation | NPR 100 – 200 | NPR 500 – 1,500 | NPR 2,000 – 5,0000 |
| Total | NPR 2,000 | NPR 7,000 | NPR 20,000 |
All prices are in NPR and per day for a single person
The amount of money you will need on a trip in Nepal greatly fluctuates depending on the type of traveler you are, and how you want to spend your time. For example, you can easily get by walking everywhere, buying cheap but filling food, and staying in inexpensive hotels. 
You can also spend your time experiencing the natural beauty as well as visiting some of the temples and other culturally significant places in Nepal for free – without having to pay entry fees.
On the other hand, you can take private cars, or even fly to your different destinations, and pay significantly more for transportation, but saving a lot of time.
Budget traveling to Nepal:
Budget traveling in Nepal is extremely accessible, and travelers can easily experience Nepal in a cost effective way. If you are curious about getting the most bang for your buck while visiting the country, you can check out my blog: How to travel in Nepal on a budget!
As a budget traveler, you can visit the country on about $20 per day – including food, hotel, and entertainment. Depending on the city you are staying in will greatly impact the amount of money you will need. For example, when deciding between Kathmandu or Pokhara to visit, you will find that Kathmandu is a much cheaper place to visit and live in.
For example, I lived in Kathmandu for over a year, and was able to live off of NPR 20,000 per month. My breakdown of expenses every month were as follows:
Rent and Utilities: NPR 8,000
Food for Cooking at home: NPR 6,000
Entertainment: NPR 3,000
Transportation and miscellaneous: NPR 3,000
If you decide to save money and stay in Kathmandu, here are some tips to stay on a budget:
1. Eat Dhal Bhat at a small local restaurant, everyday and twice a day! 
It may sound kind of bland eating the same thing everyday, twice a day. But, it's actually what the majority of Nepalis eat everyday. Moreover, it varies from day-to-day as you will have different vegetables and curriers.
If you find the right local place, you can spend NPR 100 – less than $1 – and get an all you can eat helping of vegetables, rice and lentils. For extra NPR 20, you can get a fried egg, completing the dish and making it that much more filling!
2. Take local transportation, walk, or buy a bicycle:
Traveling around the city can get expensive. The best way to save money on your trip in Nepal is to avoid private cars, taxis, luxury buses and flights. Walking or buying a bicycle (if you plan on a long term trip) can help significantly reduce your travel costs. Moreover, it helps you to see more of the city, and stop at some of the smaller places in the city that you would otherwise miss.
For local transportation, you will be looking to pay between NPR 20 – 100 depending on the distance. This is also a great way to reduce costs in the city. This type of transportation can be a little slower however, as you will be making multiple stops around the city. A much faster way to travel economically is to use a motorcycle taxi service, which is called Pathao. You can book a motorcycle, and zoom around the city for anywhere between NPR 100 – 200.
3. Find a hotel, but don't book online:
The prices you will see online for hotels are significantly inflated. They typically charge NPR 1,500 to 2,000 more than what you can get as a walkin. If you can handle the pressure of not having a hotel booked before you arrive, you will be pleasantly surprised with the amount of money you can save. 
If you can't handle the uncertainty, you can also book a hotel for a few nights and then change later. That being said, I strongly recommend finding a hotel, and booking it in person to save a lot of money. Don't worry there are millions of places to stay in Kathmandu and Pokhara, you won't have any problem finding somewhere to stay.
These three tips will help you save a lot of money if you are trying to plan a budget friendly trip to Nepal. Now let's discuss how much a trip to Nepal would cost for an average/mid-range traveler.
Average / Mid-range Cost to travel to Nepal:
A mid-range traveler can expect to pay around NPR 7,000 per day. This includes staying at a comfortable hotel for around 2,000 rupees, and enjoying a mixture of traditional dishes as well as western food from high-quality restaurants.
Currently I live in Pokhara Nepal, where I would define my lifestyle as a mid-range traveler. I spend around 70,000 per month. It includes a fully furnished apartment, eating at restaurants on Lakeside at least once per week, all utilities, petrol for my scooter, and entertainment.
By no means do I live a lavish life, but it is a comfortable lifestyle full of plenty of variety and excitement. By staying in an apartment as opposed to a hotel, I am able to spend considerably less on housing (about NPR 900 per day). Moreover, as mentioned above, I was able to save a good amount of money on rent because I found the house, and then asked for the price in person (the apartment is listed at NPR 1,700 per day online!)
To elaborate on what a mid-range budget would look like for a traveler staying in Pokhara see the table below.
| Travel Item | Cost in NPR per day |
| --- | --- |
| Food | NPR 2,000 – 4,000 |
| Hotel | NPR 1,500 – 3,000 |
| Transportation | NPR 500 – 1,500 |
| Entertainment | NPR 2,000 – 5,000 |
| Total | NPR 13,500 |
Staying in Lakeside, Pokhara is significantly more expensive then staying in Kathmandu
Luxury traveling in Nepal: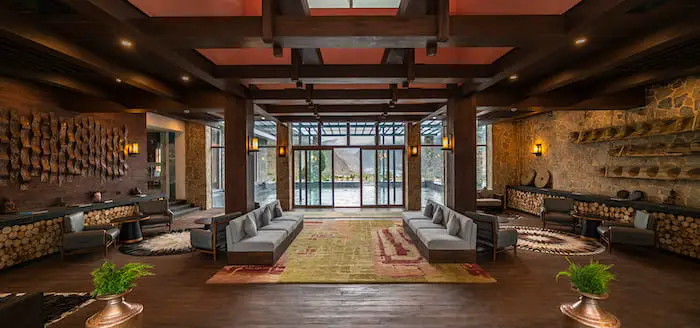 Although Nepal is a cheap country to travel to, that doesn't mean you can't travel in luxury as well. Whereas, you can find hotels in Kathmandu and Pokhara over $200 per night. This is only the tip of the iceberg as well.
For example, if you wanted to stay in one of the best resorts in Nepal, you could visit Shinta Mani in Mustang which charges a staggering $1,700 per night! If that wasn't luxury enough for you, then make sure to check out the cost to climbing Mount Everest. With some travelers booking custom treks that cost upwards of $200,000!
Personally, I have never traveled in luxury, as the mid-range lifestyle has always been more than enough for me! However, I do know how I would live the luxurious life in Nepal if I was to do so.
First, I would take a plane everywhere I decided to go. With domestic airports scattered around the country, it's much more time effective to take a plane from Kathmandu to Pokhara, Chitwan, Lukla, Surkhet, and so on – right now I drive on my scooter throughout the country.
Second, I would step up my fully furnished apartment level! As mentioned, I am currently staying in a fully furnished place for NPR 27,000 per month in Pokhara. But, for luxury, I would stay in the NPR 80,000 per month apartment that comes with everything including a kitchen with an oven, microwave, and dishwasher.

Finally, I would buy more imported foods. For example, it is quite difficult and expensive to find good cheese in Nepal. Most of the finer cheese that is available is imported, and thus carries a hefty tag.
A luxurious life in Nepal, includes more than most travelers could ever imagine needing, but it is available.
Costs associated with traveling in Nepal:
To wrap up this blog, I want to highlight the main components you will need to spend money on in Nepal.
1. International Flights:
The cost of flights greatly differs depending on where you are flying to. However, since Nepal offers visas on arrival, it is best to couple your trip to Nepal with another country in Asia, to save on airfare. 
Another way to keep costs low during your trip to Nepal, is to come during the offseason. During the offseason you will get better deals on international flights as well as hotels, entertainment and domestic travel. Off season is from December to February and June to August.
2. Visas:
Almost all tourists (except Chinese, and Indian, as well as some SAARC Nationals) will need a tourist visa. Visas on arrival are available and they are relatively cheap. The cost of a visa in Nepal is 15 Days – 30 USD, 30 Days for 50 USD, 90 Days for 125 USD.
3. Hotels:
The prices for a hotel range widely. On a budget, you can spend around $5 to $8. I typically stay in a hotel that costs around $8 as they seem to be cleaner, and will have hot water. Of course you can find hotels much more expensive than this. 
I would say the average tourist pays between $8 and $13 per night for a hotel.
4. Transportation:
Transportation can vary from costing nothing – if you walk everywhere – to about NPR 3,000-5,000 per day if you are taking a private car or taxi to see the city.
The best option is to use public transportation to get around the city. However, it can be overwhelming, especially if you are traveling in Nepal with a family. Public transportation can cost between NPR 30-100 for a one way journey, per person. On the other hand, a taxi will cost 500 at minimum to get around (make sure to negotiate the price, or tell the driver to use the meter).
If you are looking to get to Pokhara from Kathmandu, you can find a bus or micro (a big van) for around NPR 500 up to 2,500 for a luxury tourist bus. Just remember a bus will take about 8 hours to reach Pokhara from Kathmandu. 
A plane will cost a lot more ($100), but you will reach Pokhara in 30 minutes. So if you are short on time, but flush on cash, taking a flight may be the best option.
5. Food:
Food is one of the cheapest things in Nepal. You can easily find Rice and lentils (Dhal Bhat and Takari) for about NPR 100. This is definitely the way to go on a budget, as it is all you can eat. This will fill you up easily, and it's also quite delicious!
If you are looking for a mid-range restaurant with a variety of different food (pizza, burgers, Korean, etc.) you will be paying about NPR 500 per plate. For example, today I ate at OR2K at Lakeside, a popular restaurant in Pokhara and Kathmandu and spent NPR 2,000 for two people. We ate, a Hummus platter with Naan (personal favorite!) two Mochaccinos, and a Chocolate Soufflé. It was more than enough to keep us satisfied for the entire day.
On average, you can get by with food spending less than NPR 1,000 per day eating traditional Nepali food as well as eating street food.
6. Entertainment/attractions/tickets:
Entertainment can get quite expensive, especially if you are looking to do some adventure sports like paragliding in Pokhara, riding a hot air balloon or going trekking. For example, paragliding will cost you NPR 8,000 for a 30 min ride. That being said, most of these activities are a one time thing, and you won't rack up a hefty bill for these during your trip.
Attractions like the Annapurna Cable Car or boating can also be slightly expensive. For example, for foreigners, the cable car will cost NPR 1,100 for a round trip. Which is on par for many of the other attractions in Nepal.
Finally, you will also have to pay for tickets to different temples and auspicious areas. You may pay anywhere from NPR 100 to 1,000 for an entry ticket into places like Pashupati and Swayambhu in Kathmandu. 
7. Trekking Permits:
If you decide to go on a trek in Nepal, you will need a trekking permit. First, you will need a TIMS pass which will cost you NPR 2,000. The pass can be bought in both Kathmandu and Pokhara.
Additionally, depending on the region you go to in the Himalayas, you will need an additional permit. These additional permits can cost anywhere between $20 and $500. To see just how much you can expect to pay for your passes, make sure to take at the Government of Nepal's Trekking Route and Permit Fee page.
8. Travel Insurance:
The final expense that you can expect to endure while traveling in Nepal is travel insurance. Whereas, to trek in Nepal and get your trekking permits, you will require proof of trekking insurance. Depending on the coverage that you get, you can pay a wide range for insurance. To get more information check out my article that covers everything you need to know about travel insurance. 
Key Takeaways: How much will a trip to nepal cost?
One of the most common questions I hear from people wanting to travel to the last Hindu Kingdom is: How much will a trip to Nepal cost? Luckily for travelers, Nepal is a budget friendly place to visit. With costs being as low as $20 per day.
If you are smart about where you are staying, what types of food you are eating and how you are getting around the country, you will be able to save a lot of money. Make sure to follow the tips I mentioned in the budget friendly section. If you are in need of some more Nepal travel tips, then make sure to check out that blog! 
Let me know if you have any other budget friendly ways to travel around Nepal, or if I missed anything in this article! Happy traveling friends!