When thinking about how hard is it to climb Everest, you may be surprised to find out that the cost is more of a deterrent than the physical demand! With a hefty price tag upwards of $50,000, it is difficult for many to cover the cost to climb Mount Everest.
The biggest contributors to the high price of climbing Everest are type of guide and expedition, travel expenses, permits and insurance, and the costs of supplies and equipment.
In this run down I cover everything these is to know about how much it costs to climb Everest?
Cost to climb Mount Everest:
As of 2023, the average cost per climber for a standard supported climb is between USD $40,000 and $50,000. With some climbers paying upwards of USD $160,000 for fully custom climbs on Everest. Budget climbing is also available, but it includes severe risks. Budget climbing Everest can cost you around USD $30,000 per climber.
Cost per Expedition team as of 2023:
The table below shows the cost associated with climbing Everest for 35 expedition teams. Moreover, the average price was $50,875, with a median cost of $47,995.
| SN | Expedition Team | Cost (USD) |
| --- | --- | --- |
| 1 | 14 Summits Expeditions | $33,500 |
| 2 | 360 Expeditions (Sherpa) | $44,995 |
| 3 | 7 Summits Expeditions | $32,500 |
| 4 | Adventure Alternative | $55,000 |
| 5 | Adventure Consultants | $73,000 |
| 6 | Adventure Peaks | $57,685 |
| 7 | Alpine Ascents Institute | $70,000 |
| 8 | Alpine Sherpa Guide Treks | $55,000 |
| 9 | Ascent Himalayas | $45,000 |
| 10 | Asian Trekking | $36,000 |
| 11 | Asiana Nepal Treks and Expeditions | $33,450 |
| 12 | Bochi-Bochi Trek | $34,500 |
| 13 | Climbing the Seven Summits (Sherpa) | $47,995 |
| 14 | Elite Exped | $48,170 |
| 15 | Everest Expeditions Nepal | $35,500 |
| 16 | Friendship World Trek | $40,000 |
| 17 | Furtenbach Adventures | $70,036 |
| 18 | Furtenbach Adventures (express) | $100,095 |
| 19 | Go For Nepal Treks and Expeditions | $38,999 |
| 20 | High Himalayan Climbing and Expeditions (group) | $46,000 |
| 21 | Highland Expeditions | $39,999 |
| 22 | Himalayan Glacier Adventure and Travel Company | $65,000 |
| 23 | Himex | $67,021 |
| 24 | Hohenbergsteigen (express) | $71,995 |
| 25 | Imagine Nepal | $45,000 |
| 26 | International Mountain Guides (Sherpa) | $49,500 |
| 27 | Jagged Globe | $64,220 |
| 28 | Madison Mountaineering | $75,000 |
| 29 | Mountain Professionals (Sherpa) | $49,500 |
| 30 | Pioneer Adventures | $47,500 |
| 31 | Satori Adventures | $33,250 |
| 32 | Seven Summit Treks (Sherpa) | $34,000 |
| 33 | SummitClimb (Full Service) | $38,450 |
| 34 | Tim Mosedale | $48,750 |
| 35 | White Hill Adventure Treks and Expedition (Group) | $54,000 |
| 1 | Average Price | $50,875 |
| 2 | Median Price | $47,995 |
Cost of climbing Everest for 35 different expedition teams
What does the cost to climb Mount Everest include?
The cost to climb Mount Everest in Nepal has continued to increase in price, with no sight of slowing down anytime soon. Especially, with Nepal set to increase permit prices by 2025. Moreover, although there has been a general increase in prices, the changes have not been consistent across the board. Specifically, the cost of Western-guided expeditions has risen at a greater rate compared to those led by Nepali expeditions.
With the continuous rise in price to summit the world's tallest mountain, you may be wondering what the hefty price tag actually covers. 
Average cost to climb Mount Everest [2023] – Cost Breakdown
The table below provides a breakdown of the costs associated with climbing Everest. Depending on your travel style prices will vary for the following: travel costs to and from Nepal, travel costs in Nepal, the additional gear you will need to buy, cost of travel insurance and cost of miscellaneous items (food, drinks and gifts).
Cost Category
Approximate Cost (USD)
Climbing permits
$11,000
Other climbing fees (application fees,
liaison officer, trash fee, etc.)
$1,500
Travel to base camp
$4,000
Personal Sherpa
$5,000 (per Sherpa)
Maintaining campsites
$2,000
Bottled oxygen
$3,000
Climbing gear and equipment
$7,000
Miscellaneous
$6,000
Flights to Nepal
$2,000
Nepal Visa
$125
Total
$41,625
Table breaking down the total cost of climbing Everest
Detailed breakdown of each cost for climbing Mount Everest:
The following sections provide a more in depth look into each of the categories listed above and what is included in each. 
1. Cost of Everest Climbing Permits:
Currently, Everest climbing permits cost $11,000. The permit is paid to the Nepali Government which is then used to maintain Everest, as well as the greater Sagarmatha National Park area.
Historically, people have chosen to climb from the north side (Tibet) because of cheaper permit prices, however, with recent hikes in permit prices to climb from the north (from USD $9,950 in 2021 to $15,800 in 2022) it is believed that even more people will choose to climb from the Nepali side.
However, at the end of the main climbing season in 2023, the Nepali Government announced they will also raise the price of permits, from $11,000 to $15,000 by 2025.
2. Additional Climbing Fees:
These fees include costs associated with having a liaison officer to join the expedition team at Everest base camp, paying a basic medical-support fee, contributing to the cost of installing ropes up the climbing route on the mountain (this is a cumulative fund and all climbing teams contribute to this) and finally a refundable deposit for the removal of trash and human waste from Everest.
3. Travel to Everest base camp: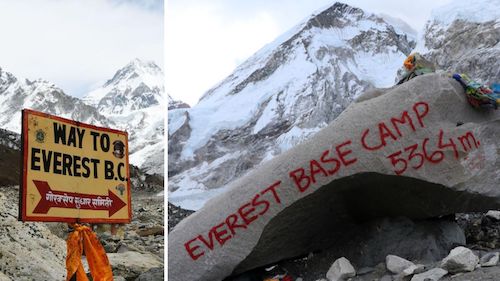 This fee covers the week-long trek to base camp and all the necessities that come with it. For example, the climber will need to pay for food and lodging during the hike to Everest base camp. Additionally, another expense that needs to be covered is the cost for hiring porters and yaks to carry all the equipment up to base camp.
4. Cost of Sherpas to Climb Everest: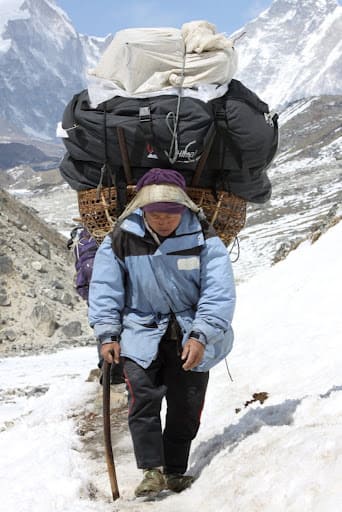 By law in Nepal, it is mandatory to have at least one Nepalese Sherpa on each team. This not only helps keep climbing culture alive and well in Nepal, but also ensures that money spent to climb Everest stays in the local economy and doesn't only go abroad with foreign climbing companies.
However, perhaps more important than the money is the fact that Sherpas are well trained and have a significant amount of experience on Everest. These Sherpas are invaluable when it comes to supporting you as a climber as well as your team.
A Sherpa will cost around USD $5,000 for the trip. Additionally, the team has to pay for the supplementary oxygen for the Sherpa as well which can cost an additional USD $3,000.
5. Maintaining campsites:
To maintain campsites it will cost around USD $2,000. The fee covers ensuring that everything is stocked and there is support staff at each location. Moreover, the total price usually includes all basic food at each of the camps. This price may fluctuate depending on which company you are working with and if you have special dietary requirements or want additional types of food.
6. Bottled oxygen: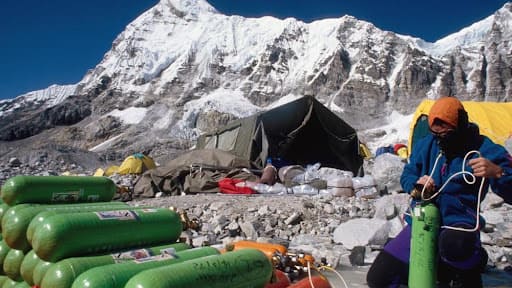 Bottles of oxygen cost about USD $600 per bottle and most companies supply five bottles to each climber. The total cost of oxygen is about USD $3,000 per climber. However, depending on the climber and their comfortability level, additional oxygen can be purchased for the climb.
7. Climbing gear and equipment: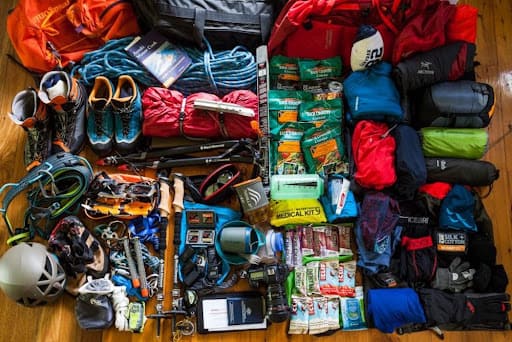 Gear is where you can experience the biggest fluctuation in price. I have put USD $7,000 for gear, as a great deal of climbers do not have the required gear, or choose to buy new gear for their Everest climb. However, depending on your current climbing equipment situation you may end up spending much less. Moreover, if you choose to go off brand, or buy cheaper equipment, you can spend much less on this as well. Just remember, saving money on climbing gear now, may end up costing you later on.
8. Miscellaneous costs to climb Mount Everest:
Some of the extra expenses you will incur are tips for the Sherpas (which are mandatory), and the different types of high altitude trekking insurance and vaccinations that you may require.
Other expenses that are not required include things like shopping for gifts and souvenirs, extra food and drinks – especially beer! – and other activities that you may want to do while staying in Kathmandu, Pokhara, or other parts of Nepal. 
Of course, if you are a budget climber, you can avoid some of these luxuries and save quite a bit of money while climbing Everest.
9. Flights to Nepal:
Depending on where you live, and how far in advance you buy your tickets, you can pay upwards of USD $2,000 for round trip flights. The current price of round trip tickets for a few common countries are:
United States to Nepal – USD $2,053
United Kingdom: – USD $945
Australia: – USD $1,198
Netherlands: – USD $1,025
10. Nepal Visa
Finally, the last required cost that you will encounter is the tourist visa for Nepal. This is required for almost all countries. It will cost USD $125 for a 90 day visa which will provide you with ample time to complete your Mount Everest climb.
Key takeaways: How Much is it to Climb Mount Everest
With current prices in 2023 around USD $40,000 per climber, it may be difficult to come up with enough money to buy your way to the top of the world.
However, the cost of climbing Everest varies significantly based on several factors. Opting for a less popular season and budget-conscious choices could lead to a price as low as USD 35,000. On the other hand, those seeking a more lavish ascent might find themselves spending upwards of USD 100,000. The spring peak climbing season tends to bring an average cost of around USD 45,000.
It's essential to bear in mind that these prices are subject to fluctuations influenced by factors such as the level of comfort you desire, the number of Sherpas you enlist, the size of your team, and your chosen guide system. Making informed decisions in these areas will not only impact your expenses but also contribute to maximizing the overall enjoyment of your climbing experience.
FAQs: Cost to climb Everest
Below are some of the most frequently asked questions regarding Everest, and how much it costs!
1. How much does climbing everest cost?
To climb Mount Everest, the cost can range from $30,000 to $160,000. The average cost to climb Mount Everest is $45,000!
2. Why is it so expensive to climb Mount Everest?
Transportation of all the food and supplies to the base camp costs a lot of money. The food and equipment must frequently be dropped off at base camp by helicopter, which comes at a substantial cost to the organizer. A good climbing team arranges for one climber and one Sherpa guide to ascend to the summit.
3. Can you climb Everest for cheap?
Expect to spend up to $30,000 on equipment and supplies for an Everest adventure   For a six-week vacation, this includes around $5,800 for food, fuel, and a cook from the area. 
4. How much is the permit cost to climb Mount Everest?
The permit cost of climb Mount Everest is $11,000 in Nepal. However, this does not include the $2,500 per expedition fee charged by a local business to arrange the permission, which is necessary under Nepalese legislation.