Sagarmatha National Park is home to Mount Everest, Earth's tallest mountain. In total the park spans across 1,148 square kilometers, and was established in 1976. Recognized by UNESCO as a Natural World Heritage site in 1979, the park expanded its reach in 2002, incorporating an additional buffer zone spanning 275 square kilometers. Notably, the park's Gokyo Lake achieved Ramsar Site status in 2007.
The National Park's terrain boasts multiple peaks surpassing 6,000 meters. Alongside these striking mountains, the landscape comprises a multitude of Himalayan glaciers, high-altitude lakes, unique high-altitude flora and fauna, and steep valleys marked by rugged topography. The park is also significant as it is part of the larger Sacred Himalayan Landscape.
Quick Facts: Sagarmatha National Park
| | |
| --- | --- |
| Became a National Park | July 19, 1976 |
| Total Area of National park | 1,148km² |
| Location of Park | North-eastern Nepal |
| Sagarmatha National Park district in Nepal | Solu-Khumbu district |
| Listed as a World Heritage Site | 1979 (Natural Site) – Site No.120 |
| Ramsar site declaration | 2007 (Gokyo & associated lake) – Site no. 1692 |
| Bioclimatic Zone Classification | Temperate-alpine-nival zone |
| Elevation of Park | 2300m- 8848.86m above mean sea level |
| Geophysical Characteristics | Mt. Everest Region, Glaciers, Valley |
| Prominent Glaciers in the Park | Khumbu, Imja, Ngozumpa and Nangpa |
| Prominent Peaks in the Park | Sagarmatha (8,848.86m), Lhotse (8,501m), Cho Oyu (8,153m), Nuptse (7,896m) |
| Mammals Living in the Park | Snow Leopard, Musk Deer, Red Panda |
| Birds Found in the Park | Himalayan Monal, Blood Pheasant |
| Prominent Tree Species | Pine, Hemlock, Fir, Juniper, Birch |
| When was the Buffer Zone Declared | January 01, 2002 |
| Size of Buffer zone area | 275km² |
| Rural Municipality | Khumbu Pasang Lamu (Ward no: 2, 3, 4 and 5) |
| Population | 7,161 (2011 Nepali Census) |
| Prominent Ethnic Castes | Sherpa, Tamang and Rai |
| Economy of the Area | Tourism, Agriculture, animal husbandry, business & Mountaineering |
Quick Facts about the Sagarmatha National Park in Nepal
Sagarmatha National Park Map:
Below is a map of the Sagarmatha National Park in Nepal. Including the buffer zone of the park, as well as the location and landcover of it.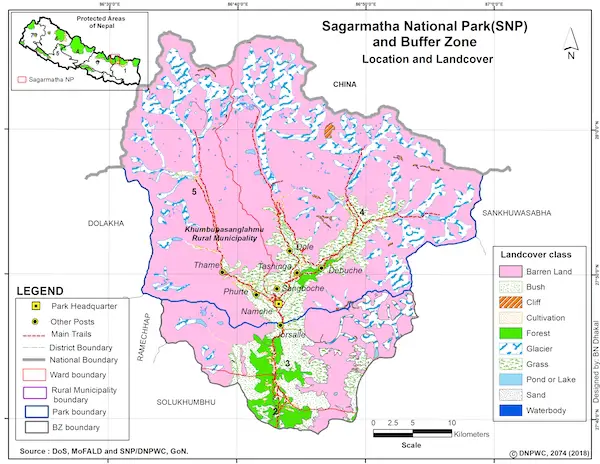 Below is a map that shows Sagarmatha National Park's location in reference to Kathmandu.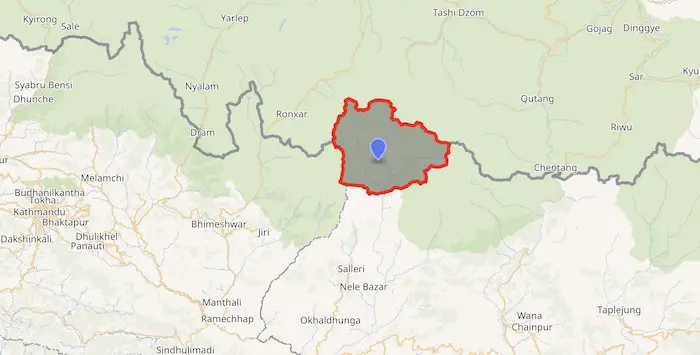 History of the Sagarmatha National Park:
Established in 1976, Sagarmatha National Park became Nepal's first national park. Subsequently, it earned a place on UNESCO's Natural World Heritage Sites in 1979. In January 2002, an additional 275 square kilometers (106 square miles) of land was added to the park as a Buffer Zone.
The Buffer Zone Management Guidelines underscored the significance of safeguarding forests, wildlife, and cultural heritage, with subsequent emphasis on conserving other natural assets and fostering alternative energy initiatives.
Sagarmatha National Park's association with tourism dates back to the early 1960s, with visitor numbers reaching around 19,000 by 2003. Notably, along the main tourist routes, approximately 3,500 Sherpa inhabitants resided in villages and seasonal settlements as of 2005.
When was Sagarmatha National Park Established?
Sagarmatha National Park was established on July 19, 1976. It was established through a government decree by the Government of Nepal. It also became a UNESCO's Natural World Heritage Site in 1979.
The declaration to establish the park was made on July 19, 1976, with the aim of conserving the unique and fragile ecosystem of the Everest region and its surrounding areas. The establishment of the park was an official recognition of the need to protect the natural environment, biodiversity, and cultural heritage of the region, which includes Mount Everest. This initiative was taken to ensure sustainable management of the area for both present and future generations while also promoting responsible tourism in the area.
Sagarmatha National Park Landscape:
Sagarmatha National Park encompasses the upstream regions of the Dudh Kosi and Bhotekoshi rivers, along with the stunning Gokyo Lakes. Its elevation ranges from 2,845 meters (9,334 feet) at Monjo to the peak of Mount Everest, at 8,848 meters (29,029 feet). Moreover, there are additional noteworthy summits above 6,000 meters (20,000 feet) including Lhotse, Cho Oyu, Thamserku, Nuptse, Amadablam, and Pumori.
Sagarmatha National Park Area:
A significant portion, approximately 69%, of the land situated above 5,000 meters (16,000 feet) is barren, while 28% serves as grazing grounds. The remaining 3% of the area is covered with forests. The park's climate extends from temperate and subalpine zones above 3,000 meters (9,800 feet) to alpine above 4,000 meters (13,000 feet). Which marks the upper limit for vegetation growth. Beyond this level, the nival zone commences at 5,000 meters (16,000 feet).
Spanning a total area of 1,148 square kilometers, Sagarmatha National Park stands to protect the natural beauty and ecological significance of the Himalayan region. Moreover, the park's altitudinal range is a key factor in its diverse ecosystems and climatic zones. The lower regions host a humid subtropical climate, while as one ascends, they encounter colder and drier conditions.
Sagarmatha National Park is renowned for being home to the world's highest point, Mount Everest, which stands at 8,848.86 meters above sea level. This iconic peak, alongside other prominent summits like Lhotse, Cho Oyu, and Nuptse. The park also encompasses the upper catchment areas of the Dudh Kosi and Bhotekoshi rivers. Which are essential water sources that sustain both the ecosystems within the park and the communities downstream.
Sagarmatha National Park's significance extends beyond its ecological value. It holds cultural importance as part of the Sacred Himalayan Landscape, where ancient traditions and indigenous communities have coexisted for generations. The park is not just a sanctuary for diverse flora and fauna; it's a living testament to the intricate relationship between humans and their environment.
Sagarmatha Park Elevation Profile:
Sagarmatha National Park encompasses an elevation that spans from 2,845 meters at Monjo to Everest's summit at 8,848 m (29,029 ft).
The park's eastern border meets with Makalu Barun National Park, while the western periphery borders the Rolwaling valley of the Gaurishankar Conservation Area. Towards the north, the park shares proximity with the Qomolangma National Nature Preserve of Tibet, while its southern expanse accommodates the Sagarmatha National Park Buffer Zone area.
Climate and weather in the National Park:
Sagarmatha National Park's terrain is characterized by its vast range of altitudes, encompassing a diverse array of climates. The lower altitudes exhibit a humid subtropical climate, while higher elevations are marked by cold and arid conditions.
During the summer months (June to August), substantial rainfall occurs at lower altitudes. In contrast, winter (December to February) brings frigid and arid weather, with temperatures plummeting below freezing. The spring season (March to May) retains some winter characteristics but introduces pockets of sunlight. Finally, during the autumn season (September to November), the sun remains hidden from the sky entirely.
The table below shows the average temperatures of the national park, as well as the average number of days it rains each month.
| | | |
| --- | --- | --- |
| Month | Monthly High and Low (°C) Temperatures | Rainy Days per Month |
| January | -8°/ -17° | 5 days |
| February | -6°/ -18° | 5 days |
| March | -5°/ -16° | 8 days |
| April | -2°/ -13° | 11 days |
| May | 4°/ -7° | 1 days |
| June | 6°/ -1° | 11 days |
| July | 5°/ 1° | 25 days |
| August | 6°/ 1° | 24 days |
| September | 4°/ -1° | 22 days |
| October | 0°/ -8° | 4 days |
| November | -1°/ -11° | 0 days |
| December | -6°/ -16° | 4 days |
Read more about the temperature and climate in the region by checking out our blog on Temperatures on Mount Everest.
How to get to Sagarmatha National Park?
Situated approximately 135 km from Kathmandu, Sagarmatha National Park offers multiple routes for access. One well-liked approach involves flying to Lukla followed by a two-day hike. Alternatively, you can opt to ride to Jiri, and take a ten-day hike. Choosing to ride to Salleri reduces the hiking duration by five days. Another route entails flying to Tumlingtar and trekking for 10 days, or flying to Phaplu and then trekking for five days. 
There is also an option to take a direct helicopter flight to destinations within the park, such as Namche Bazaar, Kala Patthar, and even Everest Base Camp.
How to get to Sagarmatha National Park From Kathmandu?
There are several routes to get to Sagarmatha National Park from Kathmandu. The most common route involves a combination of flights and treks, while other options include overland journeys.
Here are a few ways to reach Sagarmatha National Park from Kathmandu:
1. Fly to Lukla and Trek:
Take a domestic flight from Tribhuvan International Airport in Kathmandu to Lukla Airport.
Trek from Lukla for about eight to 10 days to reach Everest Base Camp (EBC).
2. Fly to Phaplu or Tumlingtar and Trek:
Take a domestic flight from Kathmandu to either Phaplu or Tumlingtar.
Trek fo anywhere between 5-10 days to reach EBC
3. Drive to Jiri and Trek:
Travel by road from Kathmandu to Jiri, which takes between 8-10 hours.
Trek for about 7 to 9 days to reach Namche Bazaar and join the main trail to Everest Base Camp.
4. Charter a Helicopter:
For those looking for a more direct and expedited option, helicopter charters are available from Kathmandu to Lukla or even Everest Base Camp.
When is the best time to visit Sagarmatha National Park?
The best time to visit Sagarmatha National Park is from October to November and March to May. During these months, the weather is great for treks and outdoor pursuits.
From June to September, the park enters its summer season, marked by heavy rainfall. Moreover, the winter months, spanning from December to February, are characterized by substantial snowfall and notably low daytime temperatures, often remaining below 0ºC.
Do people live in the Sagarmatha National Park?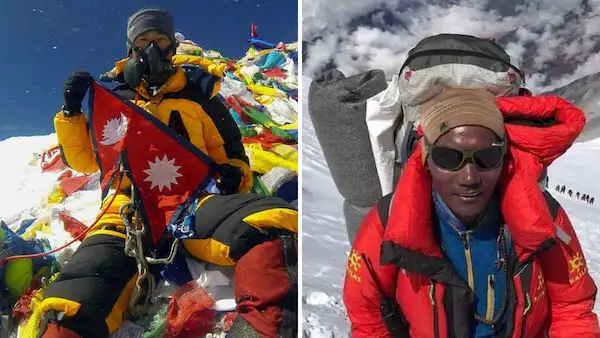 The Sherpa community are the main inhabitants that live in Sagarmatha National Park. The Sherpa people trace their origins back to Tibet, and possess a rich cultural tapestry steeped in Tibetan influences.
Situated within the park are around 20 settlements, inhabited by approximately 6,000 Sherpas. These settlements include well-known villages like Namche Bazaar, Kunde, Khumjung, Thyangboche, and Pangboche.
During the tourist season, the Sherpas from these 20 villages establish temporary dwellings along the trekking routes, warmly welcoming visitors who traverse their ancestral lands. Beyond their engagement with tourism, their way of life remains intertwined with livestock farming and agriculture, which serve as vital components of their livelihood.
What wildlife and vegetation are in Sagarmatha National Park?

Within the park's lower reaches, up to an altitude of 4,000 meters, one will encounter lush forested areas, with birch, juniper, blue pines, firs, bamboo, and vibrant rhododendron. At higher altitudes, plant life dwindles to a realm of dwarf shrubs, grasslands, and cushion plants, exemplified by mosses that prevail up to 6,000 meters. Beyond this elevation, the landscape remains devoid of any vegetation.
In terms of wildlife, the park is host to around 118 avian species, featuring the stunning Impeyan pheasant, the crimson-headed pheasant, and others. Alongside these avian residents, a selection of notable animals thrive on Everest. Including the Himalayan wolf, the Musk deer, Snow Leopard, the Himalayan black bear, and the Red Panda.
Sagarmatha National Park Animals:
Here is a list of animals you may see in the Sagarmatha National Park. For a More in depth look, check out our blog on Mount Everest Animals.
Snow Leopard
Red Panda
Himalayan Black Bear
Himalayan Tahr
Himalayan Wolf
Musk Deer
Himalayan Thar
Serow
Langur Monkey
Himalayan Pika
Marten
Weasel
Yellow-Throated Marten
Himalayan Mouse Hare
Himalayan Monal (Danphe) – National Bird of Nepal
Impeyan Pheasant
Blood Pheasant
Himalayan Griffon Vulture
Snow Cock
Snow Partridge
Common Kestrel
Himalayan Buzzard
Peregrine Falcon
Northern Goshawk
Rock Pigeon (Hill Pigeon)
Snow Pigeon
Spotted Dove
Red-Billed Chough
Alpine Chough
Yellow-Billed Chough
Kalij Pheasant
Cheer Pheasant
Golden Eagle
Lammergeier (Bearded Vulture)
Sagarmatha National Park Vegetation:
Here is a list of vegetation you may see in the Sagarmatha National Park.
Birch Forests
Juniper Forests
Blue Pine Forests
Silver Fir Forests
Rhododendron Forests (Nepal's National Flower)
Mosses and Lichens
Alpine Meadow
Dwarf Shrubs
Cushion Plants
Scree Slopes
Barren Land
High-Altitude Wetlands
Places to Visit in the Park:
Serving as the epicenter of activity within Sagarmatha National Park, the renowned Everest Base Camp trek stands as a prime pursuit. As trekkers venture along this trekking route, the sight of not only Mount Everest but also prominent peaks like Cho Oyu, Pumori, Thamserku, and Ama Dablam come into view. 
Some additional places to visit in Sagarmatha National Park include:
1. Monasteries:
Influenced by Tibetan traditions and imbued with Buddhist practices, multiple monasteries can be explored. Noteworthy destinations include the monasteries at Tengboche, Thame, Khumjung, and Pangboche.
These sacred sites also transform into vibrant hubs during festivals like Dumje and Mane Rumdu, inviting cultural immersion for visitors.
2. Gokyo Lakes:
Gokyo Lakes, designated as a Samsar site, this high-altitude lake complex comprises six stunning lakes, with Lake Thonak reigning as the largest. Camping by these waters or simply savoring a day within the park is one of the most popular things to do in the area. While camping along the lakes, visitors can take in the views of Everest and other peaks in the region.
3. Everest Base Camp: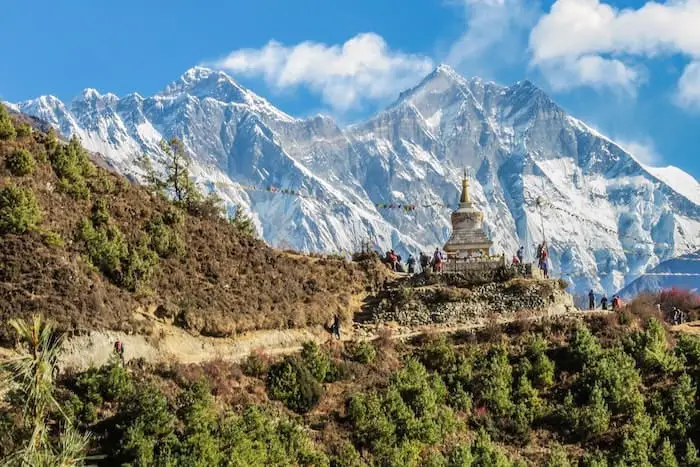 The Everest Base Camp trek is by far the most visited place in the Sagarmatha Park. As they traverse the rugged terrain and ascend to the iconic base camp, adventurers find themselves at the base of the world's tallest peak. The trek offers a unique perspective on the challenges and triumphs of mountaineering, as well as the opportunity to connect with the local Sherpa culture. 
4. Kala Patthar:
Kala Patthar stands as an essential destination for trekkers seeking panoramic views of the Himalayan giants. Positioned at a lofty elevation (5,644 m), it provides a full view of Mount Everest and its neighboring summits.
5. Sagarmatha National Park Museum in Namche Bazaar:
Located in Namche Bazaar, the Sagarmatha National Park Museum features a variety of captivating exhibits that delve into the various aspects of the Everest region, including its inhabitants, culture, geological wonders, and historical narratives. Notably, the museum proudly boasts a striking statue of Tenzing Norgay, one of the first two people to summit Everest.
How Much are Sagarmatha National Park Tickets?
To access the Sagarmatha National Park, you are required to purchase a park entry permit. These permits can be obtained either at the Tourist Service Center in Bhrikutimandap, Kathmandu, or at the designated entry points. Detailed payment information is outlined in the table provided below.
| | | | | |
| --- | --- | --- | --- | --- |
| National Parks | Nepali | SAARC | Foreigners | Child discount |
| Sagarmatha National Park | NRs. 100 per person per entry | NRs. 1,500 per person per entry | NRs. 3,000 per person per entry | Below 10 yrs free |
Please note that these prices may change. For the most up-to-date prices, check the Nepal Tourism Board Website.
Photos of the Sagarmatha National Park: