Namche Bazaar, is a famous town situated within the Khumbu Pasang Lhamu Rural Municipality in the Solukhumbu District of Province No. 1 in north-eastern Nepal. Positioned at an elevation of 3,440 meters (11,286 feet) the bazaar is a haven for mountaineers.
The distinctive geography of Namche Bazaar presents a horseshoe-shaped layout, making it an unconventional settlement. Its location is flanked by Kongde Ri (6,187m) to the west and Thamserku (6,608m) to the east. Amidst its vibrant atmosphere, the town hosts numerous hotels, lodges, three museums, a stupa, a monastery, several cafes, and well-stocked stores. Notably, modern communication facilities are available here, facilitating connectivity for trekkers on their way to Everest.
Serving as a gateway to the Himalayas, Namche Bazaar is renowned for its breathtaking panoramas of snow-capped peaks. It holds a remarkable status as one of the most economically prosperous regions in Nepal. Furthermore, the town functions as a convergence point for various trekking routes towards Mount Everest, branching off in different directions.
History of Namche Bazaar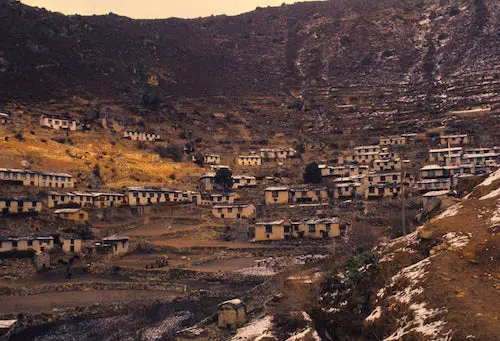 The origins of the town trace back to the 15th century, when it was established as a trading outpost facilitating commerce between Tibet and Nepal. During its initial stages, the exchange revolved around the barter of commodities like yak milk, wool, and salt in exchange for rice, tea, and grains.
As time progressed, Namche Bazaar evolved into a significant rest point for pilgrims en route to Lhasa, the capital of Tibet. Existing in relative obscurity for many generations, their existence remained hidden from the western world until the 20th century. 
Following Sir Edmund Hillary and Tenzing Norgay's historic ascent of Everest in 1953, Namche Bazaar underwent a profound transformation. Climbers and trekkers began to flock to the village in the aftermath of their achievement. The Sherpas of the area demonstrated remarkable natural strength and adaptability to high altitudes, playing a crucial role in future expeditions. Their pace often surpassed that of the Western explorers, swiftly earning them the reputation of being some of the best climbers in the world.
What is Namche Bazaar Famous For?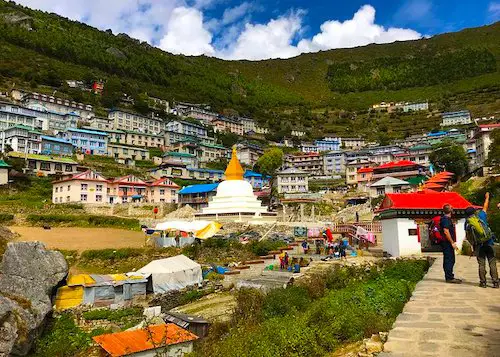 Namche Bazaar is famous for its historical significance as a trading center and celebrated for its locally produced yak cheese and butter. Namche also holds a distinctive position on the contours of an arch-shaped mountain. Finally, and most notably Namche Bazaar is the starting point of the Everest Base Camp Trek, as well as many other treks in the region.
This location grants captivating vistas of the imposing Himalayan peaks, visible throughout the valley. Amidst its evolution, Namche Bazaar preserves its age-old culture, enduring traditions, and the warm and welcoming hospitality that characterizes the region.
How To Go To Namche Bazaar From Kathmandu?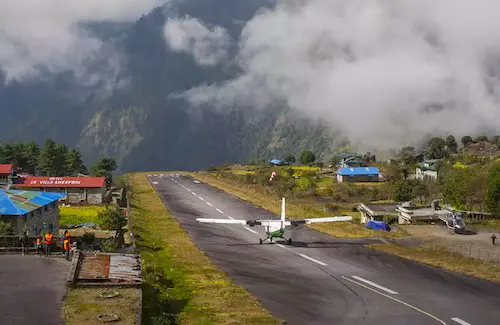 Namche Bazaar can be accessed through three distinct routes:
1. Flight to Lukla: 
You can take a flight from Tribhuvan International Airport in Kathmandu to the renowned Tenzing-Hillary Airport located in Lukla. This exhilarating flight provides passengers with awe-inspiring views of the Himalayan landscape, creating an unforgettable start to your adventure.
2. Trek to Phakding: 
Upon arriving in Lukla, your trekking adventure begins as you set off towards Phakding. This quaint village is nestled along the banks of the Dudh Koshi River. The trail meanders through diverse landscapes, granting glimpses of mesmerizing scenery and insights into the vibrant Sherpa culture that flourishes in the region.
3. Continuation to Namche Bazaar: 
On the subsequent day, resume your trek from Phakding, embarking on a path that gradually ascends towards the iconic Namche Bazaar. As you make your way, you'll traverse through lush forests, cross suspension bridges that span the river, and encounter charming settlements that punctuate the route.
4. Acclimatization in Namche: 
Upon reaching Namche Bazaar, allocate a day for acclimatization to the higher altitude. This essential step aids in preventing high altitude sickness. Use this time to explore the vibrant town, relish panoramic vistas of the surrounding peaks, and allow your body to acclimate to the elevation. This strategic pause contributes to a safer and more enjoyable trekking experience.
For a more immersive experience and less reliance on flights, consider taking a Jeep from Kathmandu to Jiri or Phaplu (approximately a day's journey). From there, trek to Lukla and proceed to Namche Bazaar.
The trail from Jiri, known as the "Pioneers' Route," was historically used by early mountaineers before the establishment of Lukla airport in the 1960s. While less common today, this path offers uncrowded trails, unique cultures, and breathtaking views. The trek from Phaplu to Lukla takes three days, while the route from Jiri to Lukla takes five days. It takes an additional two days to reach Namche Bazaar from Lukla.
Namche Bazaar Climate
The region experiences cold and dry winters, contrasted by warm summers accompanied by persistent mist, occasionally obscuring the majestic mountain peaks. The prime time to explore this area spans from mid-September to mid-November. It offers favorable conditions with pleasant temperatures and clear, pristine air with breathtaking views of the mountain. 
Spring, another favorable season, showcases vibrant hedgerows and wildflowers in April and May, though the mountain views are somewhat hazier due to increased airborne dust. Despite this, the landscape is adorned with a burst of colorful flora along the trails. To learn more about the weather and climate in the area, check out my blog covering weather and temperature on Everest.
Things to Do at Namche Bazaar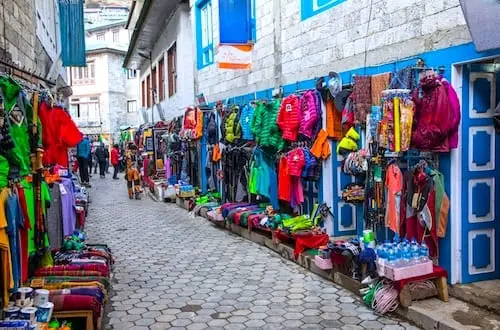 Namche Bazaar offers more than just its breathtaking mountain views and trekking trails. This vibrant village is also home to a collection of cultural and educational gems that provide visitors with deeper insights into the local way of life, Sherpa culture, and the natural world.
From informative museums to ancient monasteries, Namche Bazaar invites travelers to immerse themselves in the rich heritage and traditions that make this destination truly unique. Here are several noteworthy cultural and educational attractions for visitors to explore:
1. Sagarmatha National Park Visitor's Centre: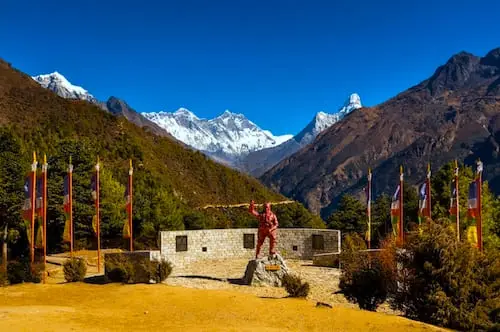 Situated at the upper end of the village along the Tengboche trail (right side of the village when looking uphill), this center provides insights into the wildlife in the Everest region. The facility features informative displays and captivating photographs, enhancing understanding of the Sagarmatha National Park's diverse fauna.
2. Museum of Sherpa Life: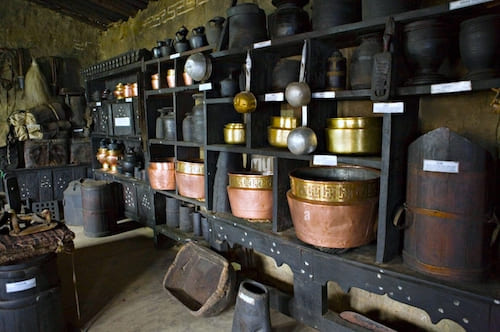 Found above the village on the Tengboche trail, this museum offers a comprehensive introduction to Mount Everest Sherpas and their culture along with information about the region's flora and fauna. It provides visitors with a deeper appreciation of the Sherpa way of life and the natural surroundings.
3. Museum of Local Medicinal Plants and Tibetan Herbal Medicine:
Located at the Healing Centre, this museum offers a fascinating glimpse into the Tibetan medicine through exhibits, posters, and artifacts. Additionally, the small gift shop contributes to the upkeep of the clinic situated upstairs.
4. Namche Monastery: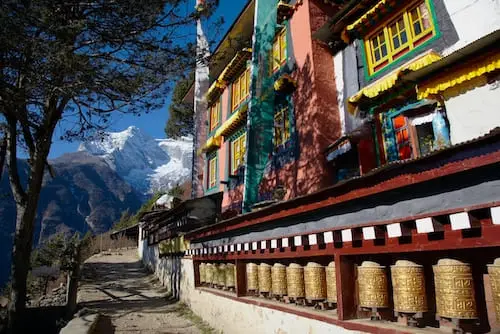 Positioned off the Thame trail (left side of the village when looking uphill), the Namche Monastery follows the Nyingma tradition of Tibetan Buddhism. The monastery boasts a serene courtyard and traditional frescoes adorning the walls of the main shrine.
5. Saturday Market: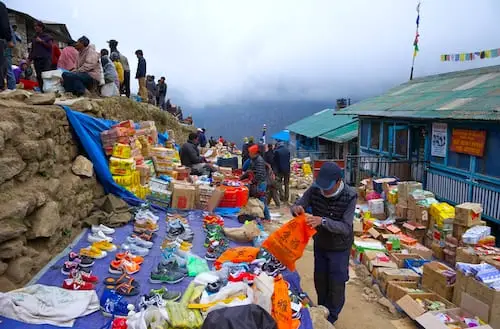 Namche Bazaar presents a budget-friendly solution for acquiring any trekking or climbing gear you may have overlooked. True to its name, the Saturday market hosts a diverse array of climbing equipment every Saturday morning. Additionally, this market draws traders from Tibet and nearby regions, offering a range of goods including soap, butter, vegetables, and other regional products.
6. Dumji Festival: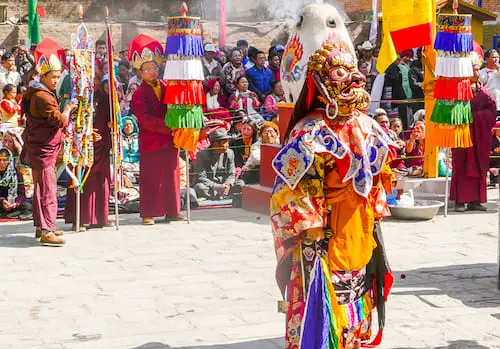 In June, Namche hosts the annual Dumji Festival. While this event is celebrated across Khumbu, the festivities in Namche are particularly impressive. The festival commemorates the accomplishments of a highly esteemed Sherpa lama. 
The event begins with local families exchanging food and entertainment, gradually building up to exuberant celebrations at the Namche Monastery. The ceremonies, overseen by the incarnate lama of Tengboche Monastery, include lama dances, traditional Sherpa dances, and an initiation ritual.
7. Visit the Syangboche Airport: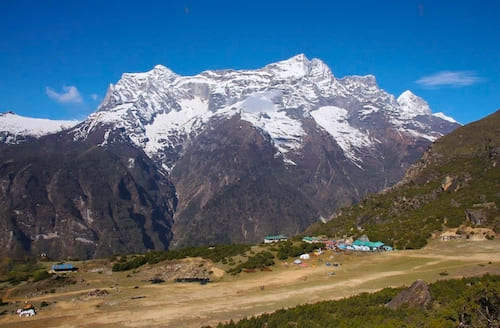 Positioned atop a hill with a commanding view of Namche Bazaar, you'll find the Syangboche Airport. This airstrip, although unpaved, is not authorized for commercial operations and offers limited amenities. 
Operating without scheduled services, the airport mainly serves as a hub for helicopters and STOL aircraft (short take-off and landing). These aircraft, often chartered from Kathmandu or Lukla, facilitate specialized flights to and from Syangboche.
Can You See Everest From Namche Bazaar?
Yes, you can see Mount Everest from Namche Bazaar. The Namche Bazaar viewpoint also offers a panorama of other remarkable peaks. Among these are Kongde Ri, towering at 6,187 meters (20,299 feet), and Thamserku, reaching 6,623 meters (21,729 feet). The vista also encompasses Nuptse, which stands at 7,861 meters (25,790.68 feet).