I always get asked, 'Is Nepal an expensive country to travel to?' My first answer is always no! It is a cheap country to travel to, but it depends on your traveling style. I have been living as an expat in Nepal for the last five years and found easy ways to save money as long as you are a budget traveler. Therefore, I want to take my experiences and discuss the best ways to travel in Nepal on a budget!
Nepal is already a budget country to visit. In 2019, Nepal was ranked 15th out of 140 countries for being one of the cheapest places to travel. This was backed by the Tourism Ministry, as they reported that the average tourist spent only $44 per day while traveling in Nepal.
Although you can visit Nepal without breaking the bank, there are still some great ways to save EVEN more money. I have broken down this video into four main categories: Transportation, Accommodation, Eating, and Activities.
Is Nepal Expensive – 4 Tips to travel on a Budget!
Below I have broken down the main expenses in Nepal and provided some budgeting tips to help you save money while traveling. So let's dive straight into my first tip: Using local transportation.
1. Be smart with transport – Use local transportation!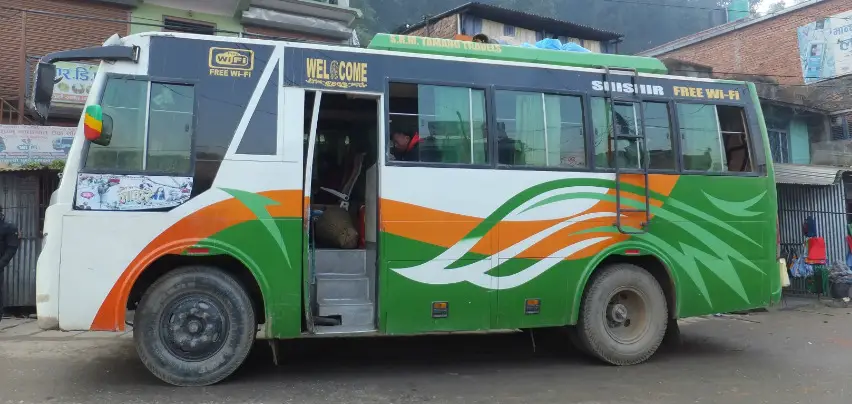 I can't stress this enough. Local transport, like buses, rickshaws, tuk-tuks, and bikes, will save you a lot of money compared to taxis or private cars. Taxis never have fixed prices for a destination and will typically quote high prices, so you will need to be great at negotiating and have a good idea of local prices. If you decide to take a taxi, ask someone from your hotel or a trusted local about how much it will cost, or better yet, have them book the cab for you. 
To skip the hassle altogether, use local transportation instead. Buses are available non-stop, and you can get on and off anywhere along the route. There is a conductor that helps people get on and off, and they are extremely helpful. They will help you find the correct bus if they are not the right one, and also help you get off at the right place while finding the next bus you will need.
My favorite mode of transport in the KTM valley is using Pathao. It is the Nepali version of Uber but on motorcycles and scooters. This is by far the fastest and cheapest way to travel in the city. It is app-based, and you call them at your location easily. It also has fixed prices for distance, location tracking for safety, and the option to get a car instead of a motorcycle if needed.
If you want to travel long distances, you will have to choose between a plane, bus, or private car. Planes are by far the most expensive but the fastest way to travel. You can save 8+ hours of travel time depending on your destination. For foreigners, plane tickets can cost up to double the Nepali price, ranging between NPR 8,000 to 12,000 for trips to Pokhara. However, there is a way to get cheaper flight prices. If you have stayed in Nepal for longer than six months straight, you can get residential flight prices which will reduce the cost of tickets by almost half! You will need to book at the flight operator's office to get the residential price.
2. Finding Budget Accommodation in Nepal: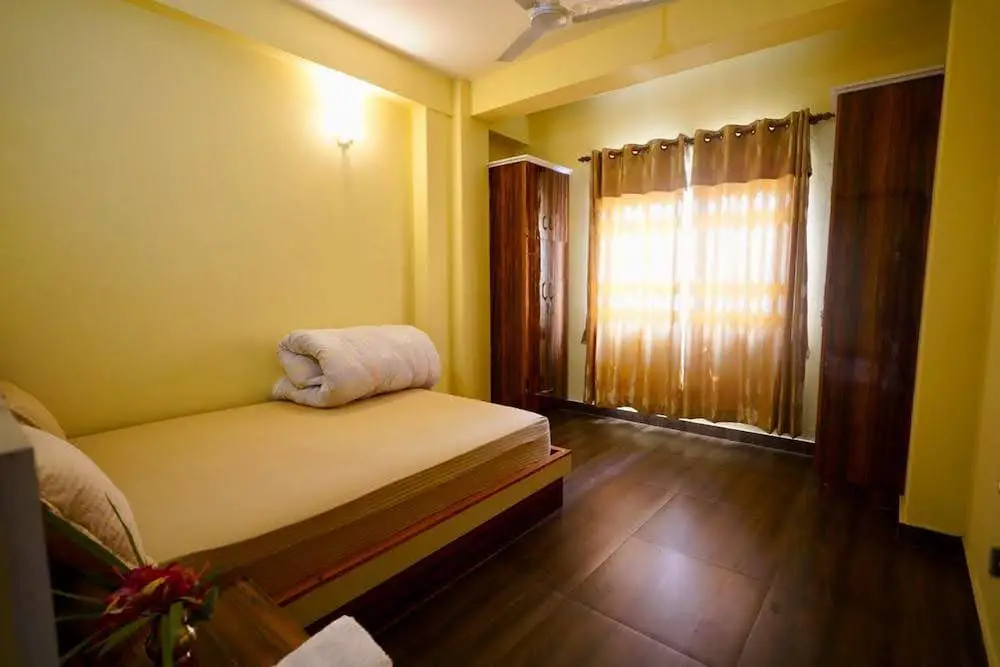 Once you arrive at your destination, you will need accommodation. Being smart with accommodation is another easy way to save money traveling in Nepal. Most people will book hotels, B&Bs, and homestays online instead of in person. However, I have found that this is one of the most expensive ways to find a place to stay. The prices that are getting quoted, especially on third-party apps like booking.com or airbnb.com, are much higher than what people pay in person. 
For example, my apartment is listed at NPR 51,000 (390 USD) monthly, an 89% increase from what I currently pay. That is because I booked in person and was able to cut out third-party costs and negotiate the price. (show photo of booking.com)
That is why I recommend finding the place you want to stay online and booking it in person once you arrive. This way, you will better know the prices before negotiating for the room. Hotel owners have told me that is the best way to get a good price, as they are unwilling to negotiate over the phone. I did a whole other video about finding a hotel for cheap and negotiating for it in a funny way! 
I know waiting to book can be difficult or nerve-racking, but it will pay off significantly if you stay somewhere long-term. Additionally, many hotels offer breakfast or food service, and you can also try to work some of those into your negotiating if you can't get the price lower! Just remember it never hurts to ask, and it is a buyers' market, as there are plenty of high-quality hotels for you to stay at.
3. Eating at restaurants and finding snacks on a budget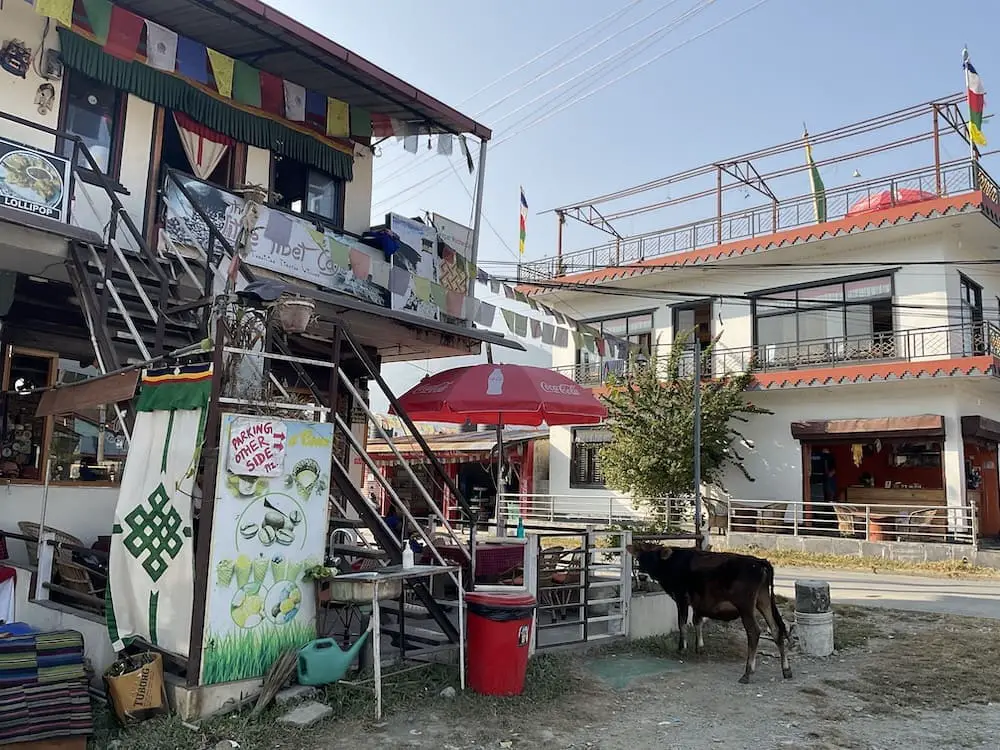 When it comes to eating in Nepal, you have a few different options. Indulge in luxury restaurants in tourist areas. Or, you can enjoy more traditional food and street food and save a bunch of money. A typical meal at a mid-range restaurant with western food can cost about NPR 1,000 or roughly 10 USD per person.
I usually look for smaller local restaurants to save on food and live cheaply. They serve more traditional Nepali Food, and it is absolutely delicious. You won't be able to find western food, but you will find Dal Bhat, momos, chowmein, and many more authentic dishes if you visit one of these restaurants. I have found plenty of places around Kathmandu and Pokhara where you can eat a full meal for around NPR 100-200. Take a look at my guide to street food in Kathmandu for great deals!
Another way to save money while eating is to skip imported food items. If you can avoid eating the chips and candy you are used to, you can save a lot, as these items are marked up significantly. For example, an 8.5 oz bag of Cheetos can cost you a whopping NPR 1,600, around 12 USD!
The last thing is alcohol. Alcohol, especially imported spirits, and beer, can run quite high, even more so if you drink at a restaurant. Luckily, Nepal has a fast-growing beer industry with a decent selection of craft beers. If beer isn't your thing and you are more of a spirit person, you can try local alcohol instead. The most common is called Roxi or cheng, a drink made from fermented rice or millet. Just be careful while drinking. It is an unregulated alcohol that can be quite strong. Be cautious about where you buy it from, as it may not always be hygienic or healthy! 
4. Don't break the bank on activities!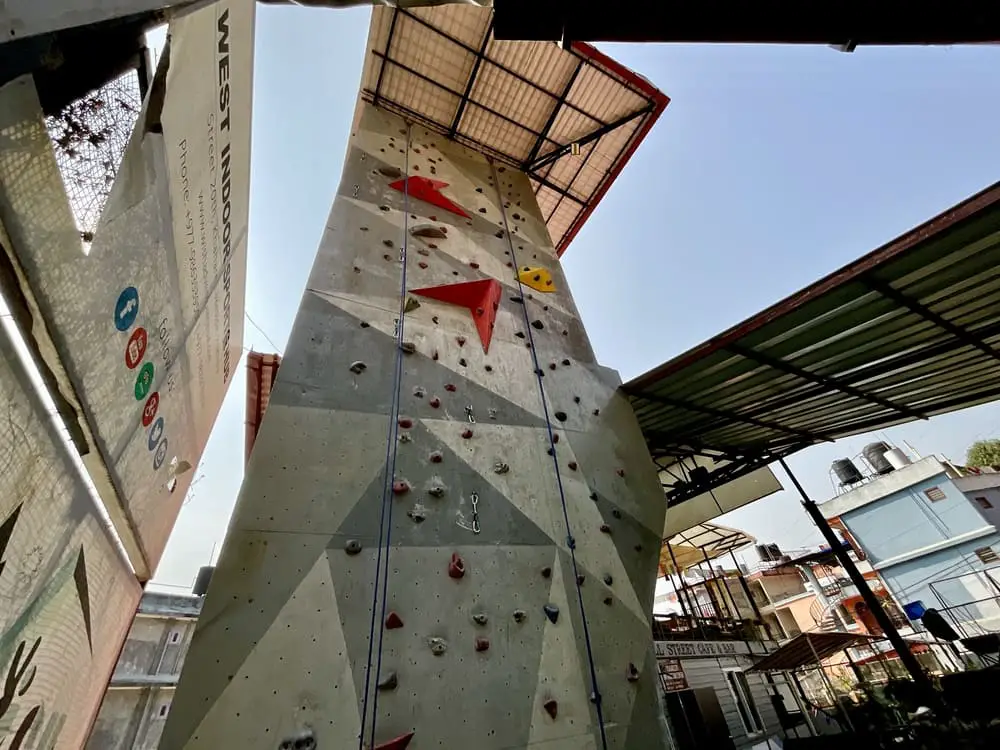 The last big money drain in Nepal is activities. You will find countless people promising the best treks, guides, and experiences both locally and all around the country. However, these experiences can be limited and require a strict schedule. For example, while booking excursions to Chitwan, you may find that you have little to no control over travel, activities, hotels, and food you eat. This means you may find yourself paying more for something you didn't even want in the first place. 
The best thing to do is try to plan your activities or trips in the country by yourself. Nepal is a very accessible country and easy enough to navigate. You can find exactly what you want and need with countless resources online, super helpful locals, and non-stop transportation. I also suggest looking at or asking about local prices before you book anything. You won't be able to get the exact price, but you will at least have a cost to shoot for.
Once again, the best thing to do is book the activity in person rather than online. Also, you can book in bigger groups, and you will be able to get a discount as the number of people increases. Another option is to go it alone. You can go on self-guided for many of the hikes, treks, and tours. You will need a keen sense of direction and to do your research first, but it will allow you to get lost in the culture and experience and find yourself in some beautiful places. 
However, if going it alone is not your style, or you are looking for a more in-depth custom tour in Nepal, then let me know and I would be happy to help! You can also look to book something at your hotel or with someone you have done previous business with. Nepal is a country of favors and helping out people you know. So if you have worked with or bought something from someone, they will be more willing to get you a good deal by helping you and their friends out. Just remember to be smart about the prices, and always get an idea of prices online or with others before you shop for the best price.
Finally, you can always opt for shorter or less popular treks or tours around the more popular cities like Kathmandu, Pokhara, Chitwan, or Lumbini.
Takeaways How to Travel in Nepal on a Budget!
So these are just a few of the best ways to travel in Nepal on a budget. It can be overwhelming initially, but luckily Nepal is a relatively cheaper place to travel. So even if you can't get the best deals, you can still stay here without breaking the bank. 
If you plan on staying long-term, there are a lot of great ways to save money on housing and food! So if you have any questions, leave a question in the comments below! Other than that, I look forward to seeing you all in Nepal! Until next time Happy travels [:
FAQs: Is Nepal expensive?
Below are some of the most frequently asked questions about how to travel in Nepal on a budget.
1. How much should I budget for a trip to Nepal?
For a single person trip to Nepal you should budget 20-30 USD for a budget trip, 50-60 USD for midrange, 100+ USD for a luxury trip.
2. How much does it cost per day of Traveling in Nepal?
In 2019 the Nepali Tourism Ministry reported that the average tourist spent $44 per day while traveling in Nepal. This would be a budget to midrange trip for a single person.
3. What is the best way to travel around Nepal?
The best and cheapest way to travel around Nepal would be with local transportation. This would include by bus, micro, rickshaw, and tuk-tuks. Planes are also available and a much faster option, but they can be extremely expensive for tourists.
4. What is the cheapest time of year to go to Nepal?
The cheapest time in Nepal is during the low season from June–September and December–February. Monsoon season (June-September) will be even cheaper than the winter season, however it is more difficult and dangerous to get around and do things.
5. Is Nepal cheap or expensive?
Nepal is one of the cheapest countries in Asia for travelers. On average tourists spend USD 44 per day for a comfortable and mid-range travel experience.