Nepal is not only rich in culture and diversity, but also rich when it comes to food and spices. The cuisine in Nepal is famous for its unique and intense flavors that sneak up and kick you right in the mouth. From sizzling spicy to being so sour that your whole face puckers – food in Nepal have it all. Of course, if you have ever traveled to Nepal and tried some of the food, you may be wondering from afar, what are the main spices of Nepal they use to get these intense flavors?
The spices in Nepal may surprise you, or they might be seasonings that you already use in your kitchen. No matter what the case is, you are probably trying to replicate that mouth-watering taste that makes you go in for another bite every time you have something with some spices from Nepal. 
To help cooks from all over the world replicate the delicious food available in Nepal, I am going to provide you with some of my favorite seasonings from my Nepali spices list! So grab your measuring cups, and get out your cutting boards, because it's time to get cooking!
History of Spice(s) of Nepal:
Not too long ago, Nepal was a fragmented country that had different isolated cities and communities, due to a lack of transportation access. With these different isolated regions throughout the country, different cuisines, and culturally specific dishes popped up all around the country. This meant that different communities had to utilize and cook with the various spices that were available to them. 
With different flavors relying on the availability of herbs because of transportation, or even seasonality-related availability, we saw some unique dishes popping up. Take, for example, some of the dishes I featured in the weirdest food in Nepal blog, where we talked about eating snails, buffalo stomach lining, and bone marrow, as well as lungs filled with different mixtures of flour and herbs. Moreover, like rice in Nepal, many of the seasonings are also important for religion in Nepal and even festivals.
As you may know, Nepalis are extremely resourceful and resilient and will use whatever is available to them. This helped them create some of the most intense and unique flavors all over the country. While These condiments are now widely available across the country, many cooks and restaurants are still looking to experiment and bring new flavors to the table! You can see this by checking out Nepali Chef Santosh Shah who was a finalist on Master Chef!  
The condiments used in yesteryear and currently, are not only for developing finger-licking good flavors, but also for the nutritional, textural, freshness, and health benefits they offer. In this blog, I plan on providing all this information and more, so you can make the most out of all of these flavors in your kitchen!
Without further ado, here are 11 of the most common spices from Nepal!
1. Salt – noon – नुन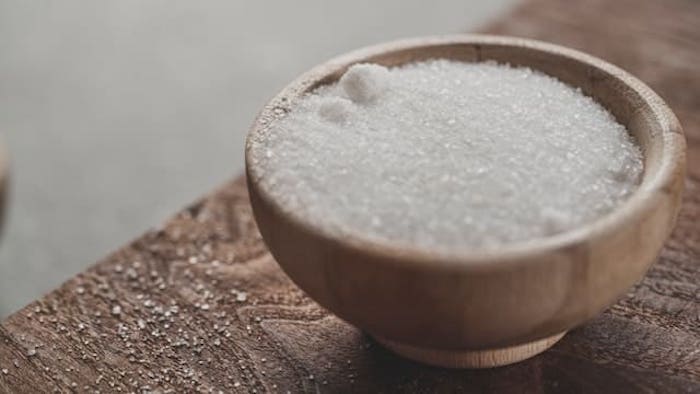 Salt might be the most used seasoning in Nepal. In almost every dish you will eat, there will be some amount of salt in it. It is used so often in food, that some tourists find the food to be too salty a lot of the time in Nepal. However, when used in moderation at restaurants, you can find some of the most delicious and salty food available.
Needless to say, you will find salt in your dhal bhat, chowmein, and momos, as well as other common and famous Nepali street food options. However, some of the less known dishes that have an appetizing kick of salt in them are Laphing, chatpate, and pani puri!
Health benefits of Salt – Noon – नुन
Salt's health benefits are tricky to discuss as there is a fine line between having a healthy intake of salt, and going overboard and having too much. Whereas, excessive salt intake is responsible for a rise in several non-communicable diseases including high blood pressure and cardiovascular conditions. Moreover, a recent study by WHO, Unicef and the Government of Nepal found that the most commonly used salt in the country has 50 ppm of iodine per kilo of salt, which is higher than the recommended dosage of 15 to 40 parts per million (ppm).
That being said, if taken in moderation, salt can help with controlling blood sugar as it improves insulin sensitivity in the body. Additionally, it can help stabilize irregular heartbeats, regulate the body's blood pressure, and prevent muscle cramps. Finally, the spice can also support thyroid functionality by reducing the circulation of stress hormones in the body, which can help the body's kidneys pass excess acidity into the urine.
2. Sichuan Pepper – Timmur – कालो मरिच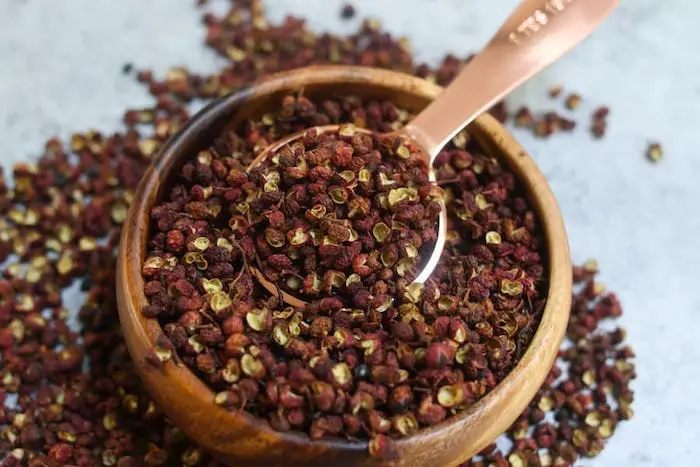 Sichuan pepper, also called Timmur, is a unique spice of Nepal that has a very unique aroma and a sharp taste. It is often mistaken for black pepper, however, it comes from an entirely different family. Timmur is often used to make achaar or pickles due to its distinct flavor. However, the spice should be used in moderation so that it doesn't overpower the dish. The pepper can either be crushed or the whole seed can be used while cooking. 
Timmur is also used in thukpa, soups, chowmein, and other meat dishes which helps to enhance the flavor with a touch of pepper and slight lemony overtones. Store the pepper in a tightly sealed container for long-lasting flavor.
Health benefits of Sichuan Pepper
Did you know that Timmur plant's bark, roots, leaves, fruit, and seeds are also used for various purposes? The fruits, seeds, and barks are exclusively used in indigenous systems of medicine. 
Timmur provides numerous health benefits such as stimulating circulation, reducing pain, improving immunity, aiding in appetites, eliminating inflammation, and maintaining blood pressure. 
3. Ginger Powder – Adhuwa ko dhulo – अधुवाको धुलो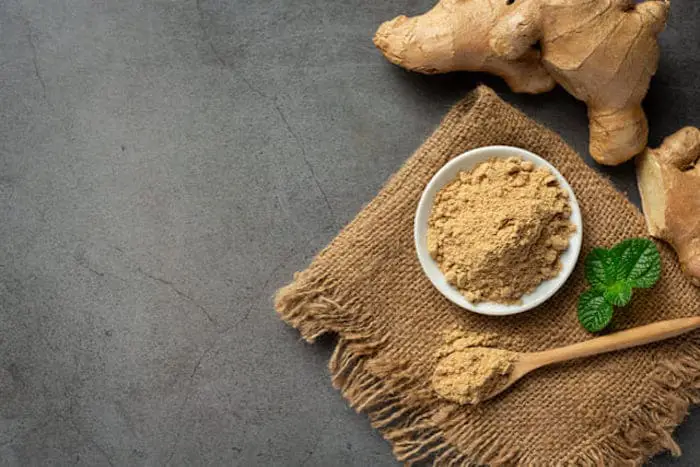 Ginger is well known worldwide, but has a special place in Nepali kitchens. With Nepal being the fourth largest ginger producer in the world in 2020, Nepal knows how to cook with spice. It is commonly used in food, drinks as well as medicine in the country. 
The unique and fragrant root herb, or its powdered spice version, is commonly used to make Nepali dishes more robust and tasteful. Moreover, the root herb can be ground into powder, dried, pickled, and even preserved to change and enhance its flavor. In many Nepali dishes, ginger adds a lovely woody taste and aroma. However, for medicinal purposes such as when it is in drinks like ginger tea, or when it's fried and chewed on for sore throats, it packs significant heat and comes off as hot!
Ginger is typically used while preparing curries, cooking vegetables, as well as while cooking meats like buffalo, chicken, and even duck.
Health benefits of Ginger Powder
Ginger powder has a long shelf life and is easy to store. Besides being one of the common spices of Nepal, ginger powder has many benefits for your health. The majority of the Ayurvedic medicines that you find in the market will also have a hint of ginger powder in it. For many centuries, Ayurveda has used ginger root for many reasons such as digestive problems, headaches, motion sickness, and to relieve flu and cold. Additionally, ginger also has beauty benefits. Due to its antibacterial properties, it helps to unclog pores and kill acne-causing bacteria.
Dried ginger powder is common spice of Nepal and is used in different curries and stews, which also helps to prevent gas in the stomach. A cup of masala tea with a mix of all the spices such as cardamom, cinnamon, cloves, and ginger powder helps to relieve the common cold and sore throat.
4. Dried Cumin Seed – Jeera ko geda – जीराको गेडा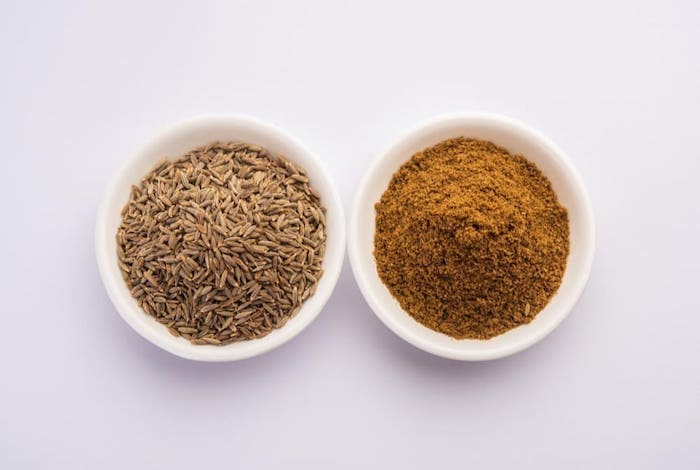 Dried cumin seed is one of the most popular spices in Nepal due to its pungent yet warm fragrance. The seed is aromatic and comes with a unique bitter taste to it. Cumin seeds are finely ground and used in many curries and dishes. Whole cumin is also fused in hot oil to enhance the overall taste of the dish. Cumin seeds are packed with flavor when lightly roasted over a dry pan. Cumin is an essential part of the spice blend i.e. the garam masala. Garam masala is a common homemade spice with loads of aroma and flavor. It consists of cumin, coriander, cinnamon, cardamom, cloves, and nutmeg either ground or whole. 
Whole cumin seeds sprinkled on curries heighten the taste and are truly delicious. You can try adding cumin powder to squash, carrots, or lentils. Cumin powder is like a universal powder and can be added to any traditional dish you want. It also works wonders when mixed with other spices!
Health benefits of Dried Cumin Seed
There have been several claimed benefits of cumin that are related to digestion, circulation, and the immune system. Cumin seeds contain antioxidants which help to keep your healthy cells from being attacked. Additionally, antioxidants do wonders for your skin.
Active ingredients like anti-inflammatory properties are found in cumin and using its essential oil can reduce pain and inflammation. Cumin also helps to lower cholesterol, aids in weight loss, and boosts memory.
5. Cinnamon Quills – Dalchini – दालचिनी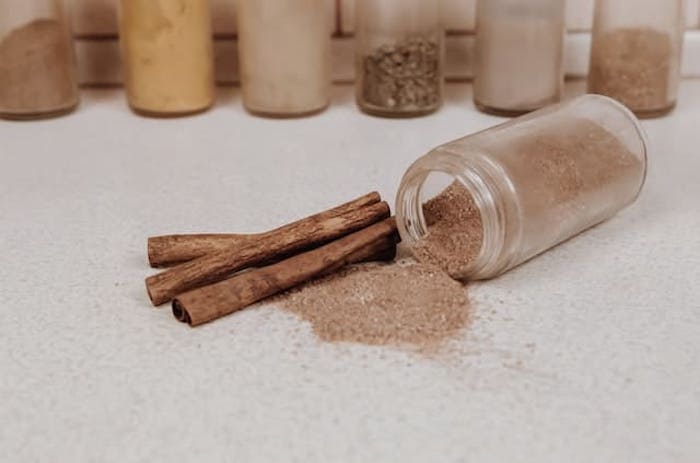 Cinnamon quills or Dalchini in Nepali are one of the oldest and most aromatic spices. The bark of the cinnamon is reddish brown and has a sharp, pungent taste of it. Cinnamon quills have more flavor as compared to ground cinnamon. Cinnamon has used either ground or whole to flavor sauces, rice, syrups, and desserts, as well as also sometimes brewed with Nepali Masala Tea. 
Cinnamon is one of the components of the Nepali spice blend i.e. the garam masala. In Nepal, a small stick of cinnamon is chewed with cloves and cardamom after a heavily spiced meal to help freshen the palate and breath. Many cinnamon products are available in the market such as cinnamon tea and oil which are great options for baking and cooking!
Health benefits of Cinnamon Quills
Cinnamon has a long history both as a medicine and spice. It is not only a delicious spice of Nepal but also helps to improve the body's health. Cinnamon works as a natural remedy for weight loss, diabetes, blood cancer, lowering cholesterol, treating heart infections, migraine allergies, and more without any side effects!
Cinnamon also contains antibacterial properties that preserve food naturally and is a great source of nutrients such as manganese, iron, fiber, and calcium. To add cinnamon to your diet you can use them in savory and sweet dishes. Sprinkle a pinch of cinnamon over oatmeals to replace sugar, and add it to your cookies, cakes, and bread for a low sugar treat yet healthy dish! 
6. Dried coriander seeds – Sukeko dhaniya geda – सुकेको धनिया गेडा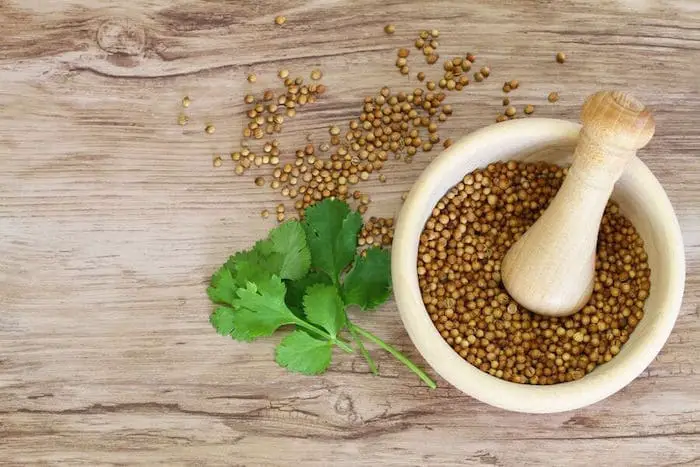 Just like the Timmur, coriander seeds are sweet, floral, and have a subtle hint of citrus. Coriander seeds are one of the main spices in Nepal for cooking and make it an essential part of the garam masala. You can add coriander seeds to broths and soups to enhance the flavor. Coriander is one of the many spice blends that many Nepali homes consider as one of their main ingredients for cooking. 
Finely ground coriander releases even more flavor and aroma. Coriander powder is used to cook curries, pickles, and other dishes. If you want to enhance your dish with coriander, before grinding the seeds, soak them in cold water for a few minutes to release more aroma. Additionally, you can also toast them to release a nutty and floral flavor. You can enjoy coriander leaves pickle by crushing a few fresh coriander leaves and adding lemon and salt for flavor and making a dip for your chips! 
Coriander leaves can also be used to garnish soups, pasta, lentils, or noodle dishes. You can also make a purée blended with peanuts, garlic, lemon juices, and coconut milk to make a paste for salsa, burritos, or marinades! Yum!
Health benefits of dried coriander seeds
Coriander is a source of dietary fiber, iron, and magnesium. Their leaves are rich in Vitamin C, K, and protein. Coriander has health benefits such as, lowering bad cholesterol, promoting liver functions and gut health, and is also safe for diabetic patients for consumption. It also consists of anti-inflammatory properties and antioxidants which help to prevent cellular damage and fights infections. 
The health benefits of coriander don't just end there, as the coriander spice has many culinary uses as well. You can easily add coriander seeds or leaves to your diet. Whereas, it is also rich in antioxidants and promotes good health for your body, and is an excellent addition to your diet!
7. Carom seeds – Jwano –  ज्वानो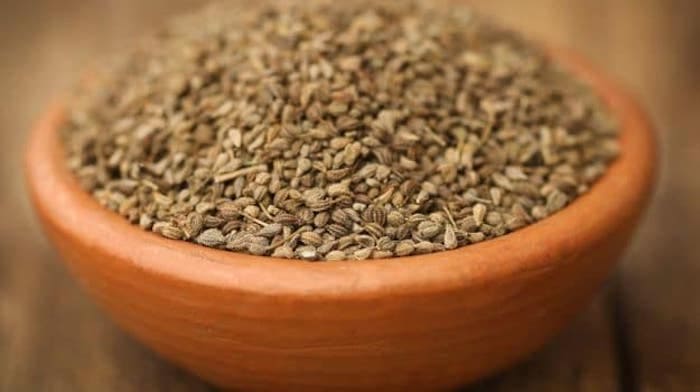 Carom seeds or Jwano (ju-wa-no) is a seed fruit often used in cooking as a part of a spice mixture. It is highly fragrant and has bitter tones to it. Also, known as bishops weed, they can be eaten raw or cooked before being added to a dish. Jwano has been used in cooking since ancient times as well as for medicinal purposes and is also a part of Indian, Middle Eastern, and African cooking.
Due to its dominant flavor, jwano is used in small quantities and always booked. In Nepali and Indian cooking, the spice is a part of tempering a dish. It is a cooking process in which clarified butter is heated hot and whole spices are added and fried to create a flavorsome mixture to garnish a dish. The butter and spice mixture is then topped into lentil dishes or added as a garnish to a dish!
If you're cooking a dish high in fat, then adding raw or cooked jwano at the end of the recipe will work as a counterpart to the richness of the ingredients. Putting the spice ahead will mellow out the flavor and bring out a more star anise taste. If you want to use powdered carom in your recipe, then roast the seeds first, cool them out, and then ground them into a fine powder.
Health benefits of Carom seeds – Jwano –  ज्वानो 
Carom seeds not only provide an amazing tasty kick to any dish they have been added to, but they are also extremely nutritious as well. Whereas, they are rich in fiber, antioxidants, as well as other essential vitamins and minerals. 
With their great nutritional value, the Carom spice has been linked with a few different health benefits and even is used in some more traditional medicines in Nepal and India. A few of the health benefits the Carom seed has are: they help fight bacteria and fungus; they improve cholesterol levels in the body, and can even combat peptic ulcers in the stomach and relieve indigestion.
8. Cardamom pods – Elaichi – इलैची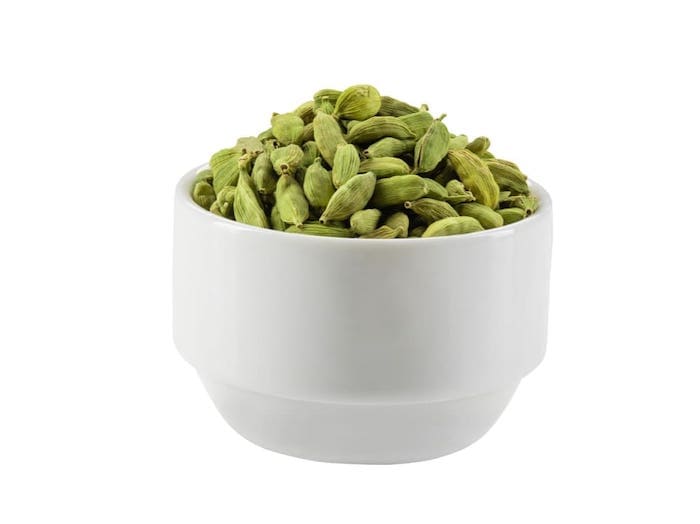 Cardamom is one of the most expensive spices in Nepal. Their aromatic sweet and spicy flavor enhances any sweet and savory dishes. Cardamom in Nepal is used to cook especially chicken curries or any meat dishes and is an important spice used in Masala Tea. 
Each cardamom pod contains a cluster of seeds which is where it gets its distinct fragrance from. Cardamom is also used in desserts like Khee (rice pudding) which adds a unique flavor to the dish. To make the most of its aroma, it is recommended that the pods need to be separated from the seeds before starting the cooking process. This will help to increase the flavor of the dish and also will have an aromatic smell when blended with all the spices. However, after cooking the shell can be discarded.
Curious about kheer and rice in Nepal? Then have a look at my blog that talks about all the different ways rice is used in Nepal!
Health benefits of Cardamom pods
The seeds, oils, and any extract of cardamom are thought to have excellent medicinal properties and have been used in traditional medicine practices for centuries. 
Like any other spices, cardamom also has antioxidant and diuretic properties which help to lower blood pressure. It also contains anti-inflammatory effects that protect the body from chronic diseases. Cardamom also helps with digestive problems, prevents bad breath and cavities, treats infections, and lowers body sugar levels. Adding cardamom to your cooking is one of the safe and effective ways to improve your health. You can also take a cardamom supplement which may provide benefits however only under the supervision of a doctor.
9. Bay leaves – Tejpatta – तेजपत्ता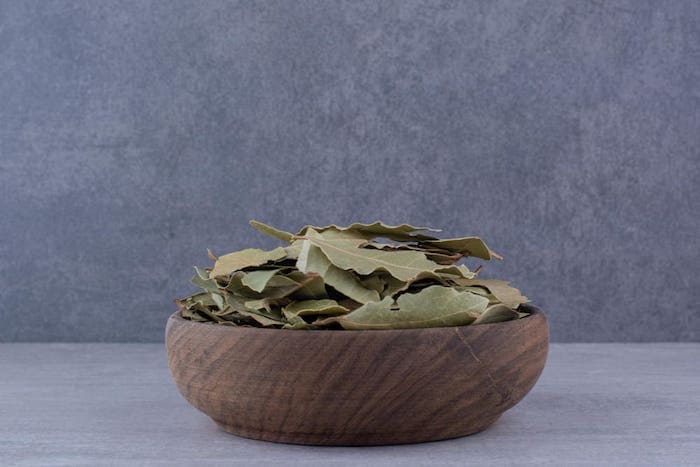 Bay leaves are also one of the staple spices of Nepali cooking. It is an aromatic leaf and can be used in a fresh, dried, or ground form. Bay leaves are used to cook in many curries and help to balance the overpowering flavor of the dish. The pleasant smell of the leaves also enhances the palate and makes the dish rich and delicious!
The leaves are usually used in slow-cooking recipes such as soups, stews, and sauces. They are also slightly sautéed for all kinds of meat and fish curries, savory rice dishes, lentils, and vegetables. They are usually removed before serving the dish. Bay leaves are also one of the important spice ingredients of the garam masala.
Health benefits of Bay leaves
Bay leaf is a commonly used spice to flavor meat dishes and soups due to its herbal and light flavor. A pack of bay leaves is packed with a lot of health benefits. Bay leaves help to increase the number of vitamins, minerals, fiber, and antioxidants in a dish. 
Bay leaves are a good source of vitamins like A, B6, and C and are known to support a healthy immune system. They also help to ease an upset stomach and the aromatic bay leaf tea also helps to relieve stuffy noses and treat migraines. 
10. Cloves – Lwang – ल्वांग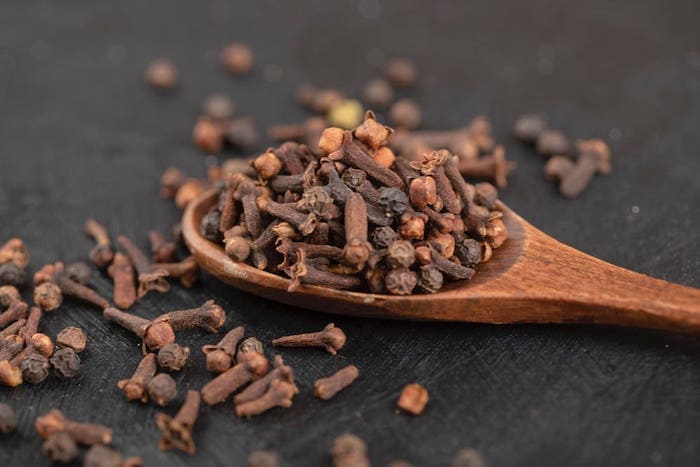 In Sanskrit, cloves are called "deva Kusuma" meaning "the flower of the gods" or an "auspicious bud." Clove is a flower that looks like a bud that is dried and highly aromatic. It is a sweet-smelling spice that is used in many cuisines in Nepal as well as blended with many other spices, i.e. the garam masala. Cloves are one of the most important Nepali spices used both for culinary and medicinal purposes. 
Whole cloves can be added when cooking meat, stews, curries, or for even making mulled wine and dessert (but rarely in Nepali cuisine). When gently sautéed, the spice swells and releases a pleasant fragrance. Aside from cooking, cloves are also used as a mouth freshener. 
This multipurpose space can not only be used for cooking curries, but also for seasoning pot roasts, adding flavor to hot beverages, and even bringing a spicy warmth to cakes and cookies!
Health Benefits of Cloves
Cloves are sweet and aromatic but also have medicinal value. They contain fiber, vitamins, and minerals that provide important nutrients to the body. Additionally, they are high in antioxidants, and antibacterial properties as well as improve liver health. They also promote healthier bones, reduce stomach ulcers, and may help with regular blood sugar.
Cloves have many health benefits including keeping blood sugar in check and blocking the growth of bacteria. You can incorporate a few servings of cloves into your meals. Finely ground clove powder can be used in many dishes as they welcome warm, distinctive flavors to your food. Additionally, you can also make a soothing cup of clove tea once in a while!
11. Dried chillies – Sukeko khursani – सुकेको खुर्सानी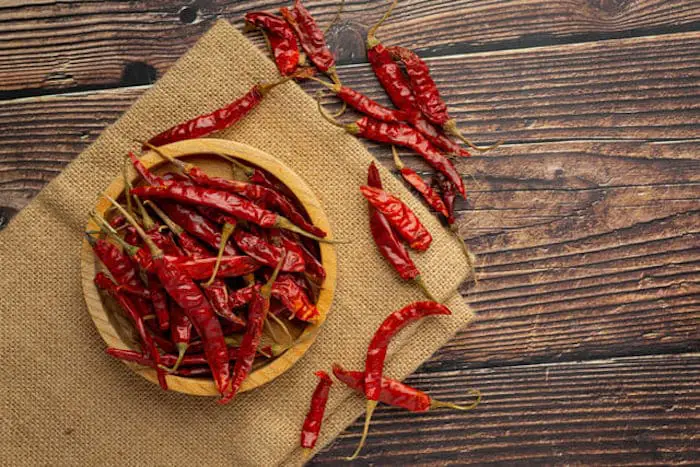 Dried chillies are one of the important spices that are very popular in Nepali home cooking. The dried chilies are either used by frying them up quickly to add spices to the dish, or are used to make pickles. These dried chillies are also finely ground to make chili powder or chili flakes that can be used in different dishes. 
Dried chillies have a distinct spiciness to them and despite the hot flavor, it adds a subtle spicy yet rich flavor to the dish. A variety of ground chilies can be found in the market and are used in a wide range of pickles, chutneys, sauces, and pastes. 
Nepali people love spicy food and like to experiment with more than just bland food. No offense to all the exotic and mouth-watering cuisines out there! Chillies are mainly used as a spice and can be dried, cooked, or eaten just like that. Chillies don't have a specific recipe, so you can incorporate it and experience its spiciness however you like. They are rich in minerals and vitamins and since it's eaten in less quantity, it helps to balance out your nutrient intake. 
Health benefits of dried chillies
Dried chillies contain Vitamin C, B6, and provitamin A beta-carotene. However, that doesn't mean consuming large quantities of chillies, as the amount of Vitamin C is significantly present. It may sound unbelievable but chillies have a lot of health benefits. It helps to keep your digestive system healthy, minimizes cholesterol, has cardiovascular benefits, improves your metabolism, and fights colds and the flu. Also, they have anti-inflammatory properties which help to fight inflammation and act as natural pain relief.
All that being said, try incorporating a bit of spiciness into your meal. As you can see a little burn on your tongue can go a long way for your health! 
Spices in Nepal – The complete dish
If you have ever visited Nepal, or have been to a Nepali restaurant where you live, you know about the bouquet of spices Nepali food has. With flavors darting across your tongue, you may find yourself craving more and more of the cuisine from the Himalayan country. With a diverse and rich heritage, Nepali food has evolved into a unique and tasty experience.
The 11 famous spices in Nepal listed above, are widely available in the country, as well as abroad in places like the United States, the United Kingdom, and of course Asia. Although you can find countless videos online to learn how to make some of Nepal's best food dishes, nothing can beat the authentic taste of the dishes cooked by Nepalis themselves. If you get the chance to visit Nepal to treat your mouth to a tantalizing experience, make sure to check out our other resources covering traditional foods in Nepal!