Not too far from Lakeside, the Little Tibet Cafe in Pokhara is located at the Tibetan Refugee Camp, close to Devi's Fall (Chhorepatan). It is a Tibetan restaurant in Pokhara, and it's one of those spots where you can have a memorable meal with little to no advance planning. The restaurant is simple, but it is definitely one of the best restaurants in Pokhara!
The food is exceptional, and everything costs less than $5. With such a wide variety of dishes, it is hard to choose what to eat. However, one thing is for sure; you will want to eat everything on the menu!
Little Tibet Cafe in Pokhara is a great place for foodies to visit after a long day at Devi's Falls and Gupteshwor Mahadev Cave! Less than a 15-minute walk away, one can experience the delicious flavors of Tibetan food – with both non-vegetarian and vegetarian food available. Just be aware that on Wednesdays, they only serve vegetarian food in respect to the Dalia Lama, who was born on a Wednesday.
Little Tibet Cafe: Tibetan Restaurant in Pokhara – What To Eat?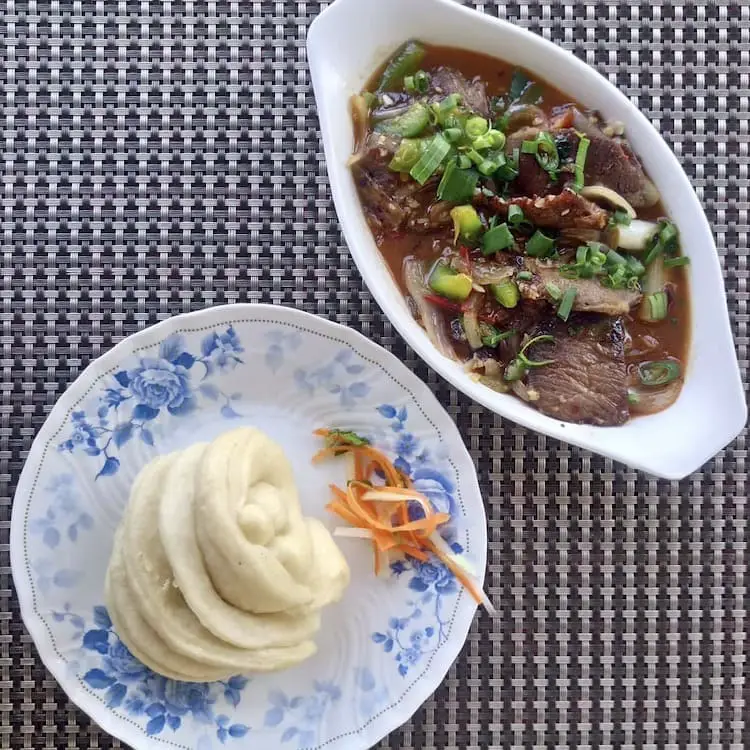 The folding menu has everything from Tibetan spicy minced noodles famously known as the "keema noodles" and ting-mo (big momo only made with dough and no filling) with shapta (both of which you should definitely order!) to a list of side dishes that look absolutely delicious. There are also a few different types of momos: ting-mo with buff/ chicken shapta, big momos stuffed with meat or veggies, or simple momos. These are different from the typical momos you find on the streets and in fancy restaurants. They are the tastiest momos you will find – which are only found at the Tibetan Refugee Camp or other Tibetan restaurants around the city. We like the spicy buff minced noodles. They come in a soy sauce base and are topped with thick noodles, minced meat, and Pak Choi.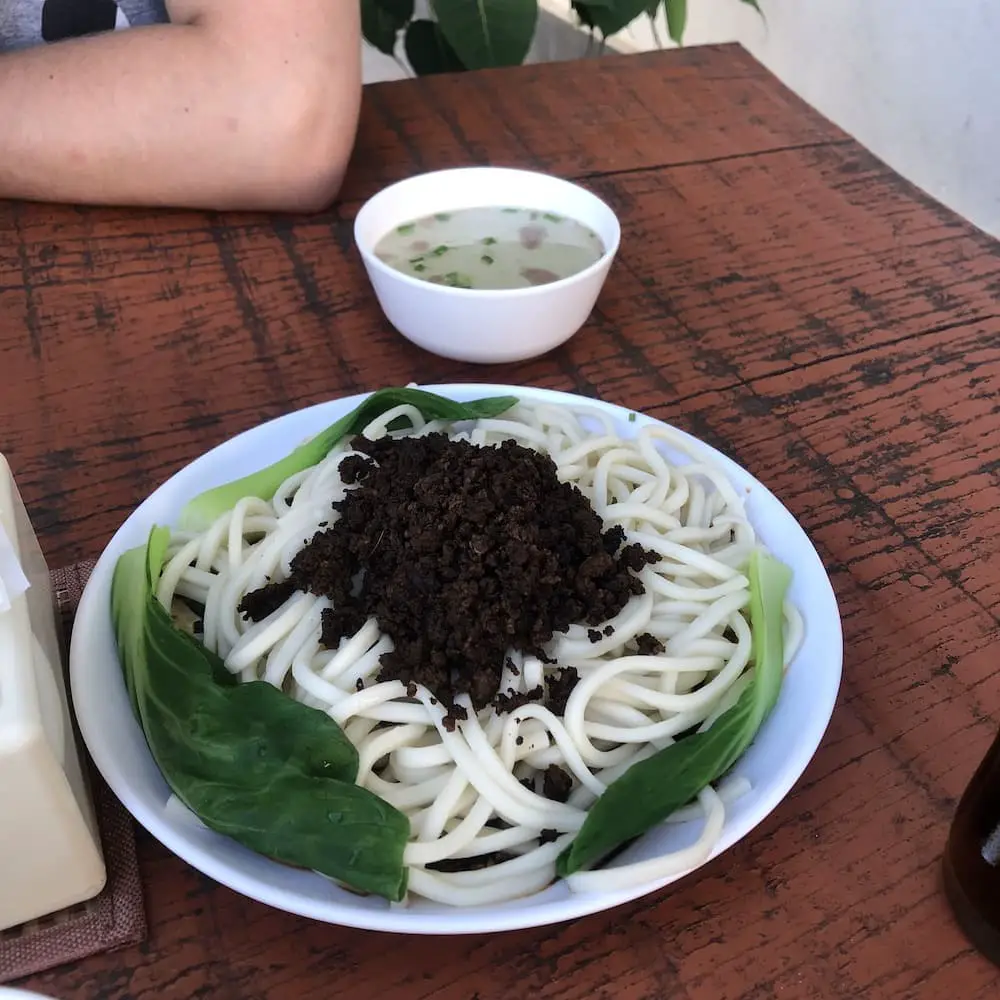 Also, order the ting-mo with the buff shapta. Ting-mo is just steamed dough and buff shapta – it's like the buff chilly but less spicy and more gravy. The dip of the ting-mo in the shapta is just heavenly. The buff shapta hits the right notes of savory, spicy, and juiciness. Wanting to try some more, we also ordered the buff big momos that came with bowls of soup. Honestly, you need to set aside enough time to appreciate how tasty and juicy these momos are. 
Food is done. What about drinks, though?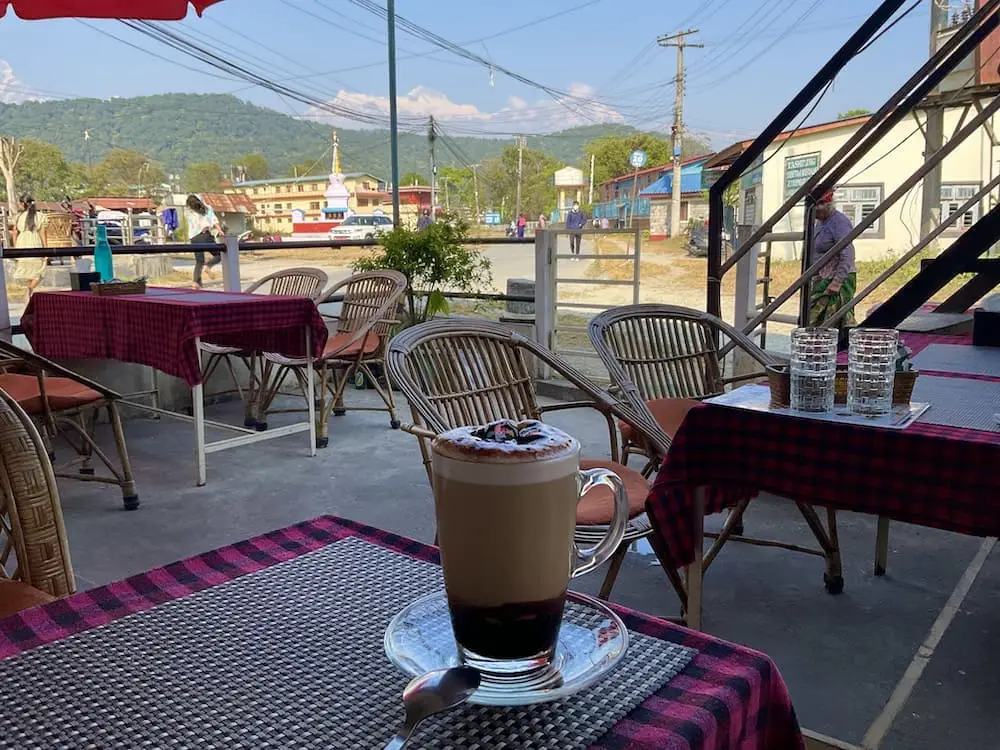 The drinks in this restaurant are also amazing. We were surprised by the quality and mouth-watering. Our favorite drinks are lemonade, browniccino, and cafe mocha. We just love the perfect match of sweetness and sourness of the lemonade. They come in a tall glass with a cut fruit dangling on the edge of the glass (hey! We love it!). The browniccino is like having a dessert. Brain-freezing blended brownie, coffee, and chocolate topped with whipped cream, chocolate sauce, and brownie sticks – uff, heaven!!! The cafe mocha is more like a hot chocolate, but we enjoy it anyway. We are a fan of the toasted marshmallow, whipped cream, and chocolate sprinkles that come in the drink. 
As for the space, it's one room for the drink counters, open spacing on the ground floor, and seating on the first floor, with a kitchen to one side and a handful of tables to the other. There's a stream of people coming in and out of the restaurant, and you might encounter a wait on the weekends. However, the kitchen moves pretty fast, and even if you have to stare at the ceiling or make small talk with your partner, it is still worth the drive and the wait.
The Little Tibet in Pokhara is a Must Visit Restaurant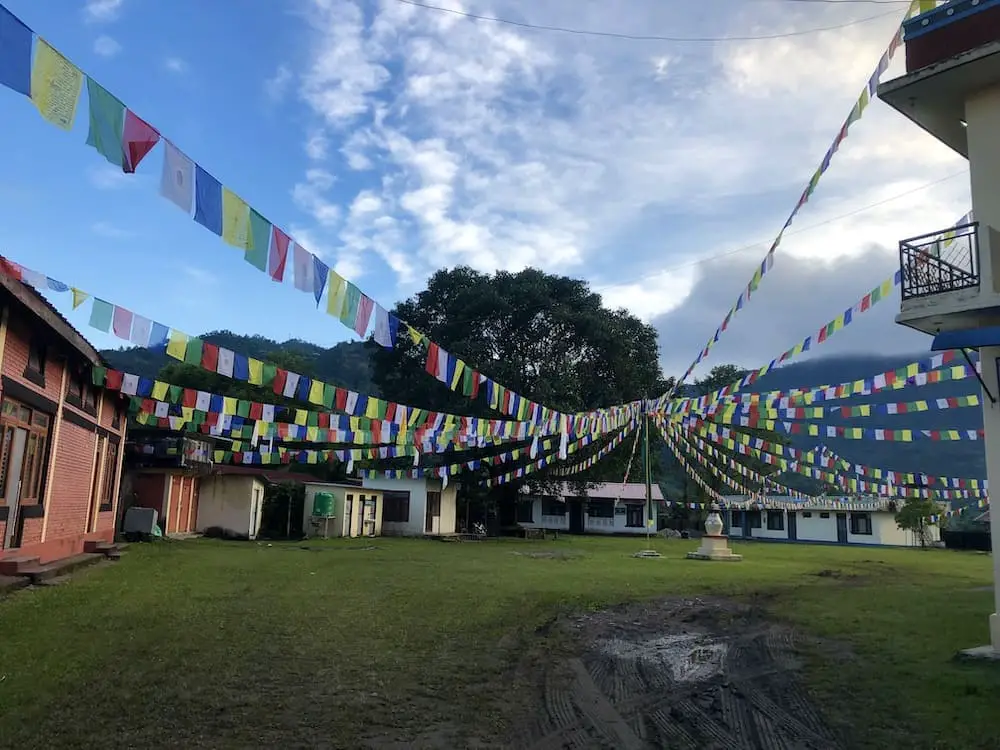 Two dishes and drinks at the Little Tibet Cafe will fill you up, and with many more items on the menu, you will be left wanting more! We know the place isn't close, but it's worth the ride to the restaurant. Little Tibet is definitely one of the best restaurants in Pokhara and is our go-to place for midweek or weekend meals. And if you aren't in the area, make a trip out one weekend in the afternoon to visit Devi's Falls and Gupteshwor Mahadev Cave and make sure to stop in for some delicious Tibetan Food. After your first visit, you'll probably start planning how to come back to the restaurant again!
Little Tibet in Pokhara, is an oasis away from the hustle and bustle of Lakeside. Situated in a quiet but beautiful Tibetan refugee camp, there are plenty of things to see after you eat. After indulging on new flavors, make sure to check out the Tibetan museum as well as hand woven carpet show room!
Looking for more excitement around Pokhara? Then make sure to have a look at my Pokhara Travel Guide!