With a slice of pizza, a glass of wine, and a relaxing lake view, Calm Pokhara offers a peaceful and serene atmosphere. The drive to the restaurant is also quite tranquil, the breeze gushing through your hair and face as you drive next to the lake. The road is full of charm, the beauty of the lake, and the various cafes you encounter along the way.
Calm is situated on the way to Pame and away from the main hustle and bustle of the lakeside. It is a neighborhood standby where you can go with your family and friends, get food on your shirt, and the staff will happily assist you.
Calm Pokhara: A Peaceful Brunch Destination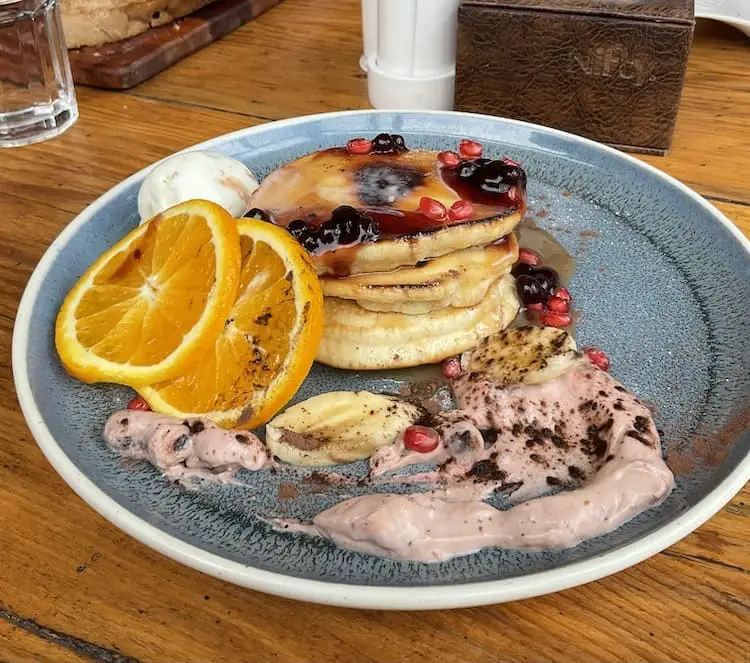 It's late breakfast on a Saturday at Calm, and the restaurant is peaceful and tranquil. The server took our orders for Berry Pancakes, Pulled Pork Benedict, and some coffee and juice. Calm offers plenty of vegetarian and non-veg options; however, we were also very surprised to see a variety of options for vegan lovers. It is one of the best restaurants in Pokhara and welcomes you with aesthetically pleasing interiors. They have several seating options. However, we like to sit in the bar area, where they have adequate seating. 
Calm is one of those places where it helps us to forget the daily grind and sink into a place where we can experience serenity and pleasure. The server brought our food, and it looked amazing and very stylish. The berry pancakes are thick, fluffy, extremely hearty, and a crowd-pleaser. The pancakes are topped with berry jam, vanilla ice cream, thick strawberry sauce, and sliced bananas and oranges on the side. It was an amazing start to our breakfast, and the consistency of every element was sensational. 
If you're a Benedict fan, you must try the Pulled Pork Benedict dish. It is simple, unbelievably tasty, and makes the perfect lazy weekend brunch dish. Eggs Benedict always sounds good, but we wanted to try the pulled pork, which the restaurant delivered. Yum!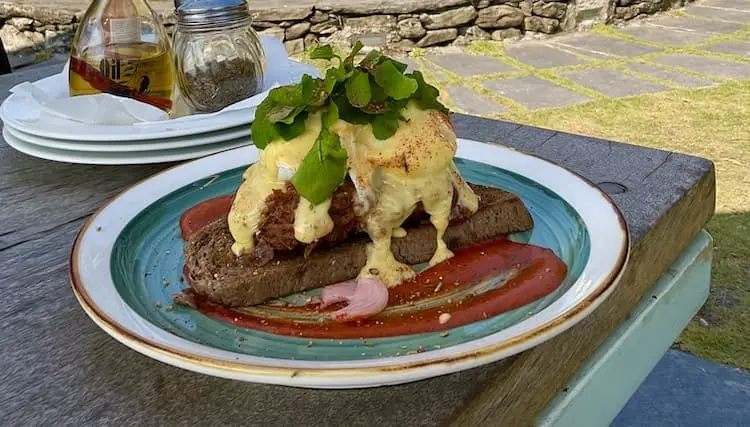 Barbecue pulled pork, fresh bread, poached eggs, and plenty of Hollandaise makes the dish hearty and wholesome. The meat was juicy, tender, and cooked to perfection. It was well-salted, savory, sweet, and solid with a pleasant blend of Nepali spices. The poached eggs bring the delicate balance between the leaky sunshine yellow goodness while still being a little firm in the yolk. And the hollandaise sauce just rolls right off your tongue. 
Doesn't that sound mouthwatering? The sauce is delicious, and the flavor captures the creaminess of the classic hollandaise sauce. This is the kind of sauce that makes you want to drown in it!
Pizza is Always a Good Idea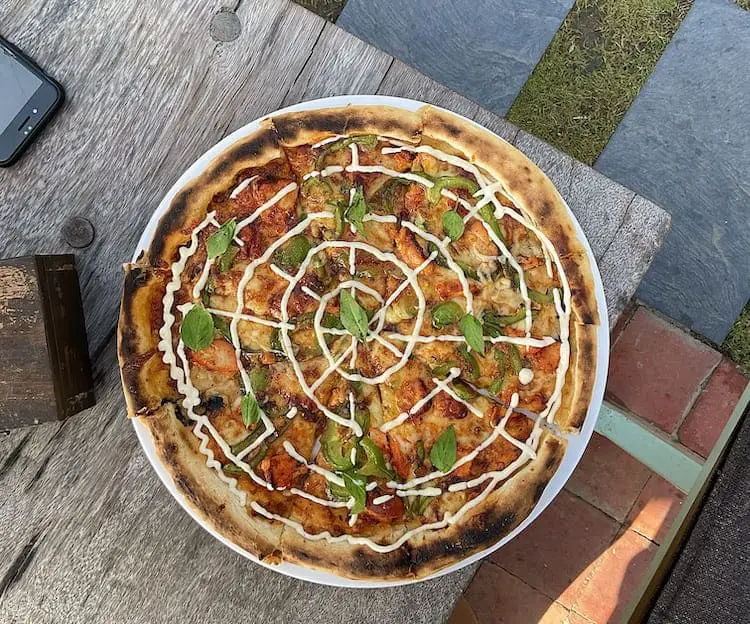 Being a hardcore foodie, two meals is never enough; it's like teasing your mouth for something more and better. A thin layer of soft bread with a base of tomato sauce topped with veggies, meat, and cheese, always sounds like a good idea. If your mind is already wandering, then yes, it is a pizza! I love the classic Margherita. 
However, with a lot of creativity booming in the food world, you can add numerous toppings and flavors and make your own pizza to your liking. But we all know that when it comes to non-veg pizzas, nothing beats the texture and luscious taste of chicken toppings! 
We wanted a different taste, so we ordered a chicken tandoori pizza. While the other two dishes were very quick, the pizza took quite a while. And even after taking all that time, the pizza didn't impress us much. We've had other pizzas there, and it has been really pleasant. But the tandoori chicken pizza was quite bland for us. 
The pizza smelled great and greeted us with generous toppings. The pizza overall did not have any taste at all, and I was personally disappointed. The sauce and meat could've used more "tandoori" flavor. However, I would recommend trying their Hawaiian and Meat lover pizza, as they are quite yummy! Also, if you are vegan, Calm in Pokhara has vegan pizza options as well!
Lazy Weekends at Calm Pokhara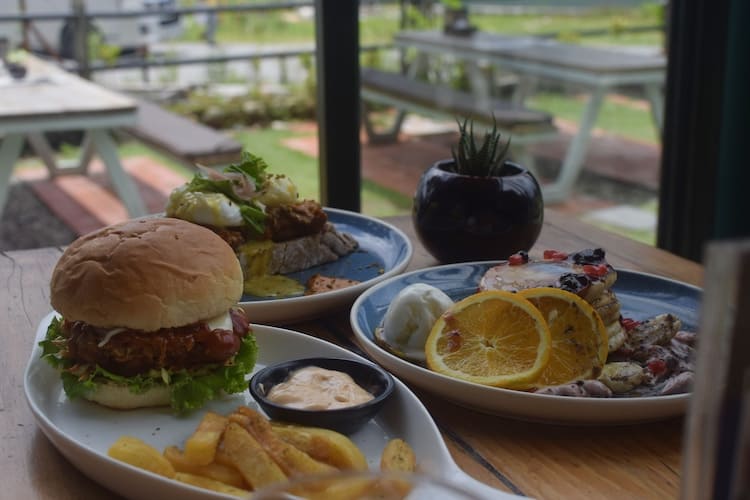 Spend a lazy weekend brunch at Calm and share some nicely cooked spaghetti and pizzas with your family and friends. Also, try their chocolate volcano and basque cheesecake, which just melts in your mouth. On a hot day, grab a craft beer and cajun potatoes, and bask in their outdoor seating area next to the lake. They also have a wide selection of smoothies, juices, and alcoholic drinks.
I think the prices are reasonable and the portions are big and will not leave you hungry. They have great service and a team of friendly staff. Calm offers a soothing atmosphere and amazing food that makes people come back. If you're in search of some good brunch away from the main lakeside, then Calm is your spot.
Enjoy your food and drinks as you enjoy the atmosphere, the decor, and the lake next to you. Calm in Pokhara is truly one of the must visit restaurants around Lakeside!