Just another way of starting the weekend with great food at Fat Monkey in Pokhara. Day-by-day new restaurants are opening in Pokhara and brings-in unique tastes and interiors. These restaurants are in-trend as they have great food and a fun atmosphere. They are perfect for date nights or just a casual bunch with your friends you want to impress.
My partner and I recently dined at a fantastic restaurant offering a unique twist to continental cuisine. The menu was diverse, and every dish we tried was full of flavor and truly phenomenal. The restaurant's interior was a standout feature, with a modern and trendy feel and pastel hues that created a fun and relaxed atmosphere.
The paintings of baby monkeys on the walls added to the place's overall fun and quirky vibe. The building had a rustic touch, which was a pleasant surprise and added to the overall dining experience. I recommend this restaurant to anyone looking for a memorable meal in a lively and inviting setting.
They also have live music on the weekends in their open-space rooftop bar. With two levels, a huge bar, and views of the lake, Fat Monkey is a great restaurant to relax and enjoy the evenings!
Looking for some other amazing restaurants with great food and drinks? Check out my roundup of the best restaurants in Pokhara! And you can thank me later!
Food And Drinks Rundown of Fat Monkey Pokhara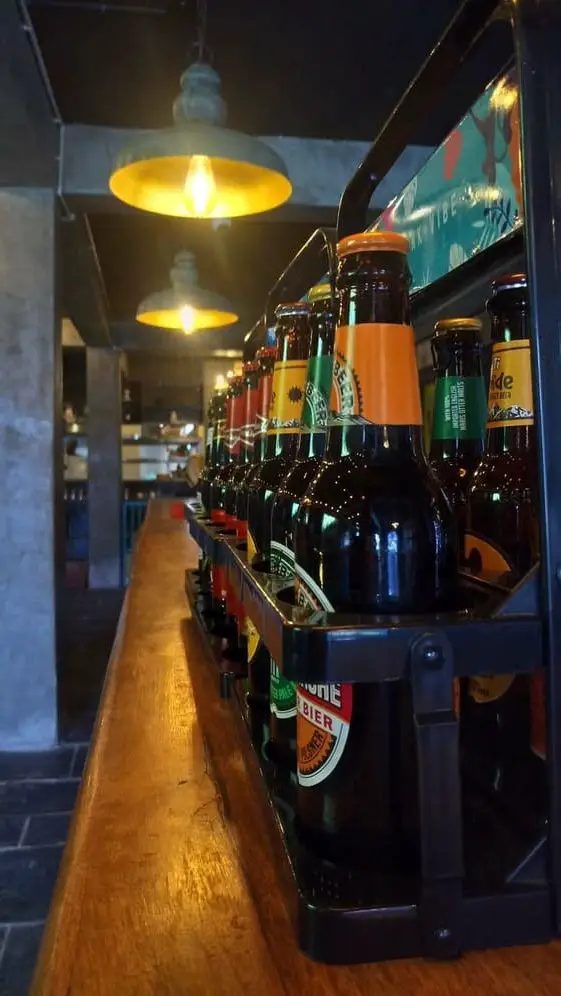 New restaurants, or just food in general, greatly excite my partner and me! We're always looking for new dining experiences and are thrilled to try a new restaurant in the area. The perfect combination of delicious food, refreshing drinks, and a lively atmosphere can set a restaurant apart and make an unforgettable experience.
Whether trying unique dishes or sipping on a specialty cocktail, a great restaurant can elevate a meal from a simple sustenance to create a truly unforgettable dining experience.
Drinks: Sparkling Peach Punch and Bubbly Monkey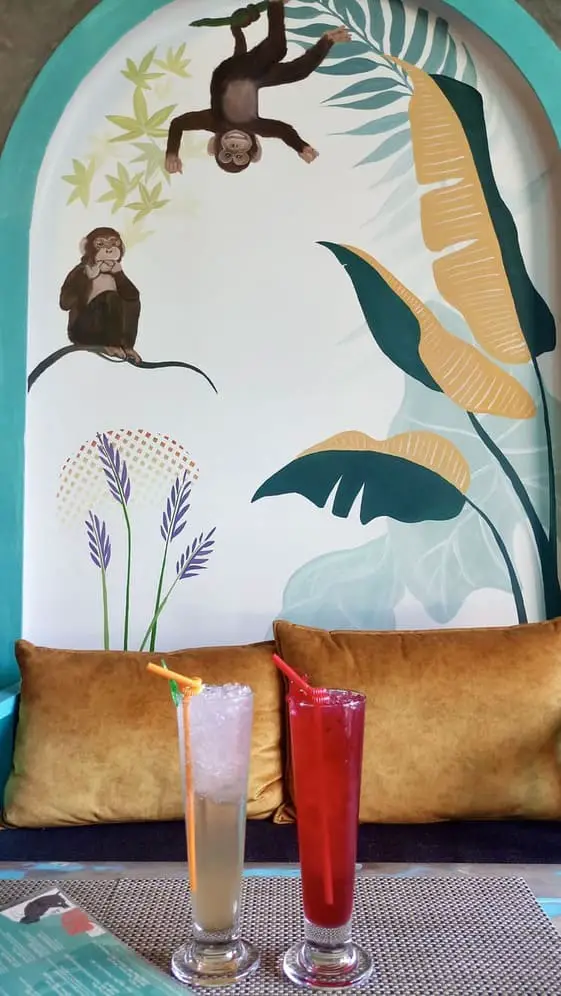 The Sparkling Peach Punch is a blend of sweet and tangy flavors. The peach syrup is the main ingredient that gives the drink a delicate, juicy sweetness, complemented perfectly by the tartness of the sweet and sour mix. The lemon-lime soda adds a touch of fizziness that brings the drink to life, making each sip a delight for the senses. The taste is balanced and not too overpowering, making it a perfect drink to enjoy any time of day. The Sparkling Peach Punch is a refreshing and delicious beverage that will satisfy anyone looking for a tasty treat.
The Bubbly Monkey is a playful drink that packs a punch of flavor. The combination of cranberry juice and pomegranate gives the drink a bold, fruity taste that is perfectly balanced by the crispness of the soda and the refreshing hint of mint. The soda adds a delightful sparkle to the drink, elevating it to a new level of refreshment. The vibrant red color is eye-catching, and the addition of a sprig of mint adds a touch of elegance. The drink is perfectly balanced, with each flavor complementing the others to create a unique and delicious taste. Whether you're looking to quench your thirst on a hot day or treat yourself to something special, the Bubbly Monkey is a drink that is sure to please!
Starters: Chicken Caesar Salad and Mushroom Couple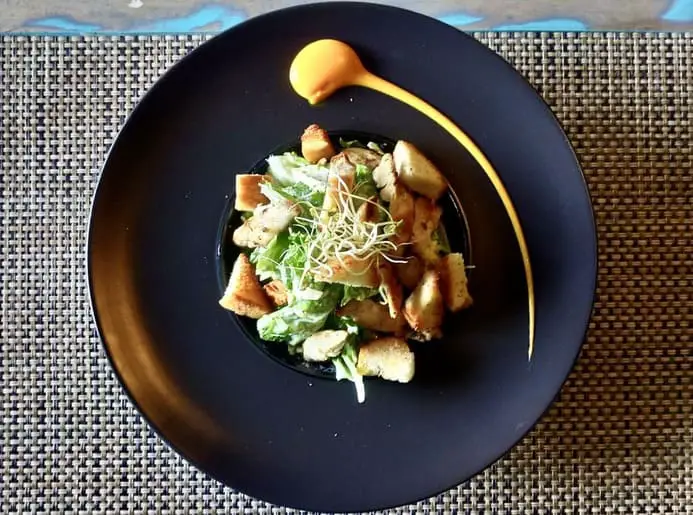 The Chicken Caesar Salad is a classic dish that never disappoints. The crispy romaine lettuce provides a fresh and crunchy base, while tender slices of grilled chicken add a satisfying savory component. The dressing made with a mixture of creamy mayonnaise, tangy lemon juice, and savory parmesan cheese, coats each bite perfectly and enhances the flavors of the other ingredients. 
The addition of croutons gives the salad a satisfying crunch and texture, while freshly shaved parmesan cheese adds a nutty and salty flavor. The Chicken Caesar Salad is a well-rounded dish that is both filling and healthy, making it a perfect lunch or dinner option. The combination of flavors and textures makes this salad a must-try for anyone looking for a satisfying and delicious meal. Definitely one of the best salads we've eaten in Pokhara!
P.S. The salad was so good that we were ready for another plate of chicken caesar salad even before finishing.
Mushroom Couple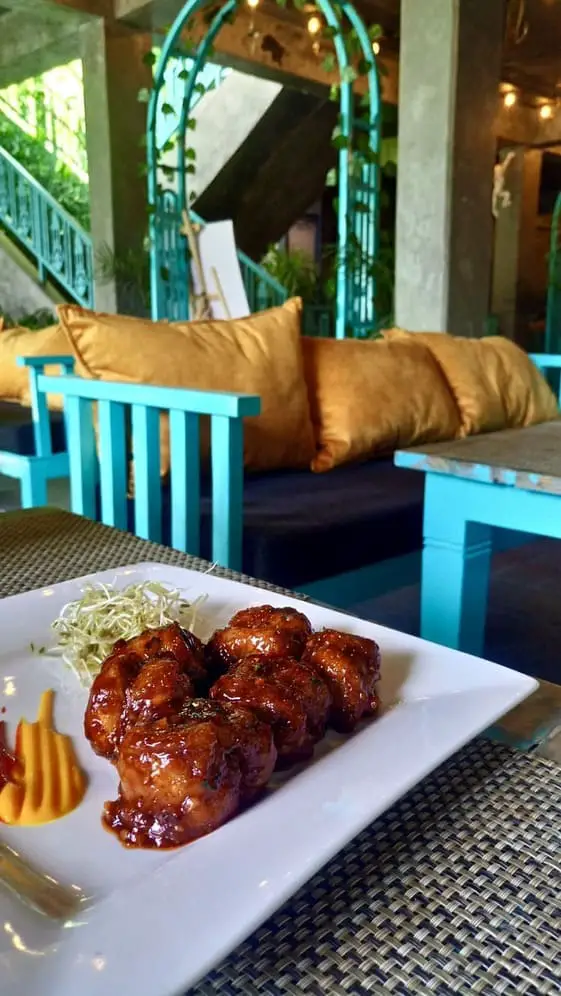 The Mushroom Couple is a delicious dish and a unique take on stuffed mushrooms. The button mushrooms are perfectly cooked, retaining their tender and juicy texture even after being deep-fried. The filling, made with a blend of flavorful ingredients, adds a layer of taste and texture to the dish. The spicy, sweet, and sour glaze is the real star of the show, providing a bold and exciting flavor that perfectly complements the earthy taste of the mushrooms. 
The combination of heat, sweetness, and tanginess creates a complex and well-balanced flavor profile that will satisfy the taste buds. The dish is presented beautifully, with the golden-brown mushrooms arranged on a bed of vibrant greens. Whether you're a fan of mushrooms or just looking for a new and exciting dish, the Mushroom Couple is a must-try for anyone looking for a delicious and unique meal. 
Main Course: Mushroom Stroganoff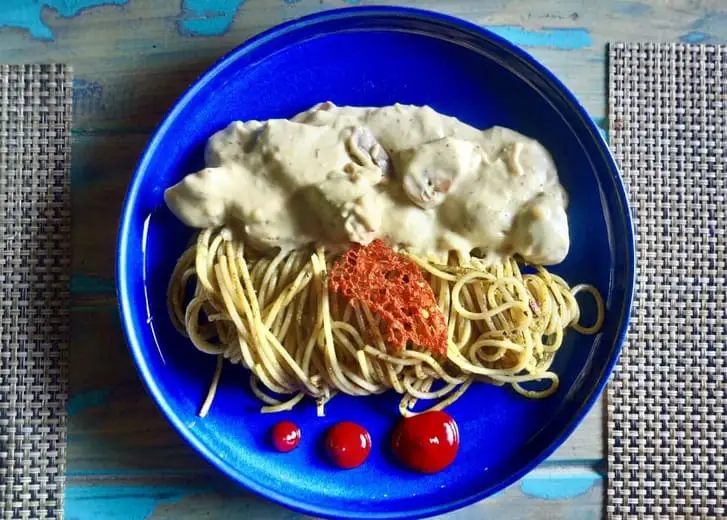 The Mushroom Stroganoff is a beautifully crafted dish that brings together classic flavors to create a truly memorable meal. The mushrooms are cooked to perfection, with a tender texture and a rich, earthy flavor. The white wine, garlic, onion, and butter work together to create a delectable sauce that perfectly complements the mushrooms. The sour cream adds a tangy and creamy component that balances out the flavors and adds a rich and silky texture to the sauce. 
The noodles provide a perfect vessel for the sauce, making each bite a combination of tender noodles and flavorful mushrooms. This dish is a new and exciting addition to the restaurant scene in Pokhara! It is perfect for foodies looking for a unique and delicious meal. No matter if you're a fan of mushrooms or just looking for a new twist on a classic dish. The Mushroom Stroganoff is a must-try for anyone looking for a satisfying and flavorful meal in Pokhara!
Fat Monkey Pokhara Menu at Lakeside
If you decide to try Fat Monkey for yourself, make sure to check out their menu first!
[metaslider id="5310″]
Fat Monkey in Pokhara: The Verdict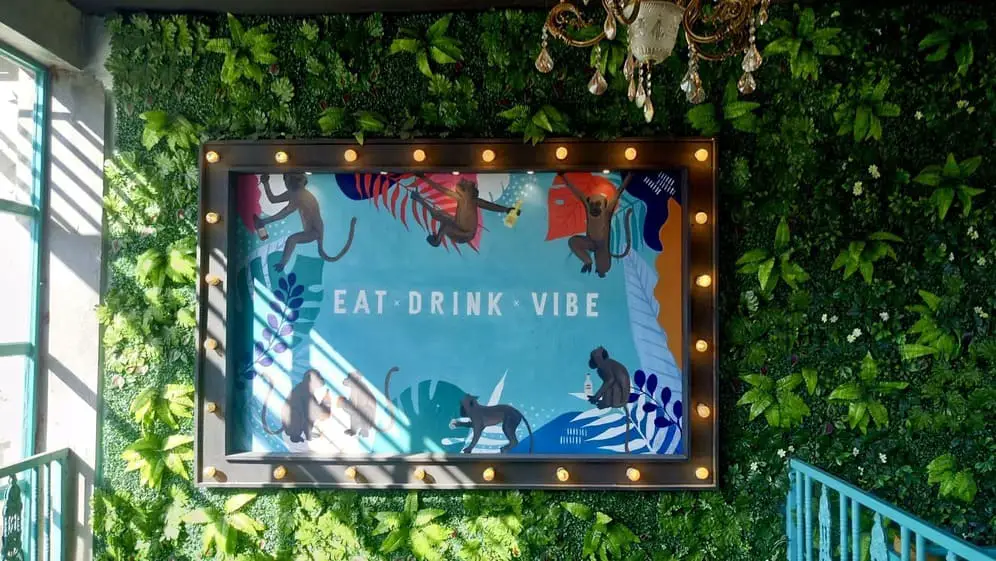 If you're looking for a truly amazing dining experience, look no further than Fat Monkey at Lakeside. From the moment you step inside, you are greeted by pastel and groovy interiors that set the perfect ambiance for a fun and funky evening. The open-space bar in the terrace provides a beautiful setting to enjoy a pre-dinner drink, with a selection of great drinks that are expertly crafted and leave you impressed. 
The food at Fat Monkey Pokhara is simply amazing, with a menu that showcases the best in local and international cuisine. The flavors are bold and exciting, and each dish is beautifully presented with fresh, high-quality ingredients. Whether you're in the mood for a light bite or a full-fledged feast, Fat Monkey in Pokhara has something for everyone.
The vibe is lively and energetic, with an infectious buzz, and sure to get you in the mood for a night of good food, great drinks, and amazing company. If you're looking for the best restaurant in the city, Fat Monkey in Pokhara is the place to be. Whether you're a local or just visiting, make sure to add this restaurant to your list of must-visit destinations in Pokhara.