If you're one of the crowds who love Japanese food, then Mangetsu Japanese Restaurant in Pokhara won't disappoint you. It is one of the best restaurants in Pokhara and offers authentic Japanese escapades, allowing you to visit Japan without a passport. The wooden entrance with Japanese symbols and lanterns hanging from the ceiling sets the tone for an undisputed Japanese dining experience.
As you enter the restaurant, you'll be transported to Japan with the interior design that truly brings the country's culture to Pokhara. The walls are decorated with Japanese calligraphy and artwork, and traditional Japanese music plays in the background, adding to the ambiance.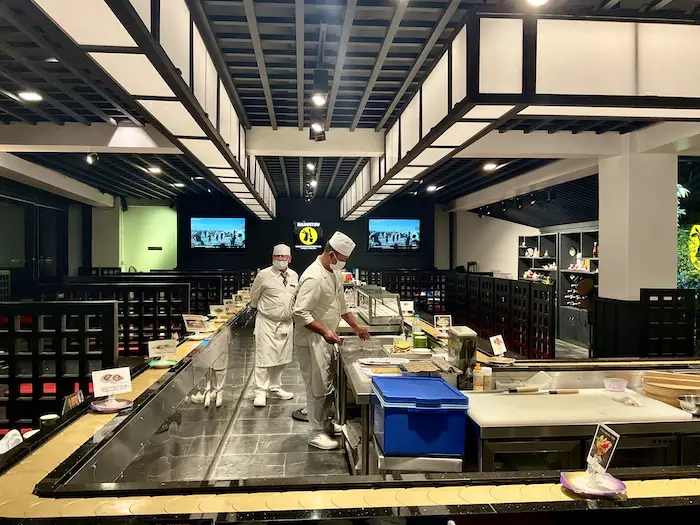 The restaurant exudes a simple and pristine atmosphere with understated Japanese influences. The restaurant also has a conveyor belt, a unique feature of Japanese restaurants. These conveyor belts, also known as kaiten-zushi, are typically located in the restaurant's center. Sushi plates are placed on them and moved around the restaurant, allowing diners to pick and choose their favorite dishes as they pass by.
The plates are color-coded, indicating their price and extensive variety of dishes, ranging from classic nigiri sushi to creative and unique rolls. The conveyor belts add a fun and playful element to the dining experience, allowing diners to try new dishes they may not have ordered. In addition to the convenience and fun factor, the conveyor belts ensure that the sushi is always fresh and readily available. 
Food Rundown of Mangetsu Japanese Restaurant 
Mangetsu Japanese Restaurant in Pokhara offers a delectable range of Japanese cuisine, including sushi, tempura, teriyaki, and bento boxes. The menu is extensive, with many dishes to suit all palates. The ingredients used are fresh and of high quality, ensuring that each dish is bursting with flavor.
1. California Rolls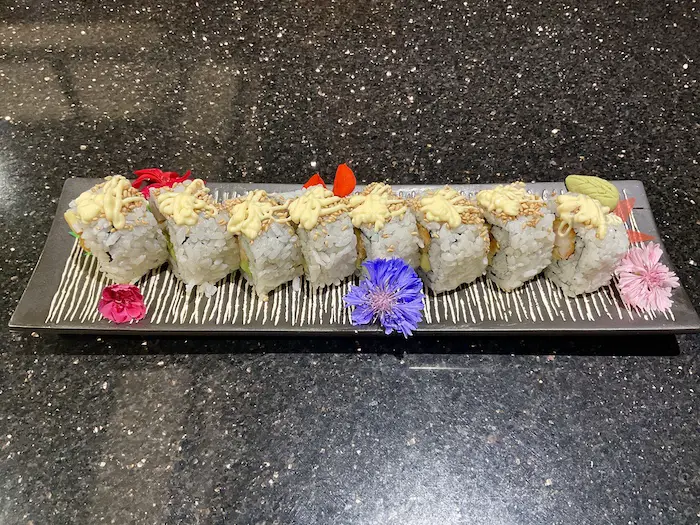 One of the standout dishes from Mangetsu is the California Roll. This sushi roll is our favorite and is made with fresh ingredients, including crab meat, avocado, and cucumber. The rolls are expertly prepared by skilled chefs and are served with wasabi and soy sauce for dipping. 
The taste of California Rolls is a symphony of flavors that harmoniously blend in perfect unison. The soft and slightly sweet crab meat is paired with creamy avocado, refreshing cucumber, and tangy mayo, creating a delightful contrast of textures and tastes. 
The perfectly cooked and seasoned sushi rice is the canvas for these ingredients, providing a subtle nutty flavor and a slightly sticky texture that binds all the elements together. Each bite is a burst of flavors that dance on the taste buds, leaving a lingering umami sensation that beckons for another bite. It's a culinary experience that's hard to forget and will leave you craving more.
2. Teriyaki Don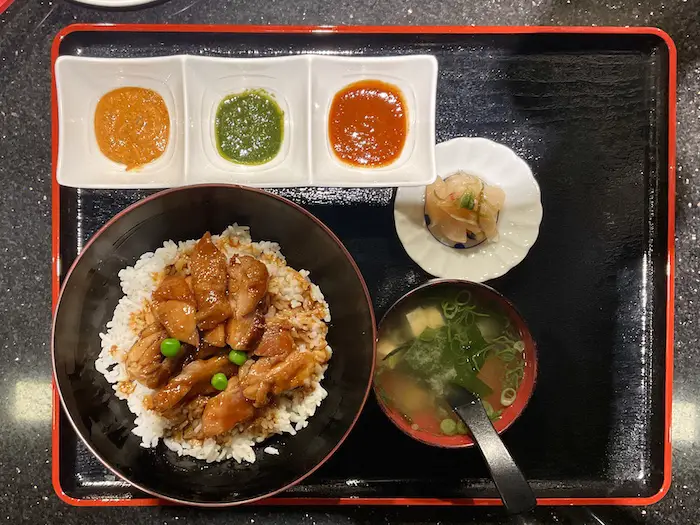 If you're in the mood for a hearty and satisfying meal at Mangetsu Japanese Restaurant in Pokhara, the Teriyaki Don is perfect. The succulent pieces of grilled chicken are marinated to perfection in a rich and savory soy sauce, creating a depth of flavor that's impossible to resist. 
The sweetness of the teriyaki glaze is perfectly balanced with the subtle saltiness of the soy sauce, creating a harmonious blend of flavors that's enhanced by the soft and fluffy Japanese rice. The dish is garnished with a sprinkle of sesame seeds and thinly sliced of fresh scallions, adding a burst of freshness that perfectly complements the rich and savory flavors of the dish. 
The Teriyaki Don is a filling and satisfying meal that is perfect for lunch or dinner and will leave you feeling satisfied and content. It's a dish that's both comforting and exciting, and each bite leaves you wanting more. The only negative was the portion is small and not enough for a group of two.
3. Teriyaki Bento Box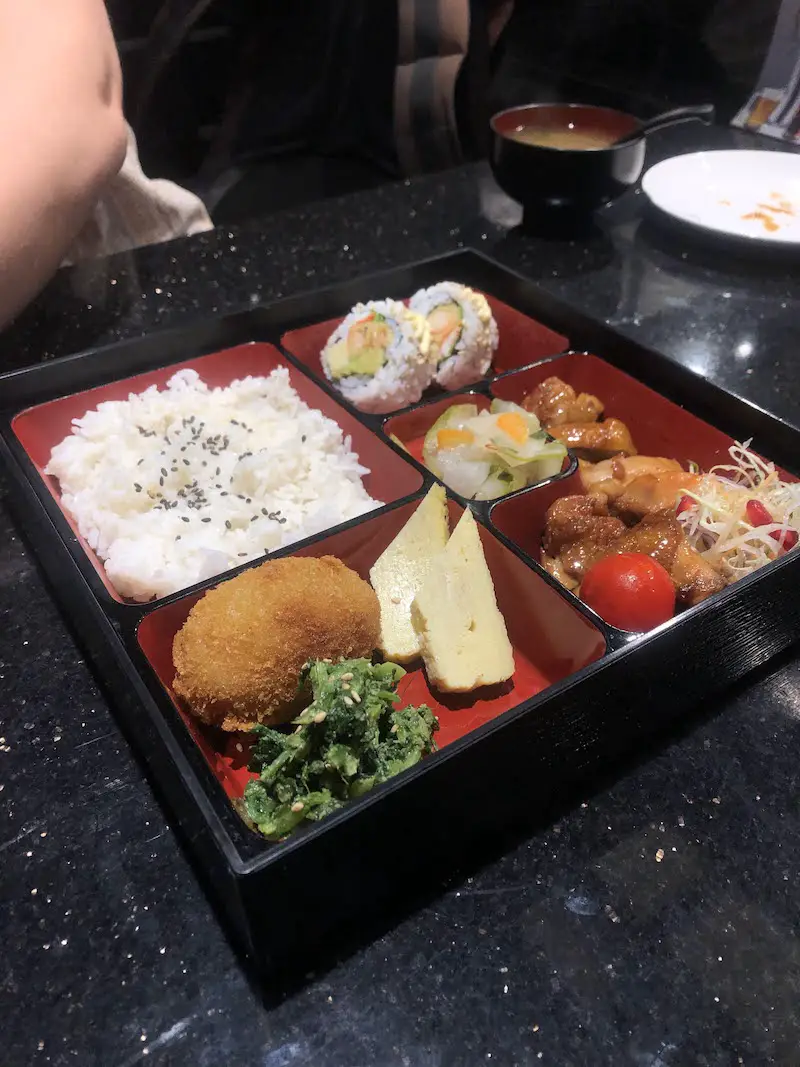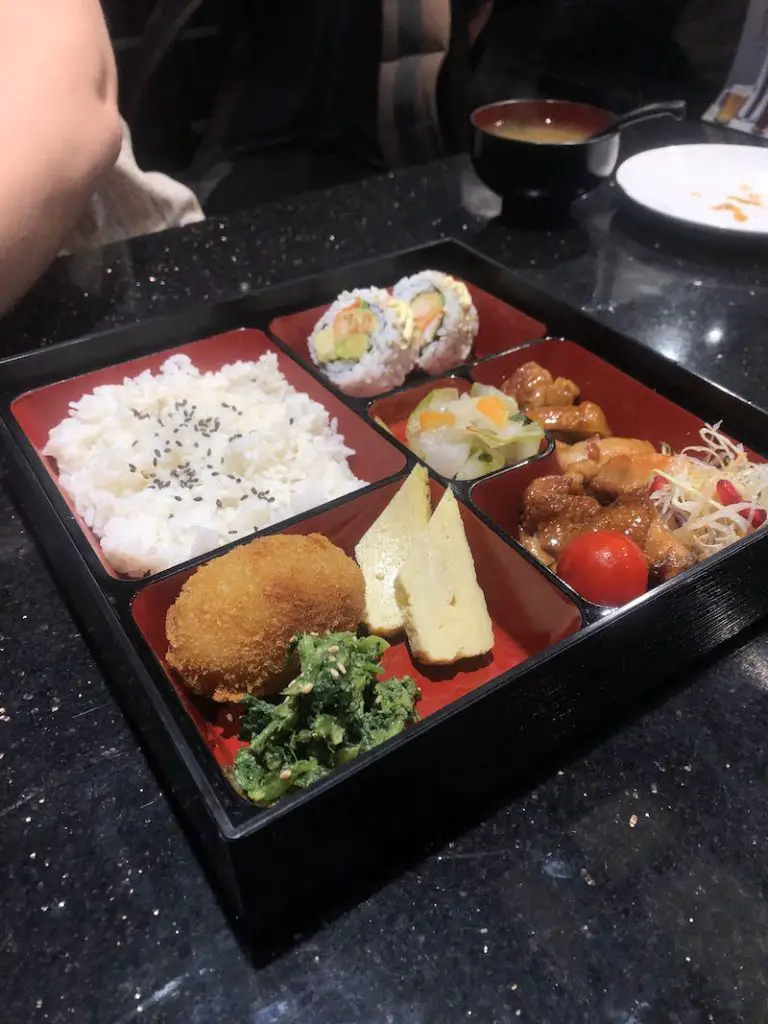 The Teriyaki Bento Box is a deliciously satisfying meal with many flavors and textures. The bento box includes a variety of traditional Japanese dishes, including the main dish of grilled chicken marinated in a sweet and savory teriyaki sauce. The chicken is tender and juicy, and the marinade flavors shine through. 
The grilled chicken is perfectly marinated in soy sauce, giving it a savory and slightly sweet taste that's hard to resist. The teriyaki sauce is thick and luscious, coating the chicken in a sticky glaze packed with flavor. The dish is served with a side of Japanese rice cooked to perfection, offering a slightly chewy texture that pairs perfectly with the tender chicken. 
The bento box also comes with miso soup, which is rich and flavorful, and a side of vegetable tempura, which is perfectly crispy and not too greasy. The ginger salad dressing is light and refreshing, adding a subtle tang that perfectly balances the richness of the teriyaki sauce. Each component of the dish is thoughtfully prepared, creating a delicious and satisfying meal that will leave you feeling content.
4. Mangestu Tuna Roll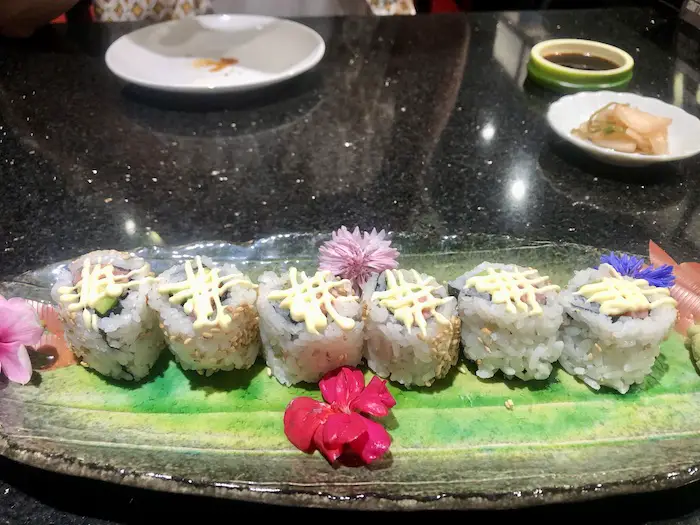 The Tuna Roll is a sushi lover's dream, boasting a delightful blend of flavors and textures. The delicate and tender tuna is the star of the show, offering a subtle, slightly sweet taste complemented by the rice vinegar's tanginess. The sushi rice is perfectly cooked, offering a somewhat sticky texture that binds all the ingredients together.
The roll is finished with a Japanese mayo topping and a sprinkle of toasted sesame seeds, adding a nutty and aromatic flavor that completes the dish. Each bite is a burst of flavors and textures that dance on the taste buds, leaving a delightful umami sensation that's hard to forget. It's an elegant, comforting dish and a must-try for sushi aficionados.
Mangetsu Japanese Restaurant Menu
The menu at Mangetsu Japanese Restaurant offers a wide range of authentic Japanese dishes. From sushi to tempura to bento boxes, there's something for everyone.
The Verdict: Best Japanese Restaurant in Pokhara?
Mangetsu Japanese Restaurant in Pokhara is a must-visit for anyone seeking an authentic Japanese dining experience. With its unique dining setup, delicious food, and beautiful interior design, it's sure to be a memorable experience. The restaurant's unique dining setup, with its conveyor belt, adds fun to the dining experience. 
From delicate and artful sushi to rich and satisfying teriyaki dishes, there's something for everyone to enjoy. With its cozy and welcoming atmosphere, Mangetsu Japanese Restaurant is the perfect place to indulge in a delicious meal with family and friends. It's no surprise that it's considered one of the best restaurants in Pokhara. So next time you're in the area, be sure to stop by and indulge in the flavors of Japan.