Joe Tasker was born in Hull in the UK on May 12, 1948. He grew up in a large Catholic family and had 9 brothers and sisters. When his family moved to Billingham, Joe got interested in nature and the outdoors. 
Even when he was young, Joe liked to climb to really high places. His family and friends remember seeing him climb lamp posts and the gates of a big bridge. Joe went to Ushaw Seminary in County Durham from the time he was 13 until he was 20. While he was training to become a Catholic priest there, he became interested in a book called "The Climb Up to Hell" by Jack Olsen. The book talked about dangerous attempts to climb the North Face of the Eiger mountain. This resulted in Joe to start climbing. HIs first climb was in a nearby quarry in 1966.
When he was done with the seminary, he got a job as a dustman. Later, he went to Manchester University to study sociology. While he was at the university, he went from climbing rocks in Britain to tackling harder routes in the Alps.
Expeditions of Joe Tasker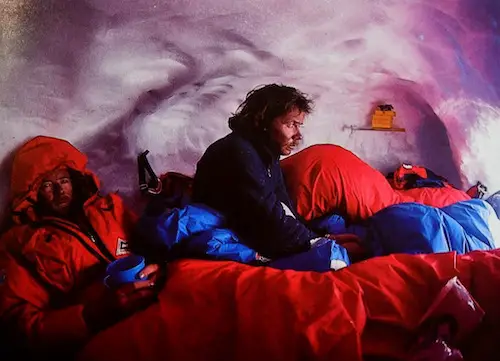 Joe Tasker's first climbing buddy was Dick Renshaw, someone he became friends with at university. They climbed the North Face of the Eiger during the winter of 1975. Later that same year, they successfully climbed the South-East ridge of Dunagiri, a mountain in the Garhwal Himalayas that is 7,066 meters tall. On their way down, they ran out of food and fuel and were fortunate to make it back alive. However, Renshaw's fingers were affected by frostbite.
Climbing Journey with Peter Boardman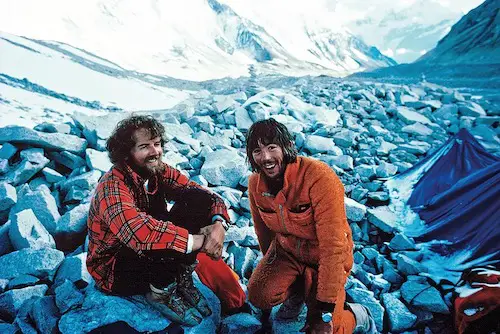 In 1976, Joe Tasker achieved something remarkable by climbing the West Face of Changabang (6,864m), a mountain next to Dunagiri. This was his first time teaming up with Peter Boardman. Many people praised their impressive mountaineering accomplishment. 
In 1977, Tasker tried to climb Nuptse with Doug Scott and Mike Covington, but they were unsuccessful. Then, in 1978, both Tasker and Boardman were part of an expedition to K2, led by Chris Bonington. Unfortunately, they had to give up the expedition after Nick Estcourt lost his life in an avalanche.
Mountain Conquests and Challenges: Tasker's Journey to New Heights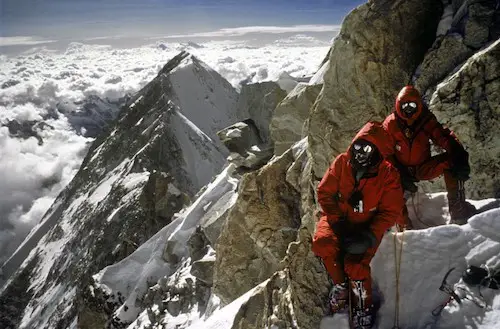 In 1979, a small team made up of Tasker, Boardman, Doug Scott, and Georges Bettembourg (though he didn't reach the summit) accomplished a remarkable feat. They climbed Kangchenjunga, the third highest mountain in the world at 8,598 meters, using a new route from the North-West. What made this even more remarkable was that they achieved this without the aid of supplementary oxygen.
Their second attempt on K2 in 1980 turned out to be a near-disaster as Tasker narrowly escaped being swept away by an avalanche. Unfortunately, the attempt was unsuccessful in the end. This is not surprising, as even today, K2 continues to be regarded as one of the most dangerous mountains to climb in the world. 
During the winter of 1980-1981, Tasker was part of an eight-person team, including Alan Rouse, John Porter, Brian Hall, Adrian Burgess, Alan Burgess, Pete Thexton, and Paul Nunn. They aimed for a challenging winter assault on one of the difficult climbing routes on Everest the West Face. While this endeavor didn't succeed, it formed the basis for Tasker's first book, "Everest the Cruel Way."
Undaunted Pursuits: Joe Tasker's Journey to Mount Kongur
Joe's determination remained unshaken by his encounters with challenges. He remained undeterred by the dangers, considering mountain expeditions to be an integral part of his life. These pursuits often took precedence over his relationships back home, which were frequently strained due to his frequent journeys.
However, his commitment yielded results, exemplified by his significant achievement on July 12, 1981, when he, along with Pete Boardman, Chris Bonington, and Al Rouse, successfully completed the first ascent of Mount Kongur (7,649m) in China.
Everest Expedition in 1982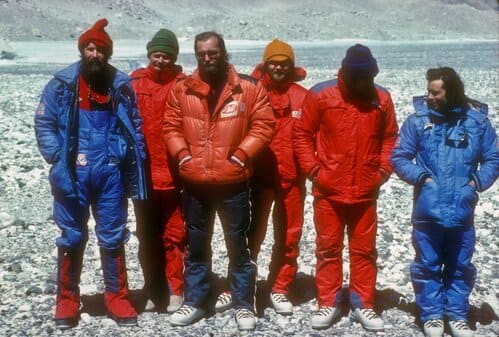 During the winter of 1980-1981, Joe Tasker participated in an eight-person expedition aimed at conquering the West Ridge of Everest without using supplementary oxygen. Much like he had accomplished on Kangchenjunga in 1979. Unfortunately, the expedition didn't succeed due to the team falling victim to illness, exhaustion, and harsh weather conditions.
Joe didn't give up, though, and in 1982, he made a return to Everest. This time, the Everest expedition focused on ascending the North East Ridge. The team included familiar faces from his previous journeys: Chris Bonington, Pete Boardman, Charlie Clarke, and Dick Renshaw. For Joe, this venture also provided an opportunity to create a climbing documentary to capture the expedition's essence.
Over a span of two months, the team established progressively higher basecamps along the ridge line of Everest: at 7,250m, 7,700m, and 8,100m. Among the group, Peter and Joe emerged as the most physically fit and determined. They were the only members who remained for the final ascent to the summit. On the evening of May 17th, they were spotted climbing near the North East Ridge of Everest, but after that, they vanished from sight completely.
The Search for Joe Tasker and Pete Boardman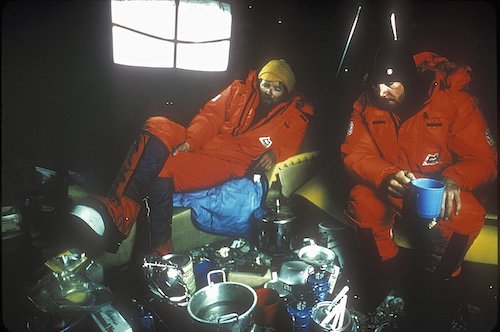 The following day, Chris Bonington and the manager of the advance base camp, Adrian Gordon, embarked on a journey to ascend the North Col in the hope of spotting the two climbers. They waited there for three days, longing for a glimpse of the missing climbers. Eventually, they had to return to the base camp.
At a press conference after their return, Chris Bonington shared, "On the 19th, 20th, and 21st, there was no trace of them. By the 21st, I came to realize that there was a strong likelihood that something serious had gone wrong. It seemed that one of them might have been injured or lost their life, while the other wasn't able to signal us for help. Our concern was overwhelming."
Was Joe Tasker Ever Found?
In 1992, the remains of Boardman was discovered, seated just beyond the second pinnacle in the immensely challenging region known as the "Three Pinnacles" along the middle North-East Ridge of Everest. However, Tasker's body remains undiscovered to this day, even though certain pieces of his climbing gear were located between the second and third pinnacles.
Savage Arena: Joe Tasker's Legacy in Mountaineering and Writing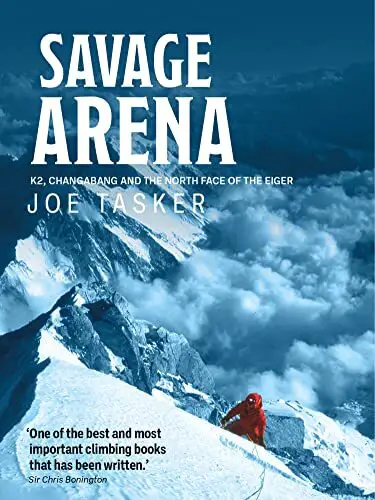 In addition to being a skilled mountaineer, Joe was also a prolific writer. In 1981, he published "Everest the Cruel Way," followed by the posthumous release of "Savage Arena" in 1982. His writings often delved deep into exploring the profound allure of mountains, resonating strongly with his contemporaries then and still today.
Joe's exceptional vision and ambition for the Greater Ranges were perhaps unmatched. Despite his unfortunate passing at the age of 34, he accomplished some of the era's most iconic ascents, pushing both technical challenges and mountaineering methods to unprecedented heights.
Honoring Joe Tasker and Peter Boardman
The inception of the Boardman Tasker Prize for Mountain Literature was established to celebrate the legacy and the indelible contributions of Joe Tasker and Pete Boardman. This prestigious literary award, first bestowed in 1983, stands as a symbol to their enduring legacy in the realms of mountaineering and literature.
Each year, the prize celebrates exceptional works that capture the spirit of adventure, exploration, and the profound connections between the written word and the mountains they traversed.