Born on December 25, 1950, Peter Boardman was a renowned English mountaineer and accomplished writer. His legacy is primarily built upon a sequence of several Himalayan journeys, frequently undertaken alongside Joe Tasker.
Tragically, Boardman and Tasker lost their lives on the North East Ridge of Mount Everest in 1982. To honor their memory, the Boardman Tasker Prize for Mountain Literature was instituted.
Peter Boardman: A Life of Peaks and Passions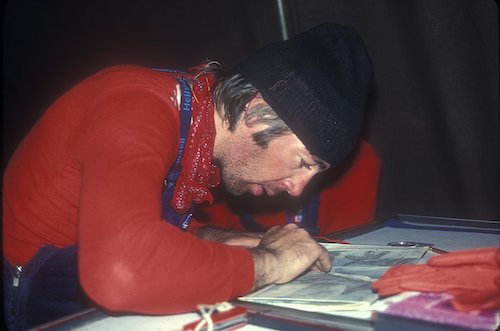 Boardman was born in Stockport, England. His parents were Alan Howe Boardman and Dorothy Boardman. He went to Stockport Grammar School from 1956 to 1969. He went on trips to Corsica and the Swabian Alps while in school. Boardman started climbing with friends at Windgather Rocks in a park. In 1966, he joined the Mynydd Climbing Club and got better at climbing. He climbed in the Pennine Alps in 1968.
From 1969 to 1972, Boardman studied English at the University of Nottingham. He was the President of the Mountaineering Club from 1971 to 1972. He climbed a lot in Europe and went on his first trip to Afghanistan in 1972. After Nottingham, he got a certificate in teaching English and outdoor activities from the University College of North Wales in 1973.
In August 1980, Boardman married Hilary Collins. They started climbing together in Derbyshire and Scotland. Hilary liked mountains too, and they climbed Kilimanjaro, Mount Kenya, and Carstensz Pyramid. 
Boardman's Journey as a Professional Mountaineer
After finishing his higher education and gaining experience in climbing and mountaineering, Boardman was on the way to becoming a professional mountaineer. In 1973, he started teaching at Glenmore Lodge in Aviemore. Then, in 1975, he became a leader at the British Mountaineering Council. In 1978, after Dougal Haston passed away, Boardman became the Director of the International School of Mountaineering in Switzerland, where he stayed until his own passing in 1982. Here are some other important things he achieved:
Received a Mountain Guide Carnet in September 1977.
Vice-president of the British Mountaineering Council in 1979.
President of the Association of British Mountain Guides in 1979.
Peter Boardman's Climbing Adventures Around the World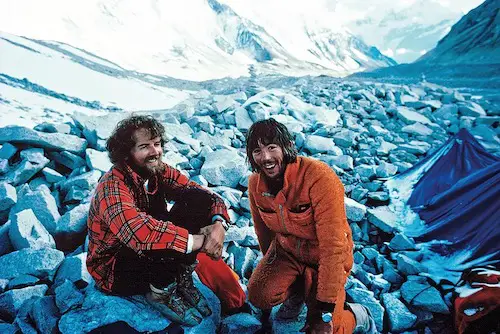 Boardman's legacy is intertwined with a series of climbing adventures that spanned across Europe and around the world. Venturing extensively across the European landscapes, he left his mark on iconic peaks and established a reputation. Let's dive into Boardman's early forays in Europe to the remarkable feats achieved in the rugged terrains around the world.
Europe: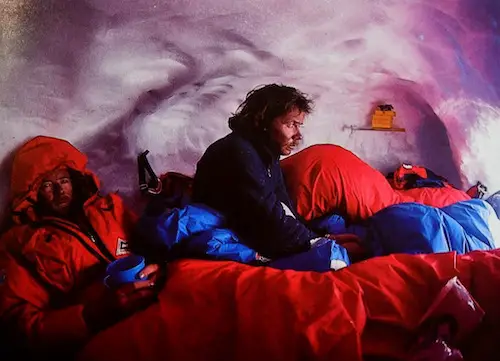 Peter Boardman was a dedicated climber who spent a lot of time climbing in Europe. In his early years, he conquered famous peaks like Petit Dru in 1970. He also achieved first British ascents on mountains like Olan, Pic Sans Nom, and Aiguille de Sialouze in 1971.
Notably, he met fellow climbers Joe Tasker and Dick Renshaw during an adventure on the North Spur of the Droites. In 1973, he continued his achievements by completing the first British ascents of the North Face of the Nesthorn and the North Face Direct of the Lauterbrunnen Breithorn.
Journey to the Hindu Kush in 1972:
Boardman's mountaineering journey took him beyond Europe in 1972. He joined his peers from the Nottingham University Mountaineering Club for an expedition to the Hindu Kush in Afghanistan. Despite facing unexpected difficulties during a training climb on Koh-i-Khaaik, Boardman and his team managed to conquer the unclimbed North Face of Koh-i-Mondi. This expedition marked their success in climbing five new peaks and forging five new routes.
Mount Dan Beard, Alaska, 1974:
In 1974, Peter Boardman and Roger O'Donovan, became the first to conquer Mount Dan Beard (3,127m) in Alaska via the South Face. This ascent marked the mountain's second-ever successful climb. Their ambition to conquer Mount McKinley, however, had to be abandoned due to O'Donovan falling ill.
Everest, South West Face, 1975:
In 1975, Boardman's mountaineering journey took him to the famed slopes of Everest. Chris Bonington was organizing a major expedition to Everest's South West Face. Boardman's climbing experience had been highly recommended by Paul Braithwaite as a valuable addition to the team. 
The expedition proved triumphant, with Doug Scott and Dougal Haston becoming the first two Britons to stand atop Everest's summit on September 24, 1975. On September 26, Boardman and Pertemba, the expedition's lead Sirdar, also reached the summit. However, during their descent they met Mick Burke, who was still ascending. By then, the weather was starting to get worse. Despite waiting for Burke at the South Summit, he tragically disappeared, never to be seen again.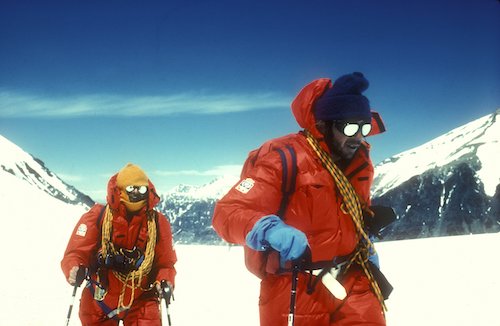 Changabang, West Wall, 1976: 
Boardman and Joe Tasker's first joint expedition was climbing Changabang's West Wall (6,864m) in the Garhwal Himalaya of India. The ascent, took place over 25 days during September and October of 1976. It earned a recognition as one of the most exceptional lightweight Himalayan climbs to date. 
The idea to climb Changabang had originated from Joe Tasker, who had spotted the mountain during a prior expedition with Dick Renshaw on Dunagiri. With Renshaw recovering from frostbite, Tasker proposed the idea to Boardman. This challenging ascent aligned with Boardman's desire for a deeply immersive and self-respecting endeavor. It complemented his existing reputation in the world of mountaineering, and public recognition achieved from previous accomplishments, notably his Everest expedition.
Journey to K2, West Ridge, 1978:
In 1978, Chris Bonington asked Boardman to join an expedition to K2 (8,611m). The team included climbers like Paul Braithwaite, Nick Estcourt, Doug Scott, and Joe Tasker. They were also joined by a doctor, Jim Duff and cameraman Tony Riley. 
Back then, K2 had been successfully climbed only two times, and its West Ridge had never been conquered. During the expedition, Boardman and Tasker managed to reach a height of around 6,700m. Unfortunately, the journey had to be abandoned due to an avalanche that took the life of Nick Estcourt. Even to this day, K2 is considered to be one of the most difficult and dangerous mountains to climb in the world.
Scaling New Heights in Papua: Carstensz Pyramid, 1978:
In December 1978, Boardman and Hilary Collins became the first people to reach the top of Carstensz Pyramid's South Face (4,884m). This pyramid is located in Papua, which is part of Indonesia on the island of New Guinea. 
Just a few weeks later, in early January 1979, they didn't stop there. They successfully climbed another nearby peak called Dugundugu. Alongside two climbers from France, they also managed to go across all three summits of Ngga Pulu. 
Conquering Kangchenjunga, North Ridge, 1979: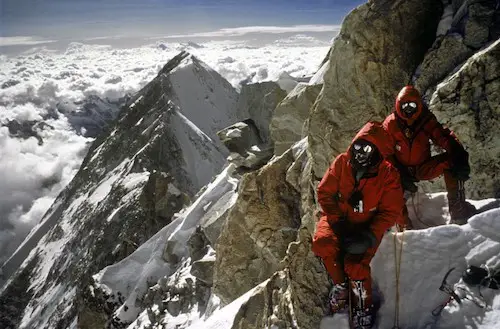 On May 16, 1979, Boardman, along with Doug Scott and Joe Tasker, reached the top of Kangchenjunga (8,586m). What makes this even more amazing is that they did it by climbing up the North Ridge, which was a way no one had done before. 
In the past, the team had tried twice, with French mountaineer Georges Bettembourg as part of the team, but they couldn't make it due to bad storms high up on the mountain. This time, they succeeded, and it was the third time anyone had reached the summit of Kangchenjunga.
Scaling Gauri Sankar's South Summit, 1979:
Boardman took charge of a special trip with both British and Nepalese climbers. They were determined to do something that had never been done before: climb the southern tip of Gauri Sankar, a mountain with two peaks, located in Nepal. The team included Boardman, Pemba Lama, Tim Leach, and Guy Neithardt. Together, they reached the South Summit (7,010m) on November 9, 1979, using the West Ridge as their path. 
Retrying K2, West Ridge and Abruzzi Spur, 1980:
Right after the K2 expedition in 1978, Boardman and Tasker were eager to give it another shot. In May 1980, they went back to K2's West Ridge, this time joined by Dick Renshaw and Doug Scott. They chose a different path to avoid the risky slope they faced in 1978. However, this route turned out to be very hard. 
The team, now without Doug Scott, decided to change direction and follow the path taken by the first climbers up the Abruzzi Spur. During this try, they got as high as 8,077m, but an avalanche struck their tent in the middle of the night. This forced them to come down the mountain. They tried a third time but had to stop because of bad storms on the mountain. 
Climbing Kongur in 1981:
Boardman was a member of a British group that successfully climbed Kongur (7,719m) in China. The team included Boardman, Chris Bonington, Al Rouse, and Joe Tasker. They were also joined by a cameraman, Jim Curran and a medical team studying how altitude affects climbers. 
Together, they conquered the mountain by climbing alpine style, which means they carried their gear as they went. They took the southwest rib route and reached the summit on the evening of July 12, 1981. 
Everest, North East Ridge, 1982: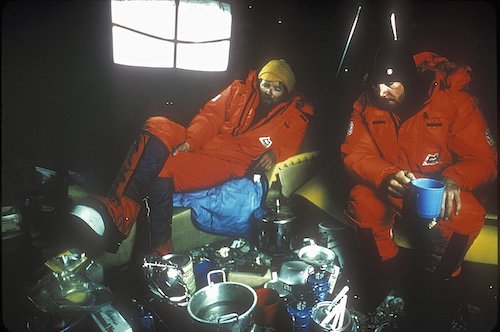 For British climbers, the northern side of Everest had not been climbed since the 1930s. However, in 1982, the opportunity to explore this region arose due to the Chinese government permitting foreign expeditions on the mountain. The North East Ridge was selected as the climbing route of choice. It was seen as a captivating Everest climbing route that was both unfamiliar and enticingly challenging. 
Rising two miles from the Raphu La (6,510m) to the North East Shoulder (8,393m) and then connecting to the North Ridge, this ridge was considered the right path. The journey from there to the summit added almost another mile of climbing. The most challenging part of the North East Ridge was a set of tall pinnacles located high on the ridge, just before reaching the North Ridge.
The Expedition's Composition and Timeline:
The team on the expedition included Boardman, Chris Bonington, Dick Renshaw, and Joe Tasker. They were supported by expedition doctor Charles Clarke and Adrian Gordon, along with Chinese Base Camp staff. Tasker had the responsibility of filming the expedition for a documentary. 
They arrived at Base Camp on March 16, 1982, and began setting up camps higher up on the Rongbuk glacier. On April, the team started climbing on the Ridge, creating snow caves at different heights: 6,850m, 7,256m, and 7,850m. However, Renshaw faced a health issue while climbing above 8,000m, having a minor stroke. After a second stroke at Base Camp and following medical advice, Renshaw had to leave the expedition to return home with Clarke, going as far as Chengdu.
Bonington realized he couldn't climb much higher without using extra oxygen, so he decided to support the others. He planned to go to the North Col with Gordon, waiting while Boardman and Tasker attempted to reach the Three Pinnacles. On May 15, Boardman and Tasker left Advance Base Camp, reaching the second snow cave the same day. By May 16, they reached the third snow cave and had their final radio contact with Bonington that evening. On May 17, they moved beyond the First Pinnacle, last seen at 9:00pm at the foot of the Second Pinnacle (8,250m) after climbing for 14 hours.
Search Efforts and Heartbreaking Outcome:
With no sign of Boardman and Tasker for four days by May 21, Bonington and Clarke went up the Kangshung Valley, searching on the other side of the ridge. Gordon remained watchful at Advance Base Camp. By the start of June, the expedition returned to Base Camp. Bonington had to go to Chengdu to convey the sad news of Boardman and Tasker deaths to their families.
Death of Peter Boardman
The sad news about Peter Boardman's passing was shared with Hilary Boardman (wife) in Leysin and covered by the media. To remember and honor Boardman, a memorial service was organized at St. George's Church in Stockport on July 11, 1982.
In September 1982, Hilary Boardman and Maria Coffey, Joe Tasker's girlfriend, embarked on a journey to the northern side of Everest. They traveled as far as Advance Base Camp, retracing the path that Boardman and Tasker had taken on their last expedition. This journey was a way for them to connect with the memory of Boardman and Tasker.
Was Peter Boardman Ever Found?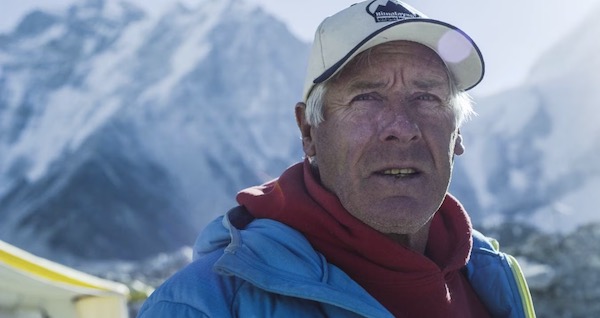 From 1985 to 1987, several expeditions tried to reach the same high point that Boardman and Tasker had achieved on the North East Ridge. However, these attempts were unsuccessful. In August 1988, Russell Brice and Harry Taylor managed to climb the Pinnacles section of the route, which Boardman and Tasker hadn't been able to complete. They successfully crossed this part and then descended using the North Ridge. Unfortunately, due to heavy monsoon snow cover, they didn't find any traces of Boardman or Tasker.
In 1992, a joint Japanese-Kazakh expedition made it past the Pinnacles but couldn't make it to the summit. However, they found a body beyond the second pinnacle at around 8,200m on the Rongbuk side of the ridge. By examining photographs taken by Vladimir Suviga and shared with Chris Bonington, they were able to confirm that this was Peter Boardman's body.
Then, in 1995, a Japanese expedition successfully completed the entire ridge. They also encountered a body that was initially believed to be Joe Tasker's. However, after a thorough re-evaluation of all the evidence, Chris Bonington came to the conclusion that both sightings were of Boardman. He compared descriptions and photographs from each expedition, leading him to believe that the body they had seen was indeed that of Peter Boardman.
Literary Accomplishments and Legacy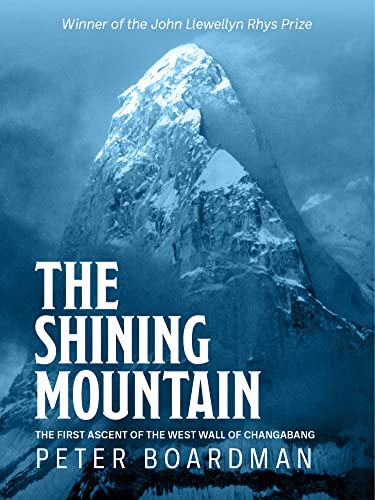 Boardman authored a book titled "The Shining Mountain," which recounted the 1976 Changabang expedition. This book is regarded as an exceptional piece of mountaineering literature and was even honored with the prestigious 1979 John Llewellyn Rhys Prize for literature.
A second book, "Sacred Summits" described his climbing achievements in 1979 on Carstensz Pyramid, Kangchenjunga, and Gauri Sankar. This book was released after his passing. In 1995, these works, along with the writings of Joe Tasker, were republished in a collection known as the "Boardman Tasker Omnibus." 
Commemoration
To honor the two climbers literary accomplishments, the Boardman Tasker Prize for Mountain Literature was established in 1983 by the climbers' family and friends.
In 2008, the Peter Boardman Climbing Wall was dedicated at Stockport Grammar School, serving as a tribute to his legacy.
In 2012, a special calendar was created for 2013, commemorating the 30th anniversary of Boardman and Tasker's disappearance.
In recognition of Peter Boardman's significant role as a mountaineer and as an alumnus of the University of Nottingham, the Peter Boardman Climbing Wall was inaugurated in 2016 at the University of Nottingham Ningbo China.