Born on 16 October 1988, Tom Ballard was an esteemed British rock climber and alpinist. His achievements included being the first to conquer all six major alpine north faces solo within a single winter season. 
However, tragedy struck during a fateful expedition to Nanga Parbat, situated in Pakistan-administered Kashmir, in February 2019. Adverse weather conditions befell Ballard during this ill-fated journey, leading to his disappearance. It was not until 9 March 2019 that his body was found on the Mummery Spur of the mountain. Leaving the climbing world in mourning for the loss of an adventurous soul.
At the age of 30, Ballard had already earned himself recognition as one of the greatest climbers of our time. His difficult solo climbing and innovative approaches to the mountains solidified his legacy as a legend in the climbing community.
Tom Ballard: The Disappearance of Climbing Royalty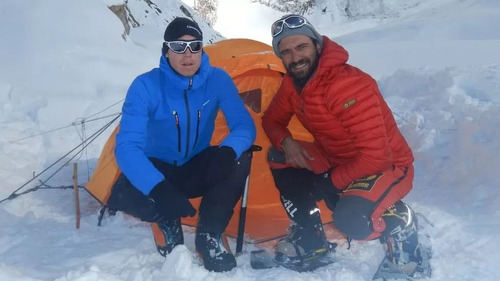 Alex Txikon was operating a drone and right before it crashed he had spotted two motionless figures. Despite being unable to take a photograph due to the feed interruption, Alex was resolute in what he had witnessed. The broad-shouldered Basque alpinist, his beard frosted with ice from the relentless cold, could clearly picture the scene in his mind.
The two bodies were found at an altitude of 5,800 meters, nestled amidst a labyrinth of diagonal rock bands and snow. Roped together and mere feet apart, the upper figure was hanging on a fixed line leading upward, while the lower one lay contorted on the slope below, also connected to the line.
Tragically, these climbers were none other than Daniele Nardi, the 42-year-old Italian, and Tom Ballard, the 30-year-old from the UK. Their goal had been to accomplish the third winter ascent of the 8,126-meter Nanga Parbat, following the legendary and unfinished Mummery Spur route.
The global news outlets were abuzz with the disappearance of Ballard and Nardi, largely due to Ballard's esteemed lineage. Tom hailed from climbing royalty, being the son of Alison Hargreaves, a renowned alpinist. Even the legendary Reinhold Messner regarded her as "the greatest alpinist ever as a woman." Tragically, Alison had met her untimely demise during a storm while descending K2 in 1995, along with six others, in one of the deadliest days in the mountain's history. Tom was just a child at the time, and his mother's passing had also created a significant media frenzy.
In the Footsteps of Greatness: Tom Ballard's Bold Ascent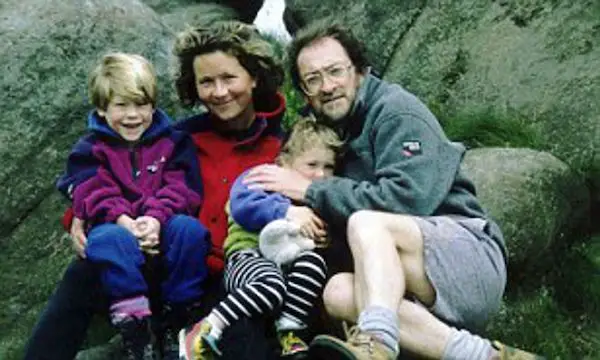 Growing up with the legendary mountaineer Alison Hargreaves as his mother, many expected Tom Ballard to forge his own unique path. However, he eerily followed in her footsteps, embarking on her North Faces project and eventually venturing into the Greater Ranges. Like his mother, Ballard gained a reputation as a solo climber, making a name for himself in the mountaineering world.
Nanga Parbat presented a daunting challenge, especially for Ballard, perhaps too immense for his level of experience. While Daniele Nardi had attempted the Mummery Spur multiple times, Ballard's involvement in the expedition raised eyebrows. It marked his first venture into an 8,000-meter peak, having never even surpassed 6,000 meters before. Winter ascents of such peaks are unforgiving arenas, with ferocious 100-mile-per-hour winds and freezing temperatures. Most of the 14 8,000ers had been conquered in winter only once, underscoring the immense risk involved.
The Mummery Spur, resembling a dragon's spine, dramatically splits Nanga Parbat's west face, extending from the bottom all the way to a plateau below the summit pyramid. A line of perilous beauty, it has seen the likes of Reinhold Messner and his brother, Günther, along with Nardi, Ballard, and Nardi's former partner, Elisabeth Revol. Messner reflects on the route's danger, recalling his descent with Günther in 1970, where Günther tragically succumbed to altitude sickness near the base. 
Simone Moro, the intrepid climber who achieved the first winter ascent of Nanga Parbat in 2016 and the first winter ascents of four unique 8,000-meter peaks, portrays the Mummery Spur in even bleaker terms. He likens climbing it to a game of Russian roulette, emphasizing the immense risks involved. Moro finds Ballard's decision to attempt the Mummery Spur for his first high-altitude winter climb on a new route to be incredibly hardcore and far from the conventional path to a high-altitude career. While a few defenders argue that Nardi's envisioned route was reasonably safe, they remain in the minority against the prevailing warnings.
In this challenging arena of legendary mountaineering feats, Tom Ballard embarked on this journey, determined to carve his own legacy amid the shadows of his famous mother.
The Tragic Ascent of Ballard and Nardi on Nanga Parbat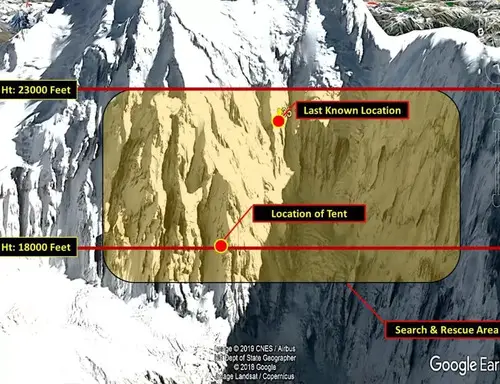 In January 2019, Ballard and Nardi embarked on their ascent, battling the freezing cold weather. Snow weighed heavily on their progress, and the frigid tent offered little respite from the subzero temperatures. 
During blustery days at base camp, they honed their skills by dry-tooling on erratic boulders, trying to stay physically fit. On more favorable high-pressure days, they ascended the Mummery, establishing Camp I, then Camp II, and finally Camp III at 5,700 meters. Although Camp III was nestled in a crevasse, they still faced relentless winds.
Their multiple attempts to reach Camp II and Camp III were thwarted by precarious conditions, with the looming threat of avalanches forcing them to retreat each time. Slides buried their tents, and a significant avalanche nearly struck them during one of their efforts to reach Camp I.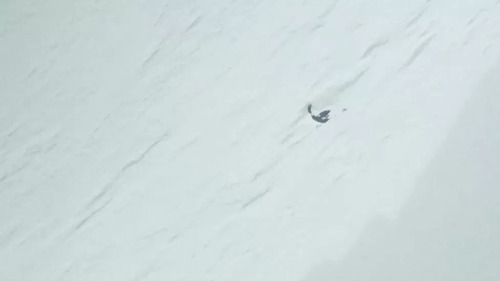 On February 24, Nardi made a routine phone call to his sponsor from 6,300 meters, informing them of their descent to 6,000 meters, where they had set up a portaledge for Camp IV to seek shelter from a storm. Later that evening, he called his wife to check in, and then one last call was made to base camp, stating their intention to descend further to Camp III at 5,700 meters. Tragically, this was the last communication anyone had with them.
As days passed without contact, an international rescue mission was initiated, but difficult weather conditions and political complications on the India-Pakistan border hindered progress in the initial week. On March 3, Basque climber Alex Txikon and his team, who were attempting the first winter ascent of K2, flew to Nanga Parbat to aid the search. Enduring small avalanches and facing risky conditions, they ventured along the climbers' route in search of Ballard and Nardi. 
Finally, on March 5, Txikon spotted Ballard and Nardi's lifeless bodies with the help of a drone, marking the heartbreaking end to their search and a tragic conclusion to their expedition.
Unraveling the Tragedy of Tom Ballard on the Mummery Spur
Amidst the media storm surrounding Ballard and Nardi's untimely deaths, an array of simple yet haunting questions surfaced. Why was Ballard there, on an inhospitable and perilous route, seemingly lacking the necessary experience? What drove him to persist even after witnessing the grave objective risks firsthand? These puzzling inquiries clashed with Ballard's reputation as a safety-conscious climber, known for taking precautions even on seemingly straightforward European routes.
A prolific solo alpinist, Ballard kept a low profile in the media and guarded his motivations in the mountains with secrecy. Unraveling the complexities of his ambitions required delving into his own mountain experiences and, inevitably, his mother's legacy. Ballard denied that his climbing was driven by a desire to draw closer to his late mother. However, their extraordinary achievements and the parallel narratives of their lives cast doubt on this assertion.
The essence of the tragedy on the Mummery Spur lies in the delicate balance between Ballard's endeavor to forge his own path while grappling with the shadow of his mother's legacy. The undeniable influence of her accomplishments intertwined with his personal journey, resulting in an enigmatic and heartbreaking story that unfolded on the slopes of Nanga Parbat.
Tom Ballard's Early Climbing Adventures: A Quiet Prodigy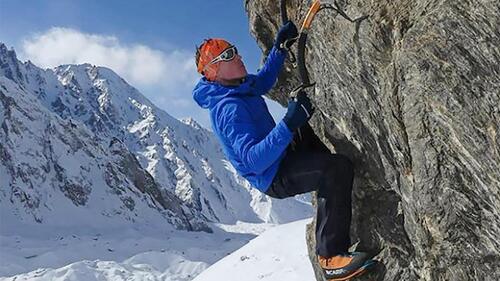 At just 5 years old in 1993, Tom Ballard had his first taste of climbing on a low fifth-class route in the Calanques, a limestone region along the Mediterranean in France. Despite his mother's concerns about his young age, Tom seized the opportunity when his father, Jim, granted permission. Ascending the sharp slab barefoot, Tom's actions left his mother less than amused upon her return, recounting the episode with a hint of amusement.
Tom's natural talent was evident when he was 8 or 9 years old, on a serene Scottish morning, as he casually informed his father that he had already soloed another climb previously, after being suggested to give it a try. Tom's early climbing endeavors reflected his inherent curiosity and passion for the sport. 
Despite being a voracious reader, with a particular interest in climbing history, he found little joy in formal education, becoming a lackluster student. From the age of 14 onwards, he attended school sporadically, opting to pursue climbing when the air was crisp and skiing when the snow was favorable.
Bouldering held a special place in Tom's heart, granting him the freedom to explore unaccompanied, unburdened by the necessity of finding a climbing partner. Despite it being a lesser-known aspect of his career, Tom's love for bouldering shone through. Between 2002 and 2007, he accomplished over 1,000 new boulder problems in Scotland, single-handedly discovering, cleaning, and conquering them. His dedication even led him to produce a bouldering guide to Glen Nevis.
Unraveling Tom Ballard's Alpinist Journey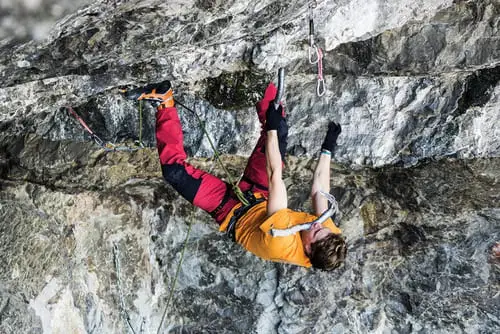 In the winter of 2009, a 20-year-old Tom Ballard returned to the Eiger North Face, a place he had unknowingly encountered even before birth. His goal was to achieve the first solo ascent of the Scottish Pillars (5.10- A3), a seldom repeated route established in 1970 on the left side of the imposing North Face. 
Harsh weather conditions hampered his progress, but he persevered and eventually conquered the entire route, completing it in late spring 2009. In the process, he realized he was capable of free climbing the Scottish Pillars, and he also discovered the potential for an entirely new independent line adjacent to it.
Within that summer, he accomplished both feats. He solo-climbed his new free variation of the Scottish Pillars, which he aptly named "Solitaire." Additionally, he tackled the completely novel route, again rope-soloing, and fittingly christened it "Seven Pillars of Wisdom" (ED 5.12b). The name, besides playfully alluding to the "pillars" that formed the line, also held a deeper meaning. It paid homage to his favorite book and conveyed his resolute determination to pursue his dreams with clarity and sobriety.
Subsequently, in 2013, he achieved another milestone by making the first free ascent of "Olimpia – going for gold" during winter on Catinaccio in the majestic Dolomites. Displaying his relentless spirit, he embarked on forging a new path on the Agassizhorn in the Bernese Oberland, aptly naming it "If Gengis can, we can!"
Tom Ballard: Starlight and Storms
From December 2014 to March 2015, Tom Ballard embarked on the ambitious "Starlight and Storms" project, leaving a remarkable mark in climbing history. In a display of unparalleled skill and determination, he accomplished the solo ascent of all six major alpine north faces—the Cima Grande di Lavaredo, the Piz Badile, the Matterhorn, the Grandes Jorasses, the Petit Dru, and the Eiger. 
Notably, he achieved this extraordinary feat within a single winter season, without any assistance from a support team. The captivating journey was documented in the film "Tom," which garnered numerous accolades at international film festivals, adding to the legend of his daring and innovative pursuits.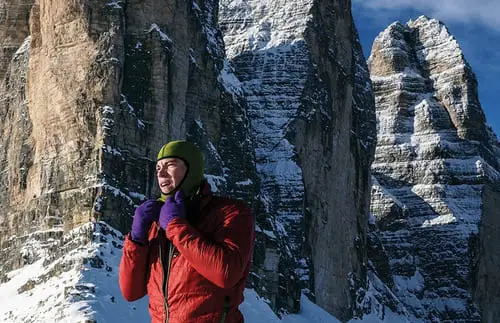 In 2016, Ballard continued to push the boundaries of climbing, establishing multiple new rock, mixed, and dry tool routes. Notably, he opened a challenging 26-pitch rock climb called "Dirty Harry" on the northwest face of Civetta. Venturing further, he forged a new mixed route dubbed "Titanic" on the north face of the iconic Eiger. Displaying his prowess in the realm of dry-tooling, he created "A line above the sky," then considered the world's most demanding dry-tooling climb, in the breathtaking Dolomites.
Tom's insatiable appetite for exploration and pushing limits led him and Italian climber Daniele Nardi to attempt the unclimbed North East face of Link Sar in Pakistan in 2017. Although they faced immense challenges and tried their best, they were unable to reach the summit on this ambitious endeavor. Nonetheless, their relentless pursuit of adventure was evident throughout their journey.
The Last Mountain Warrior: Honoring Tom Ballard's Fearless Legacy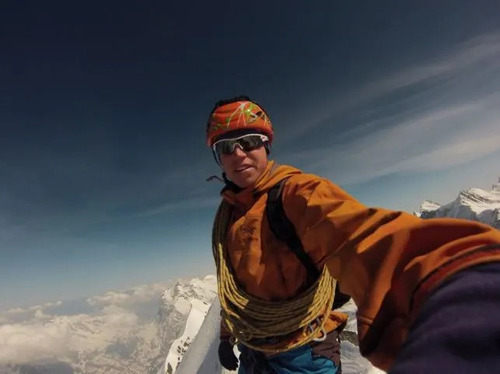 Ballard, a fearless solo climber of his generation, would undoubtedly have continued pushing the boundaries and blazing new trails in the climbing world, had fate allowed.
The 2021 BBC film, "The Last Mountain," beautifully captured Ballard's life and climbing legacy. In the documentary, his mountaineer father, now bereft of both wife and son to the mountains, found solace in knowing that Tom met his end while pursuing his greatest passion.
"Tom was a mountain warrior, just like his mother. Forever 30, at the pinnacle of his physical abilities, doing what he loved, where he loved. If nature reclaimed him, we can do nothing but tip our hats to a life lived to the fullest."

Jim Ballard
FAQs: Tom Ballard
1. Did they ever find Tom Ballard?
After an agonizing search that lasted a fortnight, the remains of Tom Ballard and Daniele Nardi, the British and Italian climbers who had gone missing, have been discovered on the formidable Nanga Parbat in Pakistan.
2. What happened to Daniele Nardi and Tom Ballard?
Daniele Nardi and Tom Ballard tragically lost their lives while attempting to scale the treacherous 8,126-meter Nanga Parbat mountain. The summit of Nanga Parbat stands at an imposing 8,125 meters.
3. Did Tom Ballard climb Mummery Spur?
Nanga Parbat, a colossal mountain in Pakistan, has proven to be a formidable challenge claiming the lives of many climbers throughout the years. Undeterred by its deadly reputation, Tom embarked on the Mummery Spur route, accompanied by his climbing partner, Daniele Nardi.