With new cafes and restaurants opening daily in Pokhara, there is nothing more telling than the growing cafe culture in the city. The number of modern cafes in Lakeside, Pokhara, is pretty insightful and offers a lens to the millennial-driven market, often through digital consumption. And honestly, many of us decide where to eat based on our feeds on Instagram or TikTok. Cafes, bars, and restaurants are also consciously designed to attract millennials and Gen-Z to get more traction and easy marketing, and this is something Cindermint in Pokhara has done well. 
Without going overboard, the cafe has found a delicate balance between aesthetics and class. With a pleasant vibe, Cindermint is one of the best restaurants in Pokhara – both in terms of delicious food and style. If you're looking for the prettiest and most aesthetic cafe to visit in Pokhara, then Cindermint should be on your list! 
Inside Cindermint: Lakeside's Most Instagrammable Cafe
A cute and pastel-hued patisserie cafe, Cindermint offers breakfast, sliders, smoothies, coffee, boba tea, and a variety of pies and pastry selections. It is a pastel paradise with dusky wooden seatings and tables complemented with dried gypsy flowers that match the neutral colors of the cafe.
The menu is simple and filled with signature items like bagels, sliders with fries, and a lot of pies and pastries. Since it's really hard to find good bagels in the country, seeing them on the menu, we got excited. So, we ordered the chicken, caramelized onions and cream cheese bagels, chicken sliders with fries, salad and bacon on the side, mint lemonade, and blended mocha.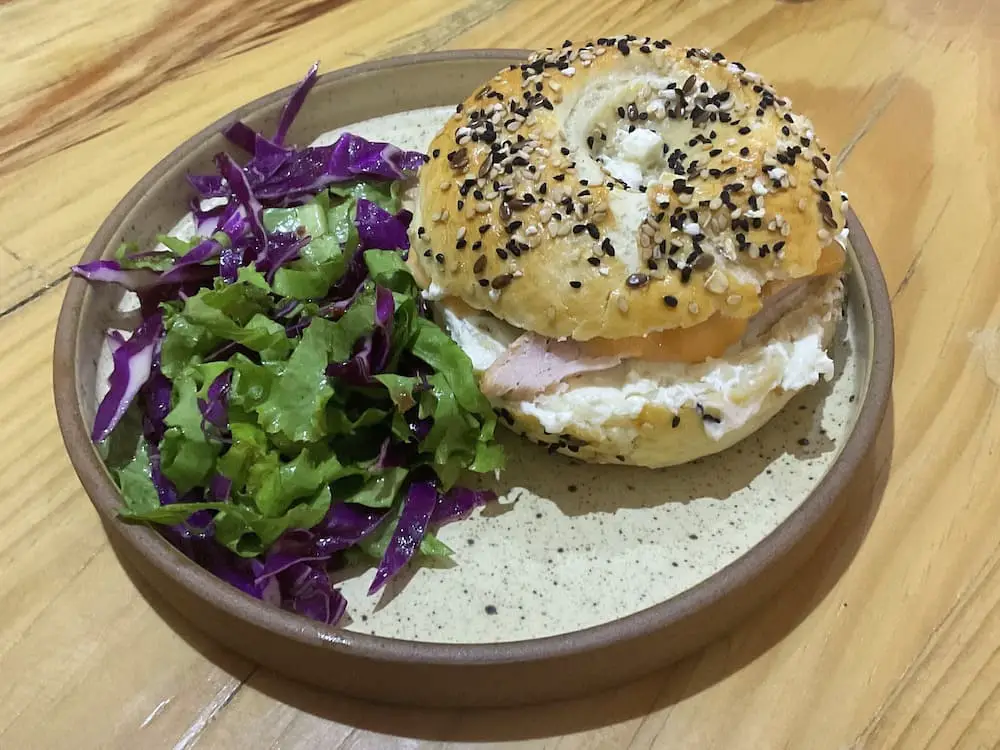 The chicken bagel with caramelized onions and cream cheese is pure heaven! The chicken is coated with the perfect seasoning, cooked to perfection, and then smothered in a delicious cream cheese sauce. The bagel has tons of crunch from the sesame and poppy seeds. You cannot leave without trying their classic bagel. It is a melt-in-your-mouth type of delicious, soft on the inside and toasty on the outside, and there is no denying that they are the best bagel in Pokhara! The richness of the cream cheese makes the bagel the perfect breakfast and is incredibly filling and tasty. Each bite has you wanting more!
Feeling like eating sliders instead?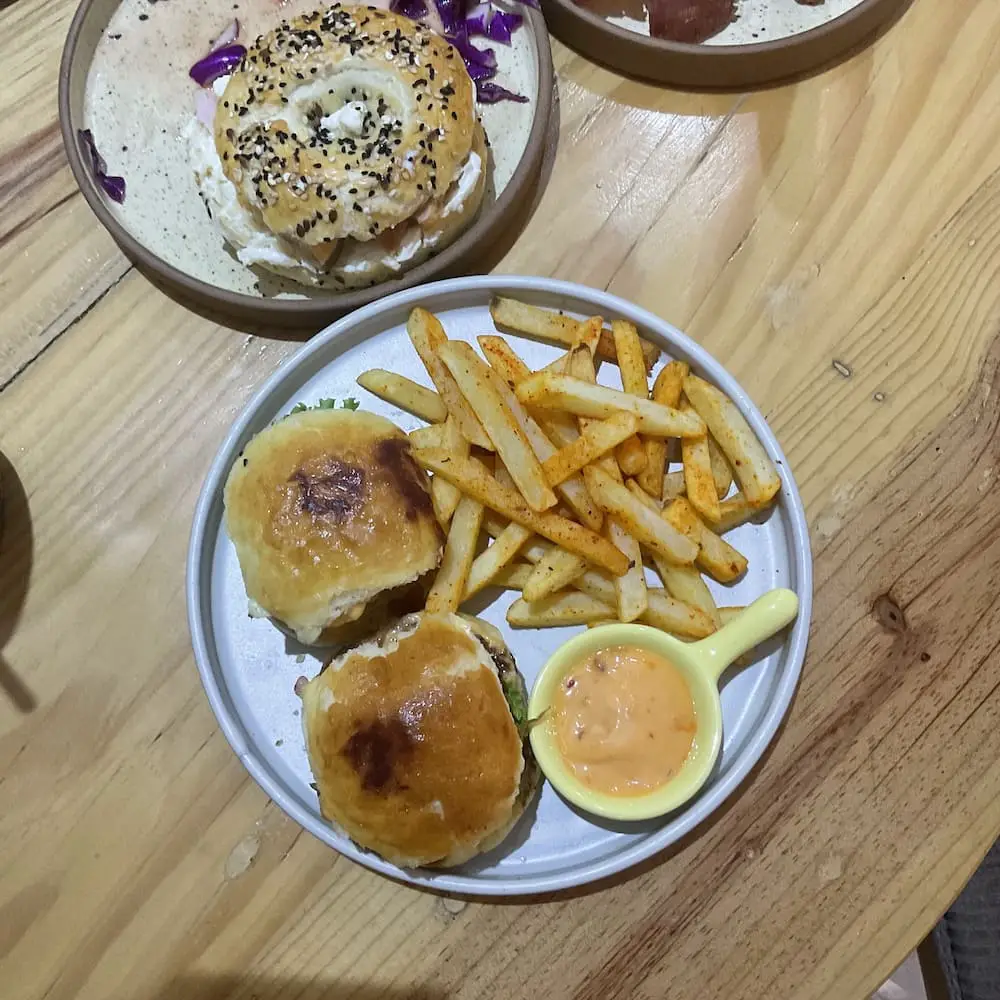 If you prefer to eat your burgers in tiny sandwich forms, then head to Cindermint in Pokhara. The little wads of fancy fillings come on brioche buns with chicken patties, fresh lettuce, cheese, caramelized onions, barbecue sauce, and fries and salad on the side. One bite, and you know it's one of the best sliders in Pokhara.
The cafe is run by a couple who are the sweetest owners you will ever come across. They are very warm and welcoming and make you feel you've known them for a long time. With the cafe already being picture-worthy, the friendliness of the owners and the entire team gives you a pleasant experience.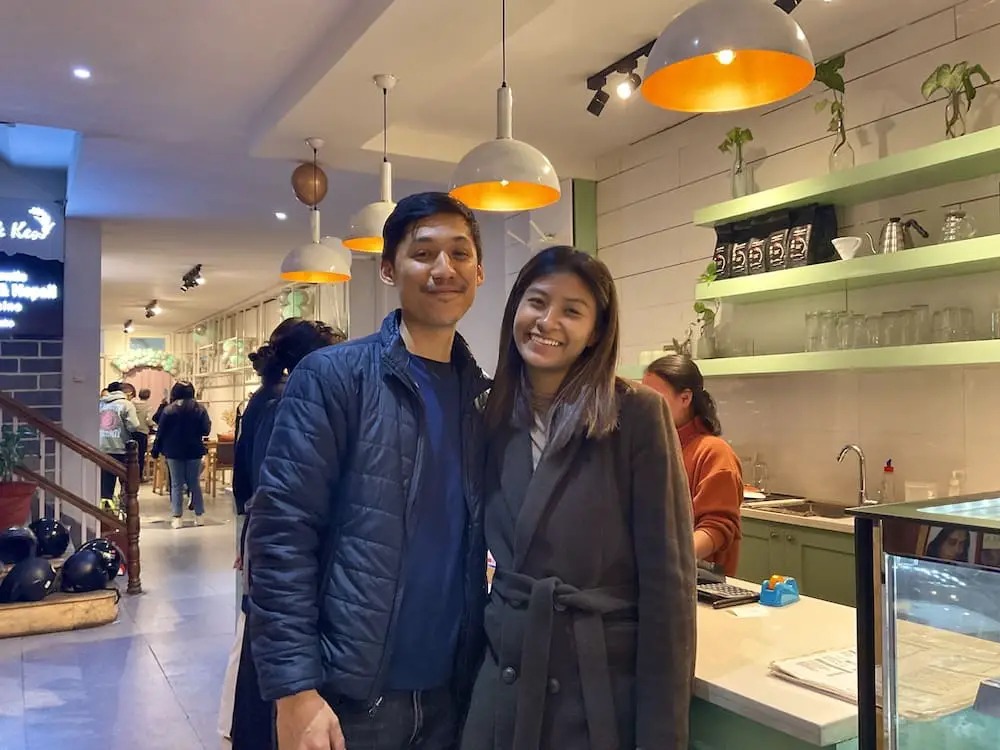 The owners are a fantastic and motivated couple that understands what providing a mixture of class and delicious food means. With an eye for aesthetics, and the skills to make mouth watering pastries, and food, Cindermint in Pokhara will make sure you leave the eatery with a smile – and a full tummy!
Cindermint Menu:
Curious about the menu at Cindermint and what kind of food and drinks you can order? Then check out the photos of Cindermint's menu below!
Cindermint in Pokhara
Every bagel in Cindermint, Pokhara, is clearly homemade and baked to perfection. Even if you opt for a plain bagel and just some cream cheese, you'll be blown away by the quality and flavor. Also, they do takeaway bagels, and you can order a day before so that you can get freshly baked bagels on the go!
Visit Cindermint for brunch and lunch and all-day dining options. Or if you fancy a pie or pastry, make sure to try their lemon meringue. It's hard to resist a delicious homemade pie crust, smooth lemon filling, and a fluffy toasted meringue topping. The lemon meringue pie in Cindermint has a toasty meringue topping with sweet and sour lemon filling with the perfect pie crust.
Cindermint in Pokhara is a must-visit for bagels, sliders, and the lemon meringue pie, or if you want to get the stellar Instagram pic.
Looking for more information about Pokhara? Then make sure to check out my Pokhara travel guide!