I love when a restaurant offers a great cup of coffee and a variety of summer drinks. This is actually enough to make any restaurant one of my favorite places to go. Crave in Pokhara definitely checks this box off as it never fails to deliver on delicious (and quite large!) drinks – including cocktails, mocktails, and smoothies!
Crave in Pokhara is located on Street 12, on one of the corner streets in Lakeside. Getting there can be hard, but it's a hidden gem. Also, the street boasts many Nepali made pashmina shops, restaurants, and hotels – a perfect sense of why Crave might have chosen to arrive in this area. This cafe is designed for the millennials and gen-Z and has managed to capture a great funky vibe. 
With great food and drinks, live music on the weekends, and a relaxing vibe, Crave in Pokhara is definitely worth a visit and is truly one of the best restaurants in Pokhara. 
Crave Pokhara: Warm Atmosphere and a Funky Vibe!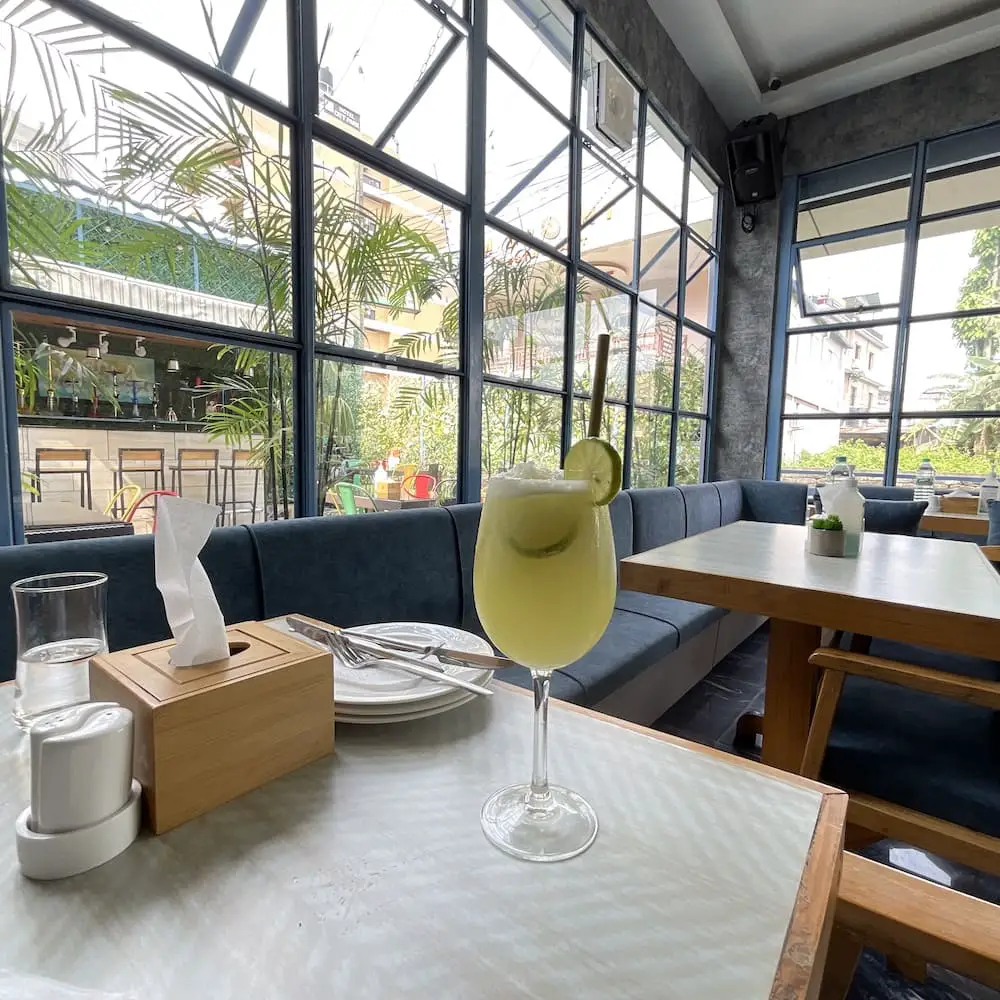 Whenever I visit a new restaurant, I like to scan the menu to see if they serve what I love to eat. Luckily, Crave in Pokhara had the food we'd been craving for a while. So we ordered nachos, chicken burritos, blended lemonade, and cafe mocha. The coffee was really good; it came in a tall glass, with chocolate sauce as the base, and topped with fresh whipped cream and cherry. Every sip was warm and felt like home. The lemonade came in a big wind glass. It was like a slushy and was the perfect sweetness and sourness, and it was super refreshing on a hot summer day.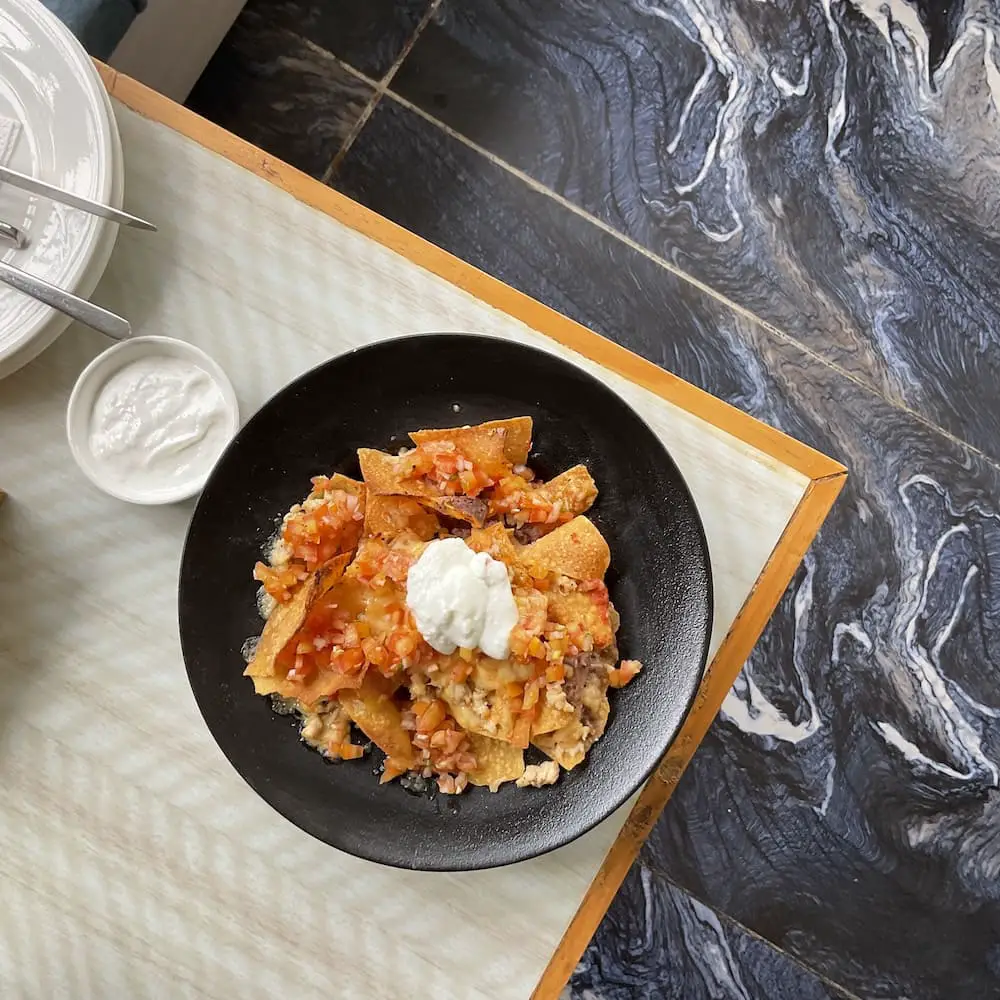 As for the nachos – Crave's chefs were generous with the layers of pico de gallo, topped with bacon pieces, melted cheese, and sour cream. The nachos chips were not real nachos but rather nacho chips, but it wasn't that bad; it tasted equally good. I love a good burrito and was excited to see the filling and the sides that came with it.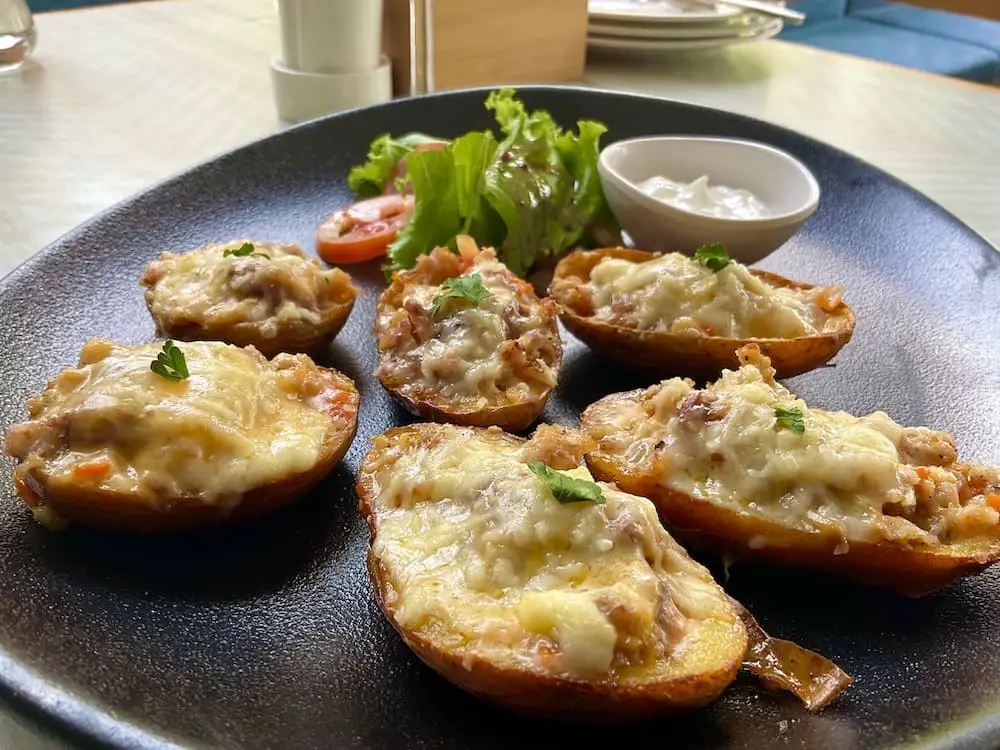 The loaded potatoes was juicy and filled with a bit of Mexican flavors. The potato shell was crispy yet soft and the filling consisted of salsa, bacon and sour cream. They also gave us additional sour cream, which was yum! Both the snacks were good, but I would choose the nachos as they hit the right flavors and I excuse them for using the nacho chips! Overall, these two dishes were delightful.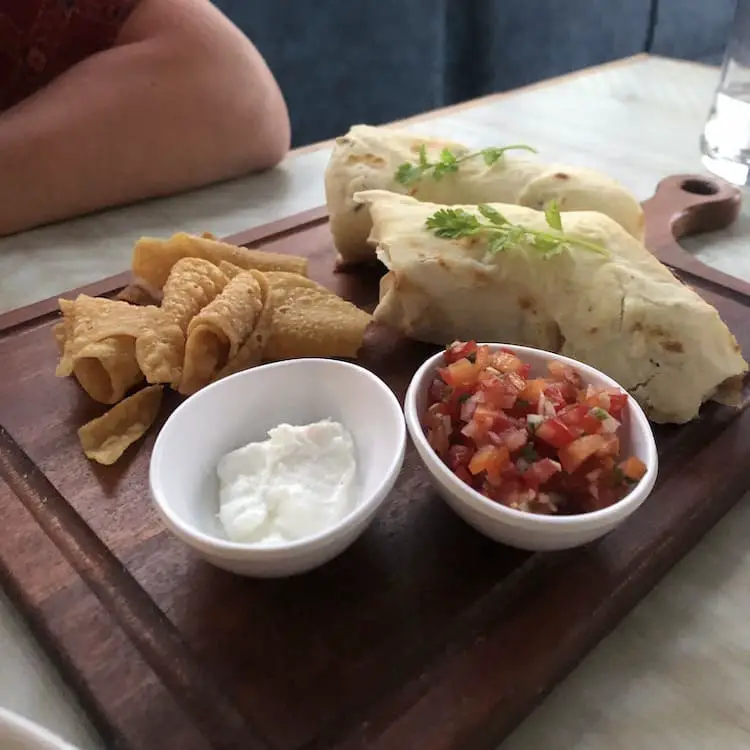 We had ordered the chicken burrito filled with rice, beans, pico de gallo, cheese, and chicken. When I received the burrito, it looked a bit small, but once I took a bite, it was stuffed and wrapped tightly. The tortilla was fresh and soft, the chicken had a great flavor, and the remaining filling was delectable and creamy. However, I wish they had used more pico de gallo filling and refried beans. The nachos chips that came on the sides were crunchy and had a medium thickness to them. The burritos were really hefty, and I thoroughly enjoyed every bite of them.
Don't Miss Out on Drinks in Crave Pokhara!
As you wait for your orders to arrive, enjoy some cool tunes and relax in their comfy chairs and sofa. The team in the restaurant is young and hip yet knowledgeable and friendly. If you're unsure what to order, the staff is very helpful and will give you great suggestions. The food was good. However, we make special trips back, just for the drinks. We have tried a lot of other summer drinks, mocktails, and coffee variations, and all of them have been incredible. It is definitely worth a visit and is truly one of the best restaurants in Pokhara. 
Looking for more things to do in Pokhara? Then make sure to check out my Pokhara travel Guide! Or are you still confused about whether to visit visit Kathmandu or Pokhara, then take a look at the blog and pick the right city for your trip!