Located away from the bustling Lakeside, Natssul offers unique and authentic Korean food in Pokhara. Known as one of the best restaurants in Pokhara, Natssul offers an opportunity to explore Korea's rustic yet flavorful cooking. 
The Korean restaurant at Pokhara, Lakeside is run by a Korean couple that makes sure the food is always authentic and delicious. With almost two decades of experience in Nepal operating their eatery, they know how to make sure every customer is satisfied with their dining experience.
And to top it off, they decided to name their restaurant Natssul, which translates to 'day drinking' in English. As a tourist at Lakeside, what more could you ask for then: delicious food, amazing ambiance and day drinking?? 
Natssul's Bibimbap in Pokhara:
To start our meal off, we decided to order the bibimbap. Surprised by the  sizzling sound of the porcelain bowl with steaming rice, we were excited to see the tasty toppings of mushrooms, potatoes, radish, and shredded chicken. All combining to be the perfect texture for bibimbap (and it's downright mouthwatering).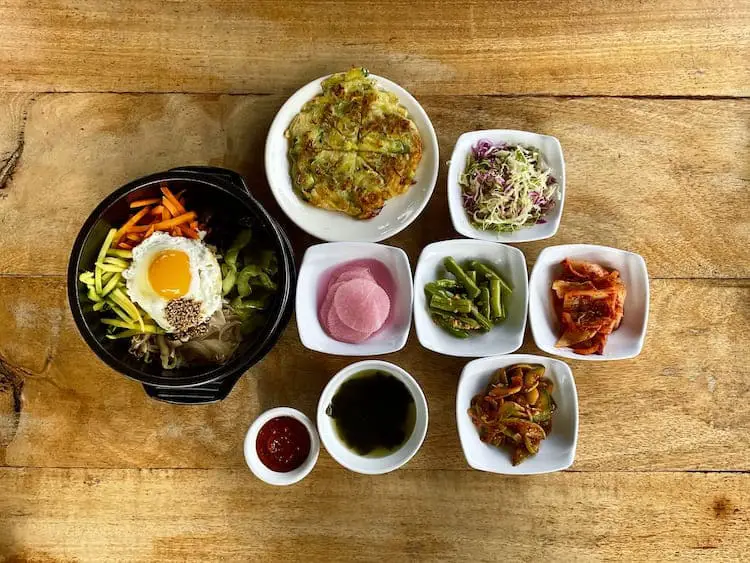 The bibimbap has seven side dishes: peanut-flavored cabbage salad, pickled sweet radish, potato pancake, green beans, sweet peanuts, kimchi, and spicy cucumber salad; seaweed soup and Gochujang paste (red chili sweet and savory fermented condiment). We mix all the ingredients in the bowl and add the paste. The first bite is warm and mellow, as each component has a distinctive flavor. It is comforting and undeniably the most lovable food you can imagine. 
What Korean food should you eat at Natssul in Pokhara?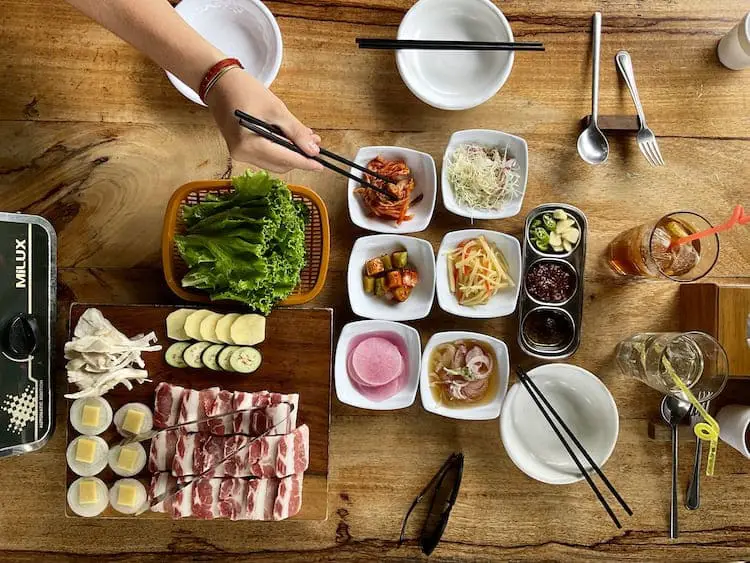 Natssul is amazing and understands what it means to offer its guests a cozy experience and moment. By serving a distinct rustic flavor, they go above and beyond to provide a different flavor from what is available in all of Nepal. This is not your typical Korean barbecue restaurant and does not have the encyclopedia of the never-ending menu. The specialty here is everything from kimbap, bibimbap, and tteokbokki to all special seafood hot pots and samgyupsal (Korean barbecue). 
The sides are different with each meal, but they are always fresh and offer a variety of flavors. We ordered chicken kimbap, tteokbokki, and samgyupsal as the main course (I mean, never too much when it comes to Korean food!). Both the dishes came with different sides: pickled turnips, cabbages, spicy kimchi, and sliced potato pancakes that tasted appealing when you bite into the bits. It is quite amazing how even their sides are of remarkably high quality. 
The kimbap is served with a dash of wasabi and dark soy sauce to adjust to your liking. All kimbap are hand-rolled (a seaweed rice roll) and filled with either chicken, pork, or vegetables. While there will always be other fancy options in other Korean restaurants, Natssul offers a quintessential experience. The Korean couple, who have run the restaurant for over a decade, ensures that the food is fresh and has authentic Korean flavors. The colors of the kimbap are vivid, and the taste is so clear that a few bites take you to Korea.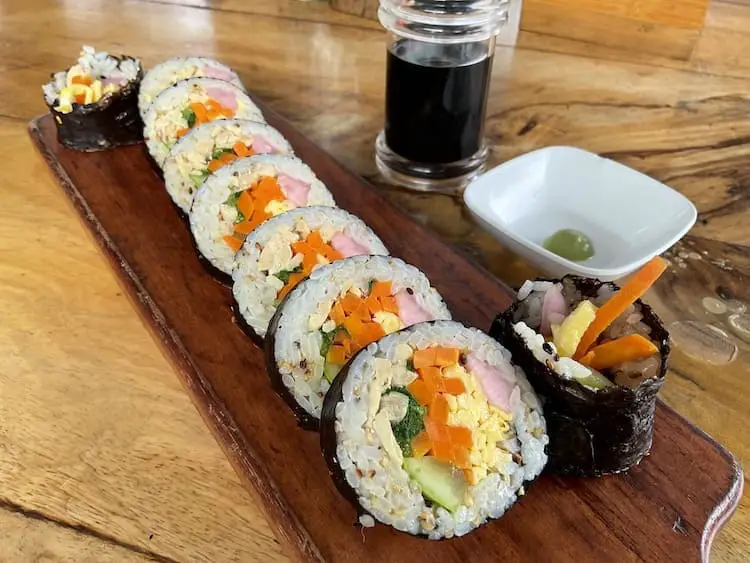 Did you know that tteokbokki was considered a dish for Korean royals? But now it is a common food easily available in any Korean restaurant. Tteokbokki is a sweet and spicy rice cake dish made of chewy cylindrical rice cake pieces (garaetteok) that is stir-fried in gochujang, fish cakes (odeng), green onions, carrots, and white onions. It is a popular choice along with kimbap and samgyupsal when going out for a few drinks in the evening.
Korean barbecue is equipped with table grills, and the pork belly is tender, tasty, and juicy. Every ingredient is fresh; the lettuce, onions, cheese, and sides are perfect. They don't sell the potato pancake separately but feel free to request it as a side dish. It is very appealing, and some people even call it a pizza. They are soft and light that they seem to vanish as your mouth closes around them. One of the main reasons to eat at Natssul is to experience the authentic palate of Korean food.
The best Korean restaurant in Pokhara!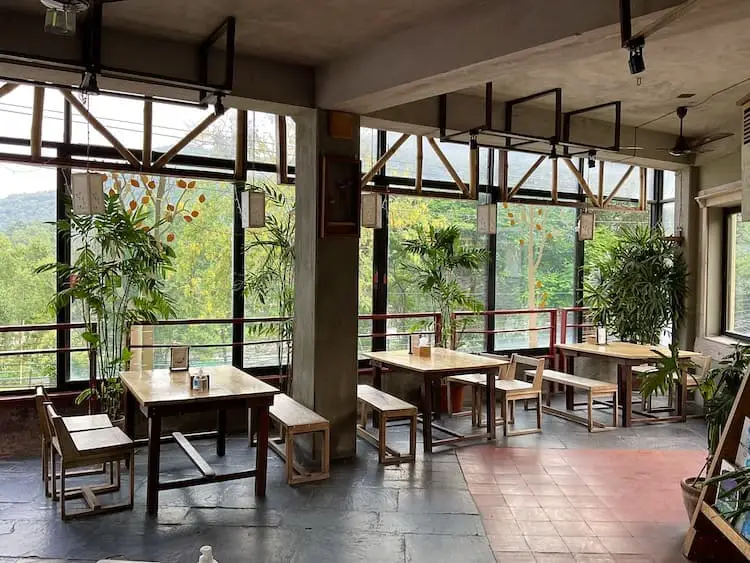 Our favorite dish is obviously the kimbap, bibimbap, tteokbokki, and the Vietnamese summer rolls. The kimbap is fresh with every bite, the bibimbap is a comforting and warm meal, tteokbokki is our go-to winter favorite, and the Vietnamese summer rolls are super light, soft, and crisp. The whole meal, together, makes for an absolutely satisfying experience. 
Natssul is not your fancy restaurant but has a simple and homey appeal with decorated interiors (along with loads of plants!) and close-knit wood tables. We regularly eat at Natssul, and we really love this restaurant because you can order anything, and it can never go wrong. It has a special place in our hearts.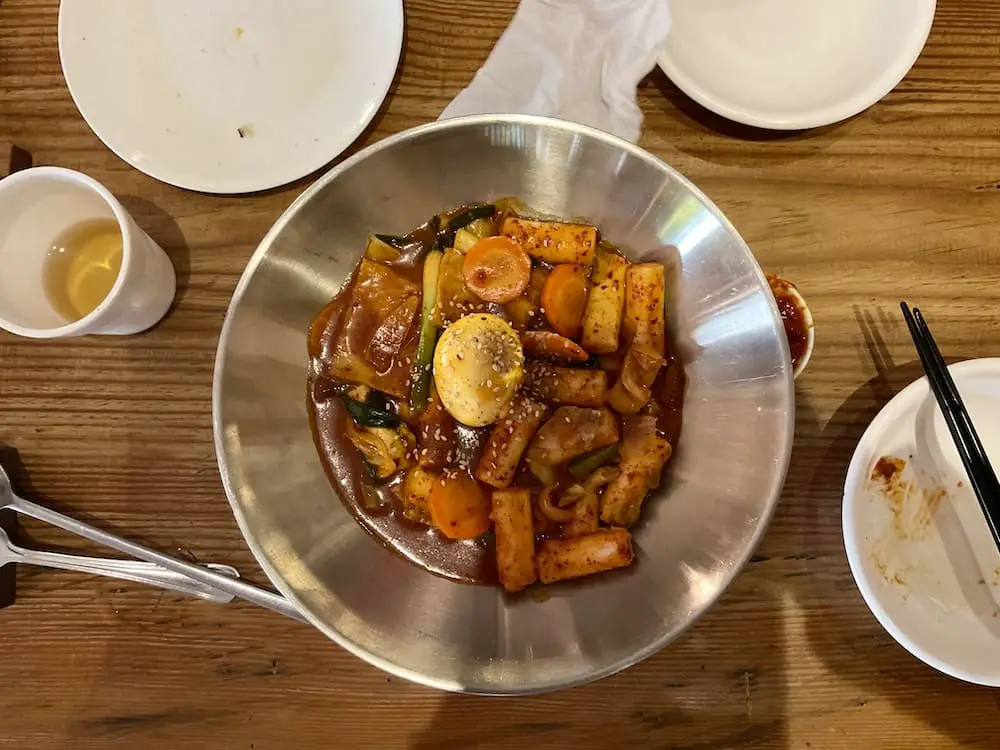 The owners and the staff are very courteous, and all the wooden interiors you witness in the restaurant are handmade by the owners. It's truly an authentic recommendation from us because we believe they are the best Korean restaurant in Nepal that gives you a genuine Korean food experience.
So next time you are hungry, make sure to try Natssul in Pokhara! Just make sure to come with an empty stomach so you can try all of their delicious Korean dishes!
Natssul's Menu in Pokhara:
Below are photos of Natssul's menu and all the delicious Korean food they serve!
FAQs: Korean Restaurant in Pokhara
Here are some of the most frequently asked questions about Korean restaurants in Pokhara.
1. How much does Korean food cost in Nepal?
The cost of Korean food in Nepal ranges between NPR 500 and 2,000.

At Natssul in Pokhara, you can get most dishes between NPR 500 and 1,000. The most expensive dishes are the Samgyupsa (Korean BBQ) and Dakgalbi (Spicy stir-fried chicken)! The best bang for your buck is the Kimbap and Bibimbap!
2. Where can I find tteokbokki in Nepal?
Natssul in Pokhara serves tteokbokki for NPR 800.

3. What is the best Korean restaurant in Pokhara?
Natssul is the best Korean restaurant in Pokhara in terms of quality of food, price, and ambiance.

There are a few other Korean restaurants in Pokhara as well. The other Korean restaurant I would recommend around Lakeside in Pokhara is Sanchon Korean Food.
4. Does Natssul in Pokhara have vegan options?
Natssul serves both vegan and vegetarian options.

You can ask the staff there to change any of your options to vegan or vegetarian to suit your needs! Don't worry even after making the change to vegan, the Korean food is still delicious!