If you're looking for an adventurous activity to do in Pokhara, Nepal, then rock climbing at WISH (West Indoor Sports Hub) Climbing is a must-try. Nestled in a tranquil area, WISH Rock Climbing in Pokhara boasts of a 40 feet climbing wall, a bouldering wall and slack line, providing a thrilling and challenging experience for both beginners and seasoned rock climbers.
The area is spacious, with ample room for climbers to move around and explore. The climbing wall is the centerpiece of the facility, standing tall and mighty, with various color-coded routes marked on the surface. The routes are labeled with different levels of difficulty – E for easy, I for intermediate, H for hard, and A for advanced – making it easier for climbers to choose a route that suits their level of experience.
Rock Climbing in Pokhara: Pricing and hours
Below are the prices and operating hours of WISH Climbing Wall at Lakeside Pokhara.
| | | |
| --- | --- | --- |
| Climbing Session | Time | Wall Charge |
| 1st Session | 8:00am -2:00pm | 500 NPR/ Session |
| 2nd Session | 2:00pm – 8:00pm | 500 NPR/ Session |
Rock Climbing Session Pricing
| | |
| --- | --- |
| Rental Gears | Price |
| Climbing Shoes | 100 NPR |
| Harness | 100 NPR |
| Chalk Bag | 100 NPR |
| Belay Service | 100 NPR |
Rock Climbing Gear Pricing
Additionally, if your stay in Pokhara is long term and you're an adventure lover, WISH also offers long term rock climbing passes and memberships.
| | |
| --- | --- |
| Climbing Pass (Valid for 30 days) | Membership |
| 3 Visits – 1200 NPR | 1 month – 4000 NPR |
| 7 Visits – 2500 NPR | 6 months – 12000 NPR |
| | 12 months – 18000 NPR |
Rock Climbing Membership Fee
Rock Climbing Routes for Every Level of Experience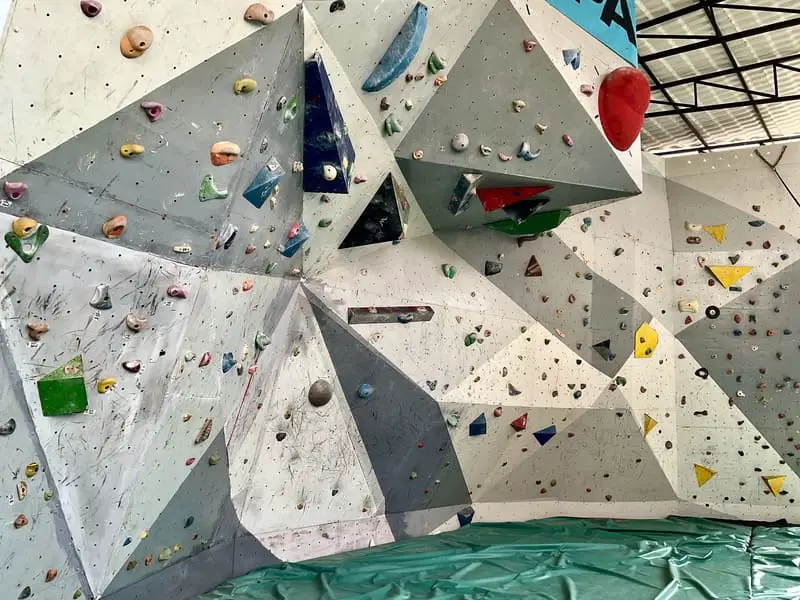 WISH Climbing's instructors are an asset to the facility – they are super helpful, patient, and knowledgeable about the sport. They ensure that all climbers feel comfortable and safe as they climb, providing step-by-step guidance and helpful tips to overcome any challenges.. Their expertise, combined with the facility's safety equipment, including ropes, and harnesses, give climbers the confidence they need to reach new heights.
If you're new to rock climbing, the bouldering area is an excellent place to start. It's a low-height climbing wall with no ropes or harnesses, making it a fun and relaxed way to practice your climbing skills. The bouldering wall is also marked with different routes and difficulty levels, making it easier to select the right challenge for you.
One of the things that make WISH Climbing stand out from other climbing facilities is the atmosphere. The facility is well-maintained and kept clean, providing a comfortable and safe environment for all climbers. The staff is friendly, approachable, and always ready to help with any concerns or questions.
Rock Climbing With A Cozy Hub to Relax and Recharge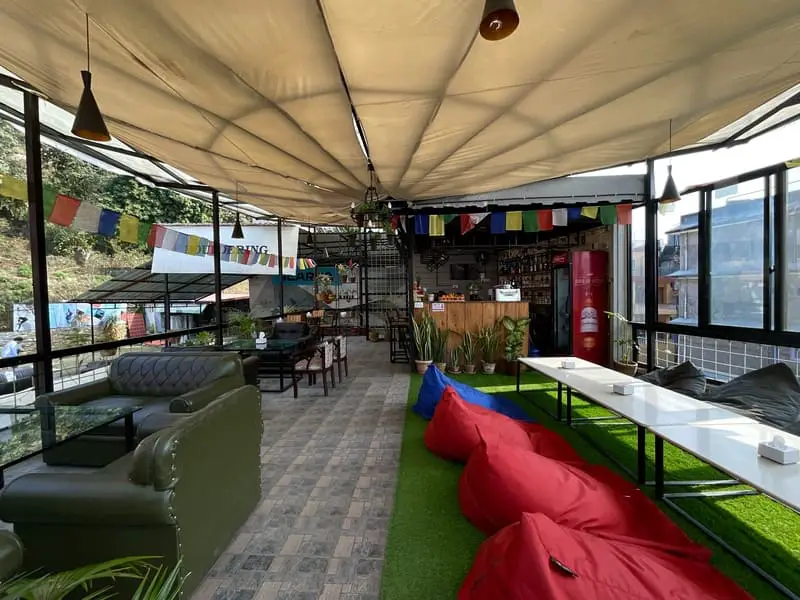 If you need a break from climbing or just want to hang out with friends, the rock climbing facility also hosts a café. The Wall Street Café has a lovely seating area, including bean bags, sofas, and wooden chairs, and tables, making it a cozy and comfortable space to unwind. You can enjoy some refreshing drinks, snacks, or even a meal while watching other climbers in action.
Rock climbing at WISH is not just a physical activity, but also a mental one. It requires you to focus, plan, and strategize your moves, making it a great way to challenge yourself mentally and physically. It's also a great way to bond with friends or meet new people who share the same passion for the sport.
Wall Street Cafe Menu
The cafe has a decent selection of drinks and food. If you're looking to chill and try their food, check out their menu first!
A Must-Try Rock Climbing Adventure in Pokhara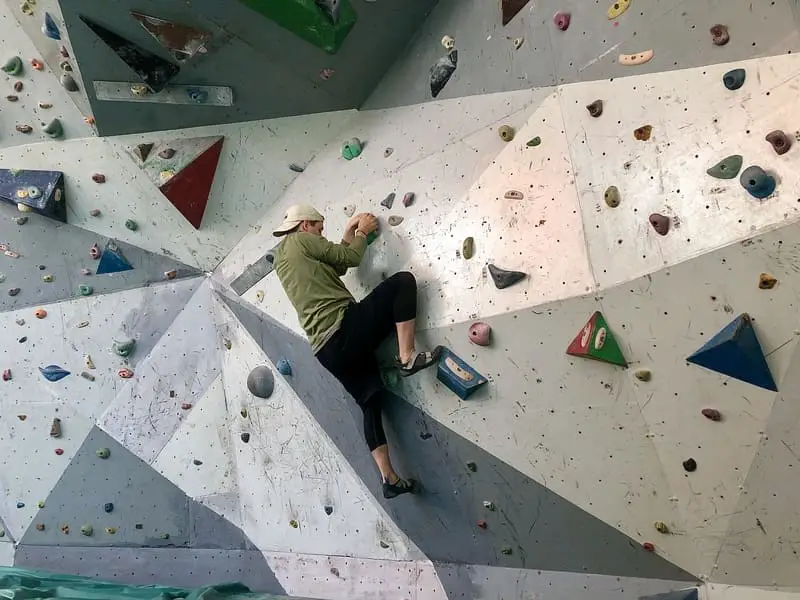 If you're looking for an exciting and challenging activity to do in Pokhara, WISH Climbing is an excellent choice. With its spacious and well-maintained facility, knowledgeable instructors, and comfortable café, it's a great place to challenge yourself, have fun, and meet new people. Whether you're a seasoned climber or a beginner, WISH Rock Climbing in Pokhara has something for everyone.