Where should I even start? French Creperie stands true to its culinary heritage, representing French flavors in Pokhara. I came to Pokhara after three years, and I first wanted to eat at the French Creperie. Nothing has changed about the restaurant except they expanded the outdoor seating. 
If you want to treat yourself to a fancy meal at Pokhara, then French Creperie is the place. Fancy referring to the flavors of the food more than the decor and look of the restaurant. The restaurant offers outdoor seating under large shade trees or inside where you lounge on big cushions with wooden floors and tables. Overall, the decor gives a hippie vibe and a perfect place to chill with your friends. 
Overall, I strongly recommend the French Creperie, as it is one of the best restaurants in Pokhara! Plus, it is also fairly priced, and beyond delicious!
French Culinary and Heritage at Lakeside
The owners have carefully crafted a menu that reflects both cultures. The menu includes salads, soups, and desserts made in-house, including a wide variety of crepes. Their specialties include galettes (a type of crêpe) with buckwheat flour and colatura di tartufo balsamic vinegar from Nepal, French onion soup, grilled cheese sandwiches, and paninis made with French bread. 
I always order the sweet and sour walnut galette and the banana smoothie. There are non-veg galette options also available. However, I prefer this galette the most. It has a refreshing tone with fresh lime, goat cheese, and honey. The galette is wrapped like a star and includes ingredients in the center; fresh lettuce, avocado, goat cheese, honey walnut, and topped with honey. Their non-veg galette also is good as the sweet and sour walnut; however, it doesn't have the refreshing limey flavor of the lemon zest and the sweetness of the honey.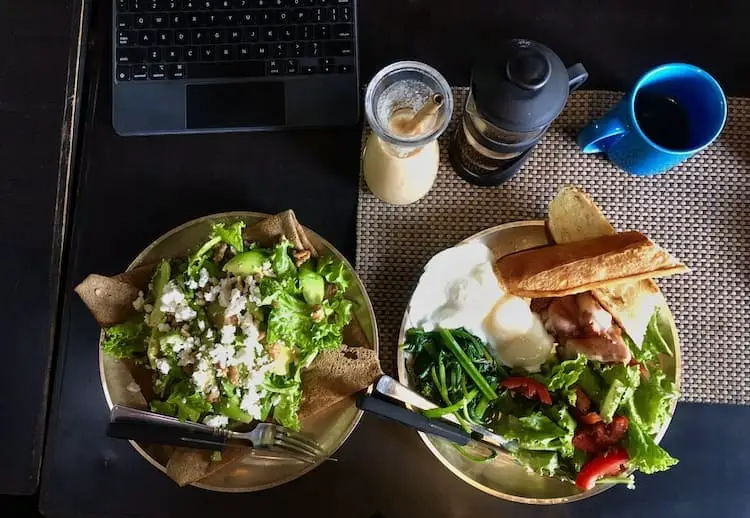 The galette has a great taste and texture from the walnut. It has a magical combination of savory, zesty, and sweetness that perks up the flavor of this dish. The walnuts add a nutty crunch, the fresh lettuce and avocado add a punch of greens, and the lemon zest helps to balance the dish. I also love the drizzle of some honey! It makes the perfect dish for breakfast or lunch. You can also try their set breakfast, which is very simple yet delicious and fulfilling. They also have many options for the set breakfast, and you can choose your bread, juice, coffee, or tea.
Drinks and Smoothies at French Creperie = YUM!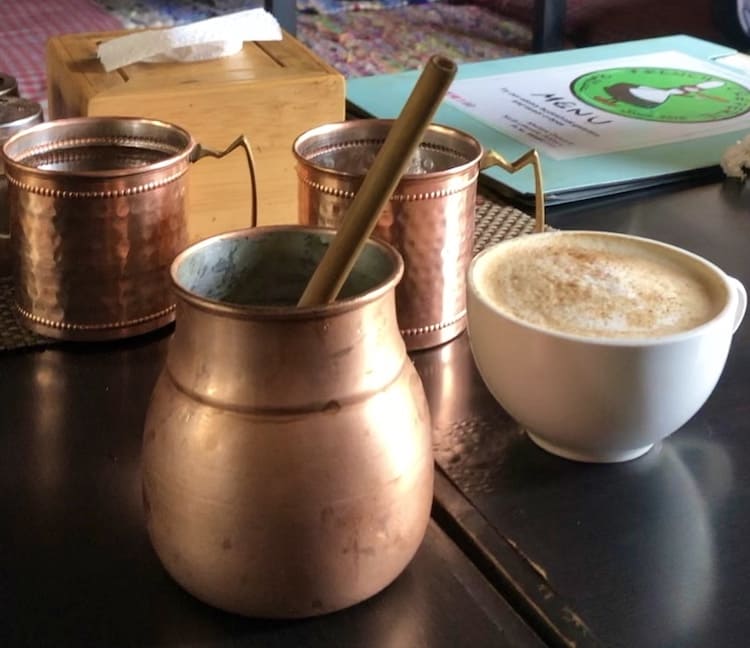 French Creperie in Pokhara also had a good selection of healthy drinks, smoothies, and coffee. The most common beverages I order are the mint lemonade and the banana smoothie. The drinks are vibrant, refreshing, and wholesome. For a hot sunny day, I would recommend trying their mint lemonade. Instead of using a bunch of ice, they make the drink slushy and delicious. The banana smoothie is thick and revitalizing, they don't use artificial sweeteners and offer all-natural ingredients. Their smoothies are incredibly packed with good-for-you superfoods like kale, spinach, and ginger!
French Creperie in Pokhara Menu
[metaslider id="5635″]
The Verdict: French Creperie in Pokhara
French Creperie is the best French restaurant in Pokhara. And if that wasn't enough, it is also one of the best vegan restaurants in Pokhara as well!
It ticks all the boxes for me! The restaurant in Pokhara is varied, caters to vegans, and offers many gluten-free options. It has a relaxing vibe, and the staff is very helpful and welcoming. I have always enjoyed eating at the French Creperie in Pokhara, whether it be breakfast or lunch! I highly recommend this place if you want to try out French food with a relaxed space and great service.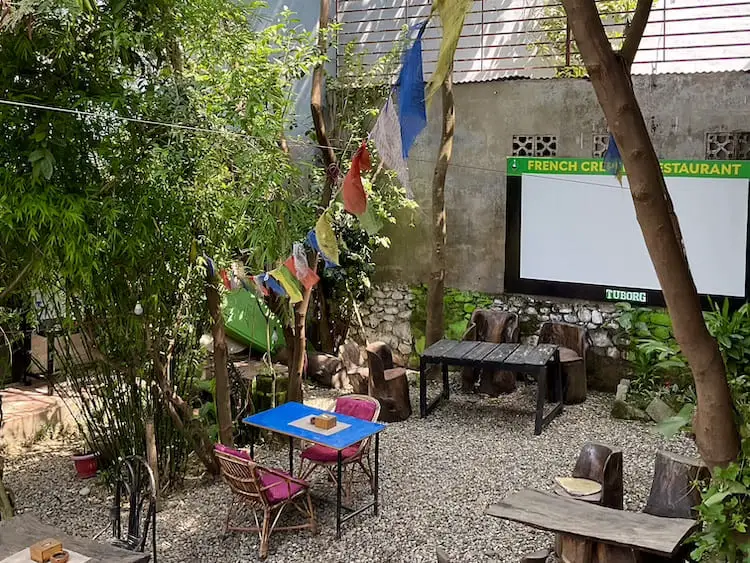 Also, the restaurant has a movie night on Tuesdays! They typically start around dusk (6/7pm). If you are looking for a comfortable and chill environment to have dinner and watch a movie, then make sure to stop by the French Creperie towards the north side of the lake and find out which movie they will be playing!
Looking for more fun things to do in Pokhara? Check out my Pokhara travel guide for more ideas!