If you're a vegan traveling to Nepal, you already know that finding decent vegan restaurants in Pokhara will be difficult. And adding to that, the days of being limited to leafy greens, tofu, and a mountain of french fries are no longer. Luckily, restaurant owners in Pokhara have increased their attention to vegan dining, regardless of whether they subscribe to meatless diets themselves. Today, you can find plenty of restaurants in Pokhara that serve vegan food. And, as I have friends that visit me that don't eat any animal products, I wanted to put together a list of the 5 best vegan restaurants in Pokhara!
For tourists traveling to Pokhara, there are now better restaurants that offer delicious meals that don't rely on meat, dairy products, or other animal-based foods. From buddha bowls to fast-casual burgers, there is something for everyone at these vegan-friendly restaurants in Lakeside, Pokhara. 
These five restaurants are creative with their flavors and are trying to push the boundaries without using animal products. This is great news for foodies in Nepal as historically it has been difficult to find vegan friendly restaurants.
If you are looking for a complete guide about Pokhara, then make sure to check out my Pokhara Travel Guide!
5 Best Vegan Restaurants in Pokhara:
This blog covers the best places in Pokhara to get vegan food from. There are no restaurants that are 100% vegan around Lakeside, as they are a mix of vegetarian and vegan. However, they all have a variety of food options for vegans and for non vegetarians, making it easy to have a nice meal with your meat-loving friends.
Looking for my roundup of vegetarian and non veg eatery options instead? Then make sure to check out my best restaurants in Pokhara – non-vegetarian and vegetarian.
Check the map below to find the location of all of these vegan friendly restaurants around Pokhara. Use the side bar in the left hand corner of the map for the menu!
1. Vegan Way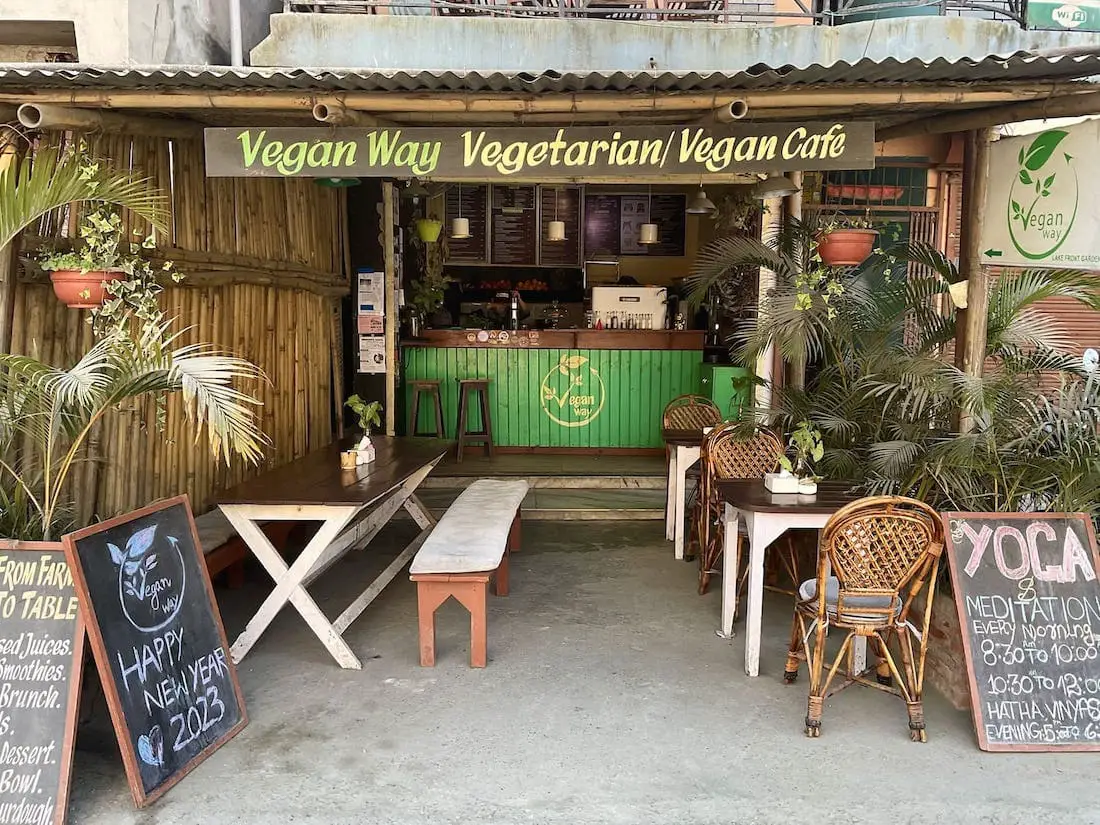 Like any other vegetarian restaurant in Lakeside, Vegan Way in Pokhara is a vegetarian restaurant with Vegan options on the menu. It is located directly next to the Phewa Lake at the far of the Lakeside. They have various seating arrangements, but the seats close to the lake are the best. 
They have great smoothies, and the food is top-notch! We highly recommend the barbecue mushroom burger and if you're vegetarian, top it off with a slice of cheese. The burger is juicy, and each bite is exploding with flavor. The service is quite slow, but it's worth the wait. The staff is friendly and the location being close to the lake is another plus point for the restaurant. It is a synonymous restaurant for backpackers, which creates a bit of a hippie niche atmosphere. The only thing we didn't like about the place was that it was too crowded with smokers, which made eating quite difficult. We also admit that the restaurant isn't for everyone.
2. OR2K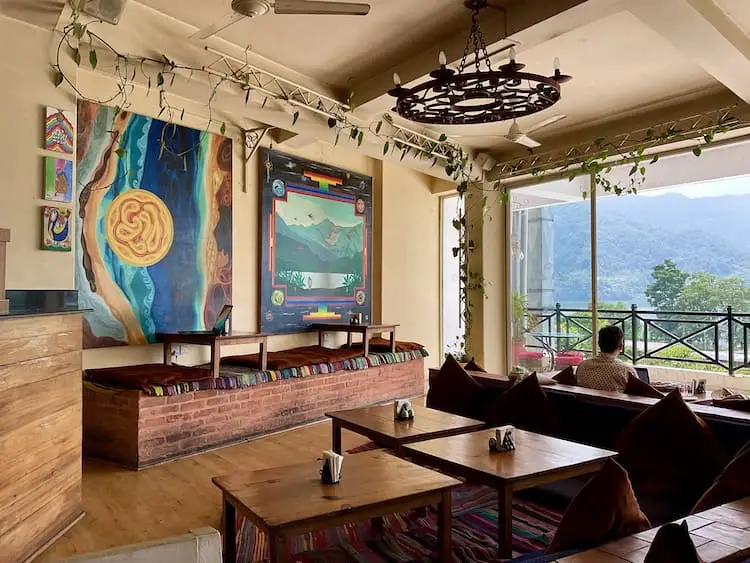 OR2K in Pokhara is our favorite restaurants around Lakeside when it comes to vegetarian/ vegan restaurant in Pokhara. It is one of the best vegan options and offers a variety of dishes to choose from. If you've been looking to spend your money on food made from plants and lots of yummy plant-based ingredients, then OR2K is your special spot. The menu can change seasonally due to the availability of fruits and vegetables. Our favorite food from the menu is the buddha bowl, hummus platter, and middle-eastern food. 
You can also enjoy their vegetarian dishes even if you're not a vegan. Their vast menu has something for everyone. OR2K can be a bit pricey compared to other restaurants in Lakeside. However, it is worth every penny and incredibly delicious for vegan and vegetarian food. Also, it's one of the best places to get an amazing view of Phewa lake and watch the paragliders and sunset over it!
3. French Creperie
French Creperie in Pokhara has a hippie vibe that serves excellent vegetarian food with vegan and gluten-free options. Rather than serving veggies that taste like meat, French Creperie serves a wide selection of vegetable options for your tastebuds. We've not eaten anything vegan, but the vegetarian options available in the restaurant are legitimately extremely delicious. 
French Creperie is truly inspired by French food and flavors. The sweet and sour walnut galettes are the most refreshing to start your day. Don't forget to try their breakfast selection, and you can also select the bread of your choice! Trying their vegetarian options might make you opt for veggie choices at their restaurant. They have spacious seats in the garden (where they do movie nights every Tuesday!) and seating on the upper floor. The price is reasonable, and the food is worth it. You must try a few dishes: the galette, crepes, set breakfast, and avocado toast. 
4. Little Windows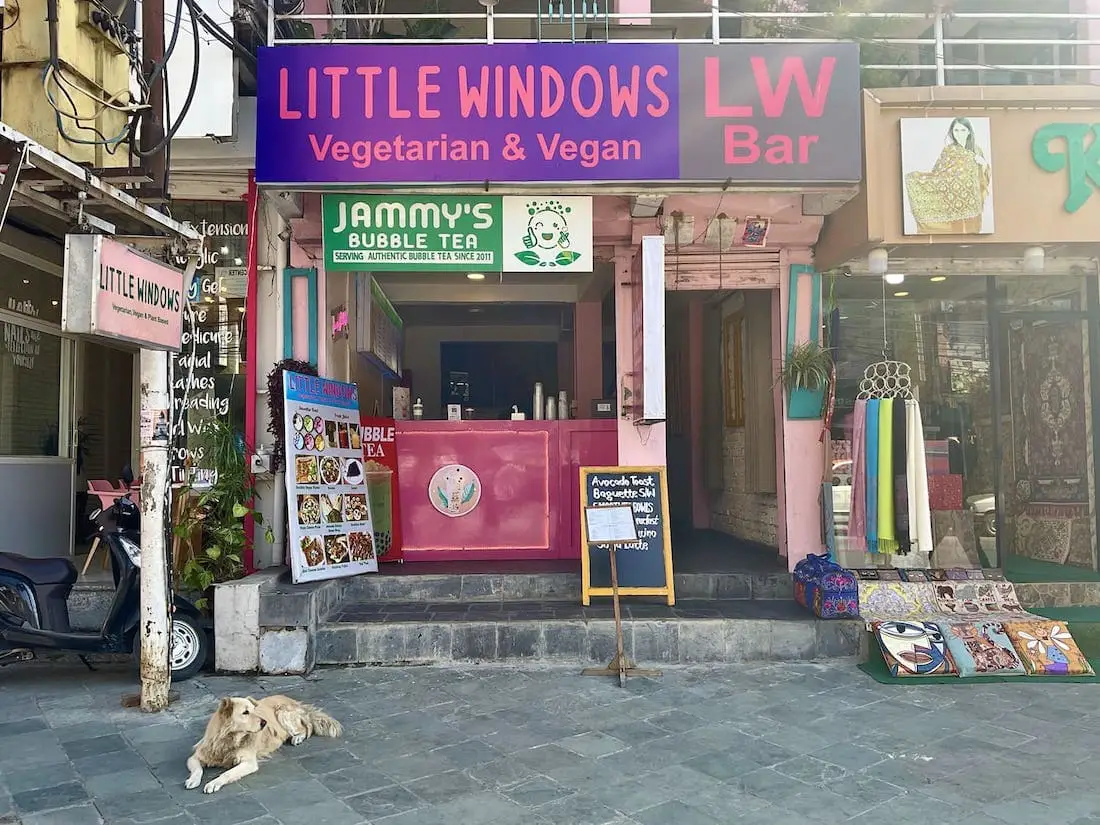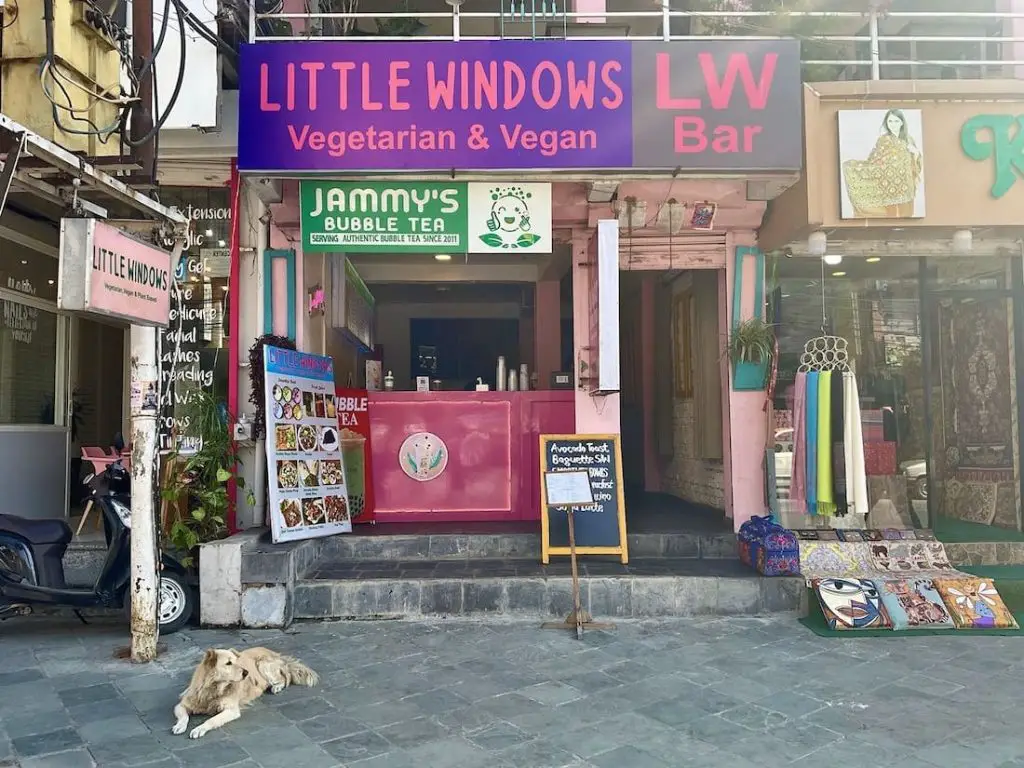 Little Window in Pokhara is at the heart of Lakeside and has a relaxing atmosphere with cozy seating on the first floor. Little Windows actually offers better options than Vegan Way – they understand vegan better. We went for breakfast, and it had amazing vegetarian and vegan options. We ordered the smoothie bowl, buddha bowls, and their sizzling fajitas. Definitely one of the best vegan restaurants in Pokhara.
All the ingredients were fresh, and the food was very delicious. All the food we ate was excellent. However, we recommend ordering something other than pizza. Food preparation can be quite slow, but it's totally worth the wait. The presentation and the taste of the food are mind-blowing. The staff is friendly, and the service quality is great! The place is quite pricey, but since it's Lakeside, that is expected.
Check out their facebook for more information!
5. Calm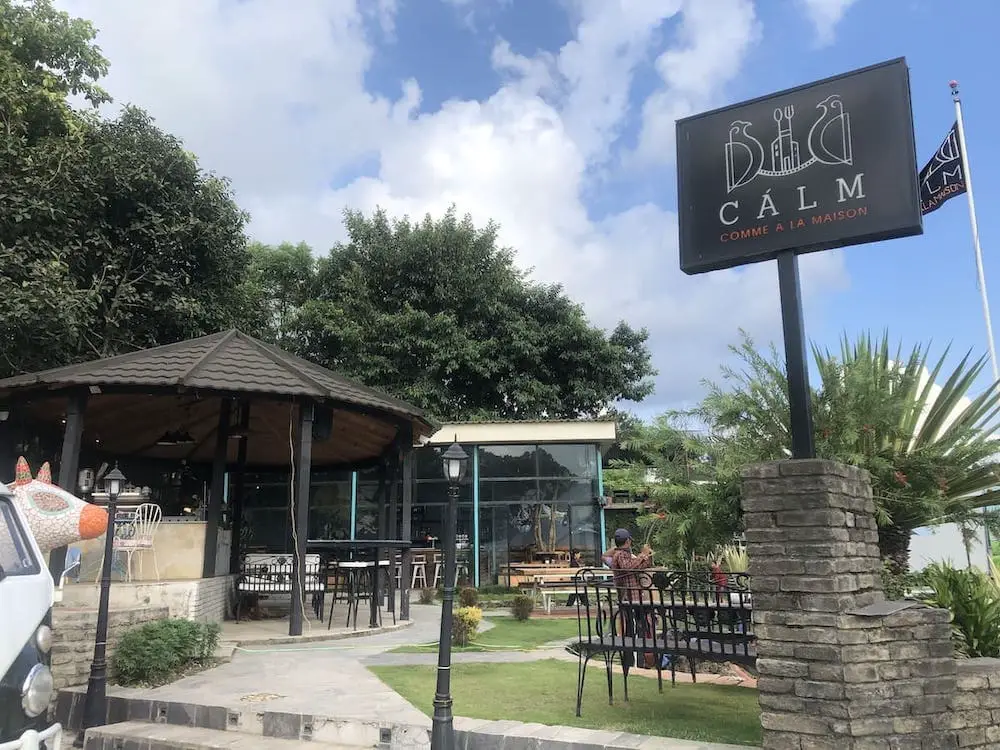 Calm in Pokhara is one of those places to help you forget about the heat, cold, and tiredness and immerse into a place where you can experience serenity in silence. Like all other restaurants, Calm offers a variety of vegetarian and vegan options. We are regular at Calm and love their food. We haven't eaten any vegan options yet; however, our vegan friends loved the vegan pizza on the menu. 
You can taste every ingredient delicately used in the meals and it's super fresh. Their food has been consistent with the flavor and hasn't disappointed us yet. You also try their mushroom starter, which is delicious. They also serve fresh pressed juice and detox options. Calm has one of the visiting views of the lake, and most importantly, the area is peaceful with less noise pollution. It offers a perfect ambiance to hang out with friends, enjoy food, and admire the lake. 
Vegan Restaurants in Pokhara:
When it comes to vegan food in Nepal, Pokhara is one of the best places. With new cafes popping up around Lakeside everyday, more and more options are becoming available. As these eateries continue to cater to the eating habits of many, Pokhara is becoming a haven for foodies!
As mentioned, it may be difficult to find a purely vegan food restaurant, however, you will never be short of options to eat! Moreover, with the variety of vegan as well as vegetarian and non-vegetarian options at the cafes, means everyone can find exactly what they want to eat!
I plan to continue to build this list as I find additional places for vegan foodies to eat at in Pokhara. If you know of any other delicious places to eat vegan food at in Pokhara, then please leave a comment below!
Happy eating [:
FAQs: Vegan Restaurants in Pokhara
1. Is Nepal Vegan friendly?
Absolutely! Nepal is among the numerous destinations where individuals who follow a vegan diet need not be concerned about having limited food options.
2. Which country is fully vegan?
Tel Aviv, the capital city of Israel, holds the title of "vegan capital of the world." In addition to Tel Aviv, many small towns throughout Israel offer excellent vegan cuisine and markets with vegan alternatives. Currently, there are over 700 vegan restaurants to choose from in Israel.