My partner and I have visited Open House Restaurant, several times but haven't had the chance to sit down and enjoy the restaurant. Open House at lakeside is spacious, with lots of outdoor and indoor seating. First, a great name and the perfect combination of a unique, fun, and relaxing vibe. Second, a great look at the place even though there are a lot of elements in the restaurant. No matter what, everything seems to come together, and it works for the crowd they are targeting. And lastly, both the vibe and the food are amazing.
They don't specialize in any specific cuisine, like all other restaurants in Pokhara, but they serve good salads, burritos, and common food like Nepali dumplings, noodles, and other starters. Also, they have a couple of vegan options in the menu – if you are looking for vegan food have a look at our roundup for best vegan restaurants in Pokhara!
To start off, we ordered blended browniccino, cafe mocha for drinks, and crostini and caesar salad for mains. I know they're really not a main dish, but since we were not that hungry, we wanted to start something light. The food was incredibly fresh, the salad was light, and the drinks were delicious. This is the second time we've been here, and the food has been good.
Open House in Pokhara is relatively laid back, and everyone who visits the restaurant always seems to be having a good time. Maybe it's the live music, the wide variety of wines, or the cheap cocktails. Either way, it's one of the best restaurants in Pokhara and the kind of place you walk out of happy, wanting to share your experience with your friends about it.
Open House in Pokhara: Food Rundown
Here's a food review for each of the items we tried in Open House Restaurant.
Crostini: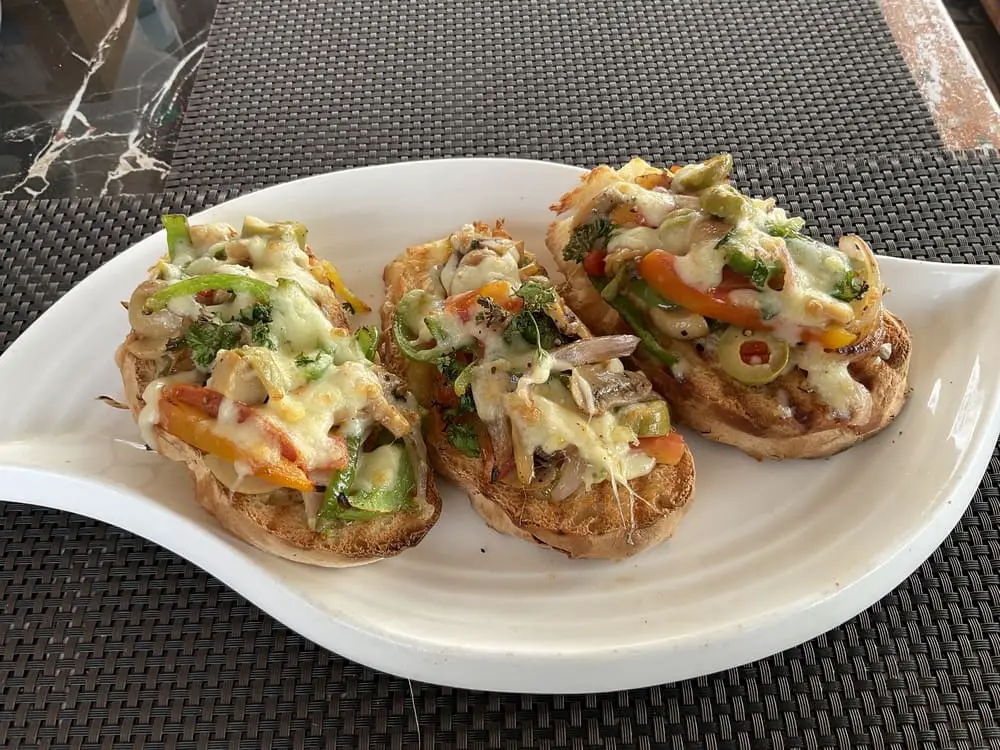 The crostini was good but could've been better. The crostinis are open-faced sandwiches on toasted slices of baguette. Topped with mushrooms, onions, bell peppers, olives, and cheese, the veg crostini tasted good and was buttered well. However, it was missing the olive oil topping, which would've added a rich bite to the crostini. The ingredients were okay, but since it was veggie crostini, we expected more variations of it or at least better toppings. Also, I wish they were generous with the cheese too. The crostini tasted good but could've been better. I will give Fresh Elements in Pokhara a vote for their creamy crostinis.
Caesar Salad: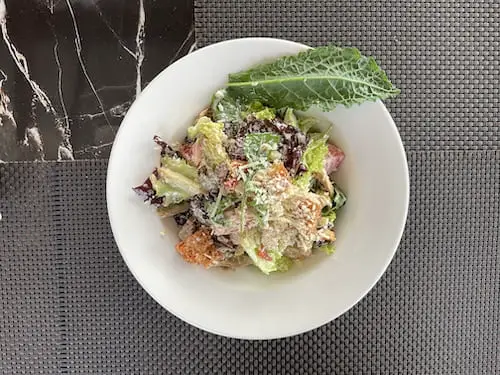 The Caesar salad was one of the best salads that we've eaten in Pokhara. The salad had the perfect creaminess of the dressing, a handful of greens, loads of garlic-infused croutons, and topped with parmesan cheese. We loved the punch from the dressing, the crispness of the bacon, and the gentle texture that clung perfectly to the lettuce. The salad tasted amazing, and each ingredient complemented the other. The salad was delicious and reasonably priced. However, we wished the portion was slightly bigger. Would love to try more of their salads!
Blended Browniccino: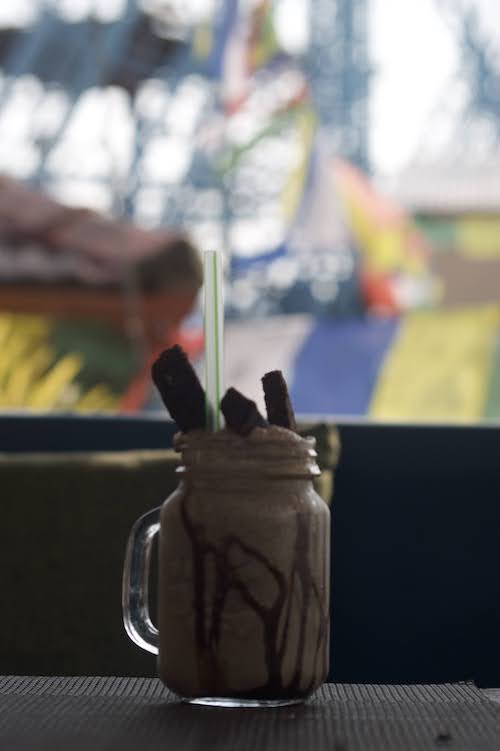 We used to get Browniccinos from Himalayan Java only, but lately, every other coffee shop or restaurant has started to serve it. The blended browniccino is like a dessert but in the form of a brain-freezing drink.
The drink was excellent (perfectly balanced sweetness) – chocolate mix blended with brownies and ice cream topped with a scoop of chocolate ice cream and brownie sticks. Highly recommend this drink.
Cafe Mocha: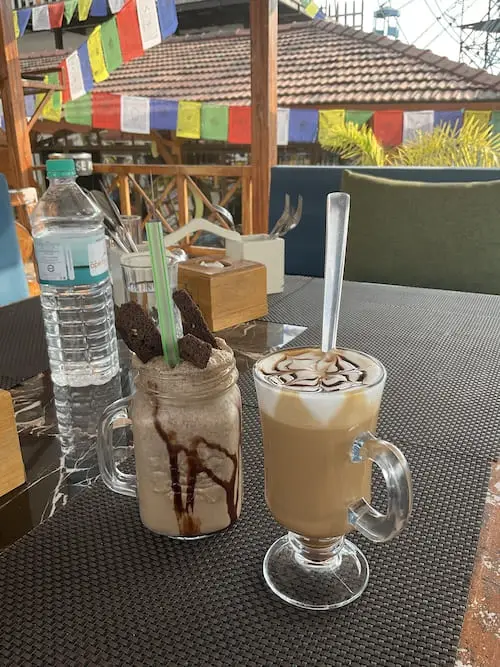 Our favorite classic drink, whether winter or summer, is Café Mocha. And we're pretty sure that you can hardly go wrong with this drink. The combination of coffee and chocolate is delicious and complements each other perfectly.
It's chocolately, hints of espresso, and is sweet and gets you through a crazy work morning or enjoy a lazy day at the restaurant with a lake view.
Open House Pokhara Menu:
Before eating at Open House at Lakeside, you will probably want to check their menu out. Well you're in luck – here is Open House Restro and Lounge Bar menu! It is quite large and they have a wide array of food, drink, and alcohol options!
[metaslider id="5651″]
Open House in Pokhara: The Verdict
My verdict? Would be to go to Open House Restaurant at lakeside as it offers one of the best dining experiences in Pokhara.
They have such a big menu, and we're pretty sure there are still more amazing dishes yet to be tried. I love their seating on the top floor, which gives you an excellent lake view, and you can just laze around on the floor. The staff is very friendly and quick to respond. Their internet connection is also good, so it is a perfect place to sit and do your work too. It is a great place to go with your family, kids, and friends and chill next to the lake as you enjoy your food.
After you are done dining at Open House Restro and Lounge Bar, make sure to explore the city! If you're looking for some fun thing things to do, check out my Pokhara travel guide.