Thinking about trekking in Nepal? But worried about which trekking insurance will be best for your adventure? Then you have come to the right place. In this review, I discuss why World Nomads Trekking Insurance is one of the best trekking insurance options out there!
If you're an adventurous soul with a deep passion for exploring the world's most breathtaking trails, you understand the importance of having reliable insurance coverage. World Nomads has gained recognition as a leading travel and trekking insurance provider specifically designed for adventure enthusiasts.
In this World Nomads Trekking Insurance Review, I dive into their trekking insurance coverage's key features, benefits, and limitations. I will also give some of my personal experiences using their insurance while trekking in Nepal. Moreover, I also include World Nomad's Trustpilot reviews and score below.
Let's get right into my World Nomads Trekking Insurance Review without further ado!
Disclaimer: This page includes affiliate links. Which will help me buy a coffee, if you decide World Nomads insurance is right for you!
Is World Nomads Travel Insurance Good?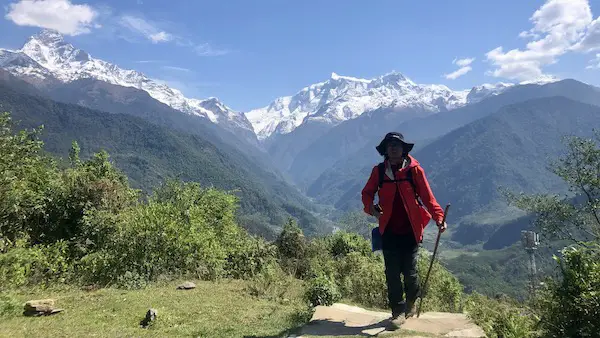 World Nomads is a good travel insurance plans for adventurous single-trip travelers. It's particularly beneficial for those unsure about their trip duration, as coverage can be added during the vacation. Pros include the ability to extend insurance mid-trip, coverage for trips up to 180 days, and comprehensive adventure sports coverage.
However, during my World Nomads review and while using their coverage, I did notice limitations. Extreme sports aren't covered (although they offer protection up to 7,000 meters for hikers), and there's no annual plan option. Moreover, Trip cancellation/interruption coverage has a maximum dollar limit instead of being a percentage of trip cost. The Standard and Explorer Plans cover trips up to $2,500 and $10,000 respectively, potentially insufficient for pricier trips. Coverage is available for individuals aged 70 or younger.
Overall, World Nomads' is a legit travel insurance provider and is great for adventurous digital nomads. Especially those with flexible trip lengths. Just keep in mind the limitations of their coverage.
Quick Summary: World Nomads Insurance
World Nomads travel insurance is highly recommended by reputable sources such as National Geographic, Lonely Planet, and Rough Guides. With such trusted endorsements, it's no wonder that many backpackers and long-term travelers turn to World Nomads for their insurance needs. While conducting research for this review, I also saw that World Nomads had recieved praise in online forums and through the consistent support of Lonely Planet guidebooks.
What sets World Nomads apart is its ability to provide coverage for travelers from numerous countries, thanks to its partnership with various underwriters. While their prices may be slightly higher than going directly through an insurance company, World Nomads compensates for this by offering a streamlined claims process and convenient online policy management. Whether you're looking to purchase a policy, extend your coverage, or even buy insurance while already on your travels, World Nomads' user-friendly interface ensures a hassle-free experience.
Finally, before we continue with the insurance review, I want to highlight the five main coverage areas that the World Nomads policy covers:
Overseas medical care
Medical evacuation (Medevac)
Baggage claims
Theft of some belongings and electronics (read the policy details!)
Trip cancellation coverage
Who are World Nomads?

Since 2002, World Nomads have been protecting, connecting and inspiring independent travelers.
They offer simple and flexible travel insurance and safety advice to help you travel.
Because they believe in giving back to the places we travel to, World Nomads also enables you to make a difference with a micro-donation when you buy a policy.
And they'll help you plan your trip with free downloadable guides, travel tips, responsible travel insights and recommendations from their global community.
World Nomads provides travel insurance for travelers in over 100 countries. As an affiliate, we receive a fee when you get a quote from World Nomads using this link. We do not represent World Nomads. This is information only and not a recommendation to buy travel insurance.
Key Features of World Nomads Trekking Insurance: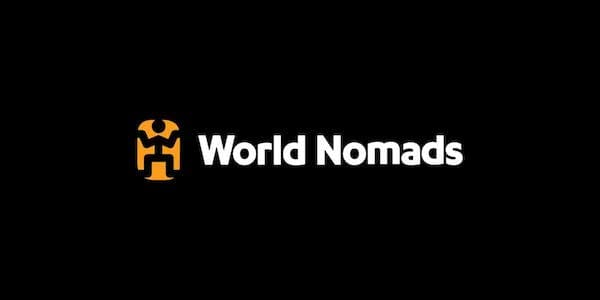 When it comes to protecting your trekking expeditions, World Nomads Trekking Insurance offers a comprehensive range of features tailored to the unique needs of outdoor enthusiasts. Firstly, the coverage encompasses various trekking and hiking activities up to 22,965 feet – 7,000 meters – meaning you will be covered on most treks in Nepal and worldwide.
One of the standout features of World Nomads Trekking Insurance is its extensive coverage for medical expenses and emergency evacuation. Accidents and illnesses can happen unexpectedly during treks, but with this insurance, you can have peace of mind knowing that you'll receive necessary medical treatment and be safely evacuated if needed.
Something to keep in mind, however, is that many of World Nomads' policies are predetermined and may not fit your needs straight out of the box. Therefore, you may have to look into some add-ons to ensure you are covered for any extra activities or situations.
World Nomads offers protection against loss, theft, or damage for trekkers who rely on specialized gear and equipment. This ensures that your valuable gear, such as hiking boots, backpacks, or anything else on your packing list for Nepal, is covered in the event of unforeseen incidents, allowing you to replace or repair essential items without incurring significant expenses.
Adventure sports enthusiasts will appreciate the adventure sports coverage provided by World Nomads. Imagine engaging in adrenaline-pumping activities like rock climbing, mountaineering, or white-water rafting during your trekking adventure. In that case, this insurance has got you covered, offering financial protection against mishaps specific to these activities.
Quick Facts to Know About World Nomads Trekking Insurance:
The coverage provided by World Nomads was created with the input of Simon Monk, an adventurous Australian traveler who aimed to simplify the complex world of travel insurance. As a result, WN's policies are specifically tailored for long-term travelers and backpackers, making them a great option for them. Instead of navigating through various coverage options, these policies are designed to offer extensive protection against the common challenges travelers and tre encounter on their journeys.
In the same light of making World Nomads accessible to more travelers, Here are seven things to know about World Nomads trekking insurance
Internationally recognized underwriters: World Nomads is backed by a suite of specialist travel insurers that provide 24/7 emergency assistance, customer service and claims support.
24/7 emergency assistance: If you need medical assistance or emergency medical evacuation, World Nomads' multi-lingual team is available 24/7 to connect you with medical treatment and transportation during your trip.
Buy and claim on the road: Had a change of plans? You can extend your period of coverage or claim online at any point in your journey. You can even buy a policy if you're already traveling.
Adventure activity coverage: Designed by travelers, for travelers, World Nomads covers over 150 adventure sports and activities so you can explore your boundaries.
Travel safety tips and alerts: World Nomads provides useful and up-to-date travel insurance information and global travel safety advice to help you plan for your journey and navigate the risks.
Donate and make a difference: When you buy travel insurance with World Nomads, you can make a micro-donation to a community development project to help change lives in the destinations that need it most.
Travel content to help inspire, educate and plan: Plan your trip with free destination guides, develop your travel storytelling skills, and learn how you can be a more responsible traveler with World Nomads as your travel companion.
World Nomads' Trekking Insurance Covers the Following Adventure Activities:
Please note that this is an overview of the adventure activities included in their coverage. It is important to review the country-specific coverage carefully to ensure you are covered! Luckily, they have an easy-to-navigate A-Z index online that lets you quickly skim the activities.
The activities World Nomads cover are surprising, as I have searched the activities covered by other insurance companies, and World Nomads offers many more than they do! To start you off, here is an overview of what is on that list:
ATVs
Backpacking
Ballooning
Bungee jumping
Cage fighting
Caving and spelunking
Cliff diving
Dog sledding
Free diving (up to 197 feet)
Hang gliding
Kiteboarding
Mixed martial arts
Mountaineering/Trekking (up to 22,965 feet)
Paddleboarding
Rappelling (up to 22,965 feet)
Rock climbing
Rugby
Running of the bulls
Safari tours
Salsa dancing
Scuba diving (up to 165 feet with a commercial instructor or guide)
Shark cage diving
Skateboarding
Skiing or snowboarding by helicopter or snowcat
Swimming with whales
Trampolining
Tree climbing (up to 33 feet)
Ultimate Frisbee
Zipline
World Nomads' Insurance Does Not Cover the Following:
Although the coverage is extensive from World Nomads, one important thing for this review is that their policies are not exhaustive. Therefore, various activities are not included in the World Nomads' Trekking Insurance, including the following:
Pre-existing conditions
Non-emergency medical treatment or surgery
Routine physical exams
Traveling for the purpose of medical treatment
Pregnancy or childbirth (except for complications of pregnancy)
Participation as an athlete in professional sports
Participation in extreme sports
Pregnancy or childbirth costs
Intentionally harming yourself
Piloting or learning to pilot an aircraft
Suicide or attempted suicide
Cancellations due to war, civil war, acts of foreign enemies, or civil unrest
Benefits of World Nomads Travel Insurance:
World Nomads' Trekking Insurance is not just endorsed by reputable travel sources, but they also live up to the hype. They offer numerous benefits that make it a top choice for adventurous travelers. National Geographic, Lonely Planet, and Rough Guides all recognize the reliability and comprehensive nature of World Nomads' coverage. These endorsements from trusted names in the travel industry instill confidence in trekkers seeking a reliable insurance provider.
One significant advantage of World Nomads Trekking Insurance is its ability to accommodate travelers from various countries. Through its partnership with multiple underwriters, World Nomads ensures that individuals from numerous nations can access their coverage. This inclusivity is particularly beneficial for globetrotters seeking insurance solutions that cater to their specific needs, regardless of their country of origin.
Another standout benefit is the streamlined claims process offered by World Nomads. Navigating the complexities of an insurance claim can be daunting, but with World Nomads, trekkers report a seamless experience. The company provides support and guidance throughout the claims process, ensuring you receive timely and efficient assistance when needed.

Furthermore, World Nomads Trekking Insurance provides round-the-clock emergency assistance. Traveling to remote locations and engaging in challenging activities can have inherent risks. However, with World Nomads by your side, you can feel confident that help is just a phone call away. Their dedicated support team is available 24/7 to assist you in emergencies, providing invaluable peace of mind during your trekking expeditions.
List of Benefits offered by World Nomads:
List of benefits offered in World Nomads Hiking & Trekking Travel Insurance Coverage:
Trip Protection
Emergency Medical Insurance
Emergency Evacuation
Protect your gear
Emergency Accident & Sickness Medical Expense
Repatriation of Remains
Trip Cancellation
Trip Interruption
Trip Delay
Baggage & Personal Effects
Baggage Delay (outward journey only)
Rental Car Damage – where permissible
Accidental Death & Dismemberment
Generali Global Assistance 24-Hour Assistance Services
Generali Global Assistance Non-Medical Emergency Transportation Services
Even though there are countless benefits, there are limitations to their coverage, which may result in their policies not being right for you. In the next section, I discuss some of these limitations. 
Limitations of World Nomads Trekking Insurance:
While World Nomads Trekking Insurance offers comprehensive coverage and numerous benefits, it's also important to consider its limitations.
One of the primary factors to consider is the cost. Compared to purchasing insurance directly from a travel insurance company, World Nomads can be slightly pricier. However, weighing this against the benefits and convenience it provides is crucial. The overall ease of the claims process and the dedicated support may make the slightly higher cost worthwhile for many adventurers.
It's also important to note that World Nomads Trekking Insurance, like any insurance policy, has specific exclusions and limitations. It's essential to thoroughly review the terms and conditions to ensure the coverage meets your needs. Familiarize yourself with any restrictions related to pre-existing medical conditions, high-risk activities, or specific destinations to clearly understand what is and isn't covered.
World Nomads Travel Insurance Customer Reviews:
Below are World Nomad reviews by previous customers. I have collected the information from World Nomads' Trustpilot page. They have a total of 2,255 reviews, with mixed results. Currently they have only a 3.7 star rating. Moreover, their reviews come in the form of 5-stars or 1-star, which means people either love it or hate it. To give you a little more insight regarding what these look like, I have included a few of the user submitted reviews.
I have included a screenshot from their Trustpilot review page to give you an idea of what others think about World Nomads Insurance.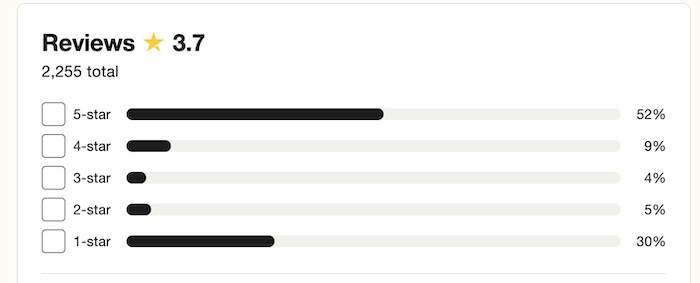 To give you a little more insight regarding what these look like, I have included a few of the user submitted reviews. You can see the reviews from World Nomads Trustpilot page  in the table below:
World Nomads Insurance Reviews:
| Review Star Rating | Title of Review | Full World Nomads Review |
| --- | --- | --- |
| 5 star | Excellent coverage for my trip | Website was easy to navigate and I feel happy with my decision.I was happy with the cost.You were recommended by a good friend who travels a lot. The organiser for my trip also recommended your company. |
| 5 star | easy to follow, good price, support during the whole trip | The entire process was easy to follow. I receive guidance and the prices are great.I didn't make any claim but they remind me after my trip ended if I need to to something and how to do it. That was a good details and I like they worry about you during the whole process. |
| 3 Stars | I filed a claim 2 months ago | I filed a claim 2 months ago. Although I get regular "we are working on it" emails, I am not confident I will be reimbursed.Even with the claim pending I have purchased another policy. The website is very easy to navigate when purchasing a policy. |
| 1 Star | Slow to respond & conflicting advice. | Email responses take 3-5 days and longer at times. I still have logon issues which have not been resolved after several requests. The customer service operators don't appear to be consistent with advice and resolution when calling from overseas.WN, please do better! |
| 1 Star | File a claim to find out your situation is not covered | Seems great and not very expensive but fine print seems to make many things not covered and they are not open to taking into account the situation. We had to flee from Ecuador due to rioting and a state of emergency and this was not a "covered reason." Striking is covered and "inhospitable environments" but not disorganized rioting. Nothing was covered at all to change flights to leave early despite many appeals and calls. |
Note: These are World Nomads reviews are directly pulled from Trustpilot – unedited and unchanged. I tried to get the most recent reviews while writing this review blog. You can see all their reviews at the link provided above.
How to Purchase World Nomads Trekking Insurance:
Purchasing World Nomads Trekking Insurance is a straightforward process that can be done online. The company's user-friendly website lets you enter your trip details, select the desired coverage options, and receive a quote in minutes. You can customize your policy based on the duration of your trek, the level of coverage required, and any additional features you may need.
It's important to take the time to carefully review the policy details, including coverage limits, deductibles, and exclusions, to ensure that you have the appropriate level of protection for your specific trekking plans. World Nomads provides a clear and transparent breakdown of the policy terms and conditions, allowing you to make an informed decision before purchasing.
If you want to find the best deal on trekking insurance from World Nomads, you can check out my affiliate link below! It will help me earn a little money to buy a coffee at no extra cost to you [:
Comparison with Other Trekking Insurance Providers:
While World Nomads Trekking Insurance offers extensive coverage and benefits, exploring other insurance providers is worth exploring to ensure you choose the best option for your needs. Conducting a thorough comparison can help you identify differences in coverage, pricing, and customer support among different providers. Some alternatives include Global Rescue's Trekking Insurance and SafetyWing Insurance (read my full SafetyWing Insurance review!)
Although Global Rescue is not necessarily a trekking insurance, it provides comprehensive support no matter where you are – even while standing on top of Mount Everest! This is where it differs from World Nomads Insurance, as it is a company that will find out how to get you and protect you no matter where you are. In contrast, World Nomads is a company that will cover you during emergencies and may insure you for various costs incurred during your trip. Read my full Global Rescue Insurance review to find out more!
SafetyWing is another option you may want to consider. Although their coverage won't cover high elevations like World Nomads (World Nomads covers up to 22,965 feet – 7,000 meters), it is a great mid-level insurance provider that is cost-effective and quick to get. I got insurance from them in a matter of a few hours after finding out that trekking insurance is mandatory in Nepal! If you plan on trekking to elevations below 15,000 feet (4,500 meters) above sea level, then SafetyWing may be a better option!
For more information on some of the best trekking insurance options, check out my blog Best Trekking Insurance: High Altitude Trekking Travel Insurance.
My Personal World Nomads Insurance Review: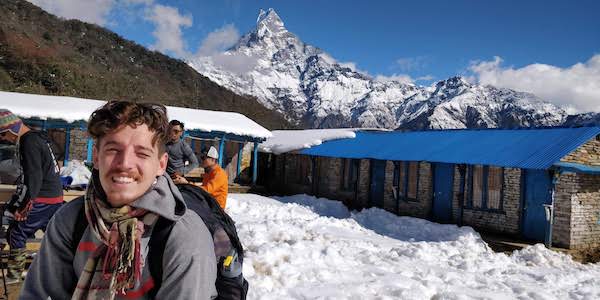 I used World Nomads Trekking Insurance to trek in Nepal a few years ago. I first learned about them when I started asking friends about potential trekking insurance providers. WN was one that constantly got recommended.
Overall, my experience with them was pleasant and easy. My friend and I used them to trek in Nepal. During our trip, we were lucky enough not to have to file for anything. Meaning we did not run into issues others had encountered with filing.
That being said, I enjoyed the overall online process, which was easy to navigate and understand. It was easy for me to find the information I needed to know if I would be covered while trekking. For example their A-Z index about activities covered.
Other friends who had to file claims did not have difficulty claiming for their incidents during their trip. However, they did have to wait a substantial amount of time to be reimbursed. The wait was primarily due to having to wait for reimbursement by other third parties (such as airlines).
Overall, we enjoyed our experience and would consider World Nomads a good option for trekkers, hikers and digital nomads. That being said, no matter which insurance provider you go with, the most important thing to do is read the policy and ask questions. That way you ensure you are getting what you need for your trip and that you understand the policy completely.
World Nomads Trekking Insurance Review: Is there Coverage Worth It?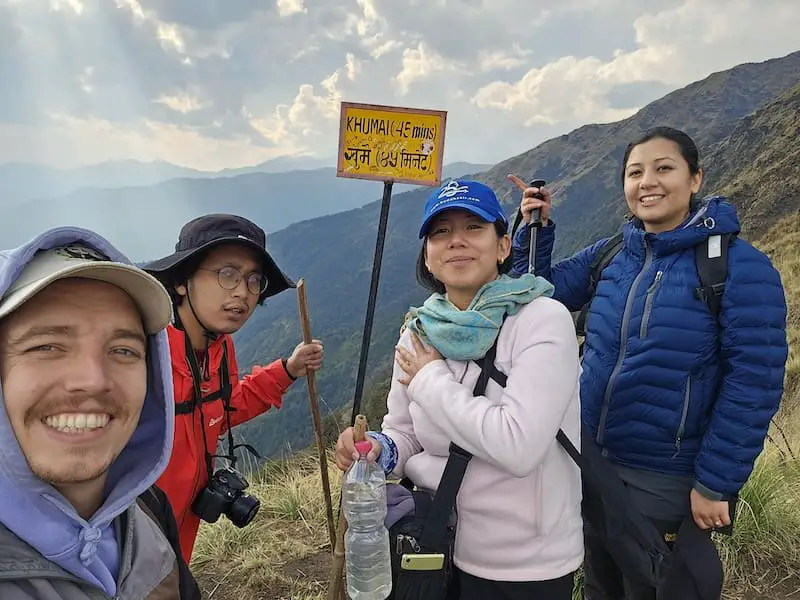 Overall, I would say yes, World Nomads travel insurance is a great option for travelers. World Nomads is a leading choice for trekkers and hikers seeking reliable coverage for their adventures. With endorsements from esteemed travel sources and comprehensive features, World Nomads provides peace of mind to those venturing into the world's most breathtaking trails.
While cost considerations and specific limitations should be considered, streamlined claims processes, flexible policy management, and round-the-clock emergency assistance make World Nomads an appealing option for adventurous souls.
In conclusion, my World Nomads Insurance review is here to help you make a decision about if their insurance is right for you. The most important thing is to feel confident with your choice of insurance company. Whereas, this review serves as a guide for you to make the most informed decision possible. However, regarding your final choice, the best thing to do is ensure you understand your policy completely and ensure it covers what is required for your trip.
If you want to see my other trekking and travel insurance recommendations, check out my blog Best Trekking Insurance: High Altitude Trekking Travel Insurance. Or if you are satisfied with this review and would like to find out the best price for World Nomads Trekking Insurance, click on the link below!
FAQs: World Nomads Insurance Review
Below are some of the most frequently asked questions about World Nomads' insurance.
1. Where is World Nomads based?
World Nomads, an Australian travel insurance distributor, was established in 2002 by a group of adventurous individuals who aimed to tackle three fundamental concerns: freedom, safety, and connection.
2. Who is the competitor of the World Nomads?
SafetyWing, the emerging contender, brings commendable competition to World Nomads. Founded by nomads themselves, it caters specifically to the needs of fellow travelers.
3. Is World Nomads nationwide?
World Nomads offers coverage for travel to almost every country and is accessible to residents of the majority of countries. In the United States, World Nomads policies are managed by Nationwide Mutual Insurance Company, a Fortune 100 company that provides a range of insurance and financial products.