Travel insurance is a crucial aspect of any trip, providing peace of mind and financial protection in unexpected situations. When it comes to reliable travel insurance providers, SafetyWing is one of the best trekking insurance providers. And in this SafetyWing Insurance review, I am going to tell you just why that is.
First off if you are like me (a budget traveler) you probably want to save as much money as possible while buying insurance. You also probably know how insurance can come in handy and save you a lot of money in an emergency!
However, the hard part is always knowing which insurance provider is legit and right for you. I give you my take on SafetyWing, and provide you a detailed SafetyWing Insurance Review. My review covers everything there is to know about the company. Including, key features, benefits, cost, reviews from SafetyWing  users, and an account of my personal experience using their service.
Disclaimer: This post contains affiliate links, which may earn me a small commission at no extra cost to you! 
Is SafetyWing Insurance Worth it?
In my experience using SafetyWing Insurance is worth it. SafetyWing's Travel Insurance is a great option for digital nomads and travelers needing a short- and long-term insurance policy. Overall, SafetyWing Insurance stands as a reliable option to cater to your travel requirements. Particularly if you're a budget traveler.
SafetyWing's Insurance main strength lies in its extensive flexibility, coupled with its affordability. The ability to get insurance even after you've started your travels, its subscription-based model, and its low price point are its key highlights.
Read the rest of my SafetyWing review to learn about what the insurance company has to offer.
Who is SafetyWing?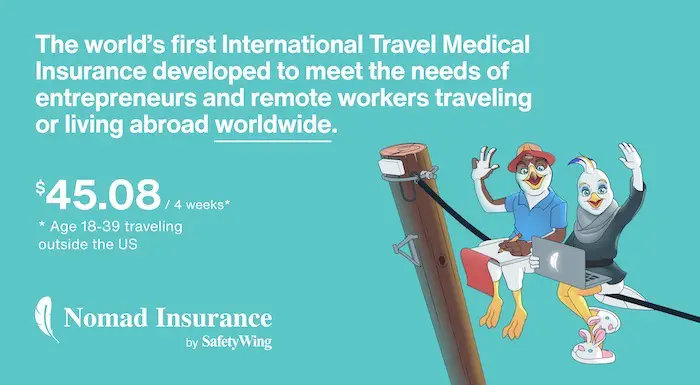 In 2018, a game-changing insurance company entered the market: SafetyWing. This fully remote Norwegian start-up, headquartered in California, is dedicated to providing coverage specifically tailored for long-term travelers and digital nomads. SafetyWing is founded and run by nomads and expats who understand the unique needs of such travelers.
What sets SafetyWing apart is its ability to offer basic insurance plans at a fraction of the cost charged by other companies. Although with slightly less comprehensive coverage. In my opinion, they are one of the top choices when it comes to travel insurance. Especially for budget travelers, needing insurance in a hurry.
So in this review, I assess SafetyWing's strengths and limitations, to help you make an informed decision for your next trip. By understanding the extent of their coverage and evaluating their customer service, you can better prepare and ensure that you have the necessary protection you need while traveling, or even hiking and trekking!
Pros and Cons of SafetyWing: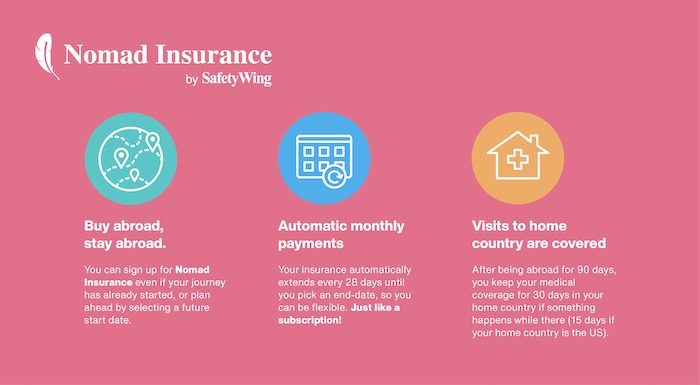 Here are a few pros and cons of SafetyWing Insurance, to help you decide if it's the best insurance provider for you and your trip:
SafetyWing Pros
Most affordable travel insurance out there
Provides COVID-19 coverage
You can buy plans while you are already traveling
Online submission for claims is easy and straightforward
Once you have been overseas for a duration of 90 days, you will retain your medical coverage for an additional 30 days upon returning to your home country (or 15 days if you are a resident of the U.S.).
They have 24/7 hotline assistance
SafetyWing Cons
Deductible is slightly high at USD 250
Limited coverage for your gear and electronics
Limited coverage on adventure activities
Trip cancellation is not covered
Coverage is for people under 69 only
How much does SafetyWing's Insurance Cost?
SafetyWing's insurance tends to cost in the range of $42 to $77 per month, with the exact amount depending on whether your travels are confined to the United States.
It is important to note, that just like any insurance plans, the expense of SafetyWing's insurance varies on an individual basis. This monthly subscription model is well-suited for those who are new to travel, have budget constraints, or are digital nomads.
For example, travelers aged 10-39, their standard coverage is available at a remarkably low price of just $45.08 USD for a four-week period. This is one of the most affordable options available for reliable travel insurance.
SafetyWing provides coverage for individuals up to the age of 69. Although travelers between the ages of 65 and 69 should expect to pay a higher premium. With starting quotes around $157 USD per month for coverage.
Moreover, if you opt for coverage that includes travel to the United States, the price increases to $83.44 USD for four weeks (applicable to travelers aged 10-39). Despite this slight increase, it remains a more cost-effective option compared to many of its competitors.
What Does SafetyWing Cover?
SafetyWing's standard plan is called the "Nomad" plan. The plan is $45.08 USD (for ages 10-39) and covers four weeks of travel (outside the US). This means travelers can be covered for around USD $1.50 USD per day.
The Nomad plan includes the following:
$250,000 USD in emergency medical coverage
$1,000 USD for emergency dental care
$100,000 USD for medical evacuation
$10,000 USD for an evacuation due to political upheaval
$5,000 USD for a trip interruption
$200 USD for a travel delay
$12,500–25,000 USD for death or dismemberment
$20,000 USD for repatriation of remains
SafetyWing offers basic coverage, including a $100,000 USD limit for medical evacuation, which may be sufficient unless you're venturing into extremely remote areas. If you require higher coverage, consider getting covered by Travelex instead (check out my Travelex Insurance Review).
Furthermore, SafetyWing's payout for travel delays is relatively low. However, airlines and many travel credit cards also provide travel delay assistance, making the coverage offered by SafetyWing potentially unnecessary. Additionally, it lacks coverage for expensive electronics, which is inconvenient if you carry valuable camera or video equipment.
What does SafetyWing's Nomad plan not cover?
SafetyWing focuses mainly on providing coverage for medical emergencies and common travel inconveniences such as delays and lost luggage. However, there are certain situations that fall outside the scope of coverage. Here are a few examples of what SafetyWing does not cover:
Alcohol- or drug-related incidents.
Extreme sports & adventure activities (including boxing, ruby, parachuting, parasailing, whitewater rafting, bungee jumping, and more)
Pre-existing conditions or general check-ups
Trip cancellation
Lost or stolen cash
Additionally, similar to most standard travel insurance plans, SafetyWing does not cover pre-existing conditions or certain extreme adventure sports. Therefore, if you plan to engage in extensive adventure activities while traveling, World Nomads would be a more suitable choice (check out my World Nomads Insurance Review!) For trekking, SafetyWing will only insure trekkers to a maximum of 4,500 meters above sea level.
Who should and shouldn't use SafetyWing?
The table below looks at who SafetyWing is good for, and who may want to pass on their service.
| SafetyWing is Good For: | SafetyWing is Not Good For: |
| --- | --- |
| Long-term budget travelers trying to save money  | People that carry expensive equipment, gear or electronics |
| Someone that needs insurance to only cover the big expenses | People engaging in extreme adventure activities |
| People that do not have expensive luggage, gear or electronics | |
Table showing who should, and who shouldn't use SafetyWing Insurance
Key features and benefits offered by SafetyWing:
SafetyWing understands the evolving nature of travel and caters to the needs of various travelers, including remote workers, digital nomads, and long-term explorers. They offer unparalleled flexibility and accessibility with their policies. Below are some of the key features and coverage options that SafetyWing provides:
Affordable Travel Insurance: SafetyWing provides great budget friendly insurance policies to digital nomads. With prices around USD 45 for younger adults.
Medical coverage and emergency services: SafetyWing offers extensive medical coverage, including emergency medical expenses, hospitalization, outpatient treatment, and prescription medications.
No limit on travel duration: You can get insurance for any amount of time, for as long as you want! The best part is you can buy it from wherever you are in the world, even if you are already on vacation.
Personal liability coverage: SafetyWing covers personal liability, protecting you in case of accidental damage or injury to others.
Coverage for lost or stolen belongings: With SafetyWing, you can receive compensation for lost or stolen belongings, such as luggage, passports, or personal items that have been checked.
No home country requirement: SafetyWing does not mandate a specific home country, making their insurance available to individuals from around the world.
Availability for remote workers, digital nomads, and long-term travelers: SafetyWing recognizes the unique requirements of digital nomads and long-term travelers, providing coverage for both travel-related emergencies and work-related incidents.
Comprehensive medical coverage: SafetyWing's medical coverage includes essential services like emergency medical expenses, hospitalization, outpatient treatment, and prescription medications, ensuring you receive the necessary care while abroad.
Remote work coverage: For digital nomads and remote workers, SafetyWing offers coverage for laptops and digital equipment, as well as protection against work-related accidents or illnesses.
Extended coverage options: SafetyWing goes the extra mile by offering additional coverage for specific needs, such as travel coverage during pandemic situations and coverage for sports and adventurous activities.
Affordable pricing and subscription model: SafetyWing provides transparent and affordable pricing options, with flexible subscription plans to suit different travel durations and budgets.
SafetyWing Deductibles: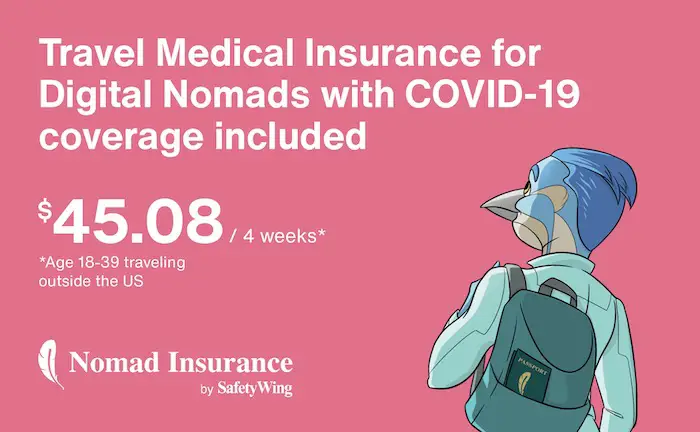 Unlike most travel insurance companies that don't require a deductible, SafetyWing does have a deductible. Typically, not having a deductible contributes to a higher monthly cost for most coverage. However, since SafetyWing does have a deductible, they are able to offer their policies and coverage for cheaper.
Having a deductible can suck however. Whereas, for most expenses, there is a $250 USD deductible, which means you are responsible for covering the initial $250 USD before receiving reimbursement. For instance, let's say you incur a $1,000 hospital bill due to an injury. In this case, you would need to pay $250 out of pocket, while SafetyWing would cover the remaining amount.
Admittedly, if your medical bill amounts to several thousand dollars, the $250 USD deductible may seem insignificant. However, if the bill is only a few hundred dollars, you essentially end up paying the entire amount yourself without any assistance from SafetyWing's insurance.
SafetyWing is designed to provide assistance during significant incidents or emergencies. However, for minor expenses that fall below $250 USD, you are responsible for handling them independently. This explains why SafetyWing offers more affordable monthly plans compared to other companies.
To summarize, if you're seeking basic medical coverage, are not concerned about trip delays, and are comfortable with covering the initial $250 USD, then SafetyWing is a suitable choice since it offers coverage at a cost of only $45 USD per month.
Making a claim with SafetyWing:
Filing a claim with SafetyWing is a hassle-free process thanks to their user-friendly online portal. Simply upload the required documents, screenshots, and photos, and await their response.
While I have personally used SafetyWing for my trips, I haven't had to use their claim service yet! So I can't comment on the overall process myself. However, I have read the negative reviews from others on Trustpilot about SafetyWing's service (you can see some of these reviews below.) And it appears that individuals who had an unfavorable experience either were unaware of the deductible or expressed dissatisfaction with the time it took to receive payment.
So in my opinion their claim process is streamlined and easy to submit documents, but it still takes some time to hear back from them about your claim. Which to me, sounds on par with the other travel and trekking insurance providers.
SafetyWing's Insurance Trustpilot Reviews and Testimonials:
On Trustpilot, SafetyWing currently holds a 4.3 star rating from 772 total reviews. The ranking distribution can be seen in the image below. Moreover, their full review can be found on SafetyWing's Trustpilot page here.
Review Rating
Review Title
Review
5 Stars
Great option for the general backpacker
Easy to understand what's being covered, really affordable, good reviews from other backpackers. I hated going to the insurance search engines and looking at all these complicated and expensive plans, so I appreciate that Safetywing is a solid and reasonably priced option.
5 Stars
Simple and easy to use
Simple and easy to use, all claims get reimbursed and customer service is very helpful.
3 Stars
Second claims process just as disorganized
This is my second Trustpilot review. Seeing the number of complaints of unprocessed claims exceeding the 45 day process, generating a status update of uploaded claims on their Client Zone site could ensure claims don't fall through the cracks.
Update 1: I received an email that my claim payment would be deposited by March 28. It is April 3 and I still have not received the deposit.
Update 2: Turns out they issued a check instead of a bank transfer even though my bank transfer details were filled out in the claim form. Let's see how long it will take me to receive my bank transfer now.
I submitted my claim on February 12, and this coming week will make it 4 weeks since I uploaded my online claim. While you receive a receipt through Docusign, when you log into the Client Zone, there is no record of your uploaded claim. I'm told to wait until the 45 days, but this simple system status could avoid the numerous reviews complaining about long processing or even unprocessed claims exceeding this period.
I'll update this review once they've paid my claim.
1 Star
Hi member, We just care about your money, not your health
Hi Member,
Your claim has been reviewed, but cannot be approved per the terms in the policy document (40 pages small font pdf on foreign language). Please reach out to us if you have any questions, we're happy to help you! (really?)
If you'd like to appeal this decision, please send your arguments and any documentation to **support email**. You can find more instructions here **how many hell circles you will have to cross to get your money**.
Thats all you will get from them. Instead of explanation – pointing you to a 40 page document. And silence. Enjoy!
1 Star
Terrible claims process and customer support. Avoid
This is just a start up with great digital marketing and an affiliate distribution model. We fell victim The actual coverage and claim processing through their insurance provider, World Trips, is filled with loopholes and inconveniences. The filing process is painful, and you never have clear visibility on the status of your claim. Would strongly advise you to look elsewhere.
Note: These SafetyWing Insurance reviews are pulled directly from SafetyWing's Trustpilot review page. They are unedited and unaltered.
My personal experience using SafetyWing Insurance for Trekking: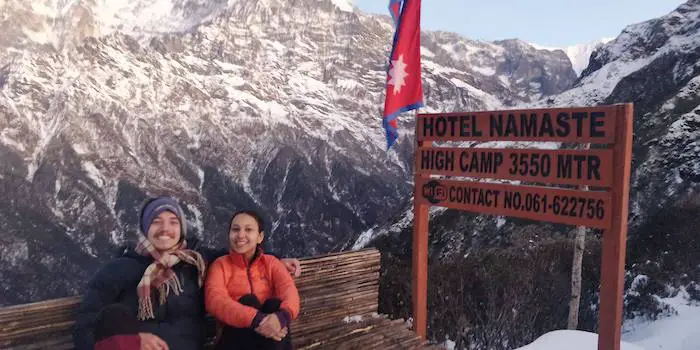 In 2020 I used SafetyWing Insurance while trekking in Nepal. Due to trekking Insurance being mandatory in Nepal, my friend and I had to hurry and get covered for our upcoming Mardi Himal trek. However, neither of us had any experience with travel insurance.
Luckily, I had heard about SafetyWing from a couple of other travel buddies, who had had great experiences with their service. Their review matched 100% with mine – SafetyWing is a great low cost alternative to many of the other insurance providers.
The entire interaction was streamlined online, and easy to follow. Even though I had no experience getting insurance before, I was able to understand their coverage and policies online. With all the information regarding their coverage and policy laid out online, I was able to get the exact insurance I needed in a matter of minutes.
The only real drawback of the insurance they provide is the maximum altitude they will cover. However, for our trek (and many others out there) this won't be a problem. SafetyWing will cover a maximum elevation of 4,500 meters above sea level.
SafetyWing's Insurance Review: Are they right for you?
SafetyWing travel insurance offers comprehensive coverage, flexibility, and affordability. Making it an ideal choice for travelers seeking peace of mind during their journeys. A company that strives to provide easy and accessible travel insurance for digital nomads, they have done a good job keeping the price for insurance low.
Although SafetyWing is one of the best options for travel and trekking insurance, it is still important that you do your research regarding their coverage. This SafetyWing review serves as a resource to provide you with the details and information you need to make an informed decision.
It is always important to fully understand the policy and coverage that insurance companies are providing. Before purchasing any travel insurance, make sure to read the policy, and ask questions before you buy. This was you can make sure you are covered in case an emergency happens while traveling.
FAQs: SafetyWing Insurance Review
Below are some of the most frequently asked questions about when it comes to Reviewing SafetyWing Insurance.
1. Where is SafetyWing located?
SafetyWing is located in Palo Alto, California, United States. They are a fully remote Norwegian start-up.
2. Who is SafetyWing competitor?
SafetyWing's top three competitors consist of World Nomads, Travelex, Global Rescue.
3. Is Safety Wings a good travel insurance?
Safety Wing is an exceptional choice for both travelers and digital nomads seeking travel insurance. Their customer support is outstanding, and they provide extensive coverage globally. With affordable monthly payments and flexible plans, it proves to be an ideal solution for long-term travelers and digital nomads alike.